Artist Profile
The Estate of Florin Mitroi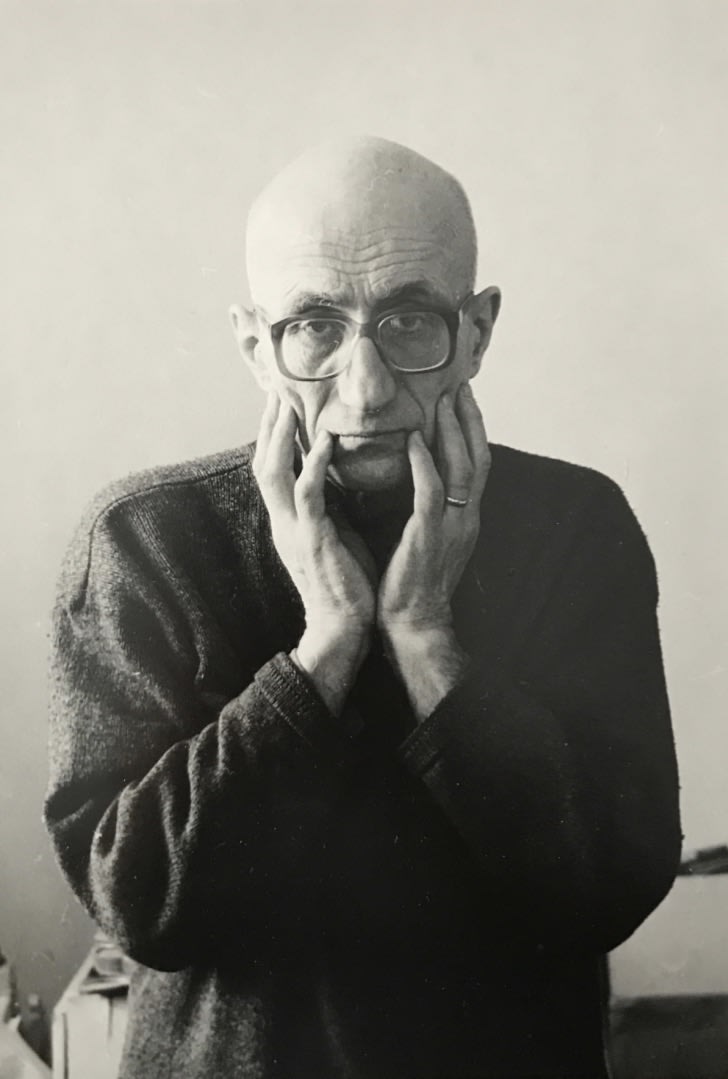 Florin Mitroi was born in 1938 in Craiova, in the south-western part of Romania. He lived and worked in Bucharest until he died in 2002, at the age of 64.

He received his BA in painting from the Nicolae Grigorescu Institute of Fine Arts, Bucharest, in 1961. This university in particular, and teaching in general, were a constant in Mitroi's life. Enrolled as a student in 1955, he received a position as an assistant in 1961 and eventually became a professor in 1992, a role he carried out until his final days. Some of the best-known Romanian artists active today were his students.

Florin Mitroi was a passionate teacher, but a reserved individual. His role in the arts school was well known by the local scene, but few knew his art too—he had only one solo exhibition during his lifetime, in 1993 at Catacomba in Bucharest. Only after his death and the discovery of numerous works in his studio, did his prolific production became apparent.

Florin Mitroi's oeuvre seems very organized both in terms of medium as well as subject of representation. It consists mostly of paintings and drawings, as well as zinc cut-outs of some of his characteristic graphic elements. He was very interested in the human figure and produced mainly portraits with an illustrative, graphic character: strong dark lines construct the faces and heads, which are usually bigger than the bodies, set on dense monochrome backgrounds.

Mitroi's solo exhibitions include: Florin Mitroi, Craiova Art Museum, Craiova (2018), Florin Mitroi: Cuts, Johnen Galerie, Berlin (2014); Florin Mitroi, Johnen Galerie, Berlin (2011), Florin Mitroi, Contemporary Art Gallery of Brukental National Museum, Sibiu (2008) and Florin Mitroi, Catacomba Gallery, Bucharest (1993).

The artist's works have been shown in numerous group exhibitions, among which: La Brique, the Brick, Cărămida, La Kunsthalle Mulhouse, Mulhouse (2019); Ex-East. Past and recent stories of the Romanian avant-garde, Espace Niemeyer, Paris (2019); Lolo's Entanglements, Cultuurhuis de Warande, Turnhout (2018-19); Hell's Heaven, MARe – Muzeul de Artă Recentă, Bucharest (2018); Salon der Angst, Kunsthalle, Vienna (2013); Biennial of Painting: The Image of Man, Museum Dhont‑Dhaenens (2012); The self-punishing one. Ştefan Bertalan, Florin Mitroi, Ion Grigorescu: Art and Romania, 1980-1990, Mogoşoaia Palace, Bucharest (2009) traveling to The Museum of Art, Timişoara (2009) and The Museum of Art, Cluj (2009) and Transitionland, The National Museum of Art, Bucharest (2000–01).

Florin Mitroi received several awards and prizes in his career, including: Jury Prize of the Sofia Triennale (1985), Italian Government Grant (1983) and the Painting Prize of The Union of Romanian Artists, (1978).

His works are held in the following public collections: Craiova Museum of Art, Craiova; MARe/Museum of Recent Art, Bucharest, and the National Museum of Contemporary Art, Bucharest.