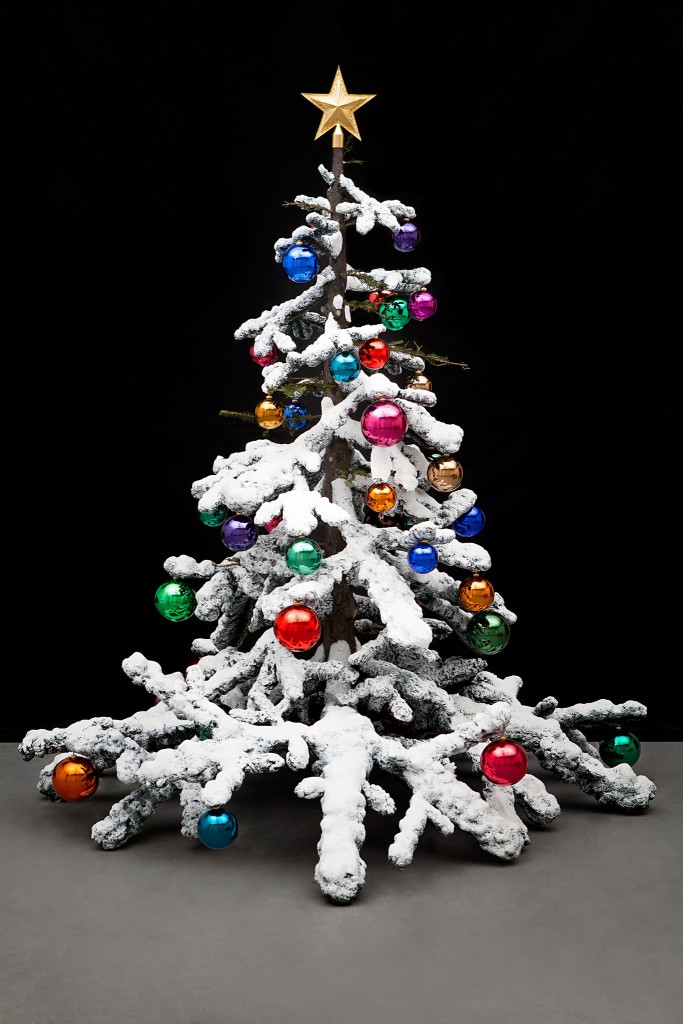 Philippe Parreno
Fraught Times: For Eleven Months of the Year it's an Artwork and in December it's Christmas (March)
2010–2015
Paint, marble powder and diamond powder on cast aluminium, stainless steel
Height 250 cm, Ø 215 cm approx.
A painted, cast aluminum sculpture of a decorated snowy Christmas tree. Philippe Parreno's trees are not religious objects but markers of time, objects that traditionally (perhaps because of their association with childhood) have been granted a near universal license for opulence and kitsch. Outside their traditional context — both temporal frame and domestic setting — the aesthetics can seem out of place. It is this temporal displacement to which the title refers.
%3Cdiv%20class%3D%22artist%22%3E%3Cstrong%3EPhilippe%20Parreno%3C%2Fstrong%3E%3C%2Fdiv%3E%0A%3Cdiv%20class%3D%22title%22%3E%3Cem%3EFraught%20Times%3A%20For%20Eleven%20Months%20of%20the%20Year%20it%E2%80%99s%20an%20Artwork%20and%20in%20December%20it%E2%80%99s%20Christmas%20%28March%29%3C%2Fem%3E%2C%202010%E2%80%932015%3C%2Fdiv%3E%0A%3Cdiv%20class%3D%22medium%22%3EPaint%2C%20marble%20powder%20and%20diamond%20powder%20on%20cast%20aluminum%2C%20stainless%20steel%3C%2Fdiv%3E%0A%3Cdiv%20class%3D%22dimensions%22%3EHeight%20250%20cm%2C%20%C3%98%20215%20cm%20approx.%3C%2Fdiv%3E