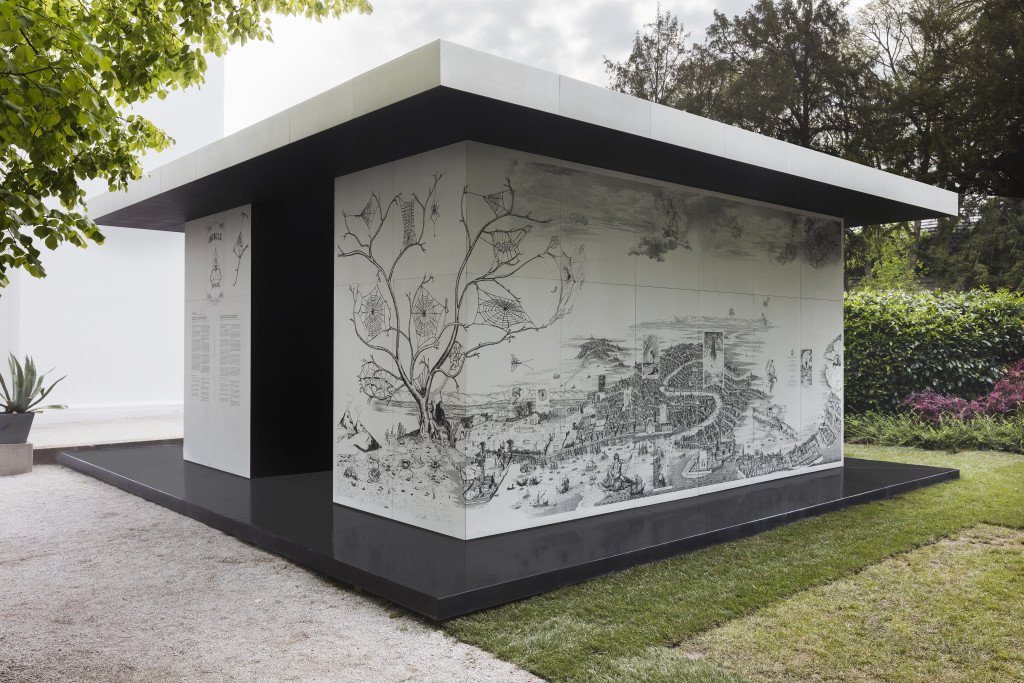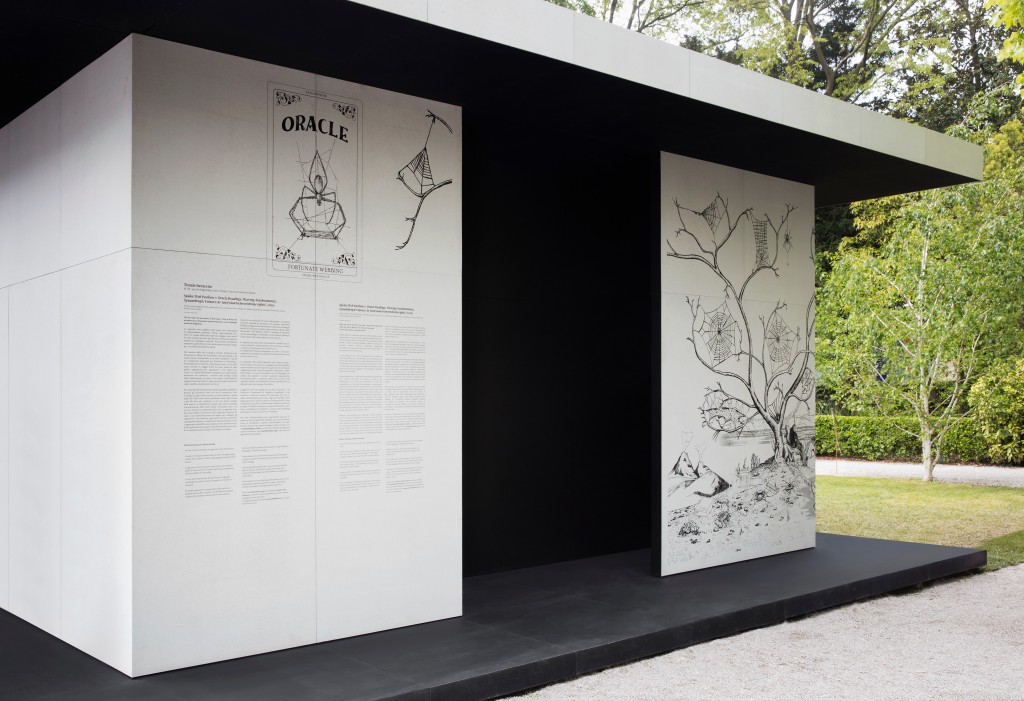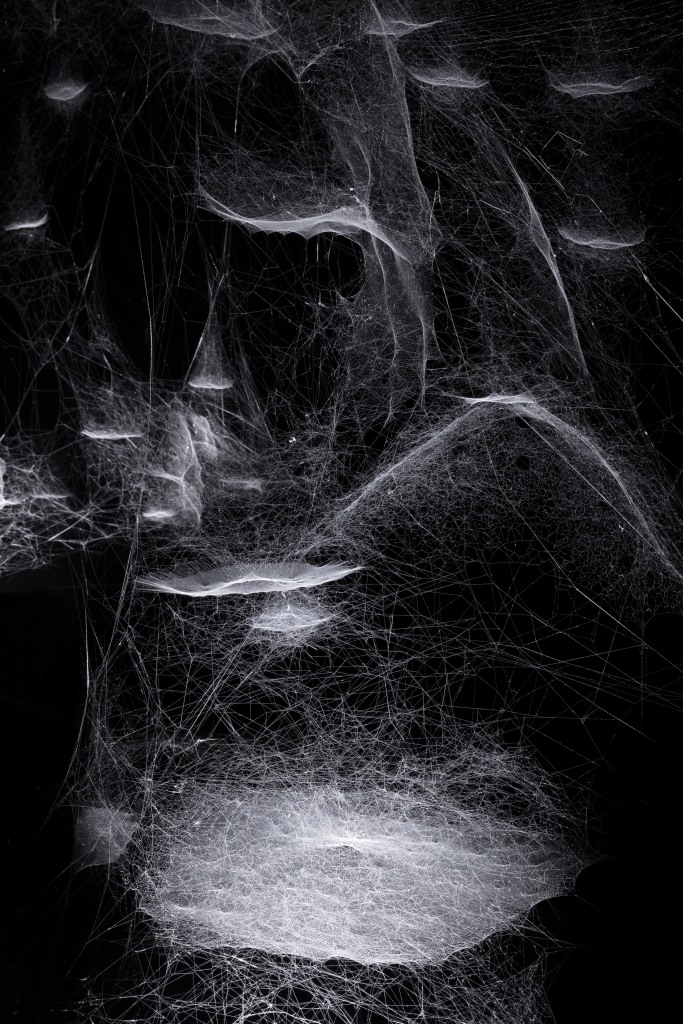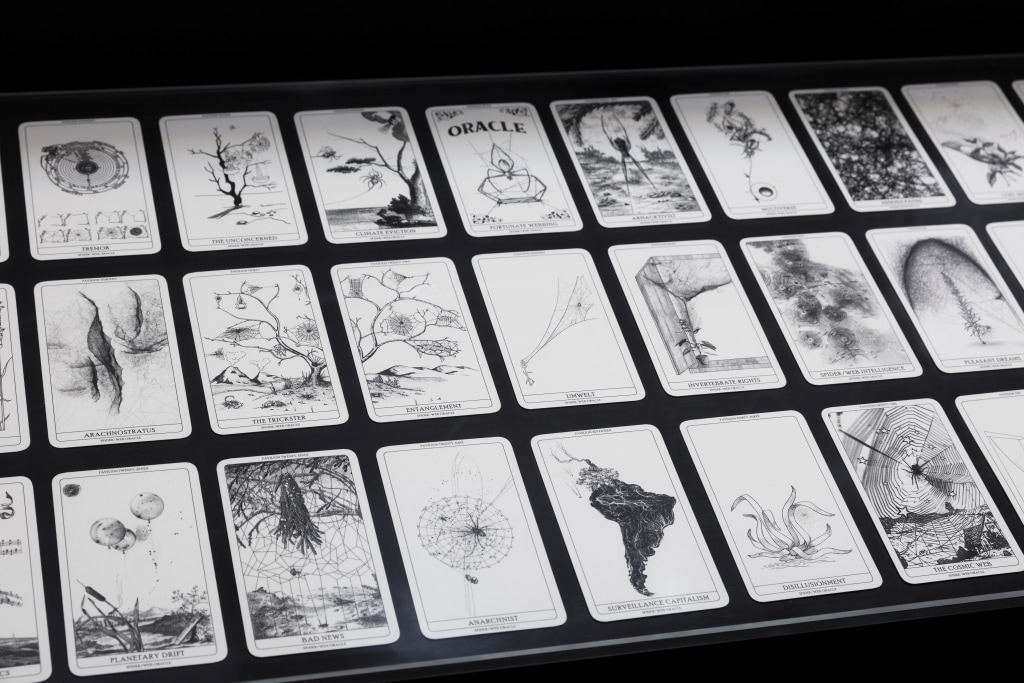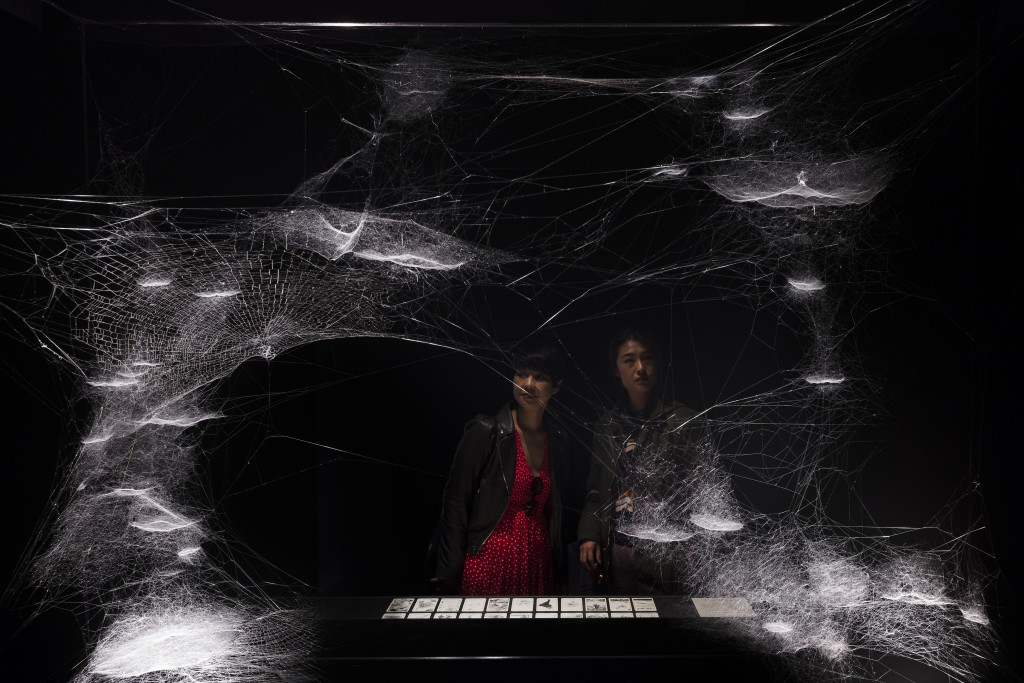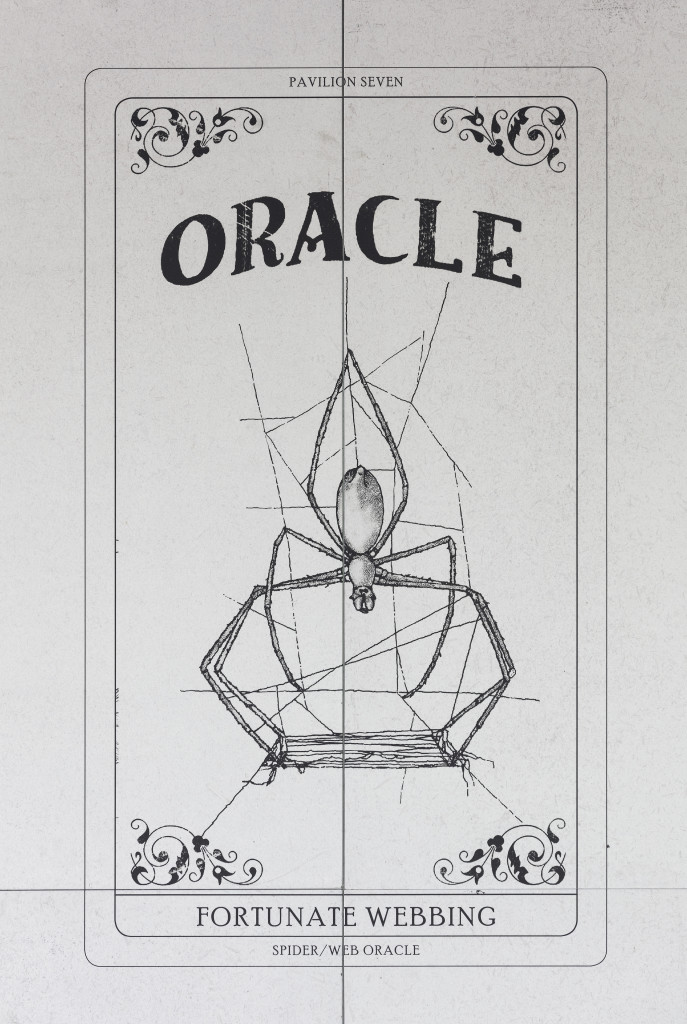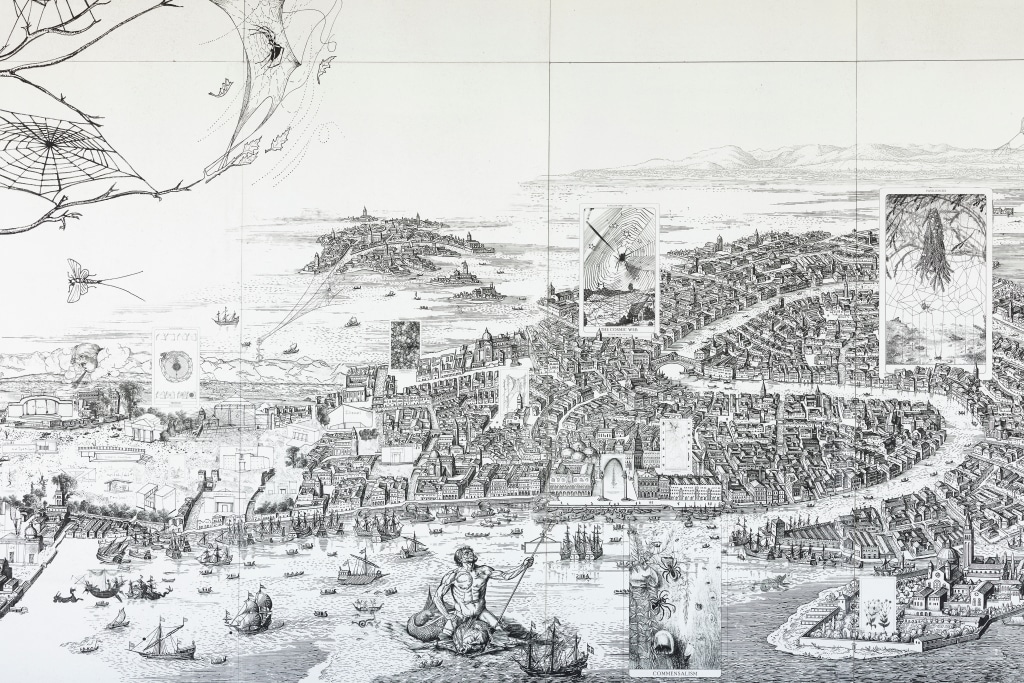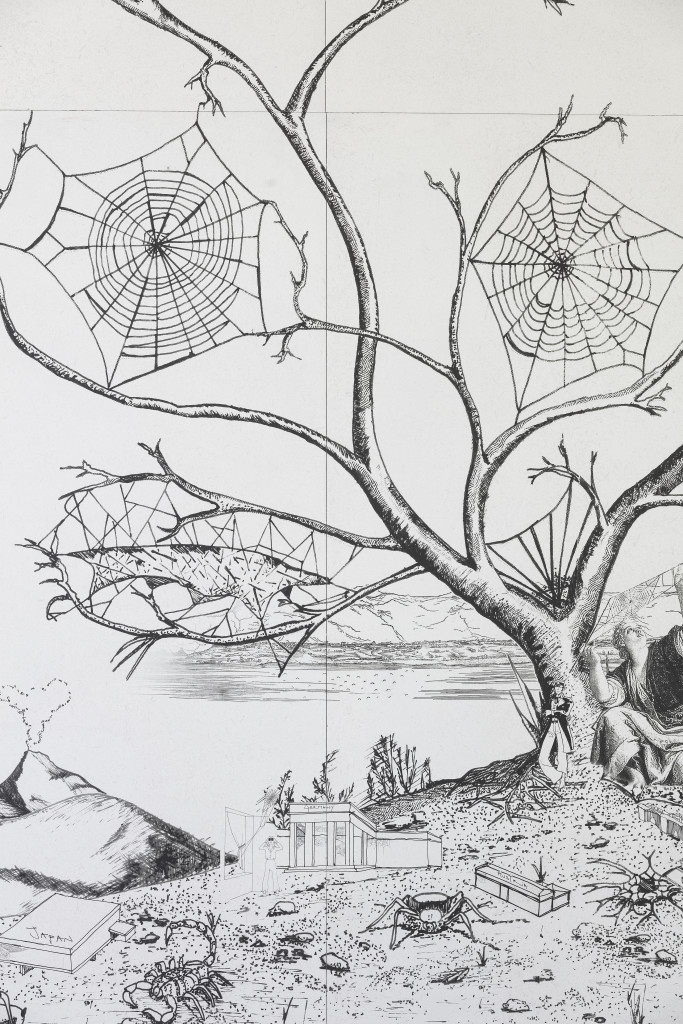 Tomás Saraceno
Spider/Web Pavilion 7: Oracle Readings, Weaving Arachnomancy, Synanthropic Futures: At-ten(t)sion to invertebrate rights!
2019
Architecture, spider silk, carbon fiber, microphones, heliostat lighting, research material, printed ephemera, mobile application
6,68 x 6,68 m (pavilion)
A site-specific installation conceived by Tomás Saraceno for the 58th Venice Biennale, the pavilion hosts a large-scale hybrid spider web woven by different spider species forming a floating landscape inside an open carbon fiber frame. The outside walls of the pavilion are covered with a visual specifically conceived and produced for the Venice Biennale. Taking inspiration from various form of spider divination from different parts of the world, the pavilion features also an interactive, site-specific Arachnomancy Cards Deck.
%3Cdiv%20class%3D%22artist%22%3E%3Cstrong%3ETom%C3%A1s%20Saraceno%3C%2Fstrong%3E%3C%2Fdiv%3E%0A%3Cdiv%20class%3D%22title%22%3E%3Cem%3ESpider%2FWeb%20Pavilion%207%3A%20Oracle%20Readings%2C%20Weaving%20Arachnomancy%2C%20Synanthropic%20Futures%3A%20At-ten%28t%29sion%20to%20invertebrate%20rights%21%3C%2Fem%3E%2C%202019%3C%2Fdiv%3E%0A%3Cdiv%20class%3D%22medium%22%3EArchitecture%2C%20spider%20silk%2C%20carbon%20fiber%2C%20microphones%2C%20heliostat%20lighting%2C%20research%20material%2C%20printed%20ephemera%2C%20mobile%20application%3Cbr%20%2F%3E%0AArchitektur%2C%20Spinnenseide%2C%20Carbonfaser%2C%20Mikrofone%2C%20Heliostatenbeleuchtung%2C%20Forschungsmaterial%2C%20gedruckte%20Ephemera%2C%20mobile%20App%3C%2Fdiv%3E%0A%3Cdiv%20class%3D%22dimensions%22%3E6%2C68%20x%206%2C68%20m%20%28pavilion%29%3Cbr%20%2F%3E%0A8%2C88%20x%208%2C88%20m%20%28area%29%3C%2Fdiv%3E