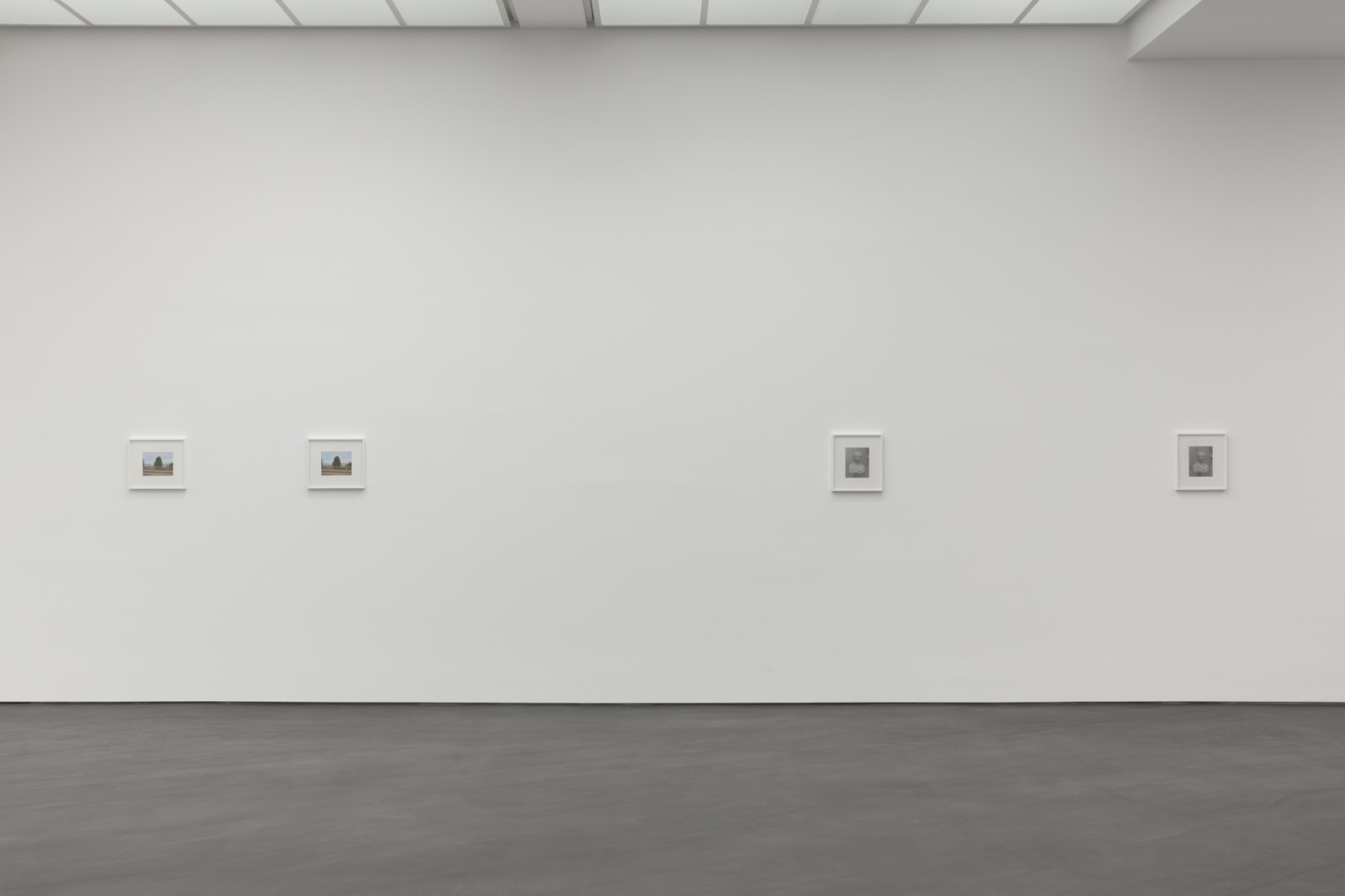 November 5—December 5, 2020
Andrew Grassie, Still Frame
Esther Schipper, Berlin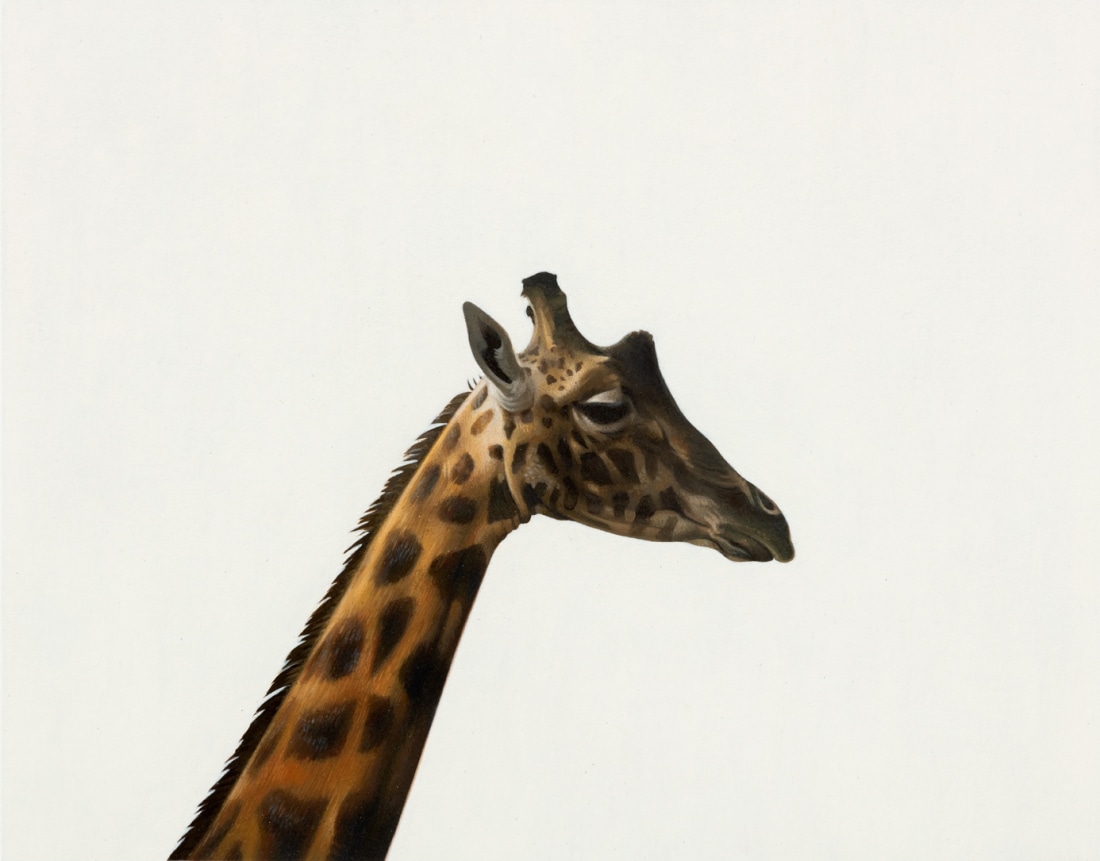 Andrew Grassie, Still Frame
---
Esther Schipper is pleased to present an Online Viewing Room dedicated to Andrew Grassie's first solo exhibition with the gallery.
Entitled Still Frame the exhibition includes 24 new paintings. Both title and number of paintings obliquely acknowledge the conceptual affinity to cinematic story-telling that informs the new body of work: 24 frames per second is the standard ratio in film to create the illusion of seamless movement in human vision.
Known for small, precisely painted works—their ostensibly unassuming matter-of-factness sometimes masking the often elaborately staged preparation of past projects and their conceptual ambition—with Still Frame Andrew Grassie continues longstanding interests into the status of the image, the nature of memory and contemporary painting.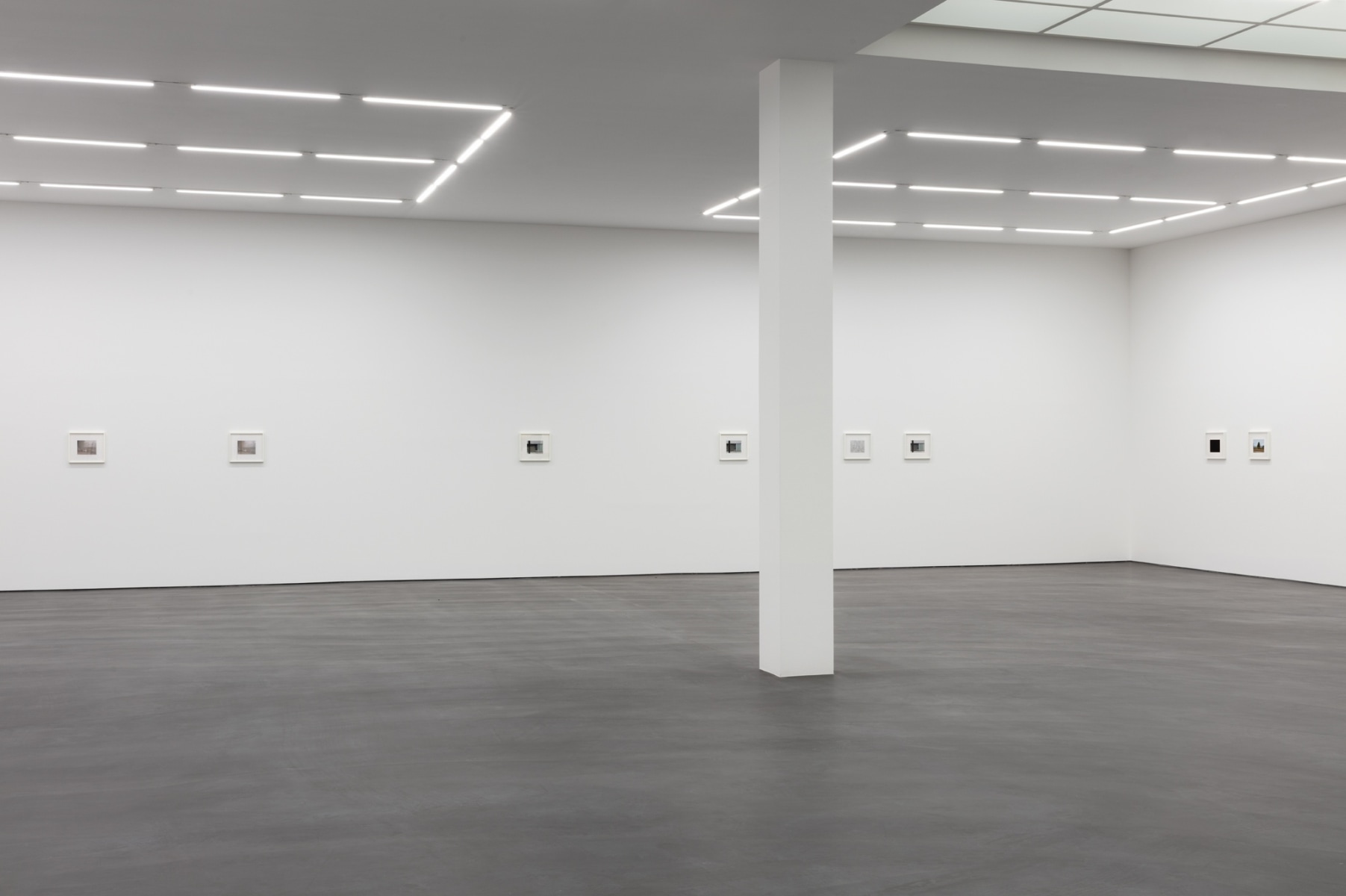 Andrew Grassie chose motifs that had held his attention for reasons he could not always explain: photos from his image archive, sometimes many decades old and exuding a vague awkwardness, became sources for these works. Each image of this series can be traced to a specific moment, often specific visual phenomena, remembered by the artist for persona and/or artistic reasons.
The intimately scaled, precisely painted works are all executed in tempera, a painting technique associated with pre-Renaissance panel paintings anteceding the development of oil paint.
The exhibition includes repeated motifs in twos and threes. The delicate pattern of tiny brushstrokes characteristic of tempera painting makes each image clearly unique, yet the repetition of these motifs encourages a close examination. And while this multiplication makes apparent the small differences, it also reinforces the paintings' affinity to memories: unique experiences, played over in our mind.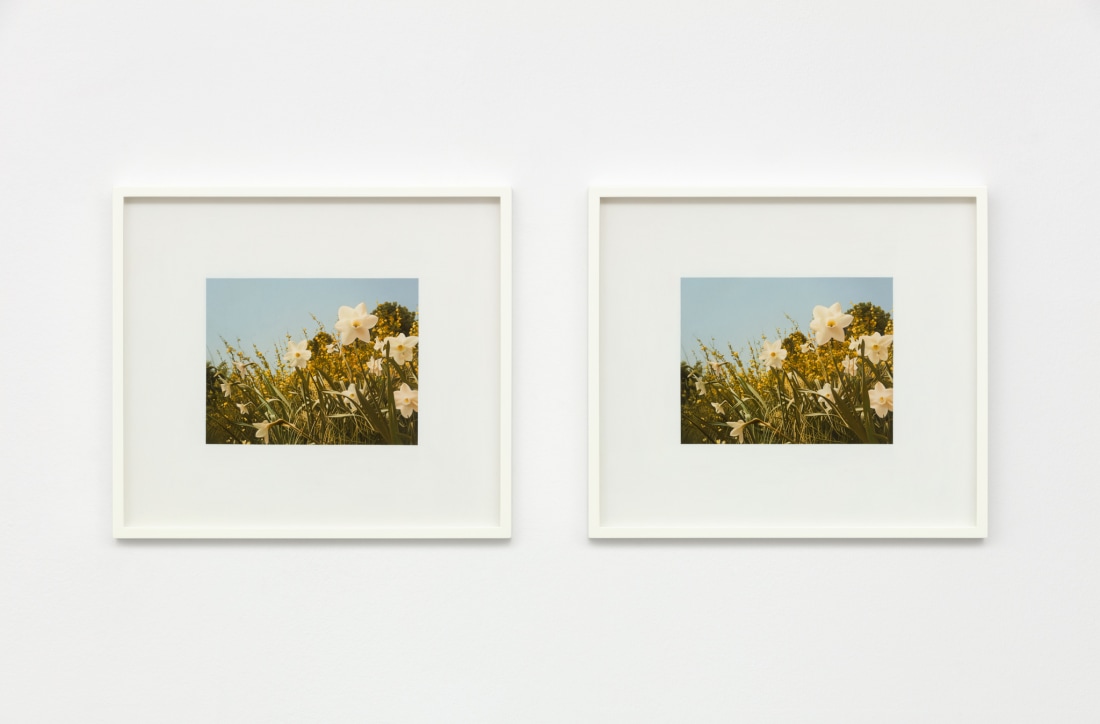 Flowers 1 & 2, 2019
---
I took the photograph in the late 80's on a cheap plastic disposable camera that took great shots in this slightly squared off format. I was walking alone through the Botanical Gardens in Edinburgh, my hometown. It was one of those still and sunny days. I laid down on the verge of a flower bed to take this, looking up at the daffodils, which now appear to tower over and look down at us like a crowd of onlookers witnessing an accident. I remember contriving this affect by twisting the stems of the daffodils so that more of them faced towards me.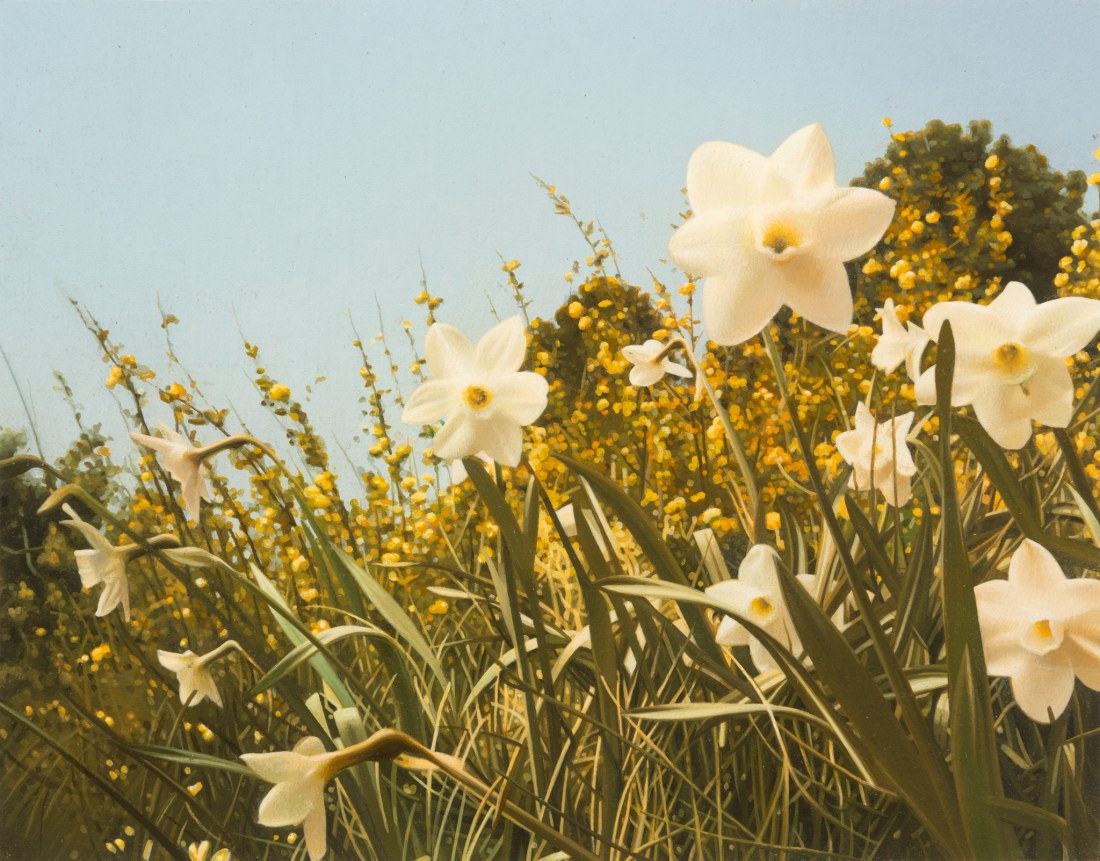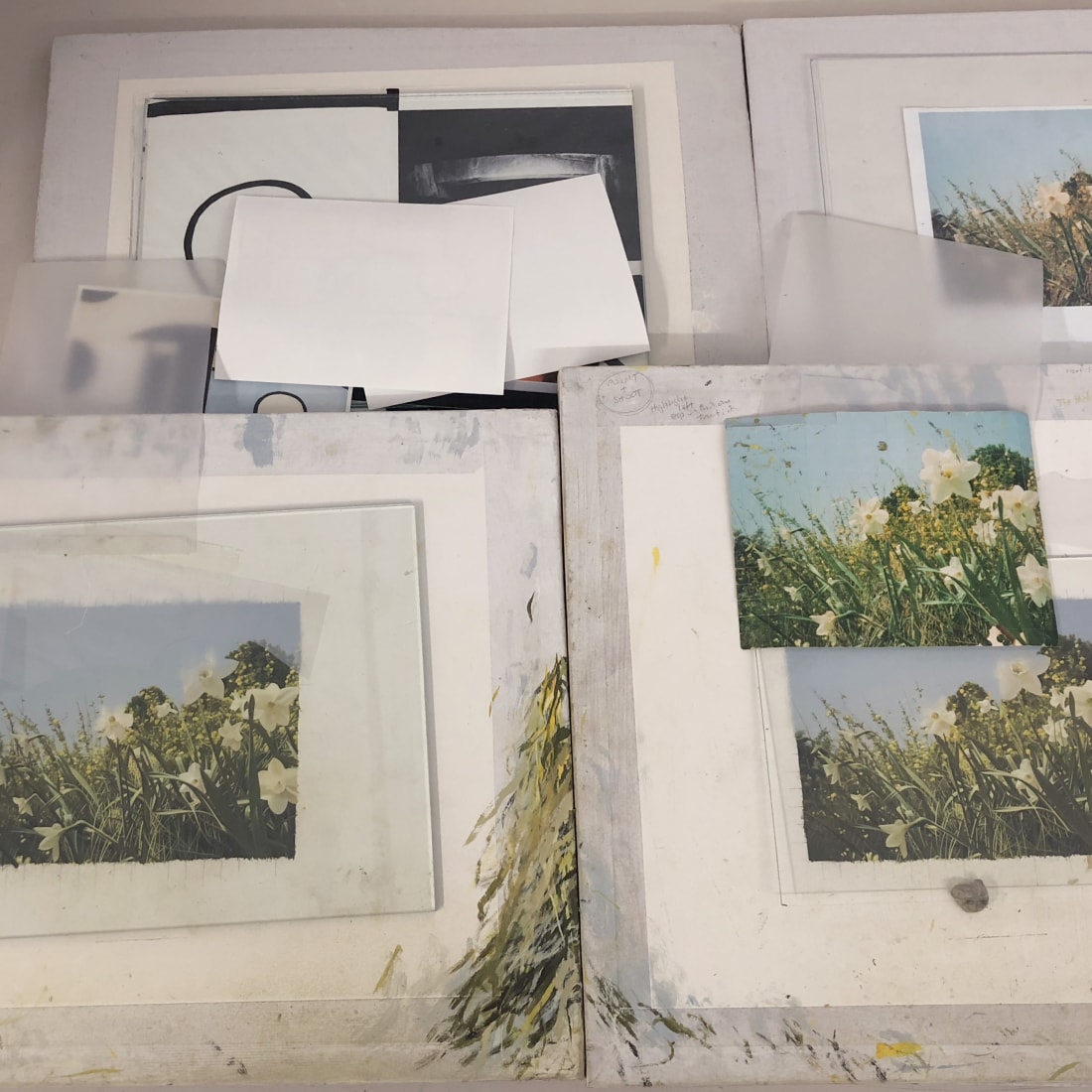 This photograph hung around with me for years, and I kept recalling it or otherwise coming across it in files. At the time, I was resistant to continue creating works based on rules or typologies. So I allowed myself to just paint this image without any idea where it would go. I started the work, finishing the drawing, then had the idea that if I painted it twice it would detract from the simple image of a few flowers and become more about the process of copying, originality, time, and a certain pointlessness.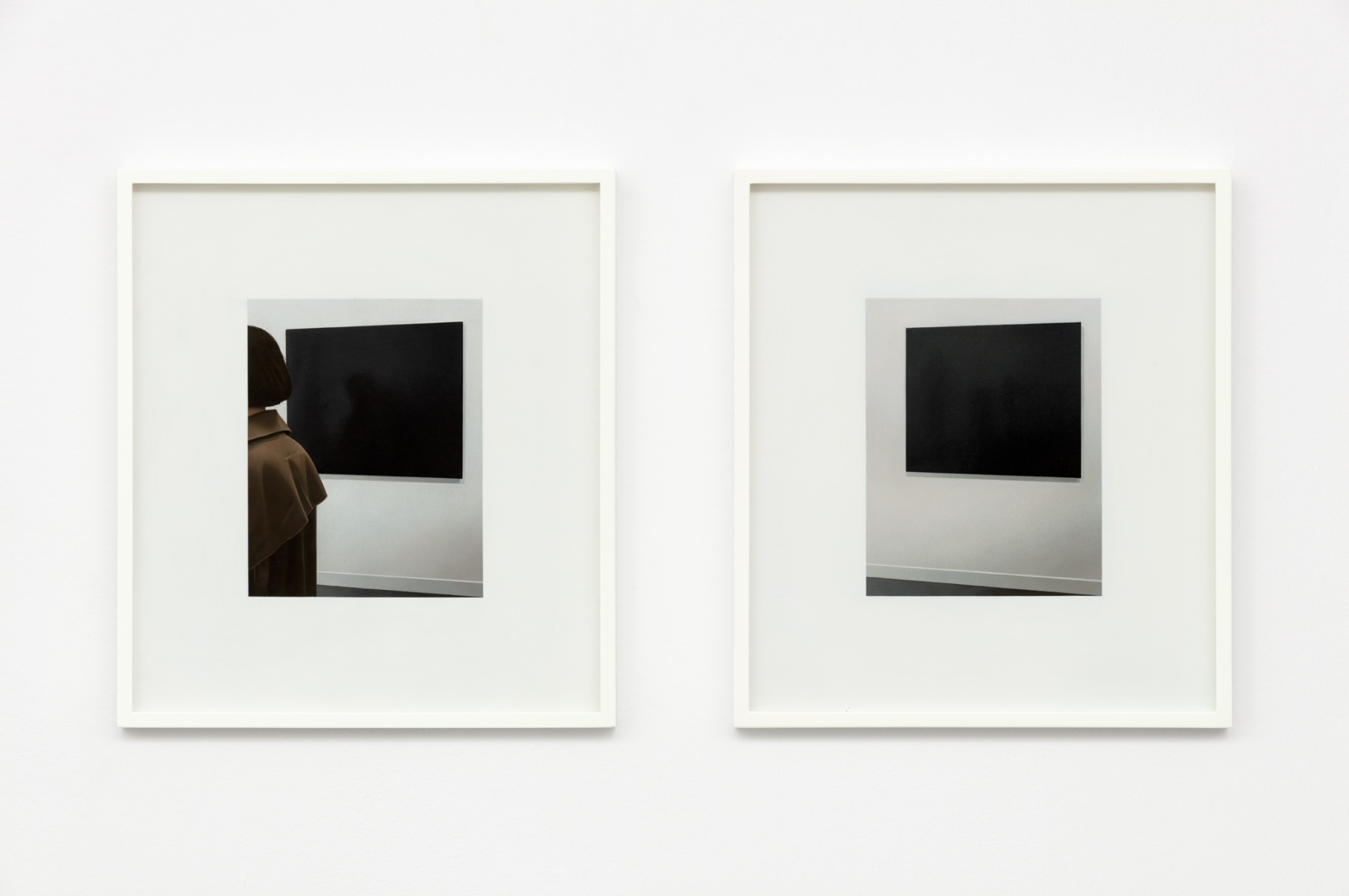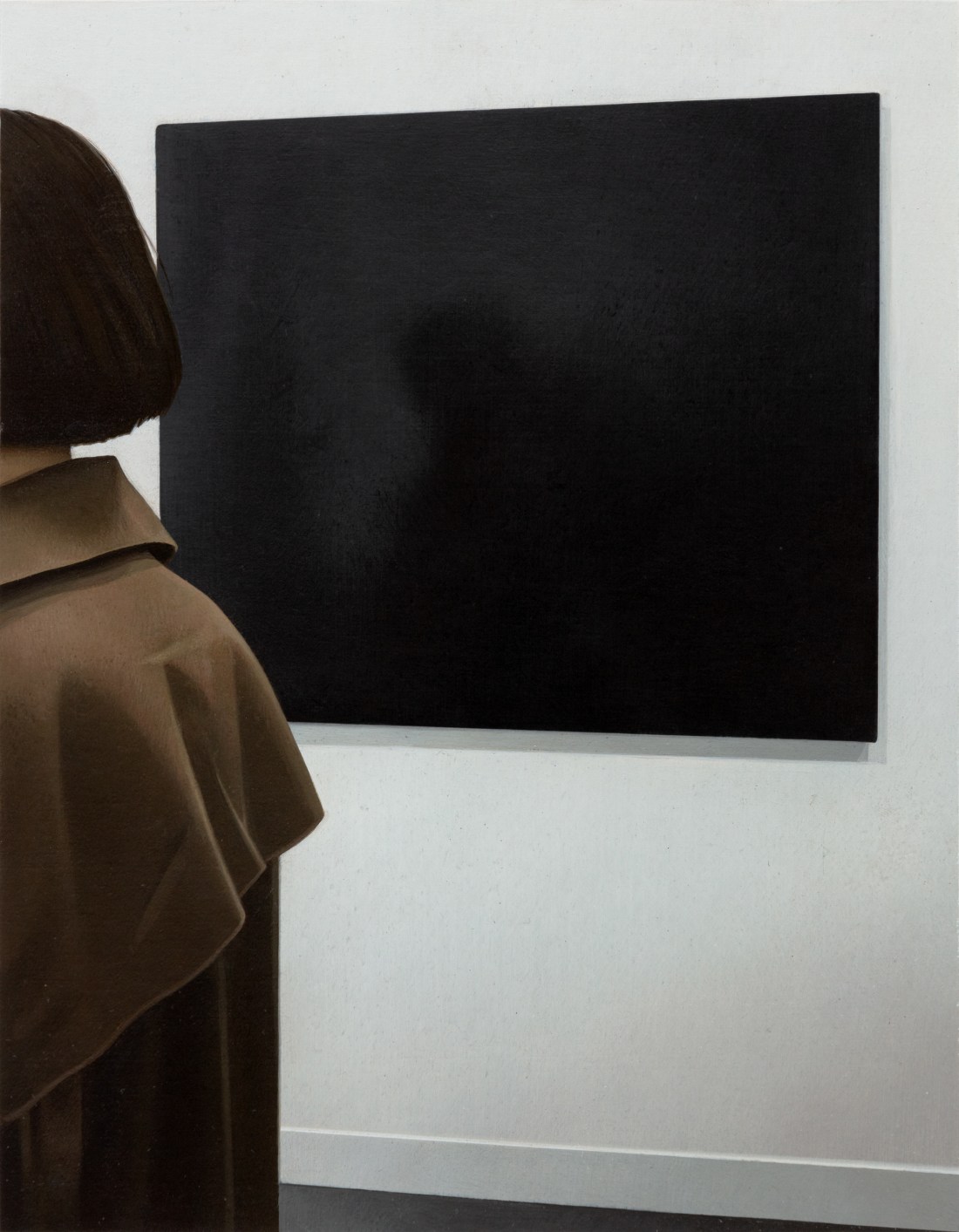 Painting 1, 2019 & Painting 2, 2020
---
Thinking more about the series as a film, I thought it might be an idea to imply some sort of character. I had this and other photos of people disappearing out of frame at art fairs. This one was so simple and geometric. The blank canvas by [the British Minimalist artist] Bob Law slightly reflects the woman like some black mirror. The crop was perfect and the geometry hit all the corners. At this stage, I had no idea that I might paint another image of this scene, which I'd go on to complete a year later.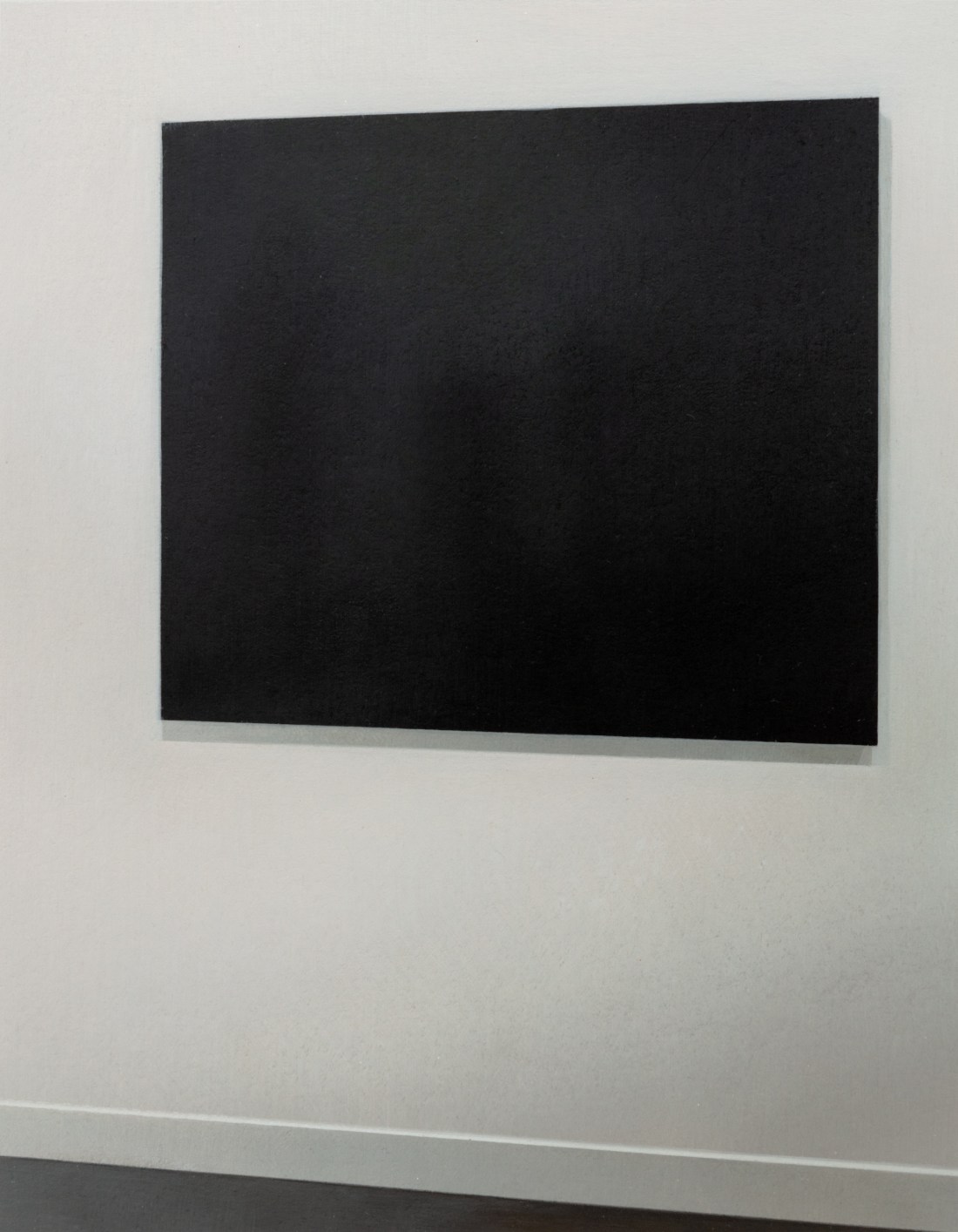 Part of the conceptual premise of transforming fleeting memories captured by photographic snapshots, into unique work of art executed with a time and labor intensive traditional technique, Grassie painted this motif once with the figure and once without.
It is one of the few instances in which the artist has significantly altered his source image.
Windscreen, 2020
---
A night, on a country lane. After a rain shower. The headlights still on, I stopped the car and took this shot. The camera confused whether to focus on the windscreen or the view beyond. We can vaguely make out the shape of the road but the globes of light floating over the surface are the main subject. A car stopping at night on a road, unable to see beyond its own illumination, it felt very cinematic.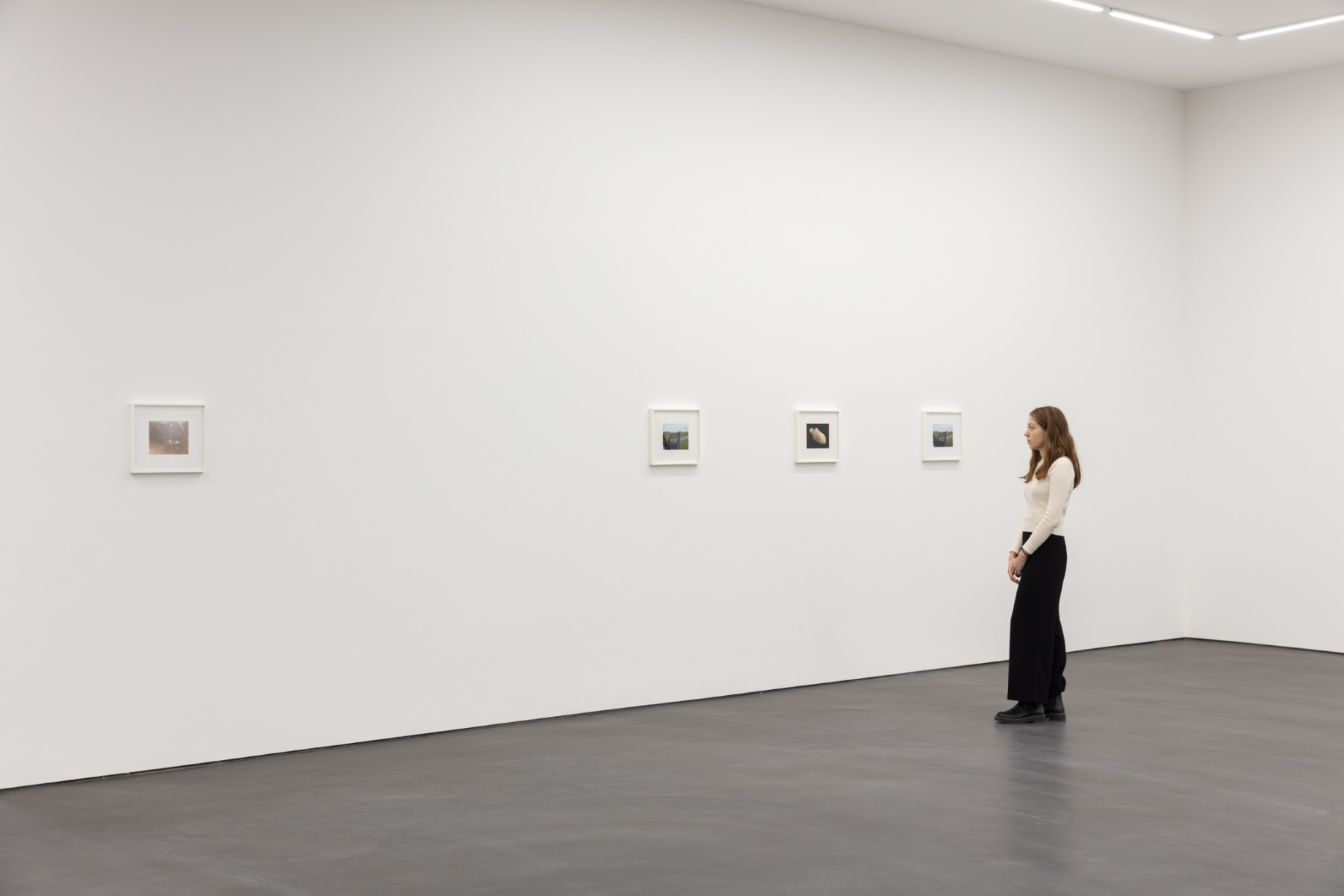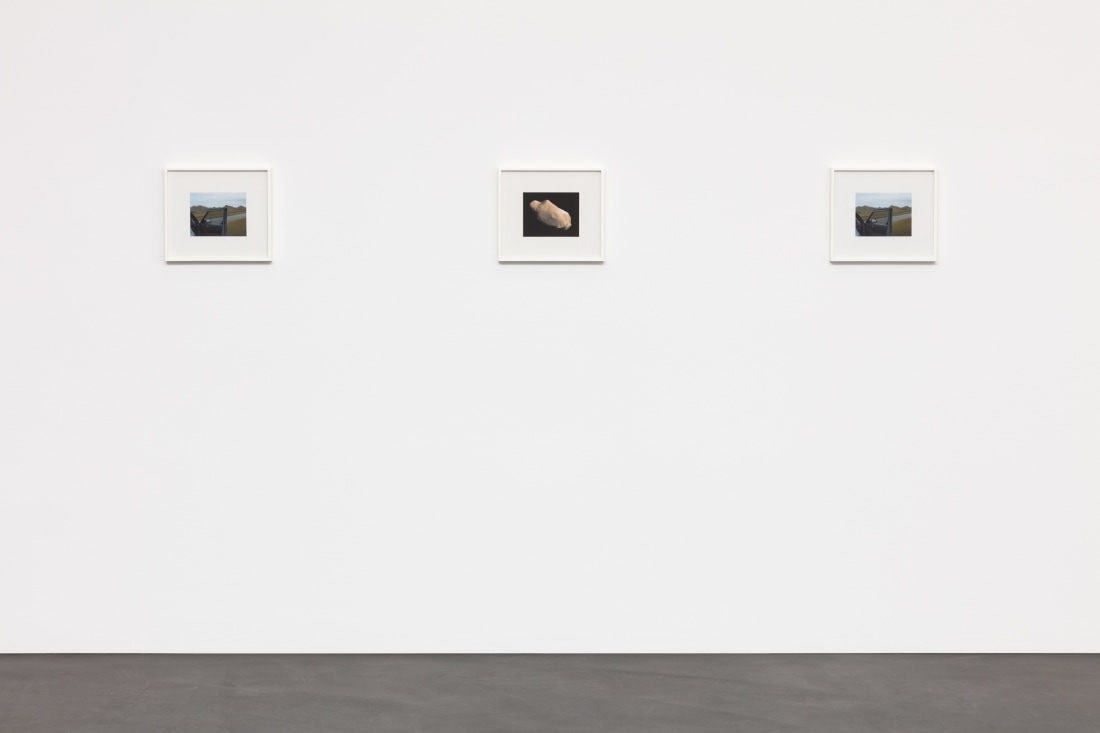 Car Door 1, Asteroid, Car Door 2, 2020
---
The image [of Car Door 1 and 2] depicts my car door, parked by the roadside near the sand dunes at St Andrews golf course in Fife, Scotland. On a trip there last year, I had in mind this photograph of an intrepid 'Nessie watcher', standing outside his car, behind the open door, facing mysterious loch, looking through a pair of large binoculars. It's a staged photograph of someone patiently looking at nothing but hoping to see something miraculous. It's an image of faith over belief. I equate this with much in life including art itself.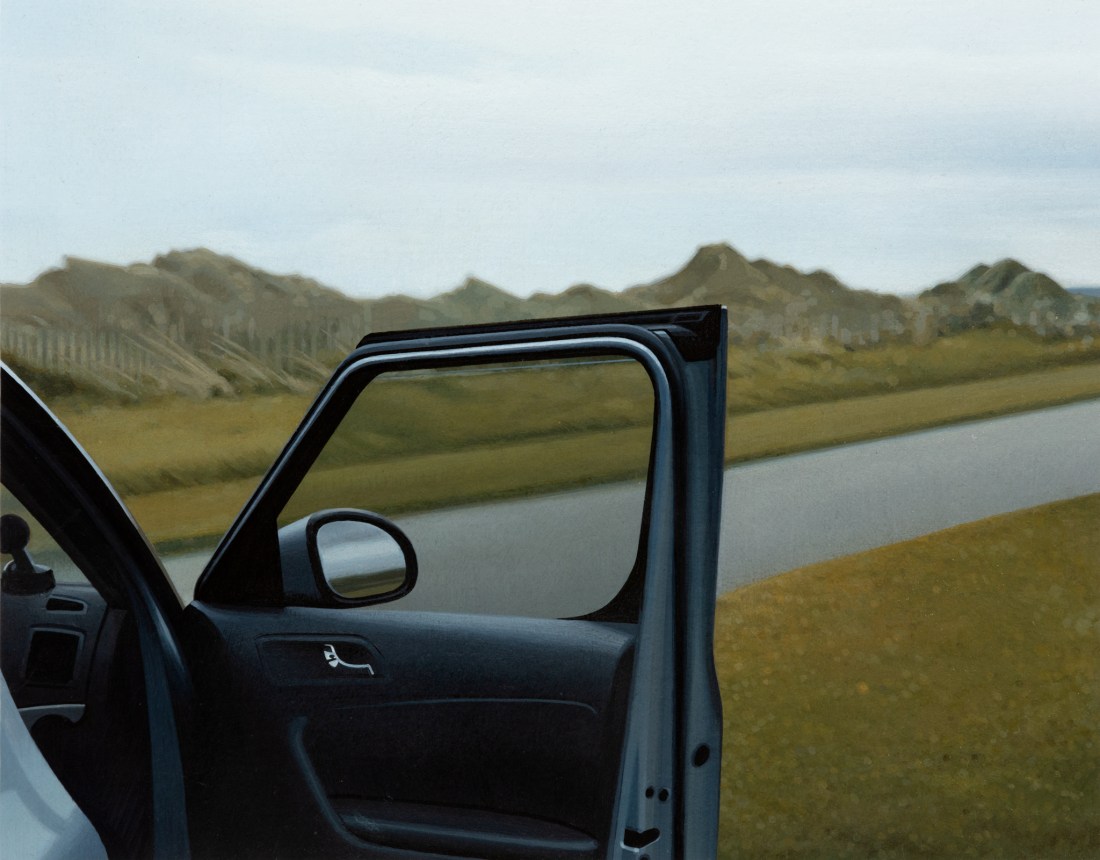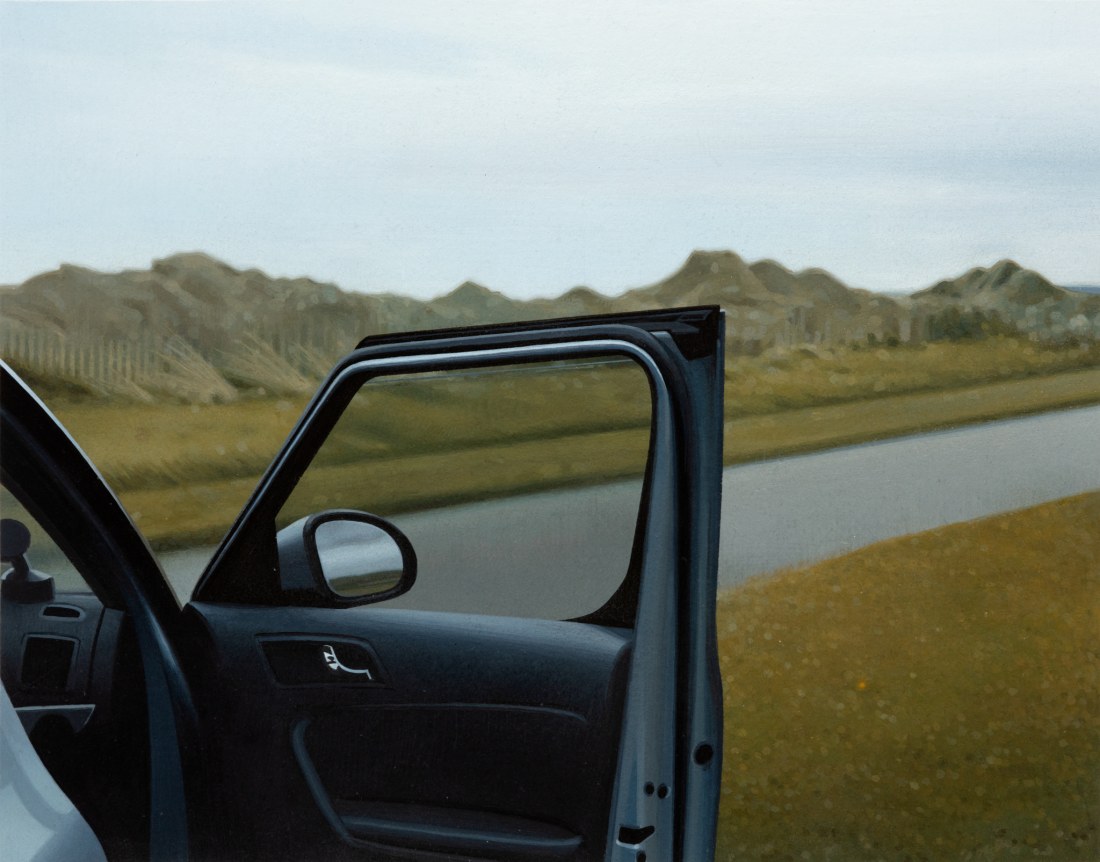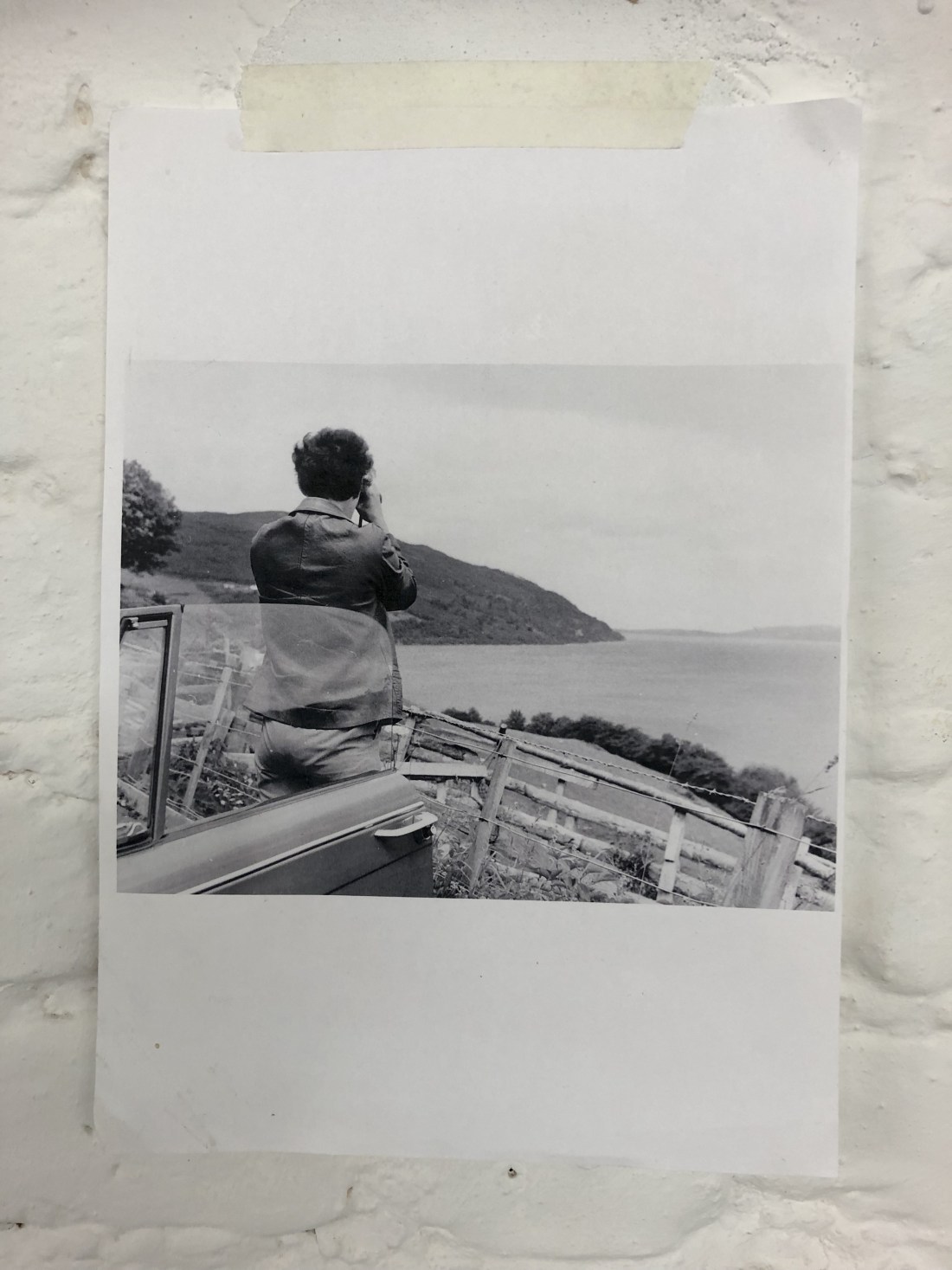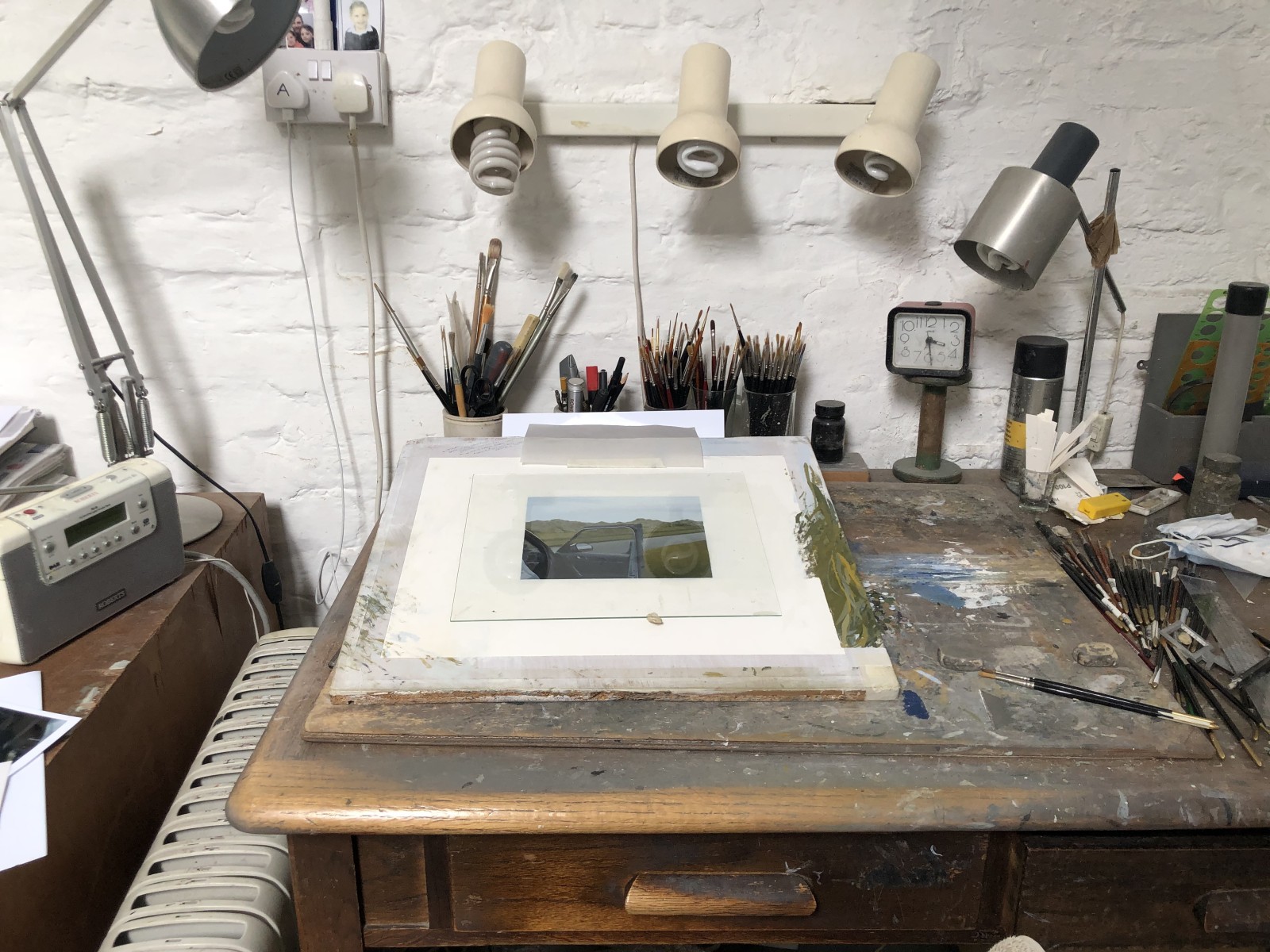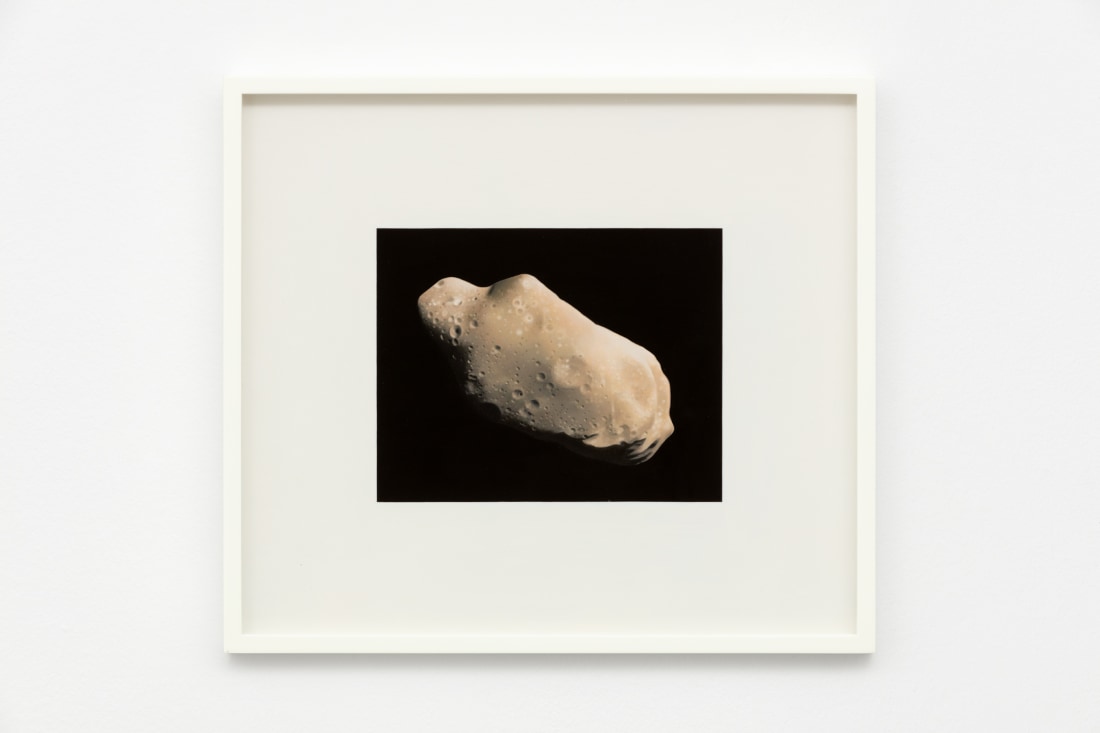 Asteroid, 2020
---
From my trip to the library looking for an image of a diagram, I also snapped some images of planets and asteroids. This one, '243 Ida', had a particularly potato-like shape. I wanted to add some sci-fi leaning images to the series. It would have an effect on the Blank paintings, which could potentially be looked on as empty space. I have always been attracted to space and the space race. This asteroid shape makes it slightly comical at the way these huge objects hang there in space and have an air of pathos.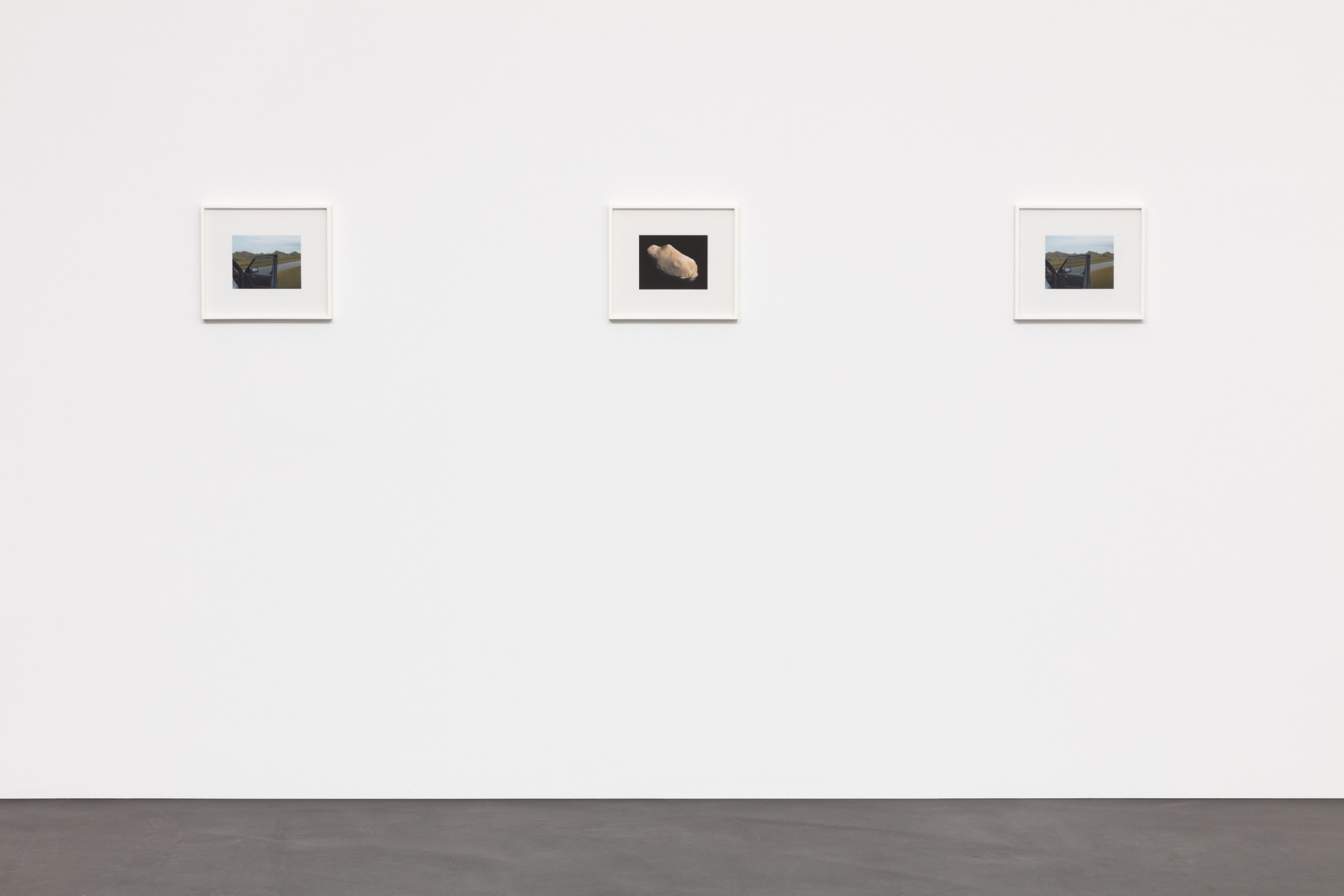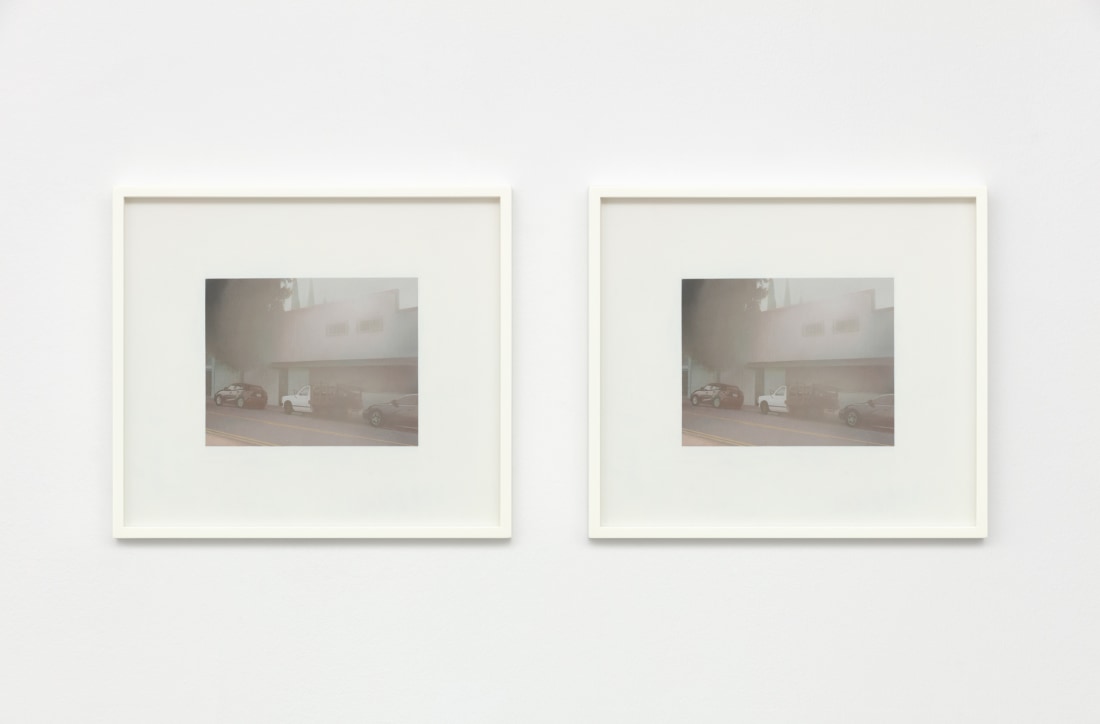 Street 1 & 2, 2020
---
This image came from a visit I made to an art fabricator in L.A. called Standard Sculpture. I had gone in to document the workshop where a Jeff Koons sculpture was being restored for my earlier series of works entitled Fabrication. As a memento, I snapped the entrance to the workshop as I left as a last-minute afterthought. It was only much, much later on that I came to feel that this could be a painting in itself. I was tempted to alter something between the two versions in this one but decided against it.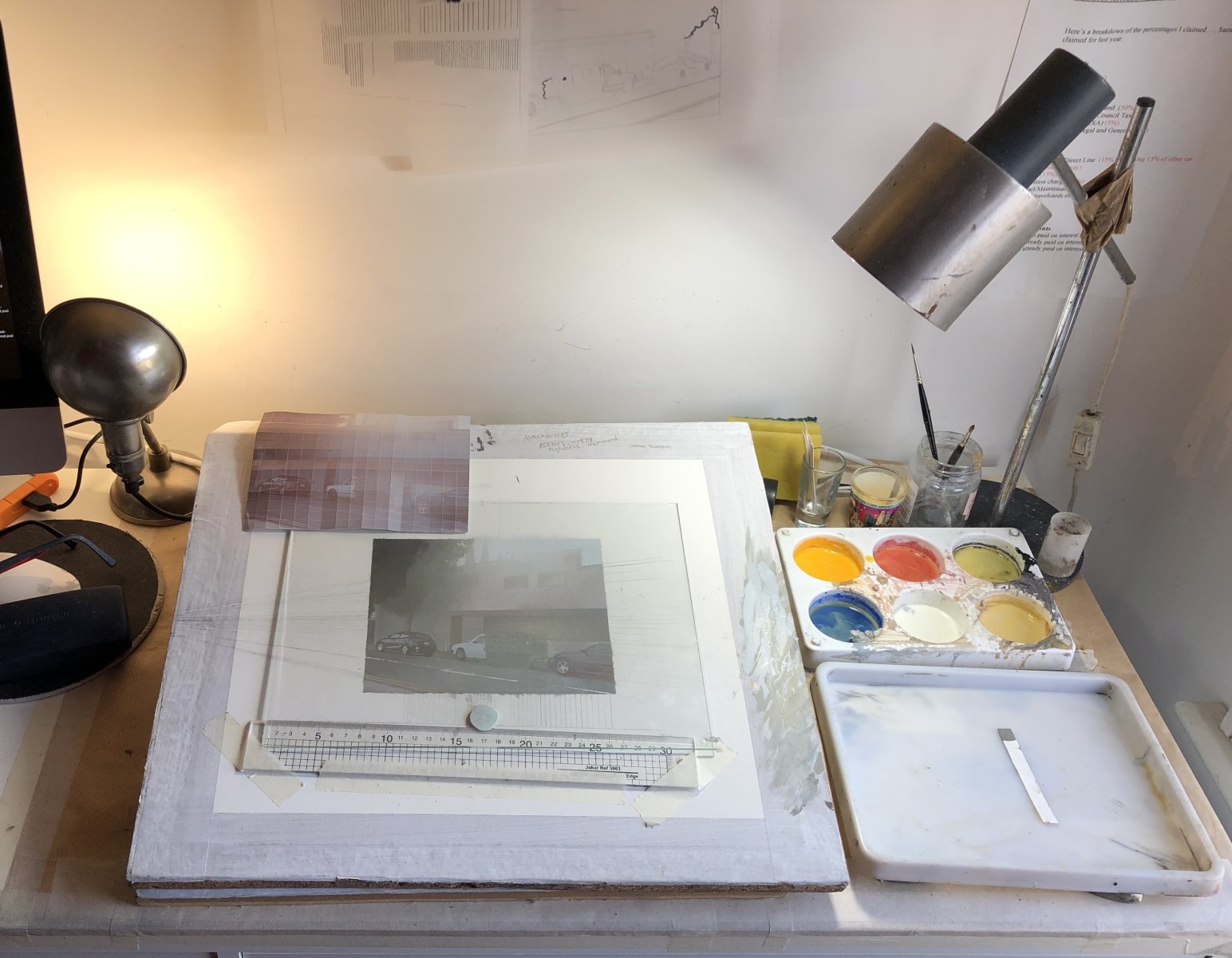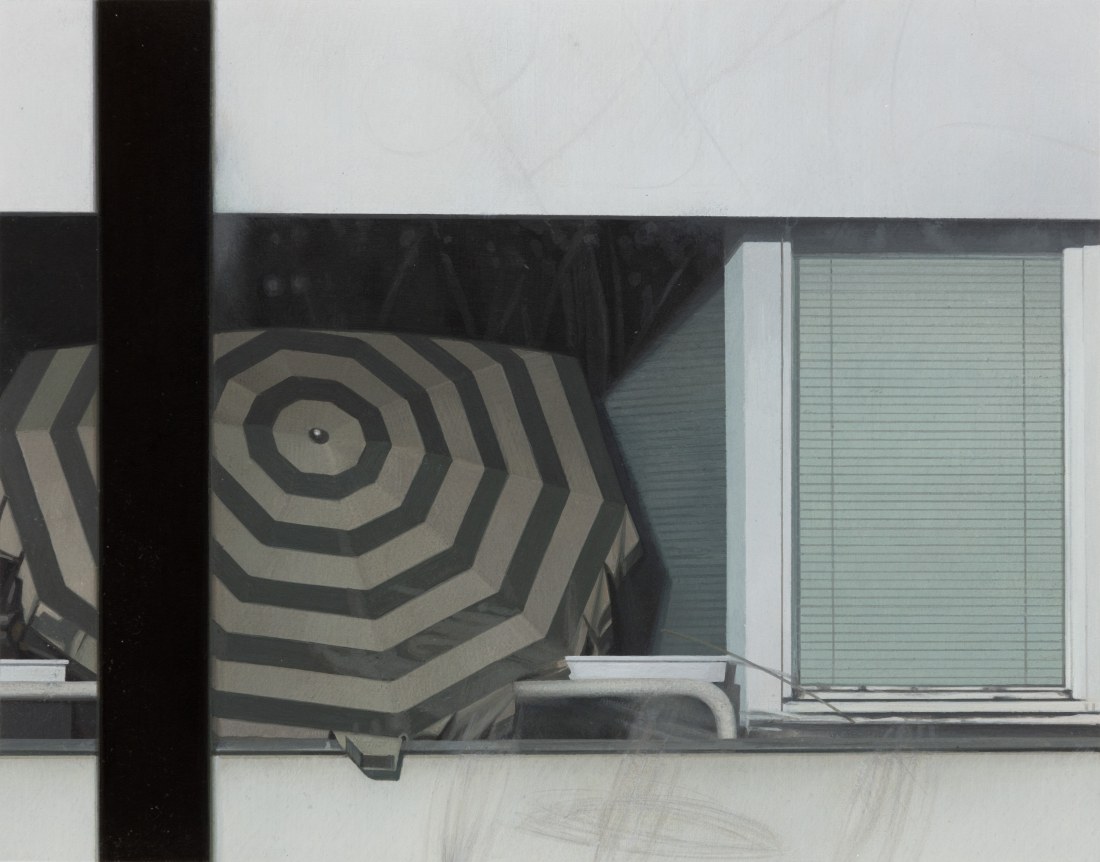 Balcony 1, 2, & 3, 2019
---
Another image I knew I wanted to paint was this shot I'd taken from a train in Berlin. I took it through the window of the train and the camera focused in on the scratched in graffiti on the glass by accident. I had two shots of this umbrella on the balcony taken a fraction of a second apart and I contrived the third to give a sense of slow movement. I liked the subdued colors and the fleeting glimpse into somebody else's life. It is one of the unspoken pleasure of travel, that you can dream freely for just the right amount of time. As a painter it is always apparent that one is working with surfaces, and for me, it is still fascinating to create the illusion of these thin membranes of space. The play across the surface as composition is equally compelling, playing this time with abstraction and seriality.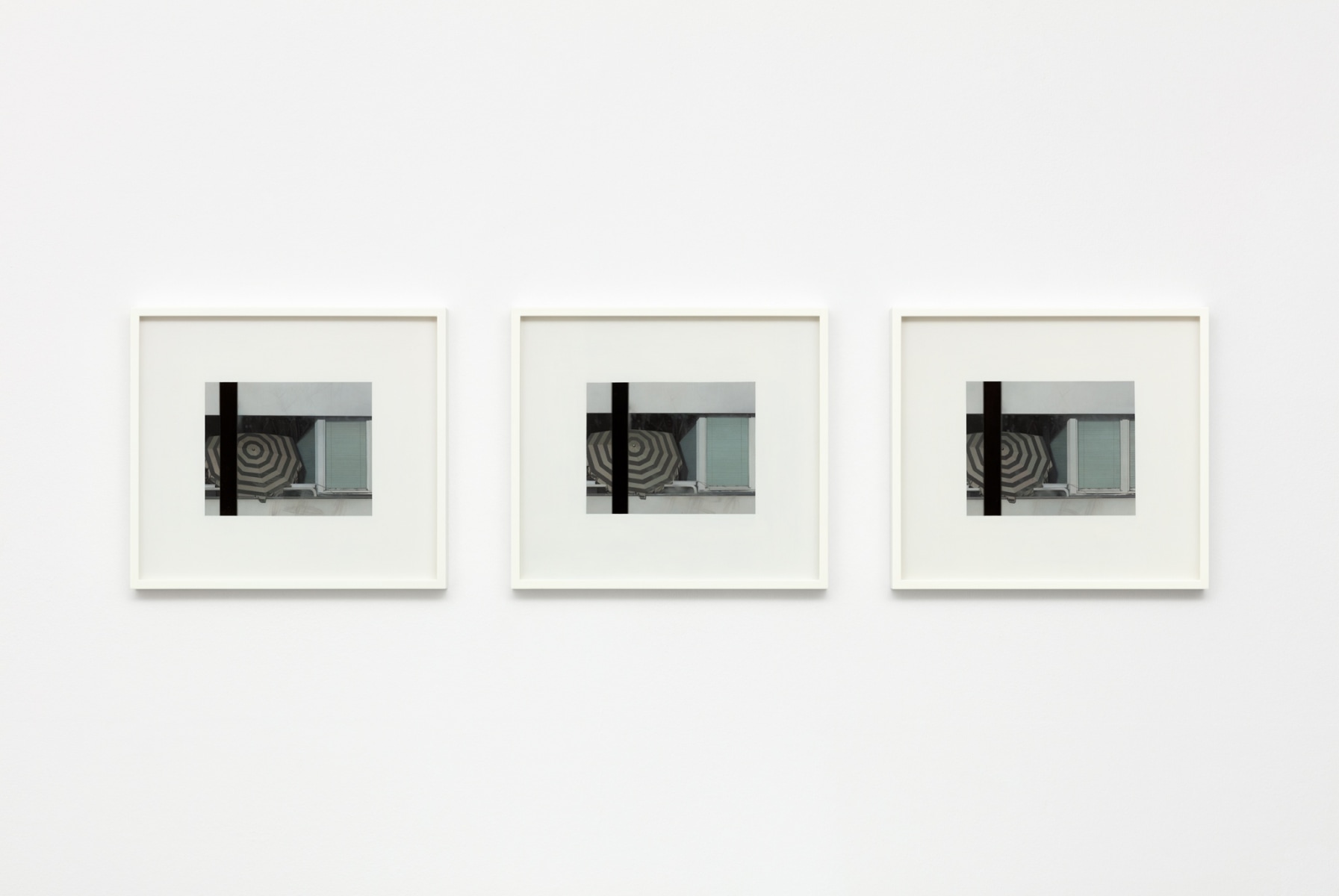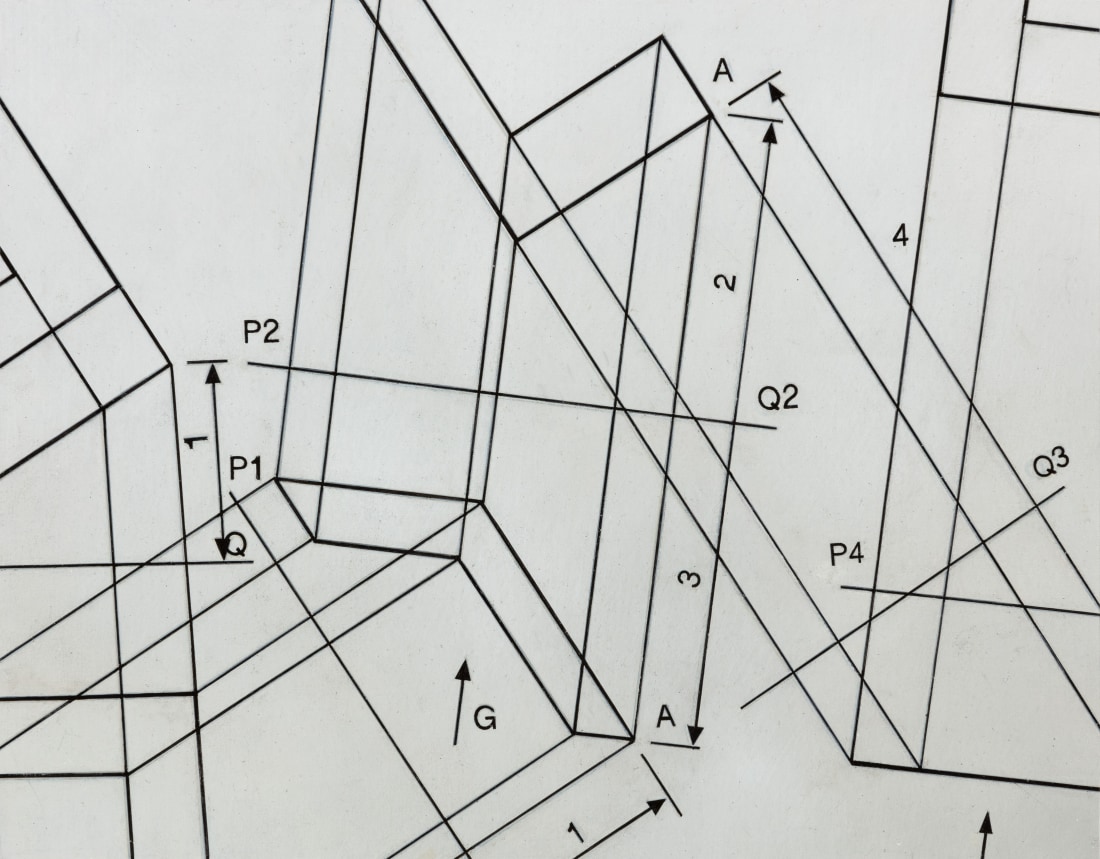 Diagram, 2019
---
This work was a deliberate attempt at giving the series a shape. I wanted to pull it in another direction and use a found image that was two dimensional, instructional and had a scientific feel to it. I went to the local library to leaf through some old science text books. I took snaps of the pages on my phone, this one coming from a book on electronic circuits. I wanted the lines to feel as though they were burnt into the white, an effect you often can see in old movies. The attention to edge and negative spaces allowed me as a painter to doff my hat towards Mondrian, Constructivism and Op Art. The white background is not even and so subtly signifies a shift in light on a page as a real object trapped in the shallowest of space.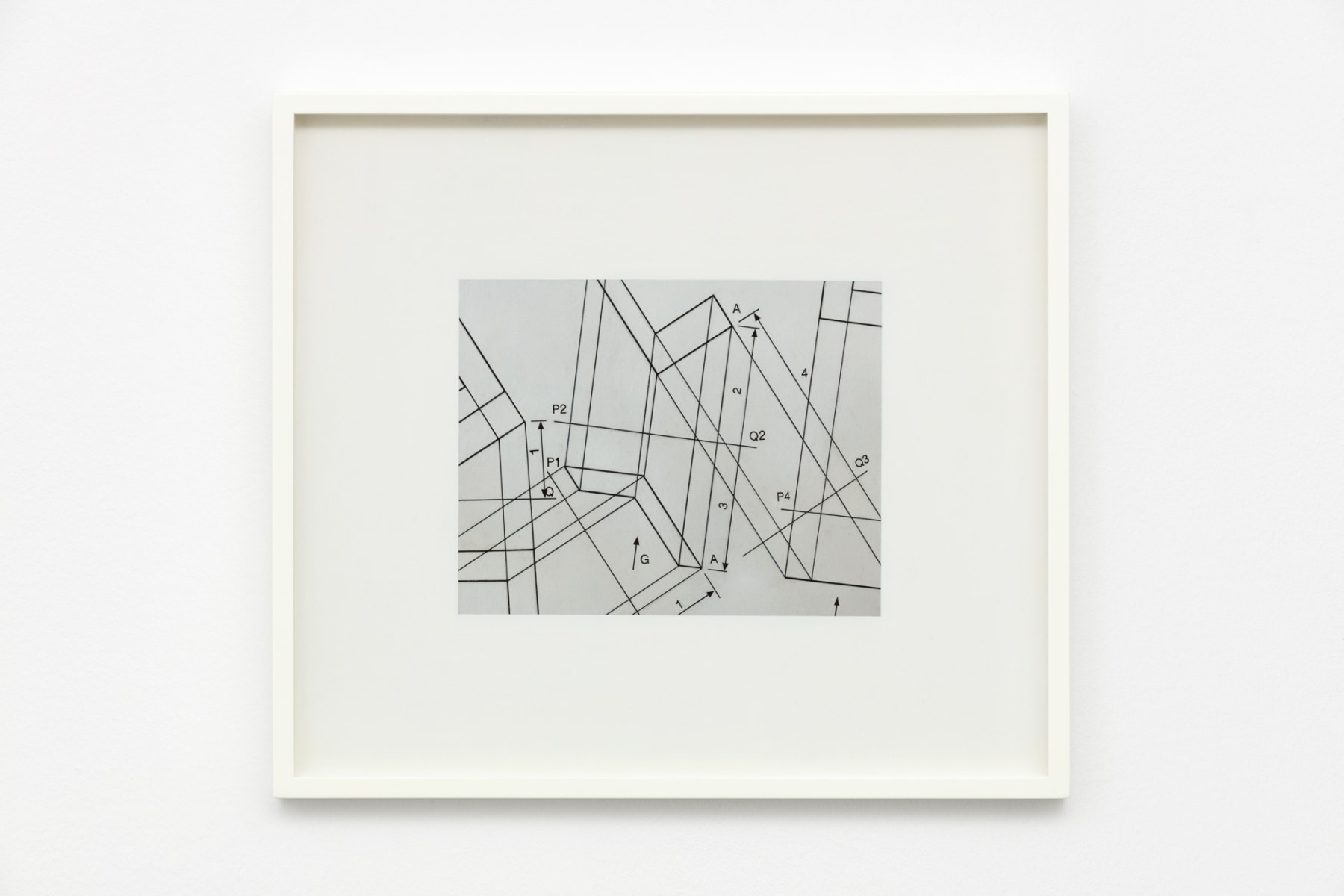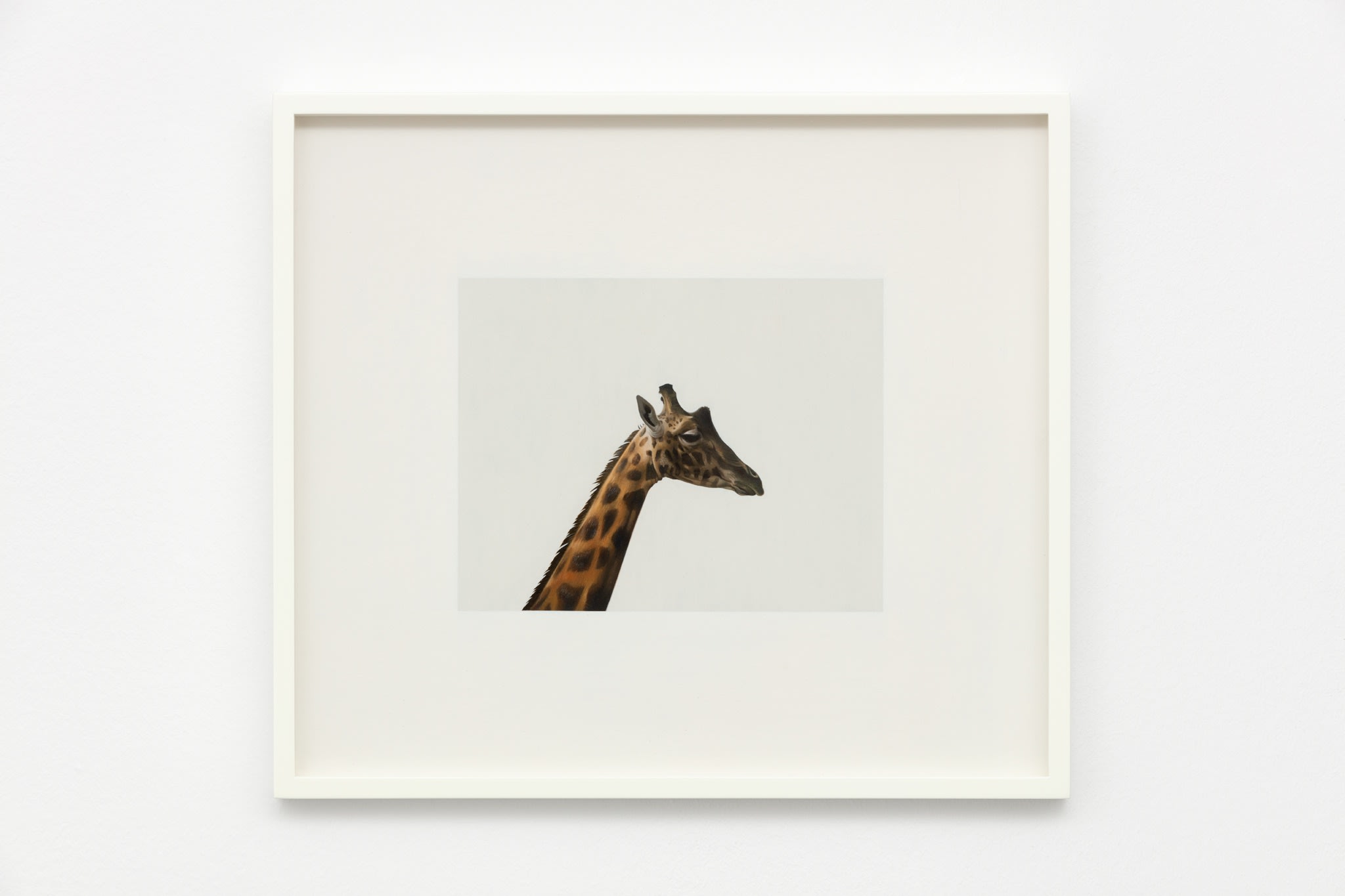 Giraffe, 2020
---
This photograph was taken about ten years ago in a zoo/safari park in Normandy, France. A small train took you on a tour round the grounds. You were separated from the animals by a tall fence. This giraffe came over to the train and stood quite still. The sky was almost totally white creating a neutral backdrop objectifying the creature.
Retrospectively, I realise there is a scene with a taxidermied giraffe in Chris Marker's film La Jetée (1962). A film I have referenced for its cinematic narrative made up from photographic stills as well as for its looping character.
Bridge 1, Blank 2, Bridge 2, Bridge 3, 2020
---
The Bridge series is from a photograph I took in Vancouver crossing a bridge. I was wandering around, taking point and shoot shots of trees, amusing myself with these copies of Rodney Graham's photographs of inverted trees. It had a dumb quality I liked. So dumb it's mysterious. Not quite a tourist shot nor a good photograph of a tree. Multiplying the images in this case seemed to increase this 'dumb' quality, as if repeating it made anything any clearer.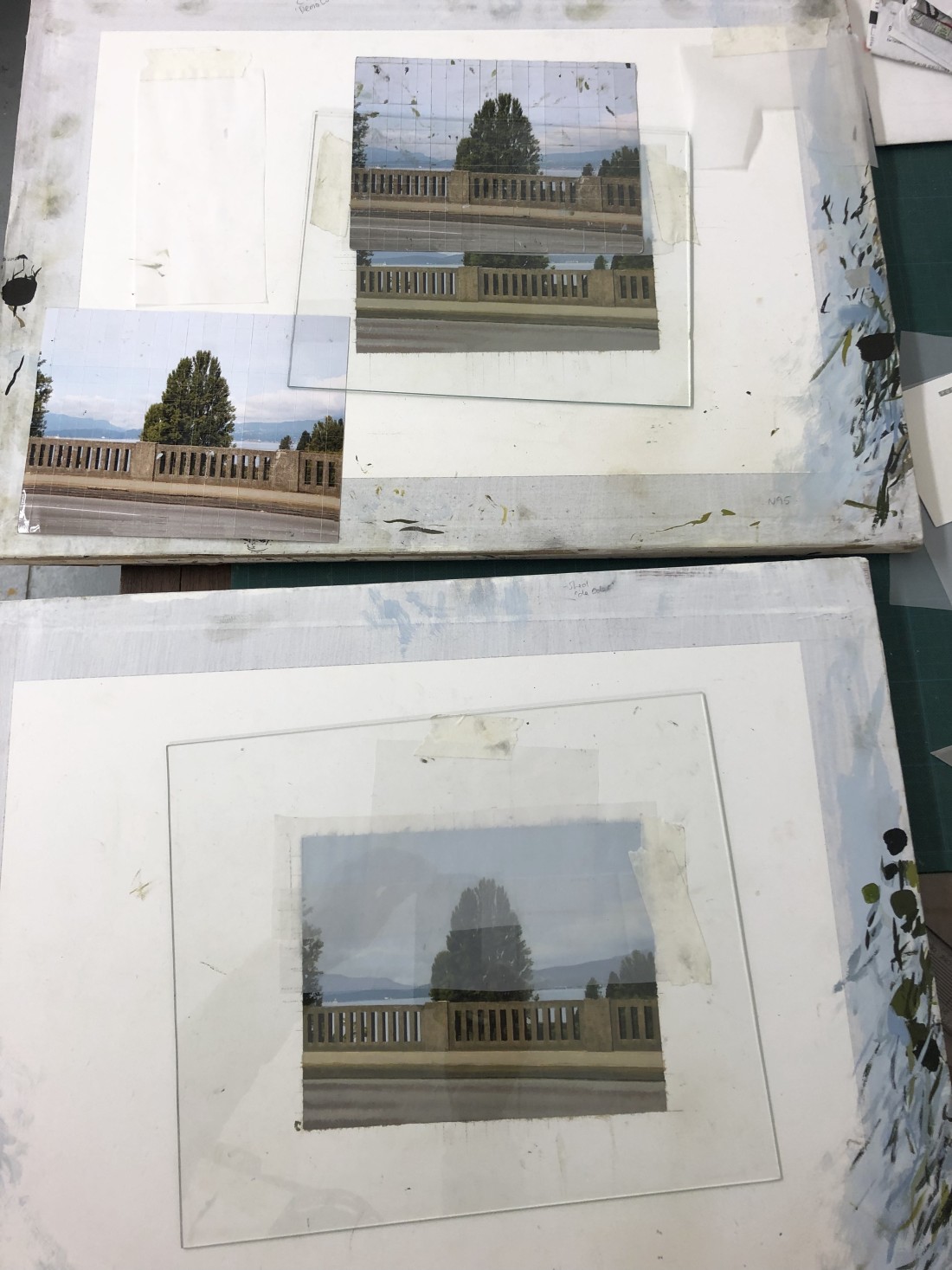 I am looking for images that differ or compliment the previous ones. However, I also am looking for other images that evoke a sort of suspension of the flow of time, as if we were waiting for something to happen. They should imply something which is not actually depicted. Leave us with a feeling of dissatisfaction, wanting more information. Blank 2, 2020
---
I had this idea to insert this black void into the series. You could think of it as a changing of the film reel, a glitch or a pause. Of course, it is always nice to find an excuse to make one's own black monochrome. It also echoed the [British Minimalist artist] Bob Law work in Painting 1, another work in the series. I had thought of a yellow rectangle or introducing a single thin white stripe, reminiscent of a scratch in a film but opted for pure black.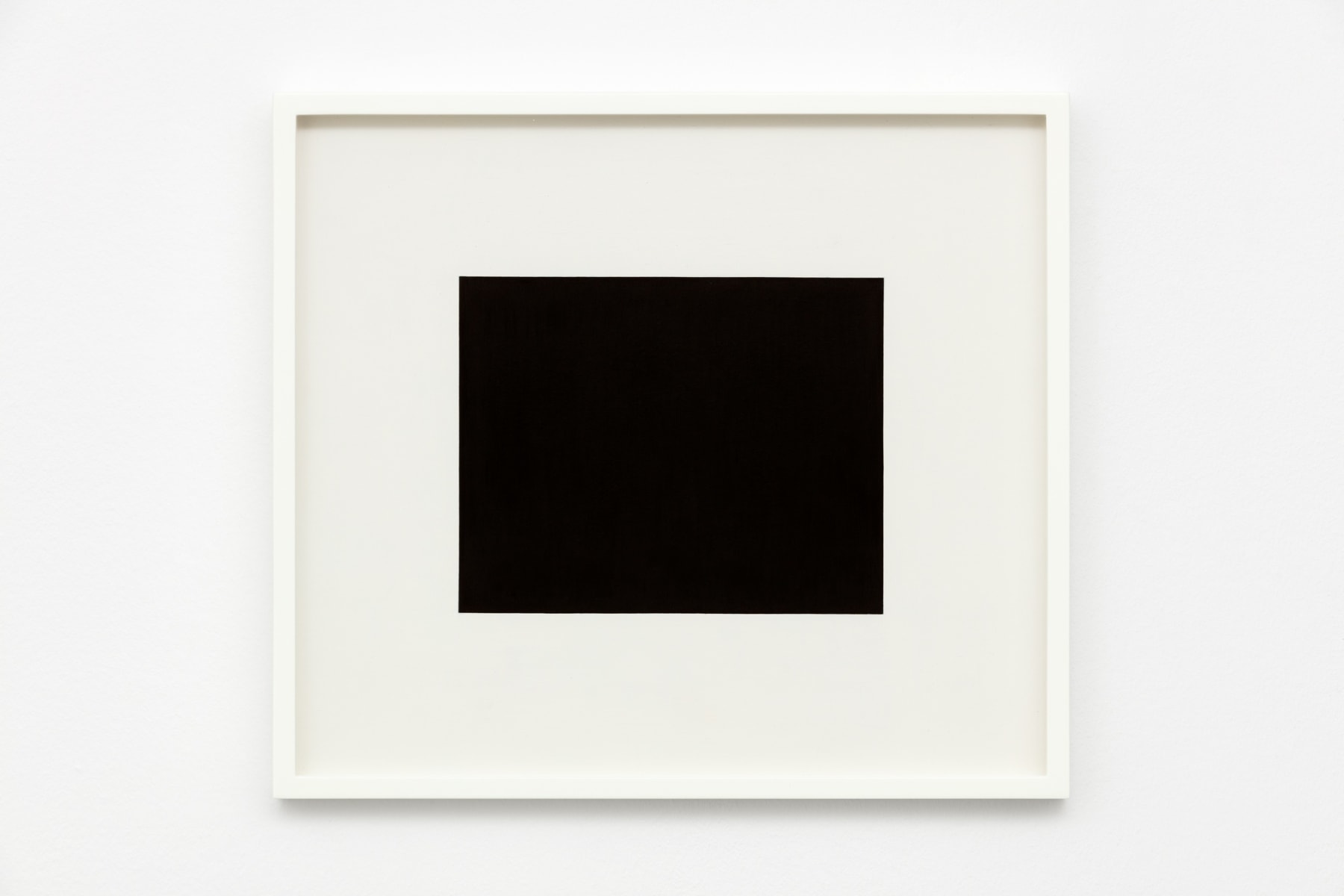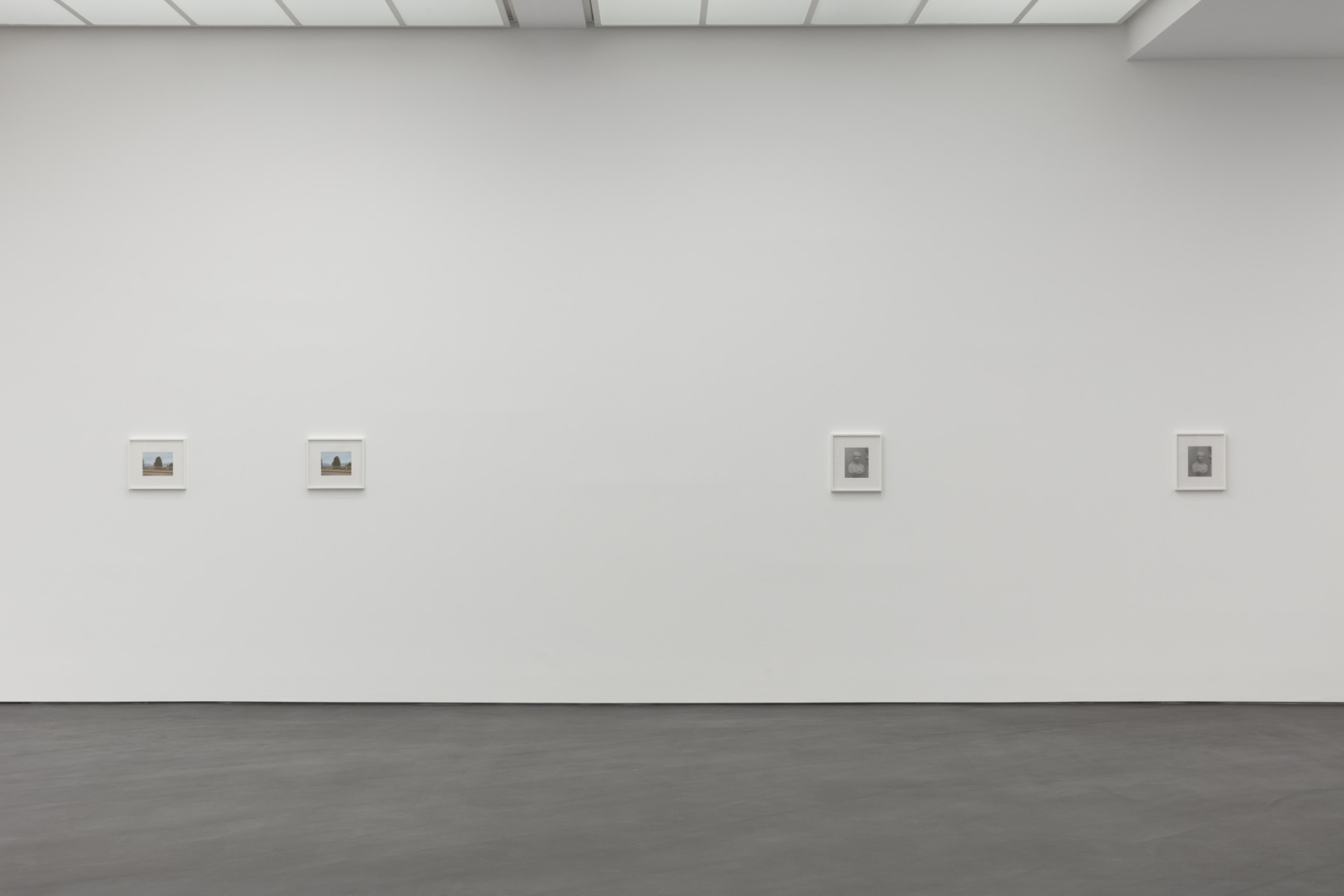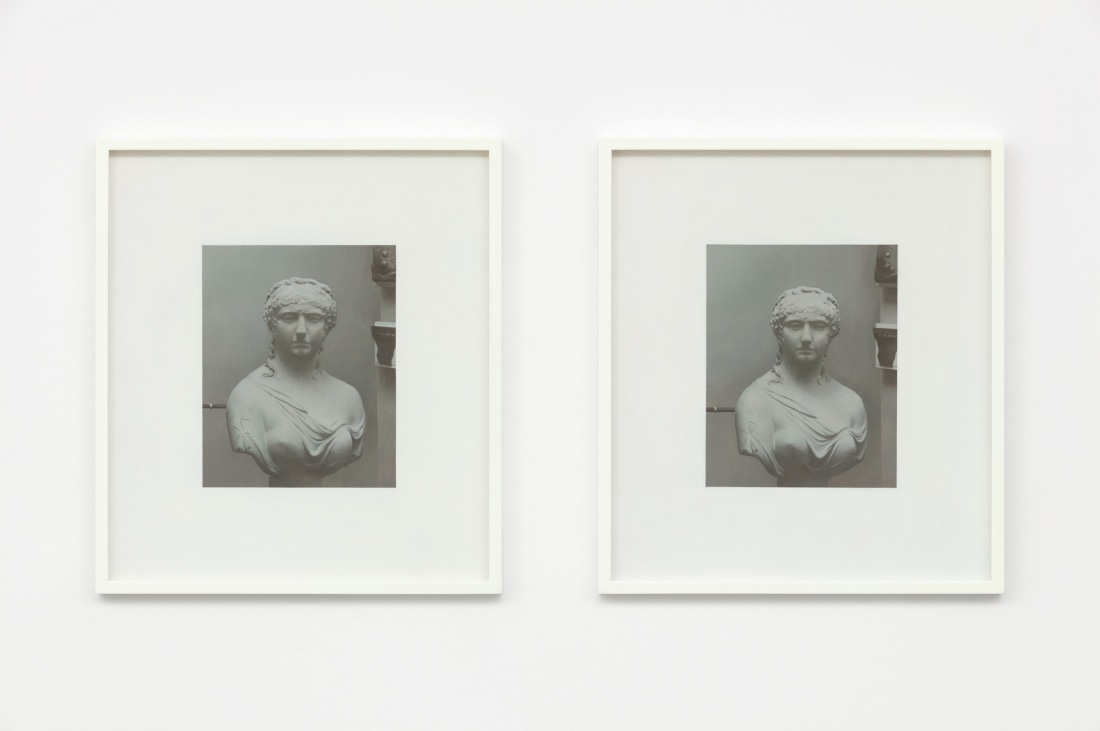 Sculpture 1 & 2, 2019
---
I looked through my collection of photographs and came across this image I'd taken on a site visit to the Sir John Soane's Museum in London. I was scanning the museum with a view to inserting my painting into the space and had taken countless snaps of spaces and objects there. I cropped in on this Roman bust made it monochrome and played around with levels until it appeared to have this silverprint look. I was looking at old books of sculptures with black and white photos that seem so evocative in themselves and I'd wanted to try a monochrome for a while.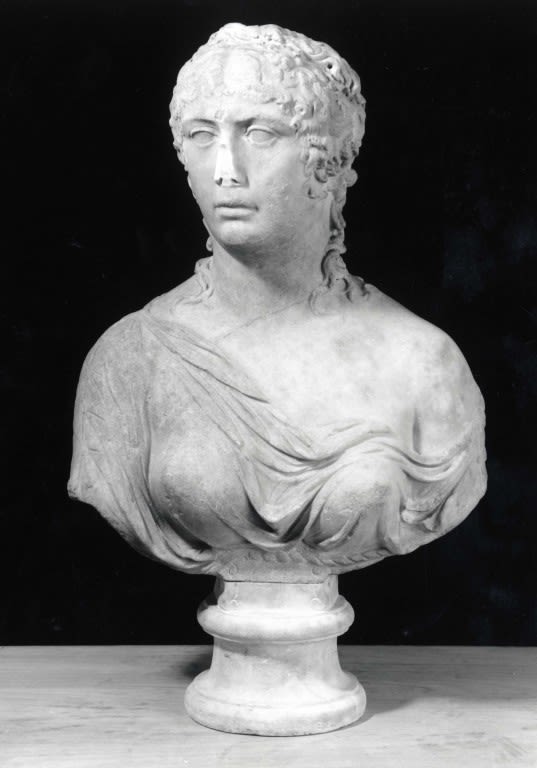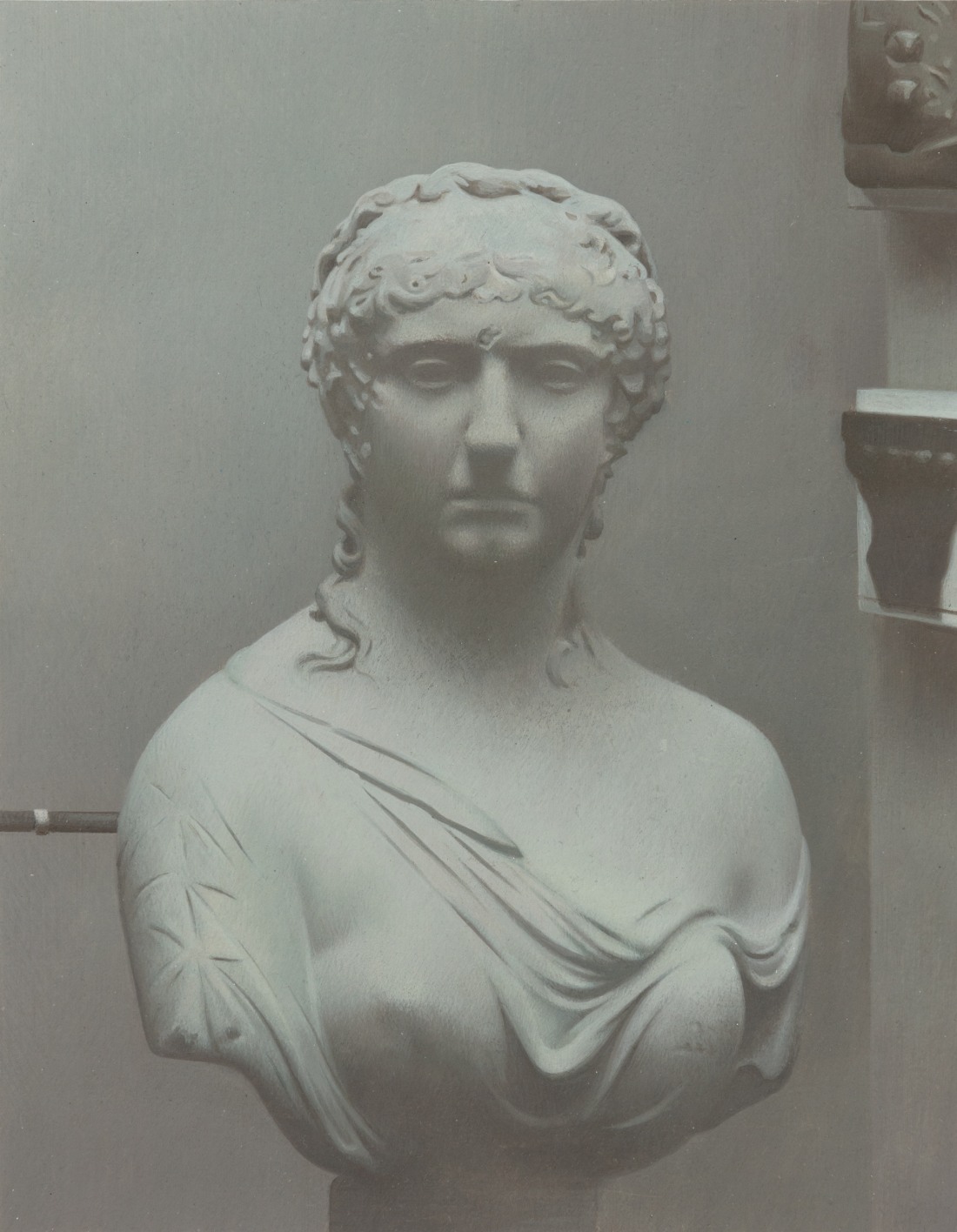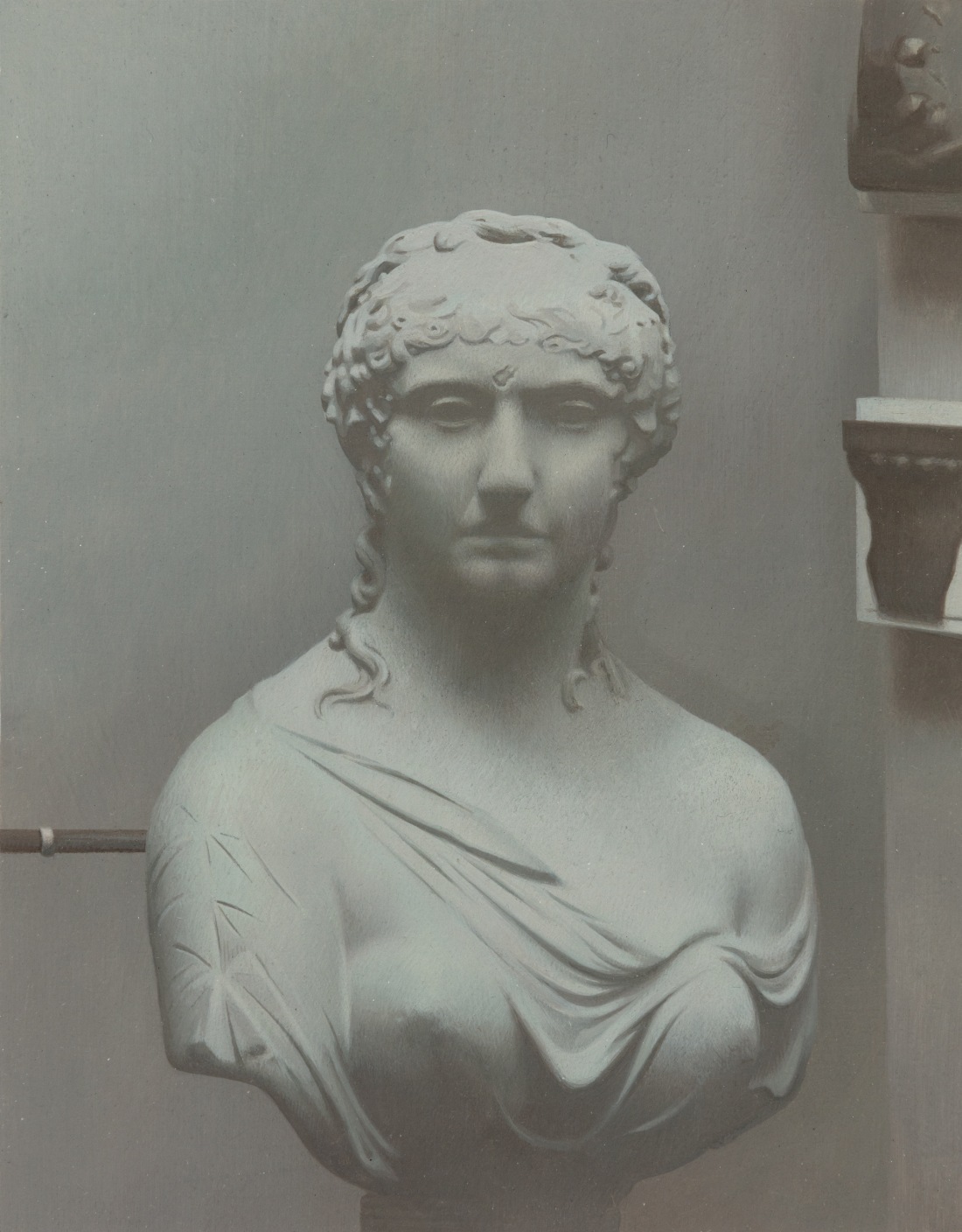 I'd bought some special grey pigments and some pearlescent chalks to add in so I experimented with them in this painting. There is colour, I added one blue and one brown to the off whites and blacks. I don't know if all this comes across but it was tricky to paint as the pigments were fairly transparent and took layers to build up. In this pair, exceptionally, I chose to make one image slightly larger than the other. It's the only one like that in the series.
Siding 1 & 2, 2019
---
This shot was taken the longest time ago. 1985. It's on a commute into London from Broxbourne, a satellite suburb of greater London. It's where my aunt lived. I stayed with her while I looked for a place to live in London. The light of the station platform illuminated the closest shrubs and post.
Playing around manipulating the image I uncovered trees and outgrowth originally hidden in the dark of the image.

Something akin to night vision.