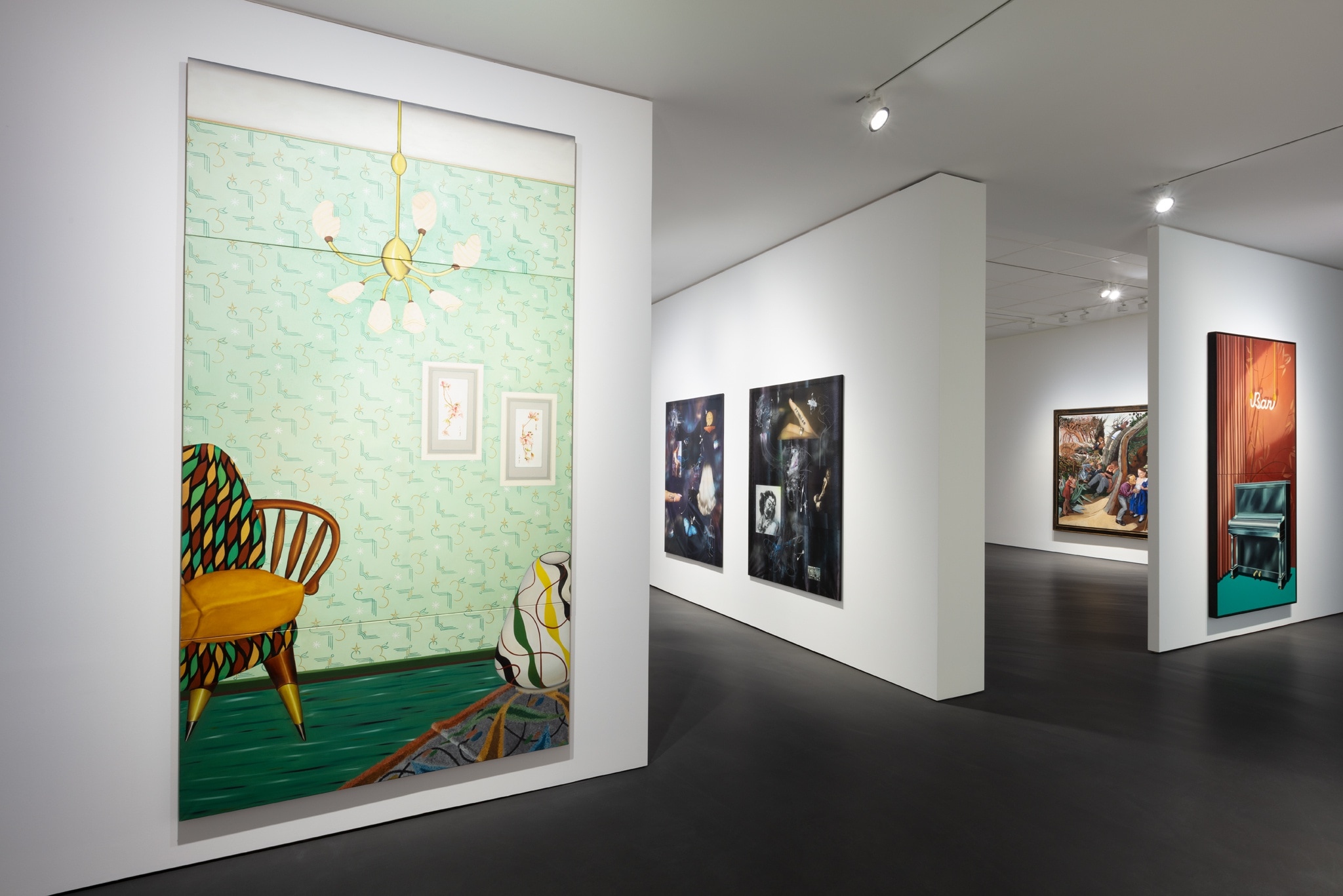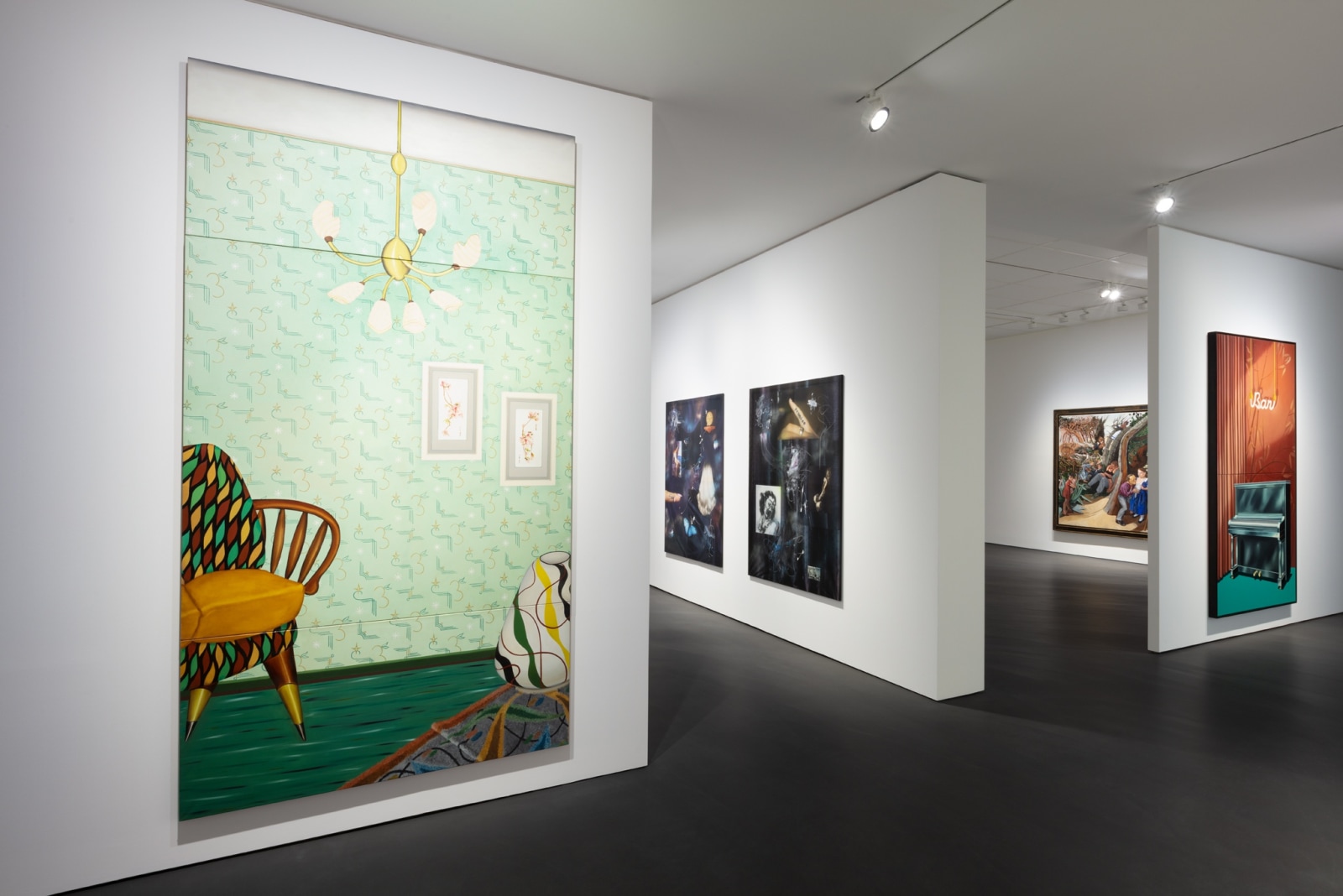 L'Invitation au voyage
Esther Schipper, Berlin
Overview
Esther Schipper is pleased to present an Online Viewing Room dedicated to L'Invitation au voyage, an exhibition of painting on the long history of travelling in your imagination, through fantasy or dreams, and ideas of the body as site of projection, conduit and personal discovery. At a time when travel in real life has become fraught and the ease, even recklessness, with which we took this liberty for granted has come into question, this exhibition—its title, L'Invitation au voyage is taken from a poem from Charles Baudelaire's Les Fleurs du Mal—invokes the freedom of imaginary travel. The poem, in which the author invites his mistress to travel with him in their imagination, suggests a parallel between Flemish painting, the landscape of the Netherlands, and his lover's body. Its famous closing lines gave the title to Henri Matisse's 1904 painting: 'Là, tout n'est qu'ordre et beauté, Luxe, calme et volupté.' L'Invitation au voyage spans multiple generations and artistic approaches, inspired, influenced,...
Esther Schipper is pleased to present an Online Viewing Room dedicated to L'Invitation au voyage, an exhibition of painting on the long history of travelling in your imagination, through fantasy or dreams, and ideas of the body as site of projection, conduit and personal discovery.
At a time when travel in real life has become fraught and the ease, even recklessness, with which we took this liberty for granted has come into question, this exhibition—its title, L'Invitation au voyage is taken from a poem from Charles Baudelaire's Les Fleurs du Mal—invokes the freedom of imaginary travel. The poem, in which the author invites his mistress to travel with him in their imagination, suggests a parallel between Flemish painting, the landscape of the Netherlands, and his lover's body. Its famous closing lines gave the title to Henri Matisse's 1904 painting: "Là, tout n'est qu'ordre et beauté, Luxe, calme et volupté."
L'Invitation au voyage spans multiple generations and artistic approaches, inspired, influenced, and expanding on representations of dream and fantasy. Beginning with pioneering avant-gardist Hannah Höch, and established figures such as Paula Rego, Almut Heise, Leiko Ikemura, and Yeesookyung, the exhibition continues into the practices of younger generations with works by Sarah Buckner, Cui Jie, Cordula Ditz, Tala Madani, Isa Melsheimer, Sojourner Truth Parsons, Shahzia Sikander, and Tsai Yi-Ting.
Almut Heise
---
Almut Heise (b. 1944 in Celle, Germany / lives and works in Hamburg) studied at the Hochschulinstitut für Kunst- und Werkerziehung in Mainz from 1965 to 1967, at the Hochschule für Bildende Kunst in Hamburg from 1967 to 1970, and at the Royal College of Arts in London from 1970 to 1971 as part of a DAAD scholarship. She went on to do a residency at the Villa Massimo, Rome, in 1978–79, and has been awarded art prizes such as the Edwin-Scharff Preis and the Kunstpreis Finkenwerder. She was a professor at the Hochschule für Angewandte Wissenschaften (HAW) in Hamburg between 1978 and 2005. Solo exhibitions include: Kunstverein Freiburg/Breisgau, 1990; Kunsthaus Hamburg, 1975; and Staatliche Kunsthalle Baden-Baden, 1974.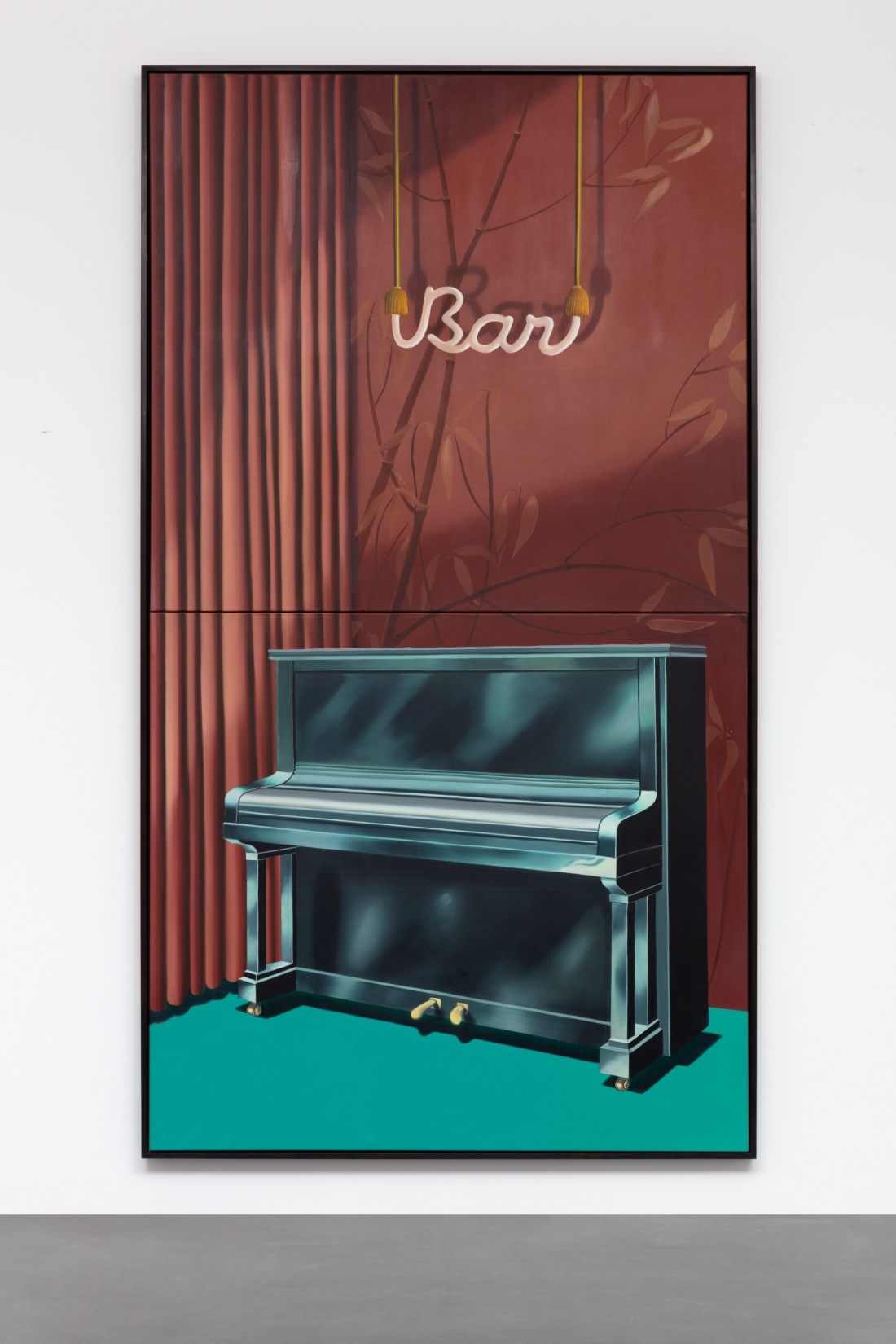 The oeuvre of the painter Almut Heise presents viewers with somewhat of a challenge. Her realistic paintings and works on paper, created through great dedication and attention to detail over five decades, constitute an ode to representational painting—albeit an ode in which intricately rendered details resist a cohesion with narrative. At once anachronistic and timeless, her works deftly elude classification and continually generate new questions and lines of enquiry.
Stylistically, Bar suggests a departure for Heise—it does not depict the furniture so typical of post-war German decor, with its cocktail chairs, small kidney tables, parade cushions, and bag lamps, all of which were characteristic of the many paintings of interiors she produced during the mid-1960s. At its center is a black, 1920s piano, depicted in front of red bamboo wallpaper bearing the neon inscription "Bar." The painting was completed within her DAAD scholarship from 1970 to 1971 at the Royal College of Art in London, during which time she studied with Peter Blake and became fascinated by the Art Deco style so omnipresent at the time.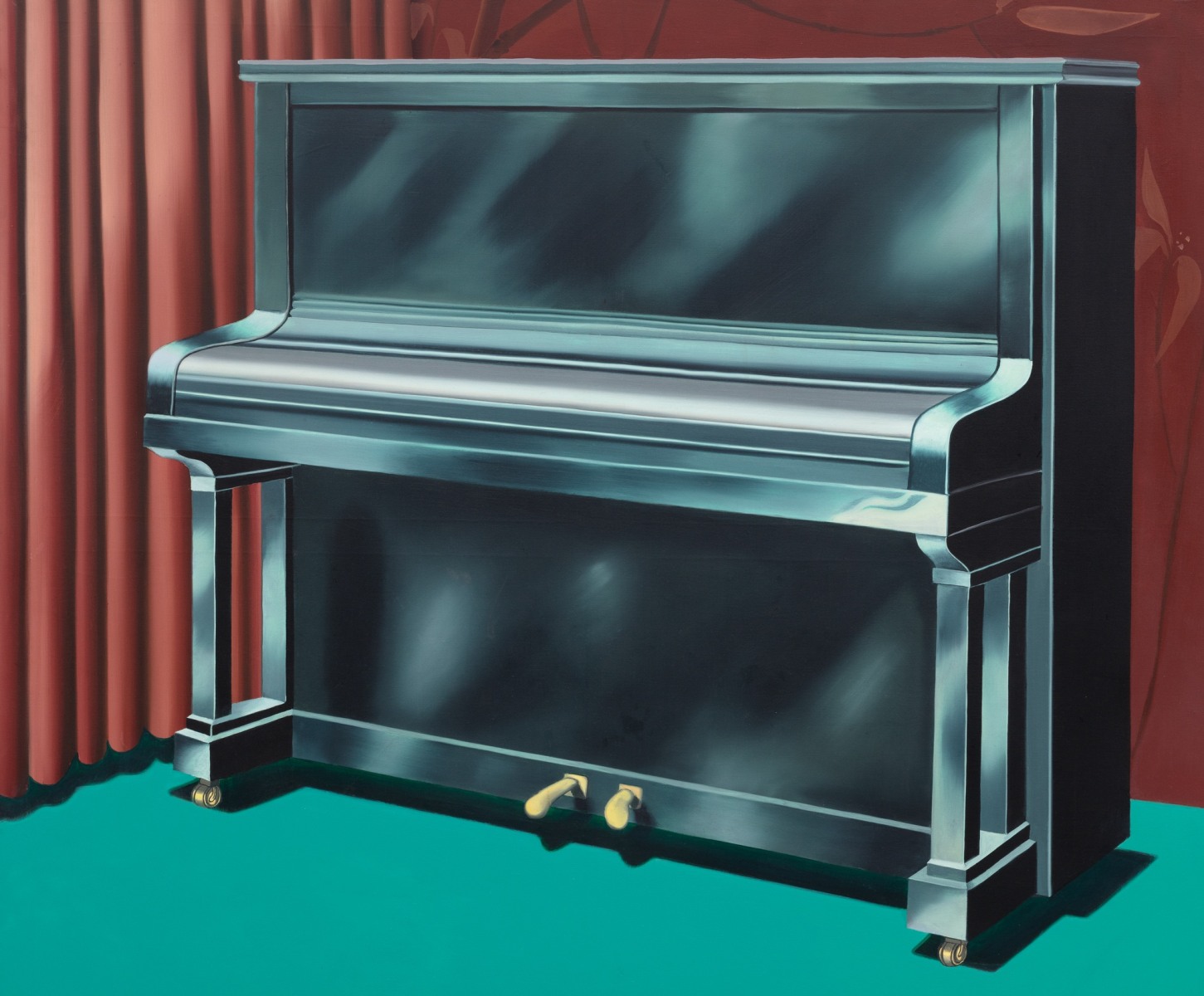 Almut Heise, who garnered widespread recognition and acclaim during her student days at the art academy in Hamburg for her large-format paintings of interiors, such as Großes Wohnzimmer (Large Living Room, 1968), and who was already exhibited by an important German gallery, abruptly and resolutely decided to abandon this successful and lucrative form, and to henceforth devote herself almost exclusively to portrait painting.
Early paintings, such as Großes Wohnzimmer, however, are altogether devoid of people. The work depicts a fragment of what is recognizably post-war German décor. These domestic scenes, with their cocktail chairs, small tables, parade cushions, and bag lamps, are characteristic of the artist's series of interiors produced from the mid-1960s onward.
Heise's cool and impersonal application of paint, which at first does not seem to allow for a distinct personal style of paint handling, calls to mind parallels with the work of Henri Rousseau and his Magical Realism, especially when regarding her early work. This comparison is also supported by the collage-like pictorial structure, similar again to Rousseau's, and yet which could also be seen as a nod to the Pop Art of her famous teachers, David Hockney and Allen Jones. For the inquiring viewer, it is a real pleasure to decipher the numerous citations. It is the discourse and the essence of "peinture" that excite Almut Heise as she transposes those allusions into her own visual language.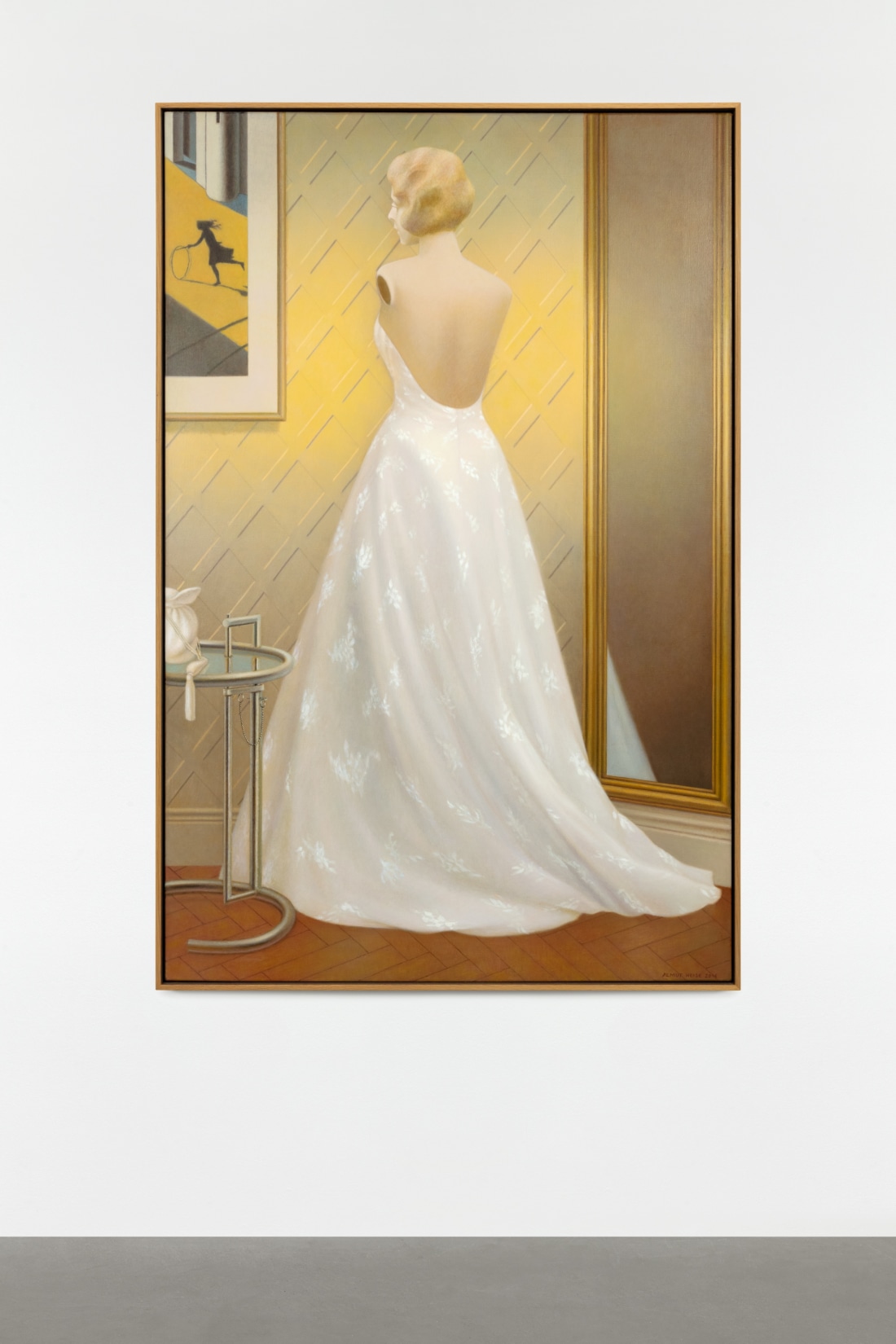 In Schaufenster (2016) the artist dispenses entirely with the human body and instead introduces a mannequin with its back turned to the spectator. The work is compelling on several levels: the viewer not only looks into the shop window at the mannequin—which is clothed in an elaborately embroidered white lace dress, and framed by a mirror on one side and an Eileen Gray table on the other—but also into another "window" or "picture within a picture," namely a detail with a playing girl from Giorgio De Chirico's famous metaphysical painting Mystery and Melancholy of a Street (1914), a recurring reference in Heise's work.

—Marie-Catherine Vogt, 2021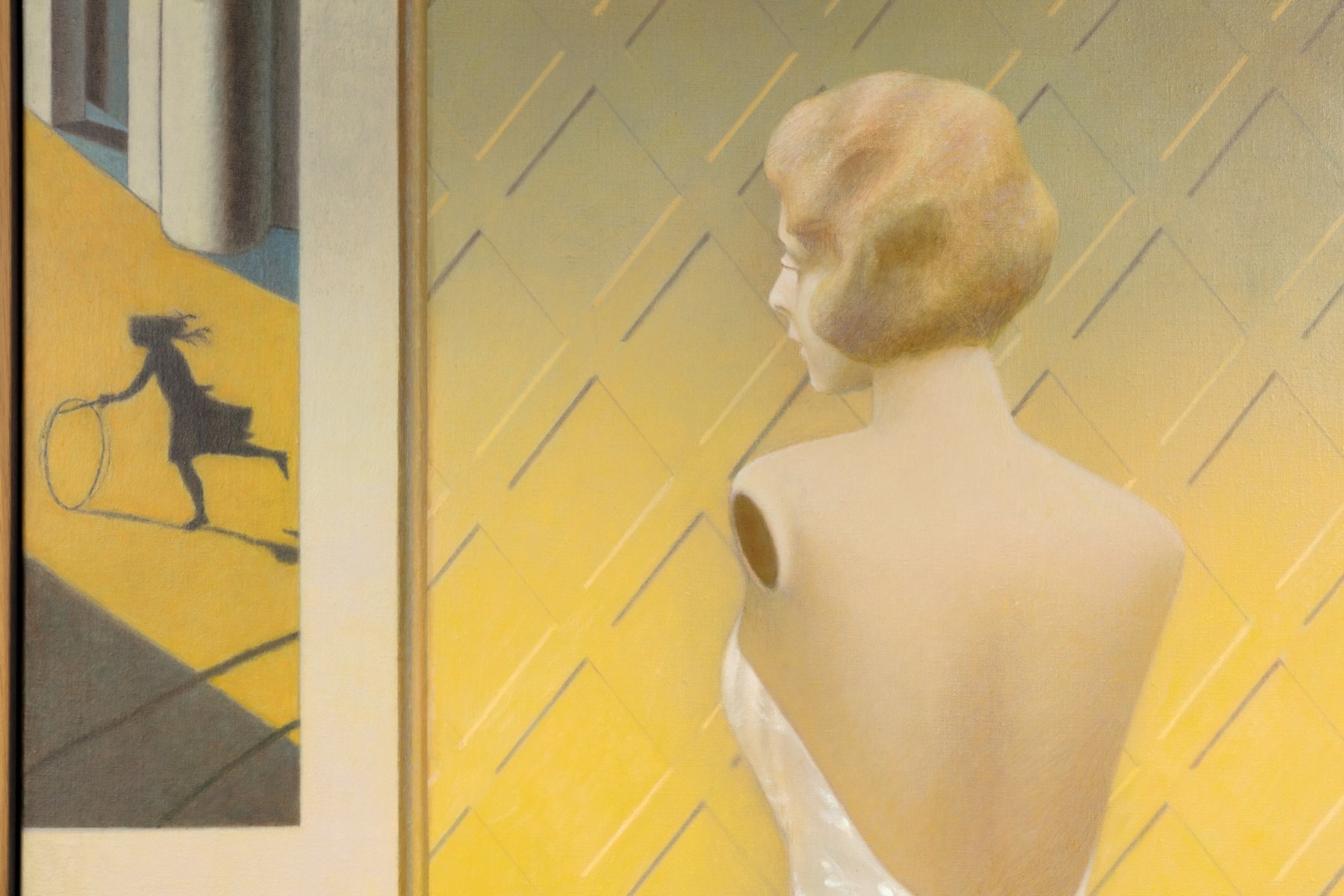 Paula Rego
---
Paula Rego (b. 1935 in Lisbon, Portugal / lives and works in London), trained at the Slade School of Fine Art from 1952 to 1957. Rego has exhibited widely in Britain and internationally, including her most recent solo presentations: The Cruel Stories of Paula Rego, Musée de l'Orangerie, Paris, 2018–19; Paula Rego: Obedience and Defiance, premiered at the MK Gallery, Milton Keynes, 2019, and was shown at the Scottish National Gallery of Modern Art, Edinburgh, 2020, before traveling to IMMA in 2021. A major retrospective opens at Tate Britain in 2021.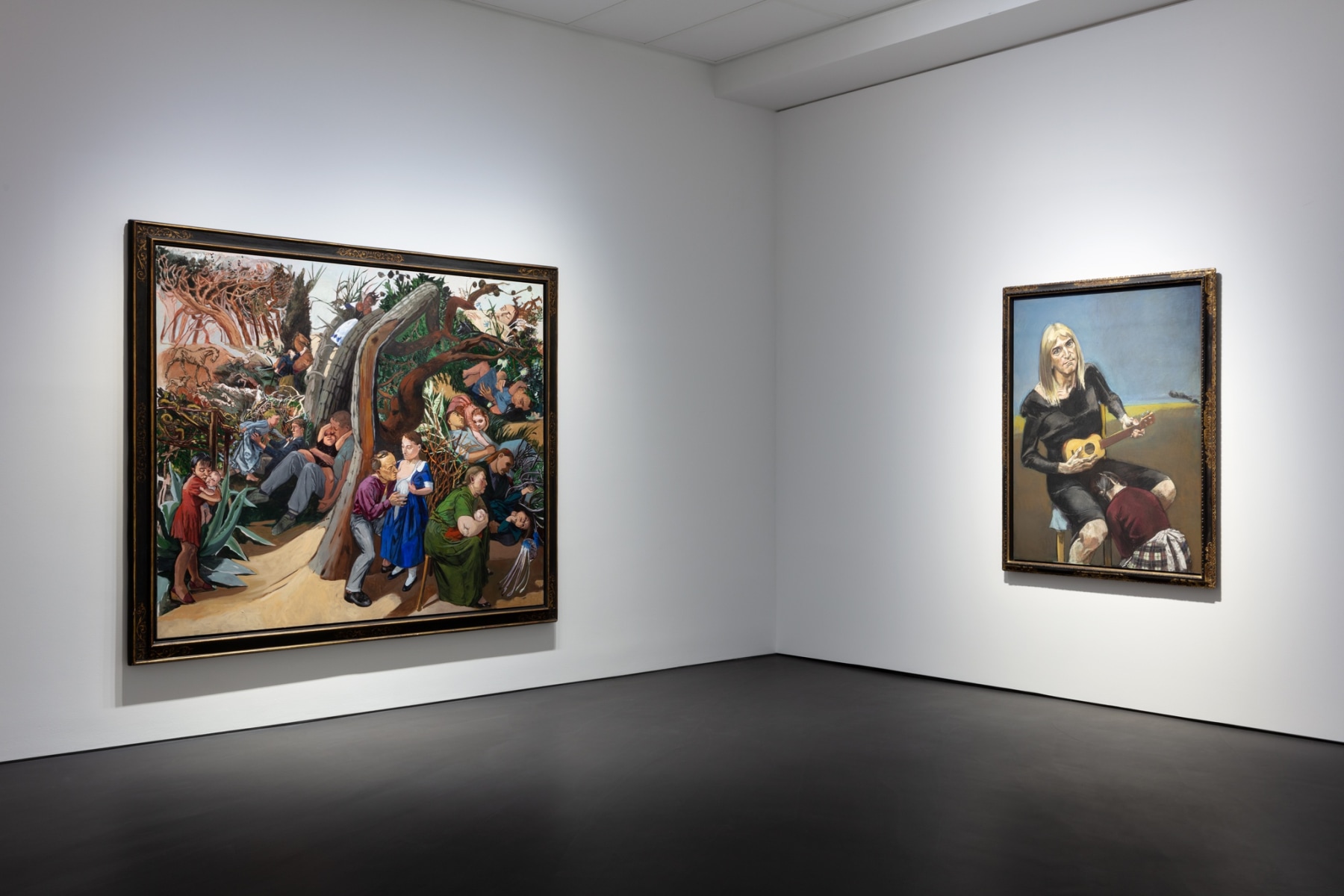 Picture-making has been a refuge and a place of safety for Paula Rego, but also a means by which she has conveyed her darkest thoughts and fantasies. Hugely prolific and always on the move stylistically and in terms of her methods, she has relied on this creative process for her sanity and as a way of negotiating her way through life, as it has for the many outsider artists whose work she has admired and from which she has sometimes drawn inspiration. She is fond of remarking that 'making art is disgusting', not to shock but because she regards that as a fake occupation. Self-consciously 'making art' would be for her a betrayal of her principles and one that would diminish the truthful and subversive power of her pictures. [...]
In the mid-1980s, when her husband, the painter Victor Willing, was dying of multiple sclerosis, Rego embarked on a radical change of direction that has determined the tenor of her work ever since. Still working at first with acrylic paint on paper, often on a majestic scale that immersed the spectator in the deep perspectives of her now much more realistically depicted human narratives, she began to make paintings based on drawings initially conceived in her imagination but with much greater concern for the way things actually look. The women and men acquire a volumetric solidity, casting strong shadows that persuade us of their truth and physical presence. In one of the last such works, the vast Caritas 1993, the artist parachutes us into the vortex of a perplexingly complex scene charged with personal history.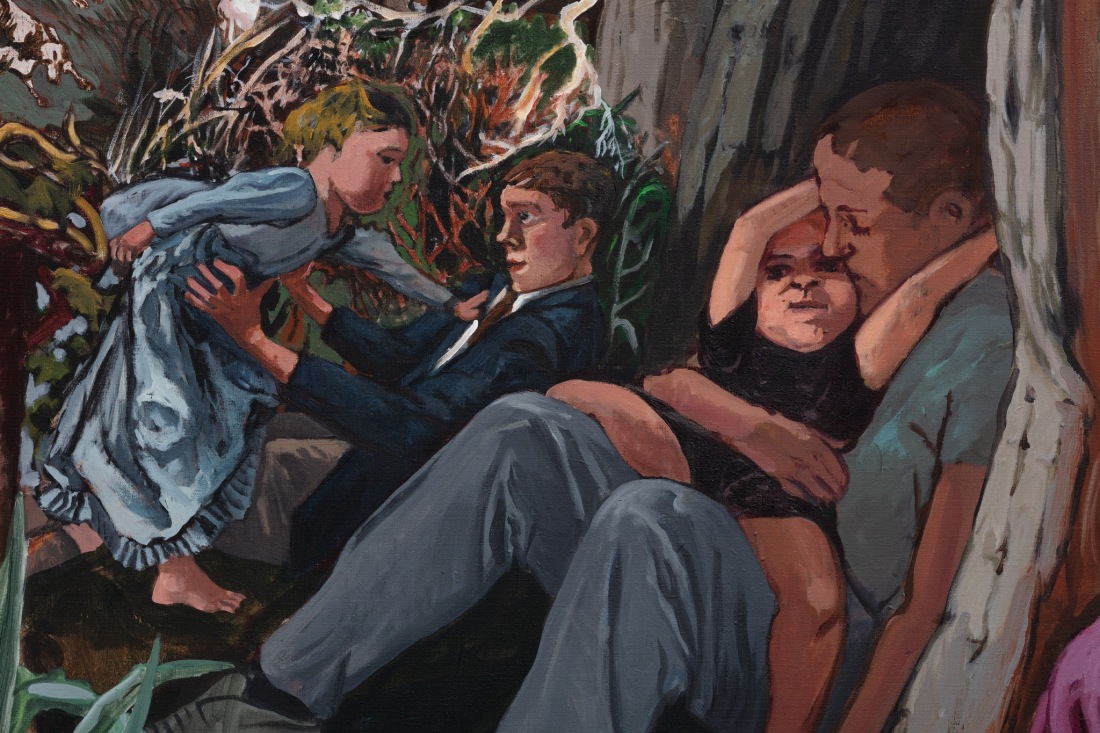 Rego's son Nick Willing—whose cinematic portrait of his mother, a documentary released in 2017 called Paula Rego, Secrets & Stories, provides the most dauntingly honest account of her life and work—unlocked the imagery of this work so vividly that it seems right to quote it verbatim opposite its reproduction in this publication.
As so often with Rego's work, a single painting can be accessed in more than one way, even by the artist herself, no single reading cancelling out the others. Paula's elder daughter, Caroline, has her own interpretation of this story, which takes as its title the Latin term for Charity, one of the three theological virtues. She sees the picture as a transgressive one anchored in the image of a woman breast-feeding an imprisoned old man, possibly a stand-in for the artist's own father: a "mash-up of conflicting emotions", kindness sitting alongside a creepiness, goodness with sexual impropriety. As art historian Catherine Lampert has persuasively argued, the theme of Caritas romana (Roman charity)—in which a woman secretly breastfeeds her incarcerated father to prevent him from dying of starvation—is explicitly referenced here as a metaphor for "the nourishing aspect of youth in the face of ageing."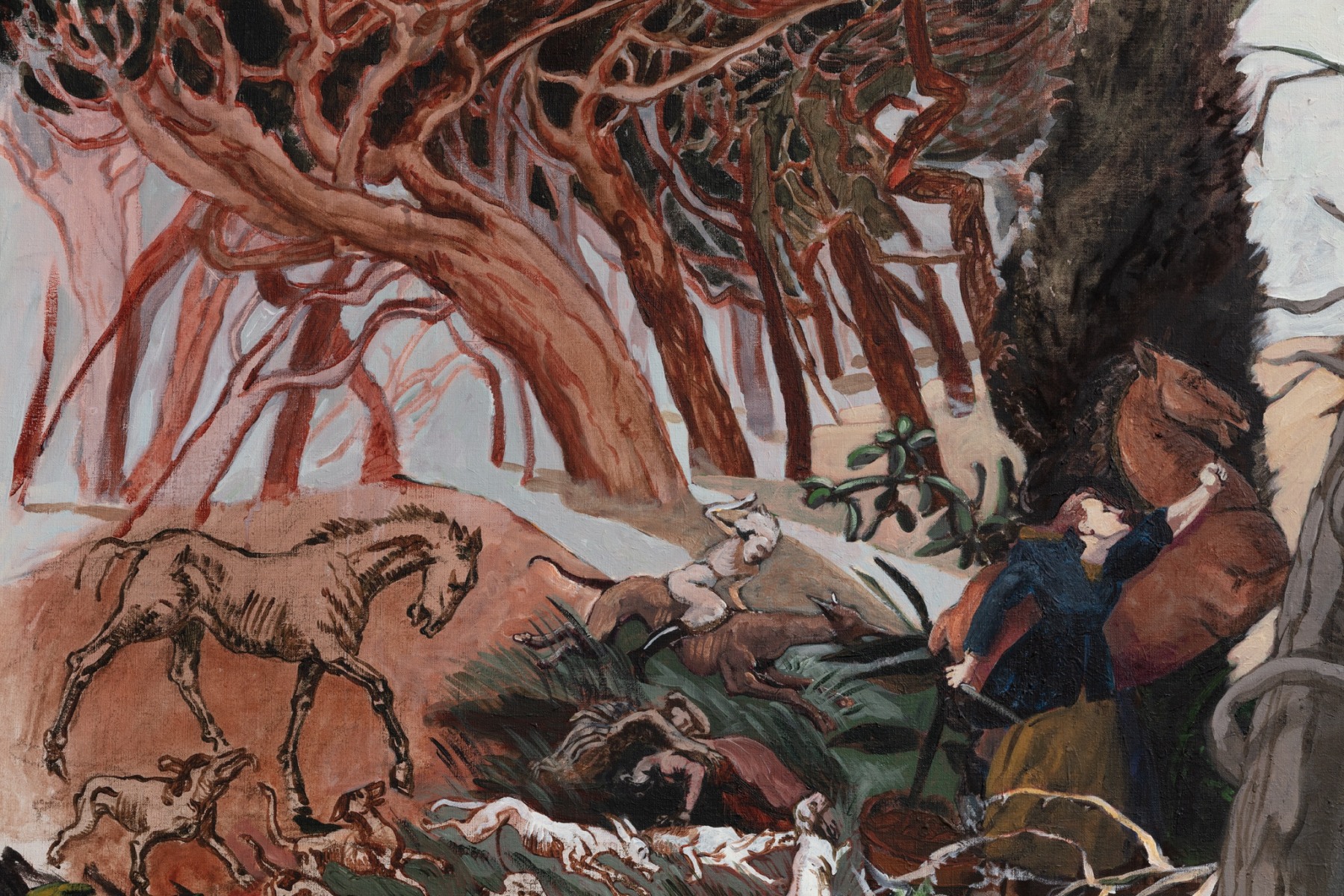 In 1994 Rego began painting with pastels and instantly found the medium perfect for her desire to paint again directly from the model, which she has done ever since. Her Portuguese assistant Lila Nunes, frequently acting as a stand-in for the artist, has been vital to this process. Rego found the directness and tactility of the medium, which she immediately forced into service in an unconventional and extremely personal way, immensely appealing. Not for her the delicate blending of the 18th-century masters or even of Degas and other Impressionists who had employed it half a century before her birth. Instead, in works such as La Fête and Olga, both from 2003, the bold delineations of form are matched by the distinct mark-making by which the figures are summoned into being as richly coloured accretions of pure pigment.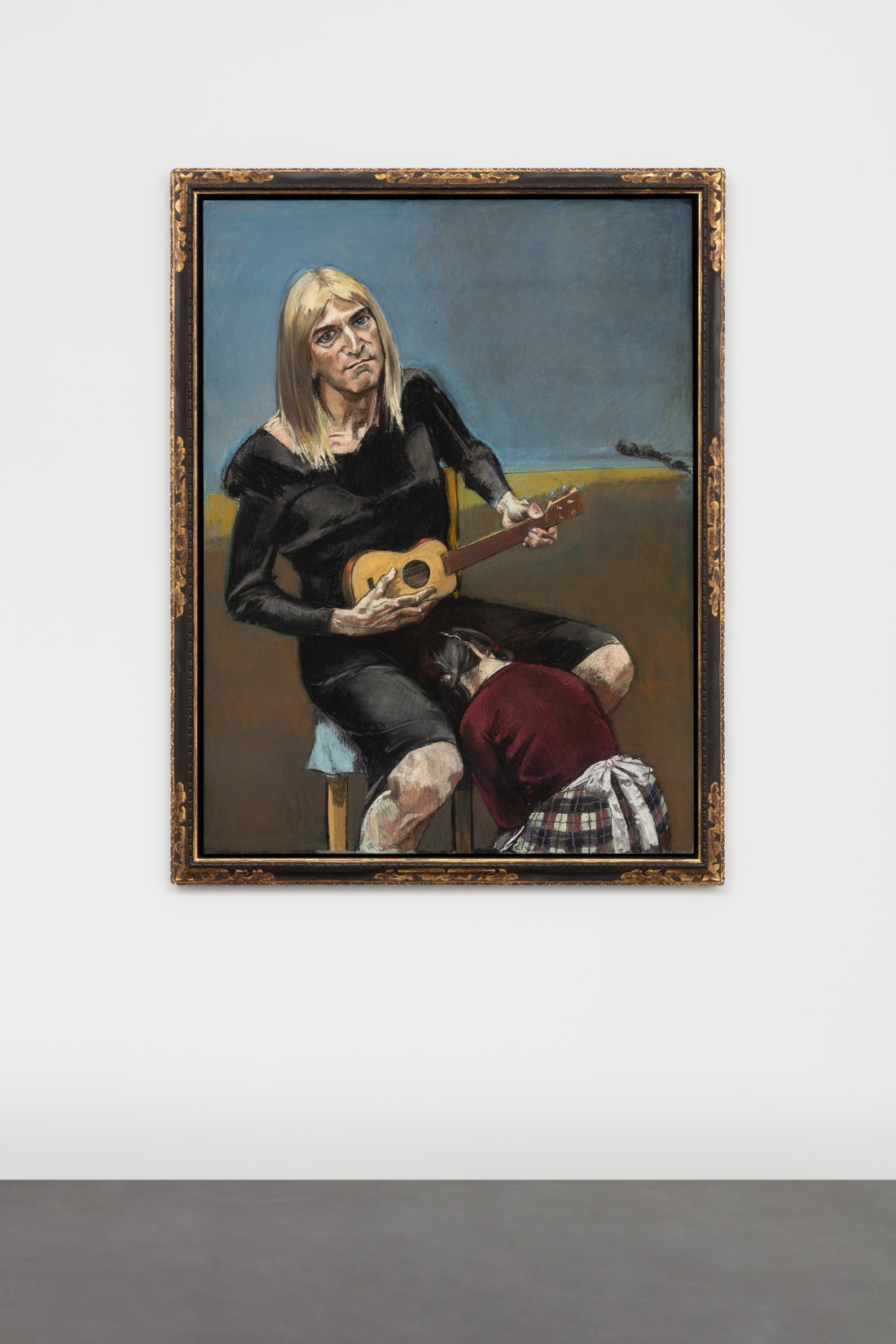 Olga is from a group of pictures that dredge up uncomfortable memories of life just after World War II in the Portuguese seaside town of Estoril, where Rego lived as a young adolescent with her parents and where German refugees sought a new life. (Portugal had remained neutral during the war but had sympathised with the Axis powers.) The forbiddingly masculine look of Olga, a language tutor and musician into whose skirt the girl rather inappropriately seeks shelter and comfort, makes no attempt to disguise the fact that it was a male friend of the artist who served as the model. As so often with Rego, the startling nature of the image, suggesting at once tenderness and inherent danger, supercharges the seduction of its pictorial means with the aftershocks of psychological disturbance and trauma.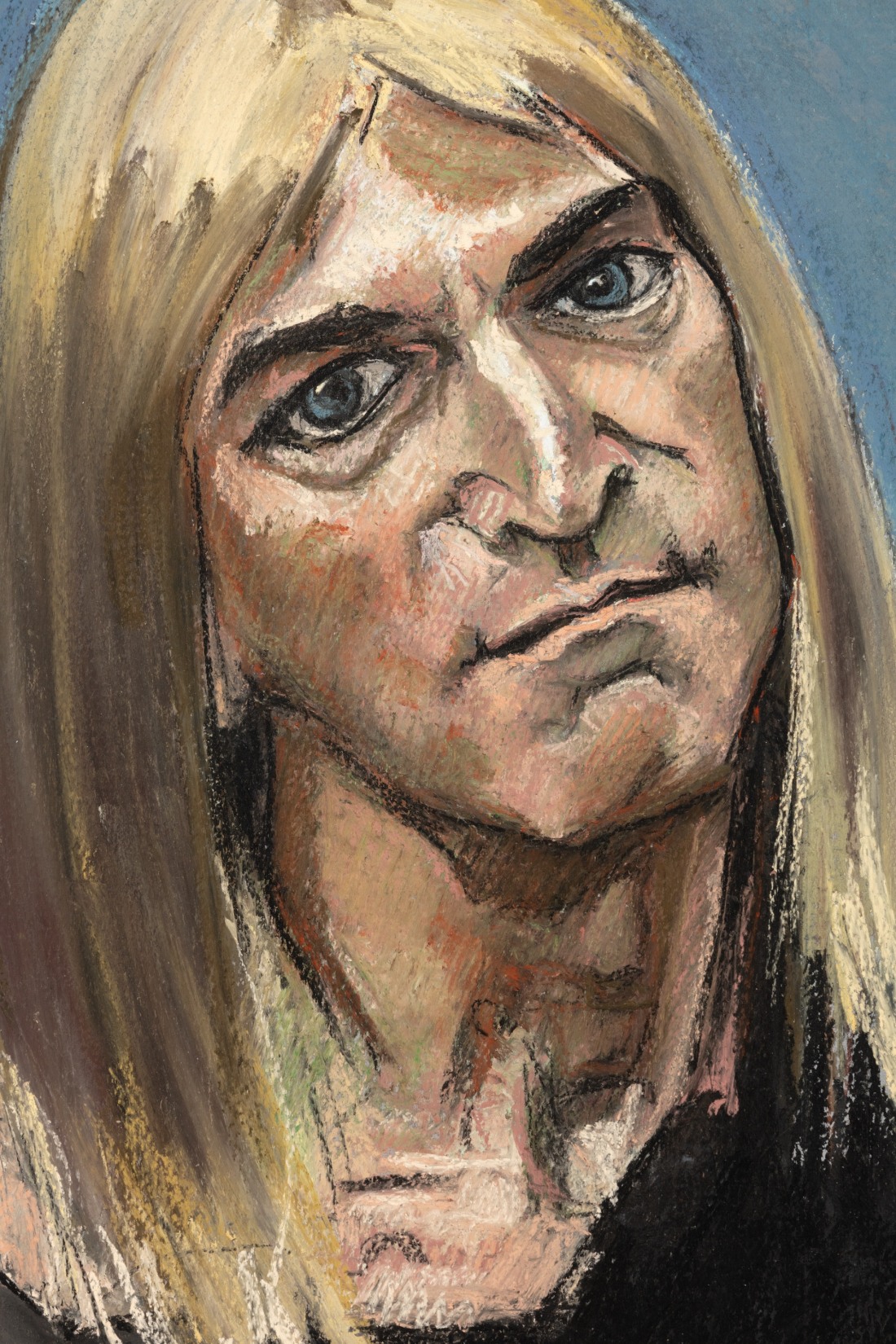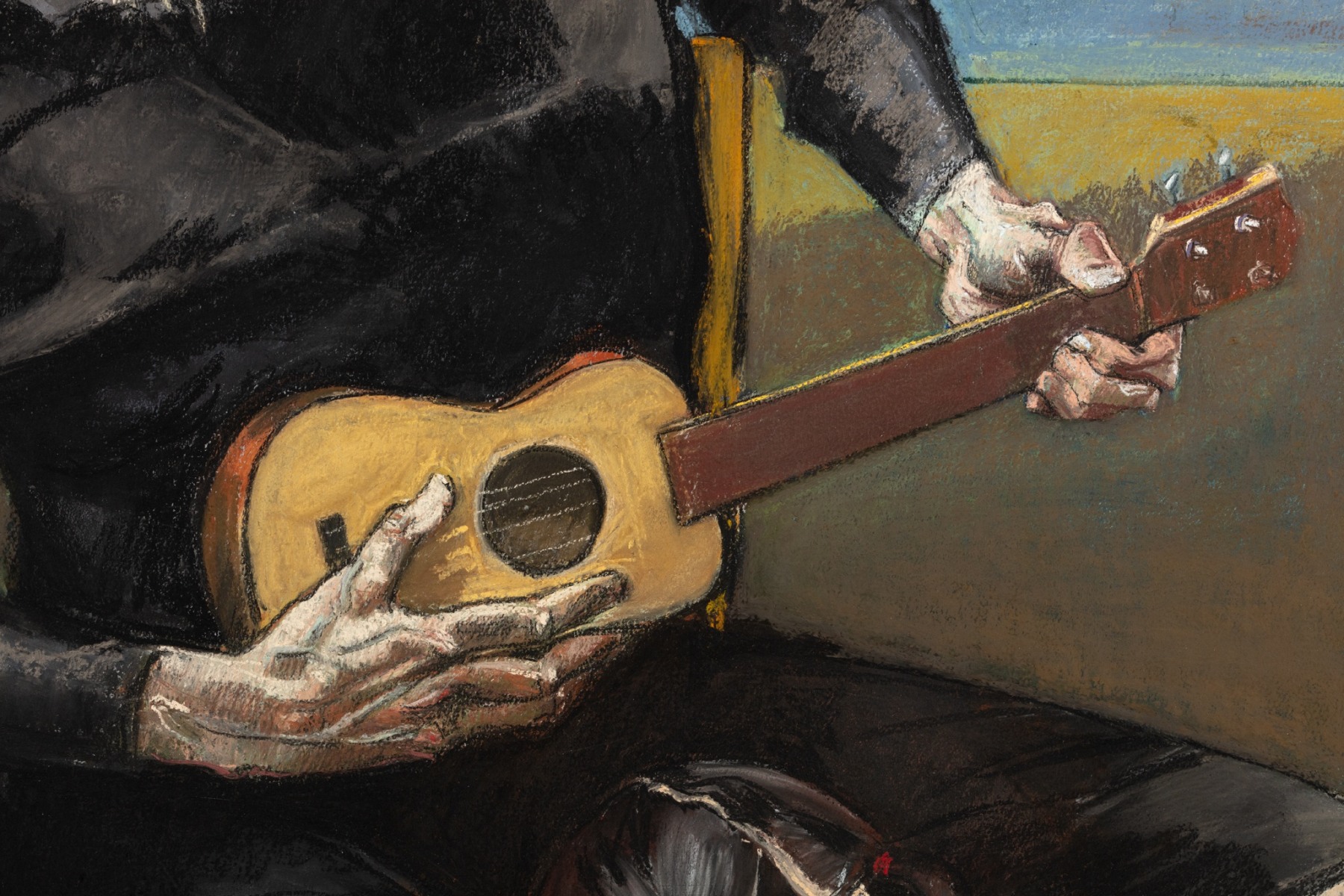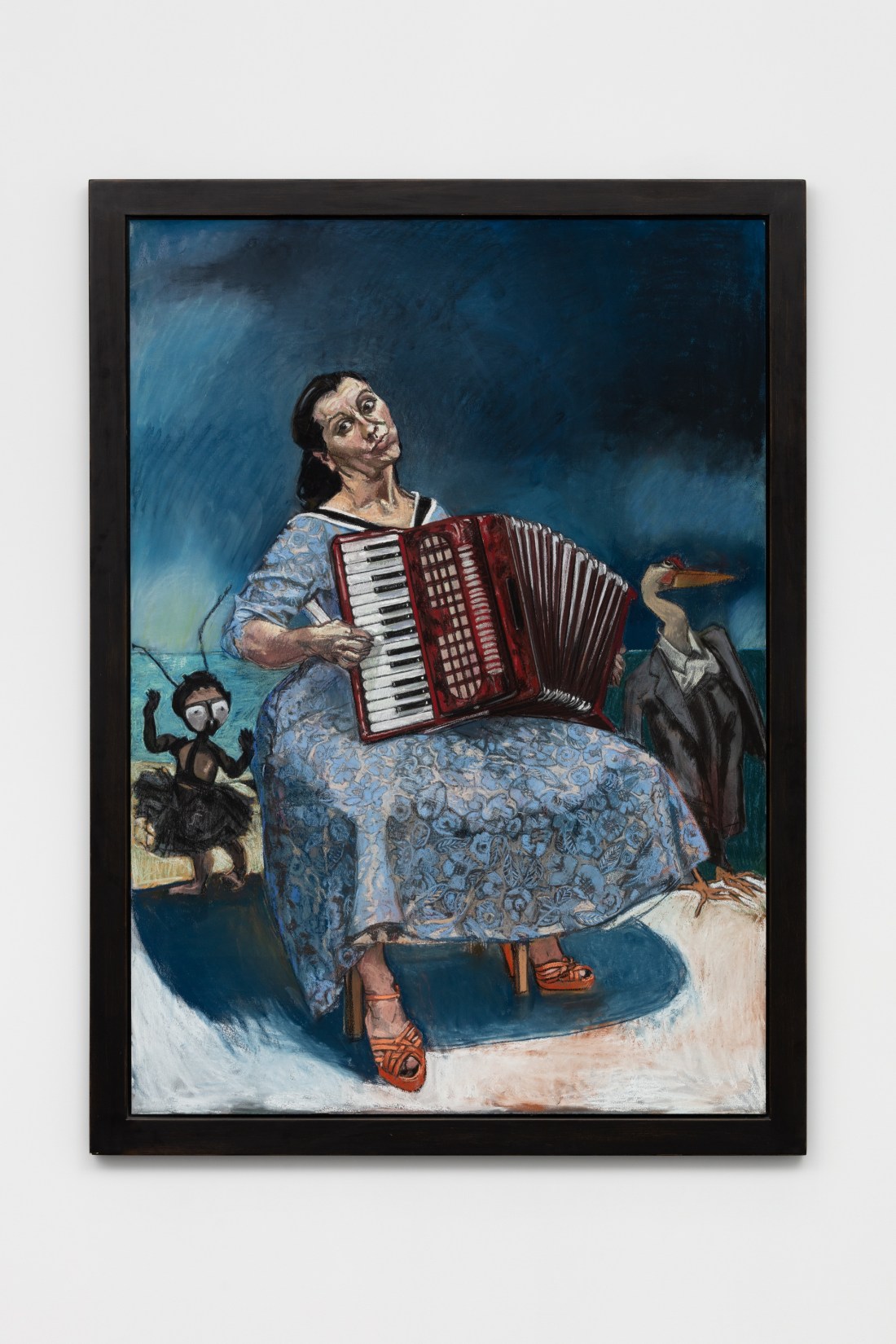 La Fête is from a group of pictures that dredge up uncomfortable memories of life just after World War II in the Portuguese seaside town of Estoril, where Rego lived as a young adolescent with her parents and where German refugees sought a new life. (Portugal had remained neutral during the war but had sympathised with the Axis powers.) The accordionist, seated with legs akimbo and with her head tilted at a slightly odd angle, is accompanied by two rather creepy creatures who emphasise the already rather menacing character of the scene under gathering storm clouds.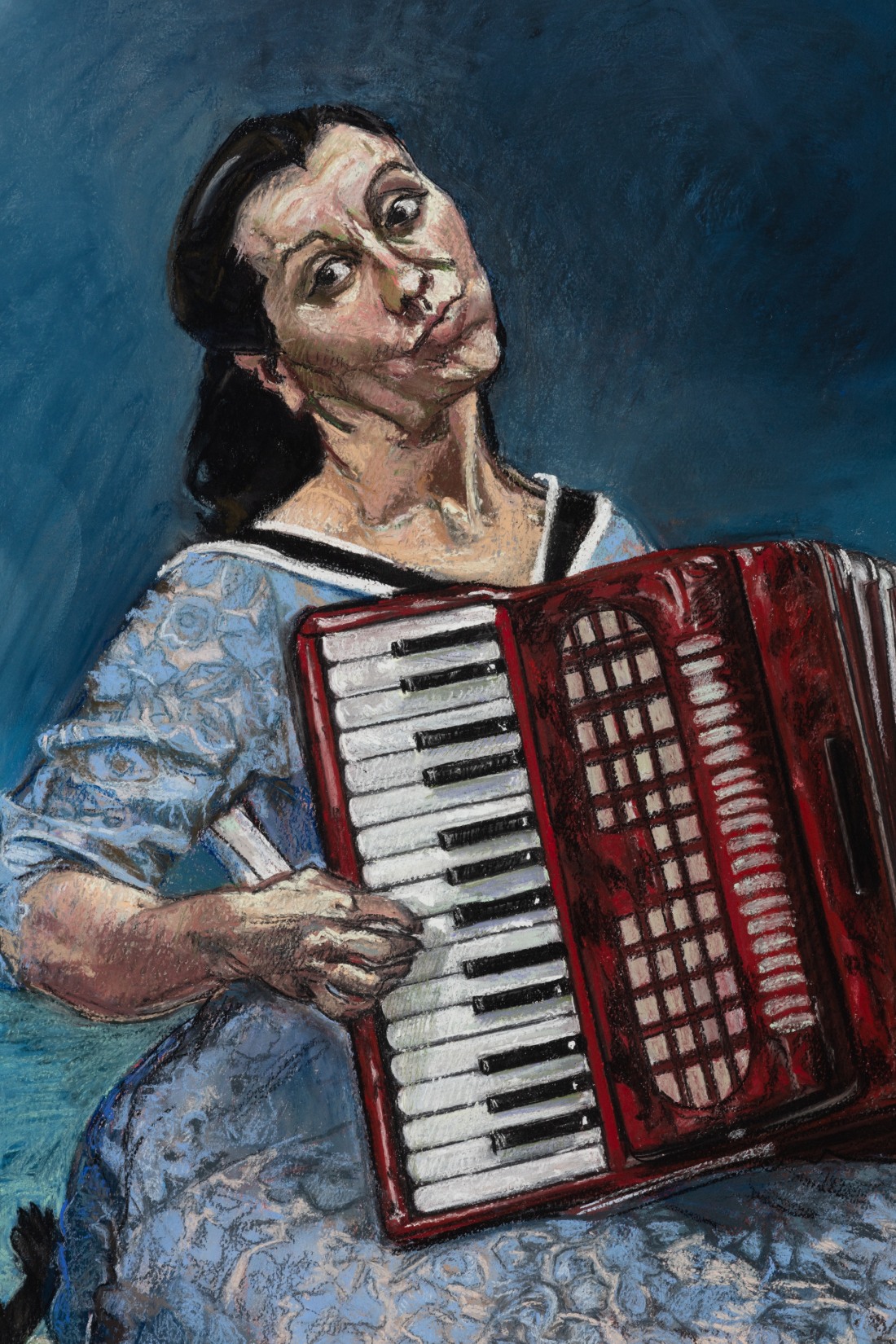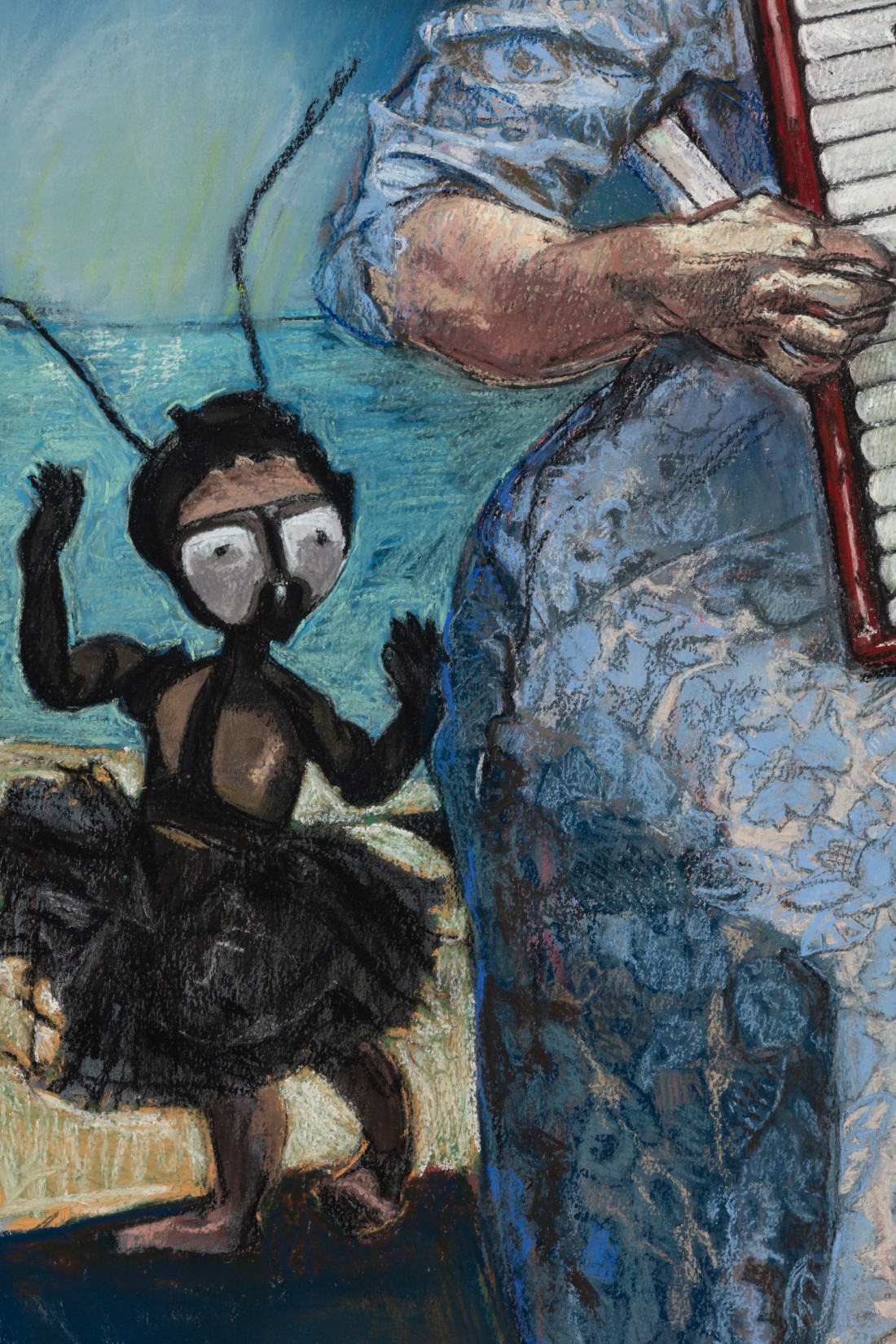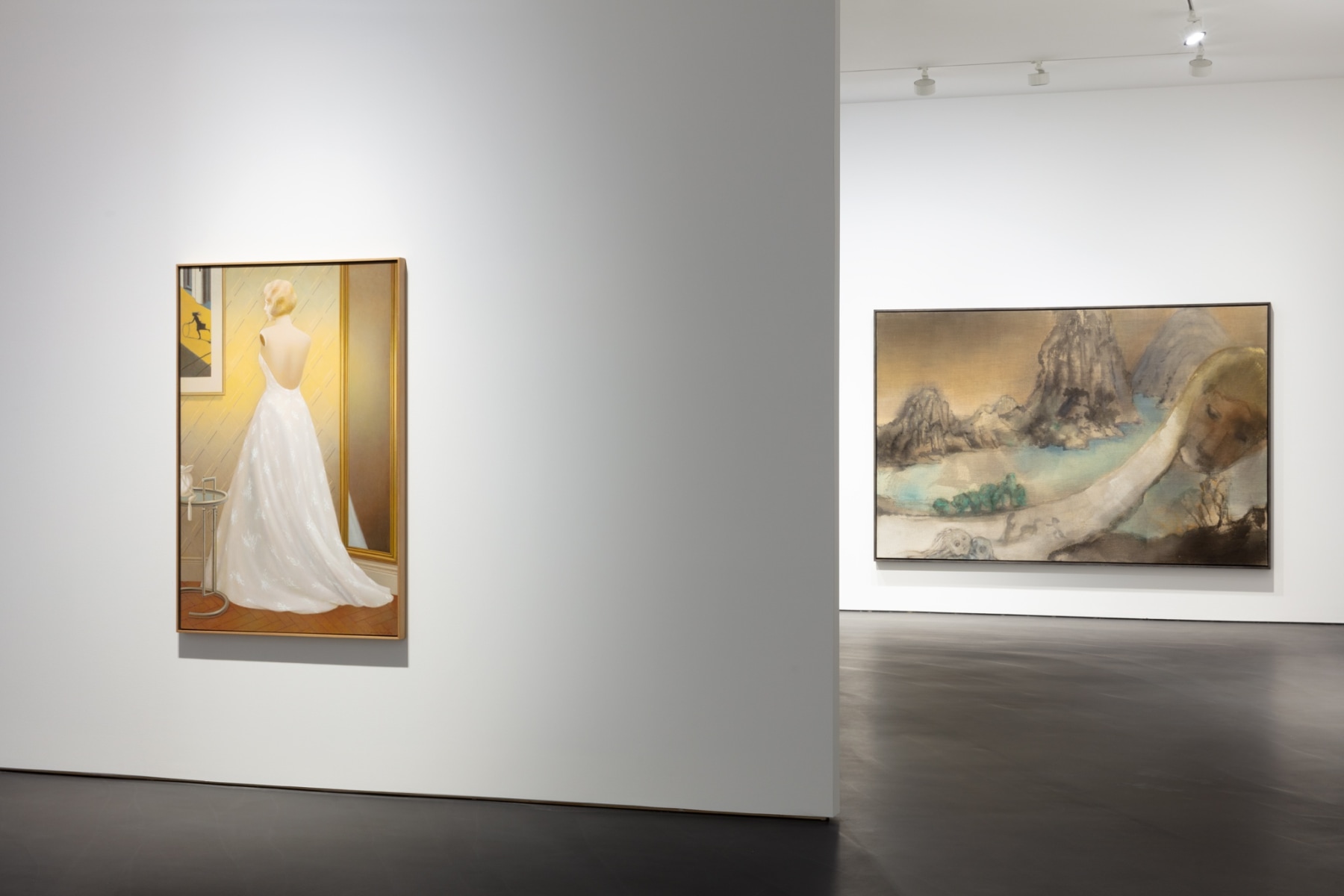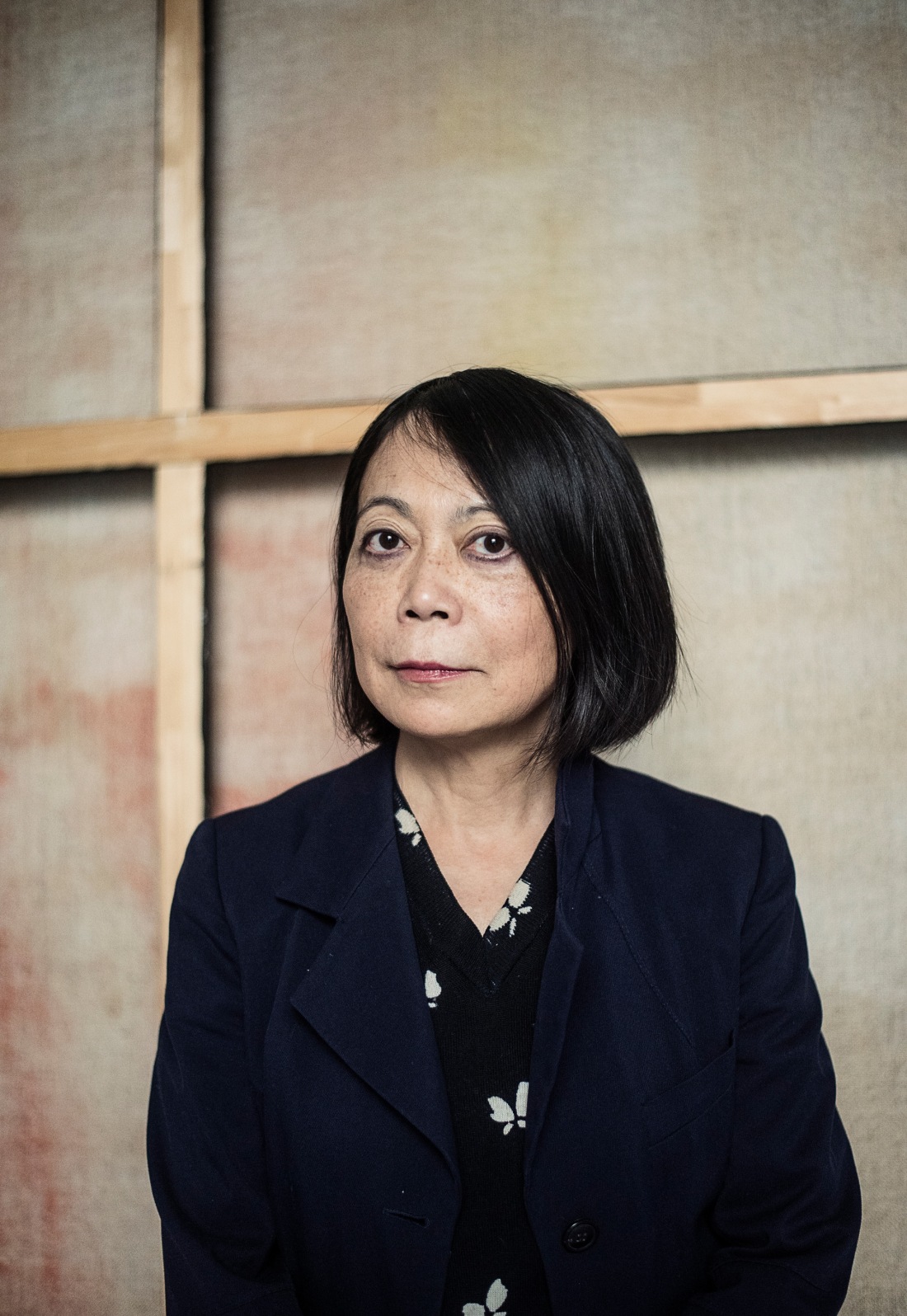 Leiko Ikemura
---
Leiko Ikemura (b. in Tsu, Mie Prefecture, Japan / lives and works in Berlin and Cologne) studied at the State University of Osaka from 1970 to 1972, and the Escuela Superior de Bellas Artes de Santa Isabel de Hungría, Sevilla, from 1973 to 1978. Professor at the Universität der Künste, Berlin, from 1990 to 2016, and at the Joshibi University of Art and Design in Kanagawa since 2014. Recent exhibitions include: Leiko Ikemura im Dialog mit Donata und Wim Wenders, Stiftung Brandenburger Tor / Max Liebermann Haus, Berlin, 2018; and solo presentations at the National Art Center, Tokyo, 2019; the Kunstmuseum Basel, 2019; and the Kunsthalle Rostock, 2020.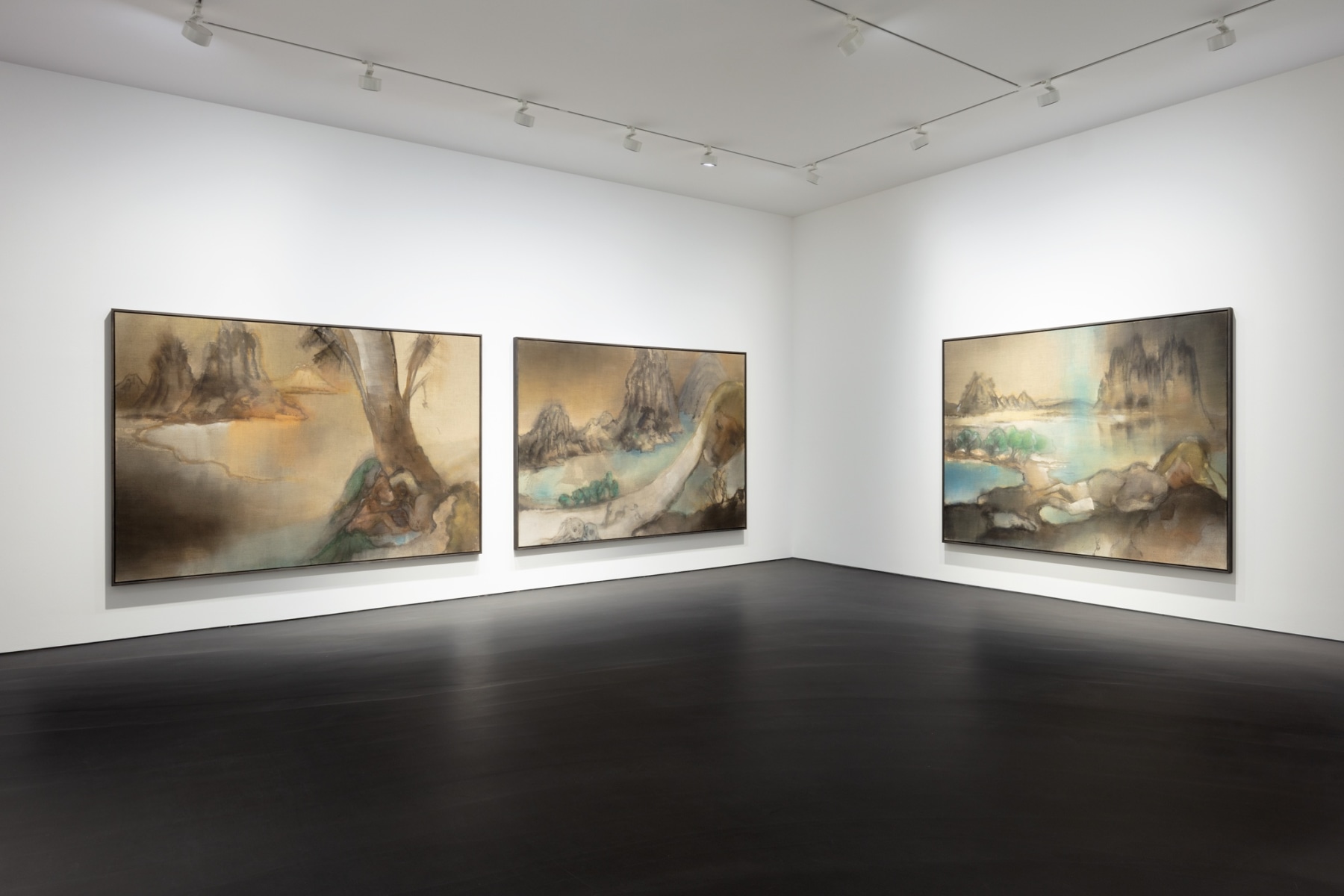 Leiko Ikemura studied literature in Osaka and Spain before switching to painting and enrolling at the Escuela Superior de Bellas Artes in Seville in 1973. She subsequently lived in Zurich for several years; in the 1980s, she moved to Germany, where she still resides. In this first period of her oeuvre, she focuses on drawing, grappling with the challenges of devising an authentic creative idiom. Her art is propelled in part by a searching reflection on her own femininity and the attempt to carve out a place for her life as a woman between her native Japan and her adoptive home in Europe.
A stay in Grisons in 1989 inspired Ikemura to develop a novel visual vocabulary that ultimately led her to a fusion of body and landscape. Then followed vaguely archaic hybrid creatures, which the artist increasingly also rendered in sculptures, and, in the 1990s, female figures hovering weightlessly at the horizon between earth and heaven, past and future, vulnerable and untouchable at once. In her most recent works, Ikemura conveys the melancholy yearning for an indivisible union between humankind and nature in oneiric landscapes of the soul. The phenomena of emergent form and metamorphosis gesture back toward the artist's early oeuvre.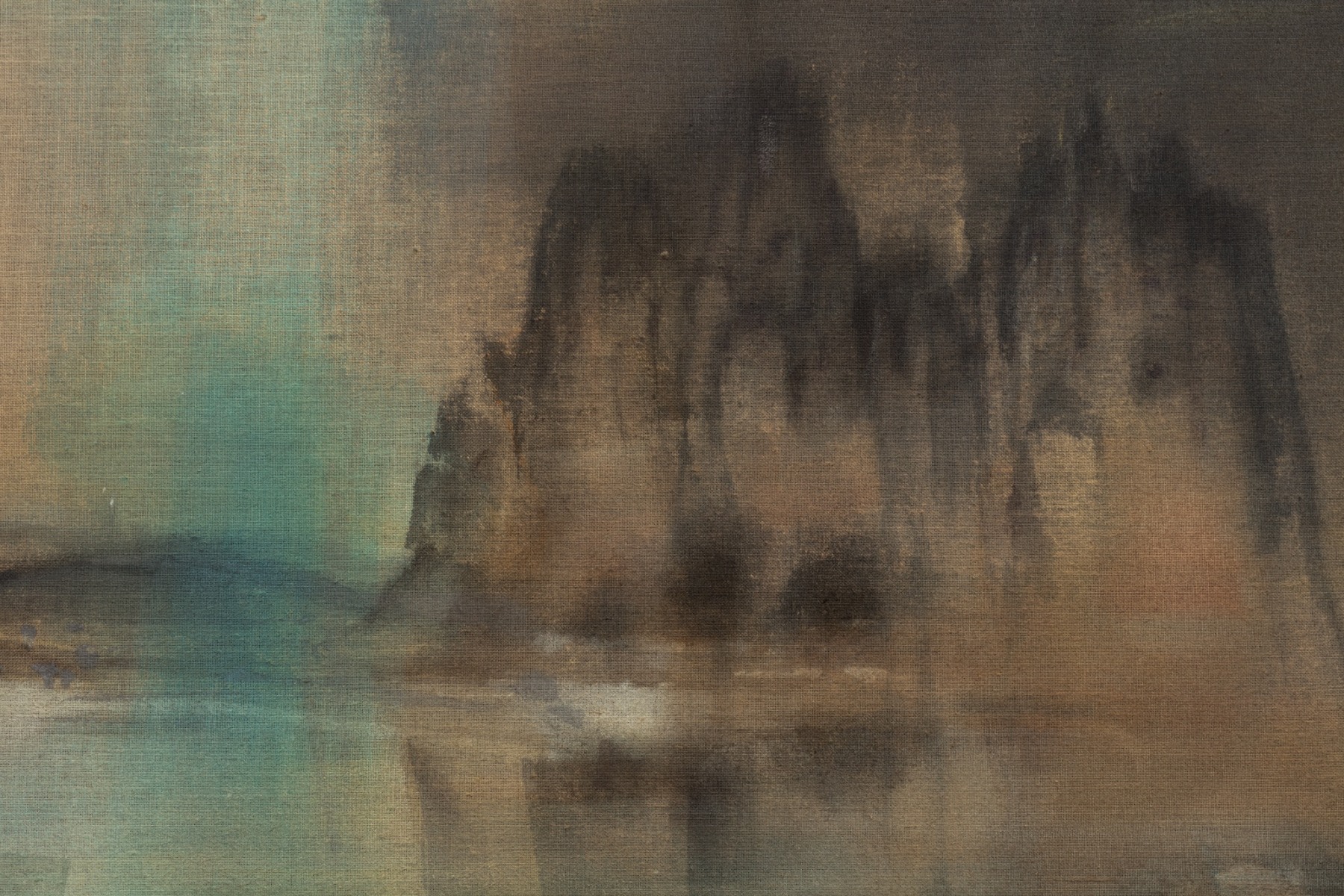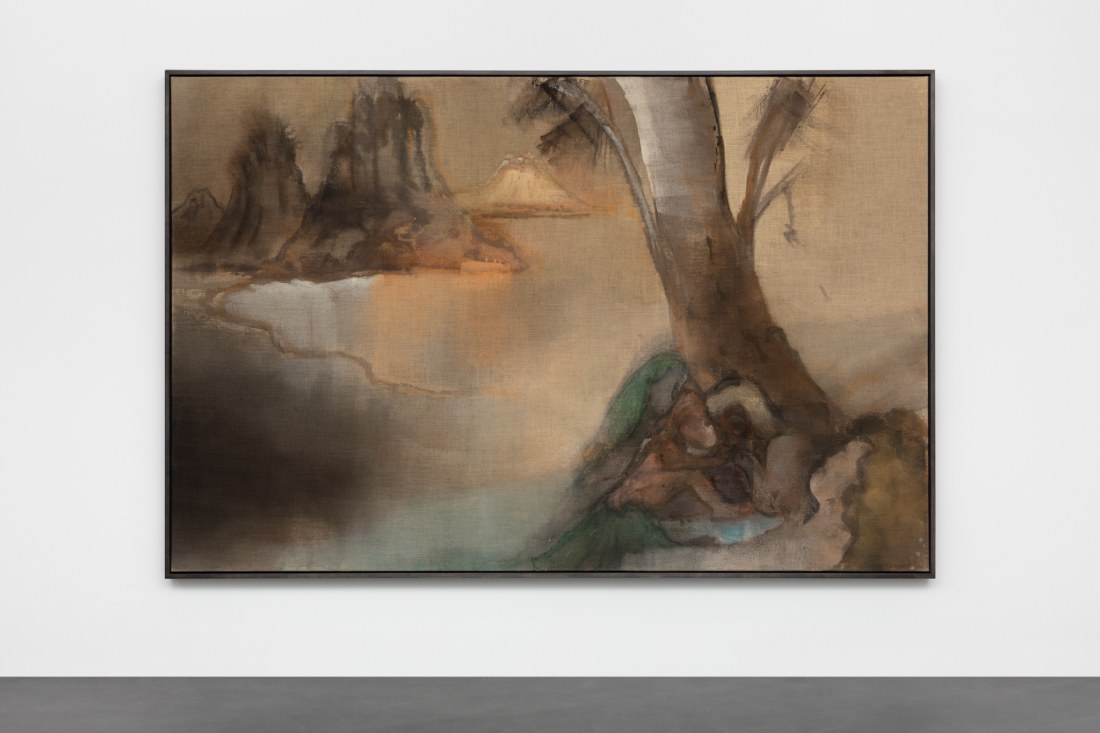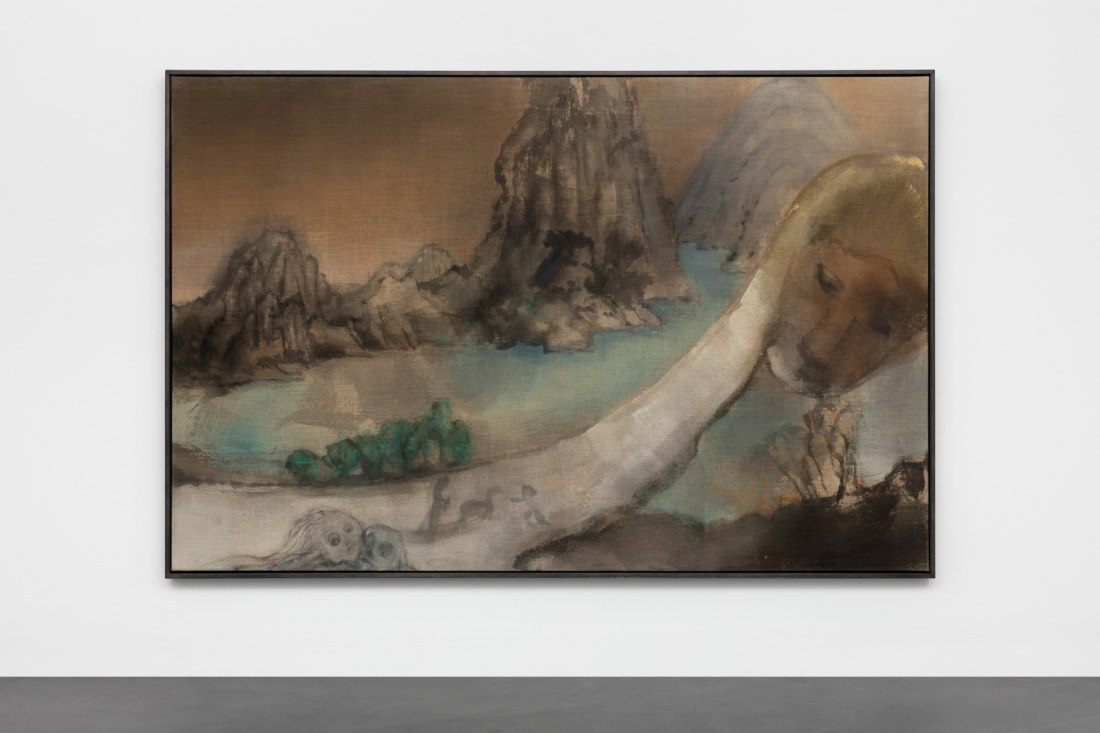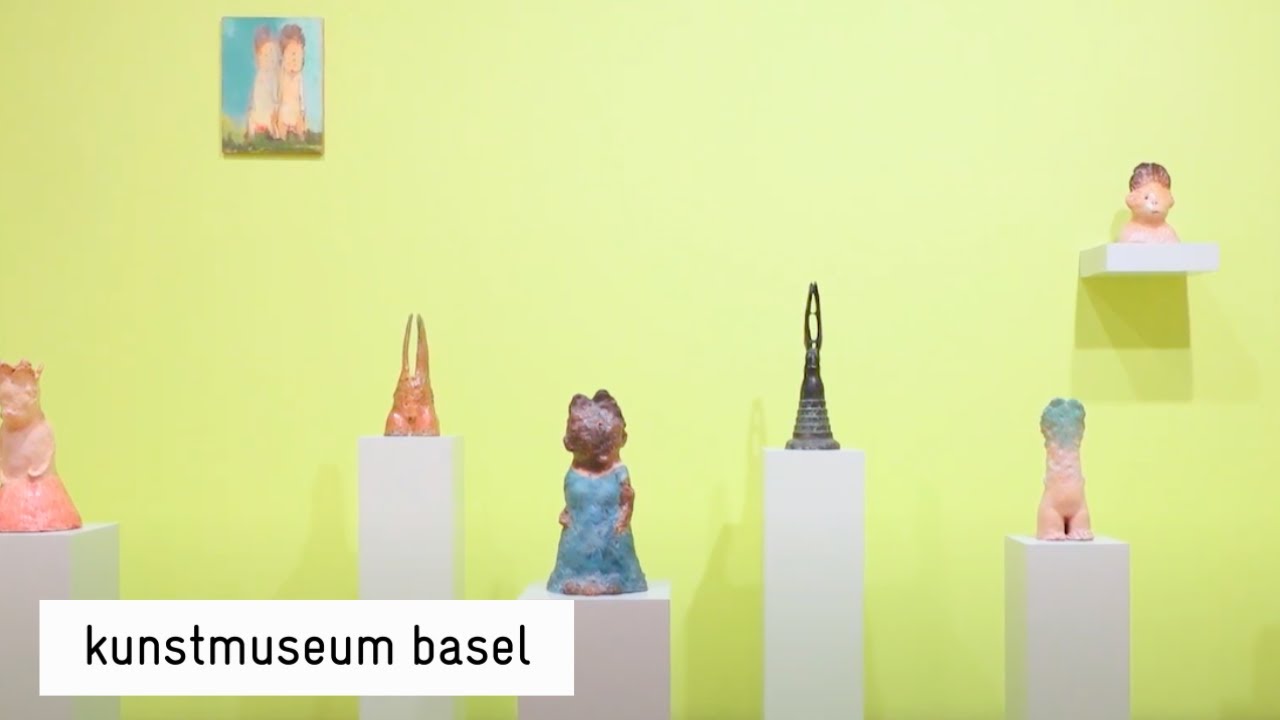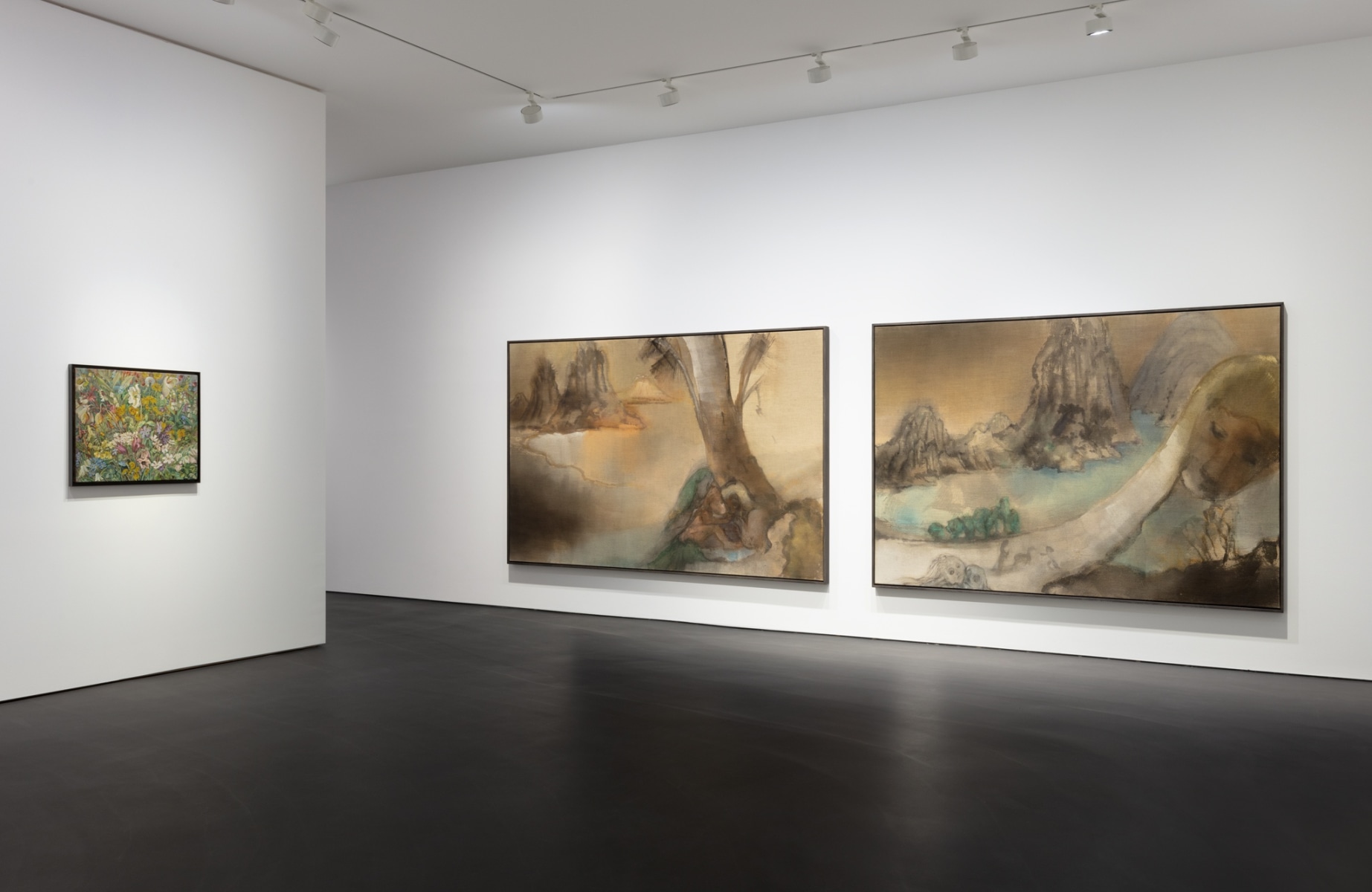 Hannah Höch
---
Hannah Höch (b. 1889 in Gotha, d. 1978 in Berlin, Germany) was a German artist associated with the Dada movement. She studied in the graphics class of Emil Orlik at the National Institute of the Museum of Arts and Crafts in Berlin. Höch participated in the groundbreaking exhibition First International Dada Fair Berlin, 1920. Numerous museums have held posthumous retrospectives of Höch's body of work, among them the Berlinische Galerie, Berlin, 2007; Museum Tinguely, Basel, 2008; and Whitechapel Art Gallery, London, 2014. In her honor, the city of Berlin awards the biannual Hannah Höch Prize for an exceptional artistic life's work.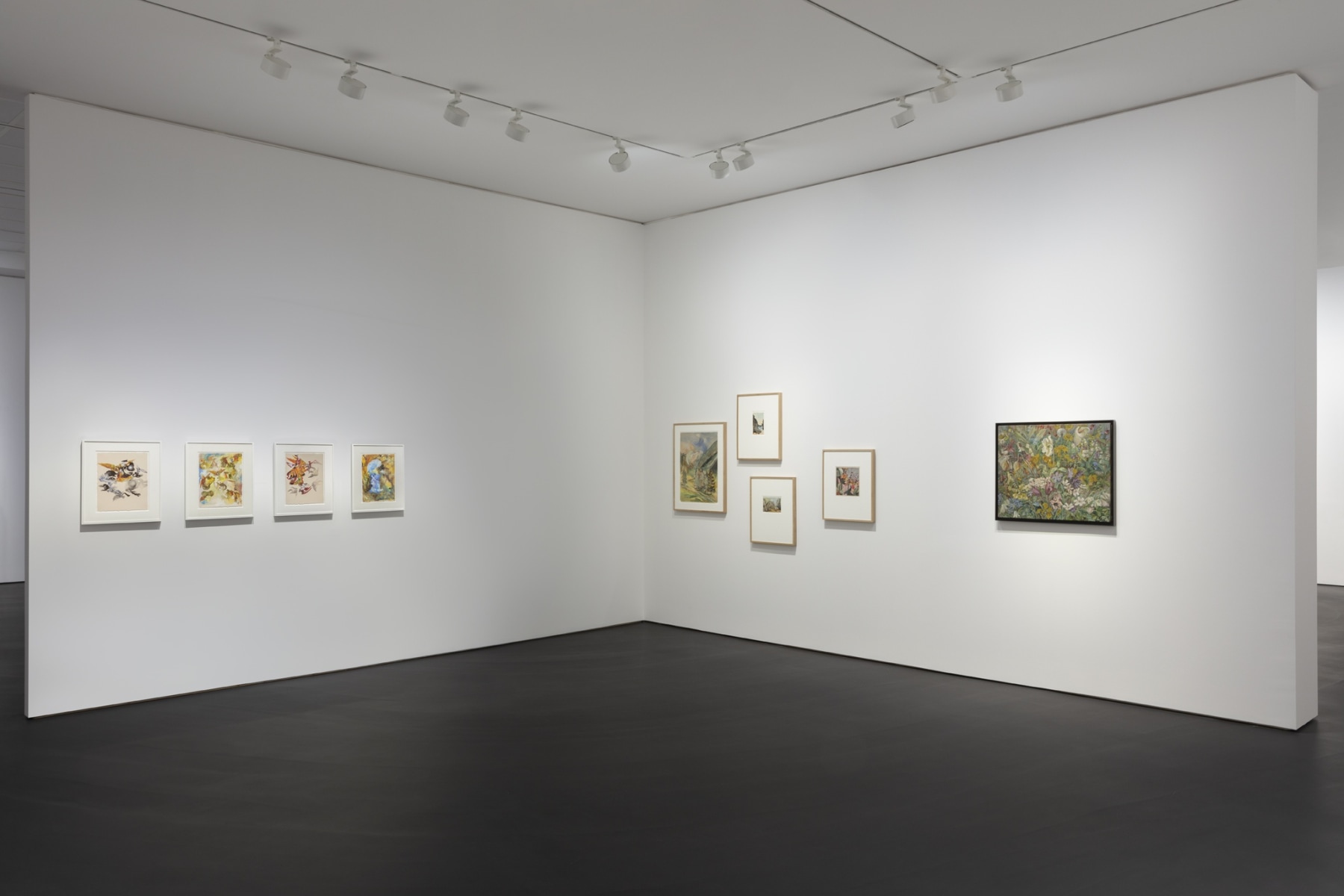 In 1936, Hannah Höch moved in with her new partner, the much younger pianist and traveling salesman Kurt Heinz Matthies. Months of traveling together by car and in a caravan followed: three restless years, as if in flight, and at the same time a time of the highest creativity and productive power for the artist. She worked feverishly, creating countless drawings and watercolors and some of her most important paintings. Humans disappeared from her work, nature and landscape, flowers and plants conquered the canvas.
The very first of these journeys through southwest and southern Germany lasted seven months. Wild flowers played a major role in this spring and summer of 1937, again and again she listed the names in her diary, made sketches and embarked on an oil painting. She called it Aus dem blühenden Tal (From the blooming valley). As if under a magnifying glass, she gathered on it a green sea of wild flowers in a chromatic concert of white, yellow, blue and purple luminous blossoms. Each of them is precisely depicted in its individuality, and yet they form a harmonious whole. As if the artist wanted to record and to preserve something of the growth and blooming of nature in dark times. "I want to praise the manifoldness of life with my work," she noted at the end of 1937. Thus, the "blossoming valley" becomes both a bequest and an exhortation at the same time.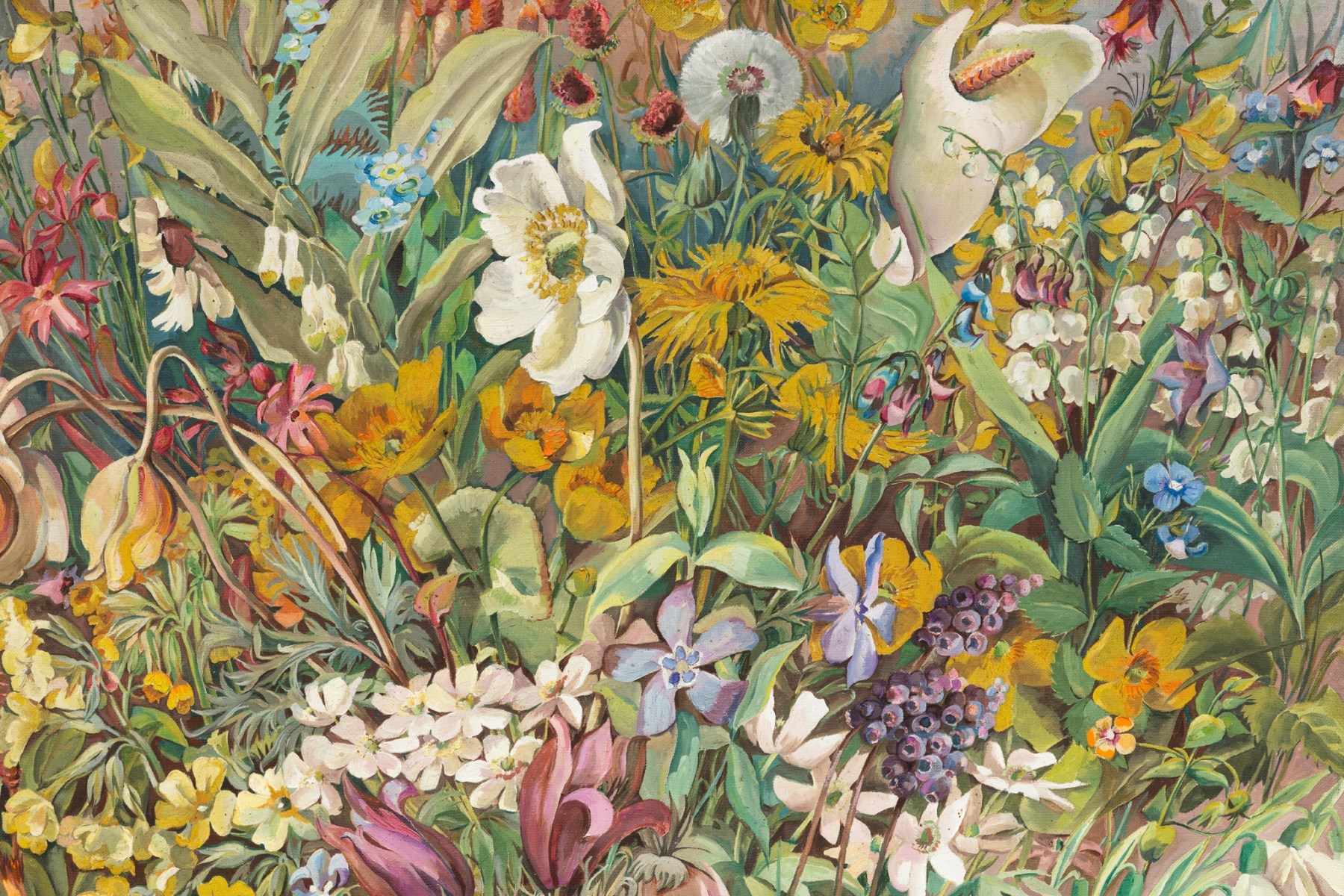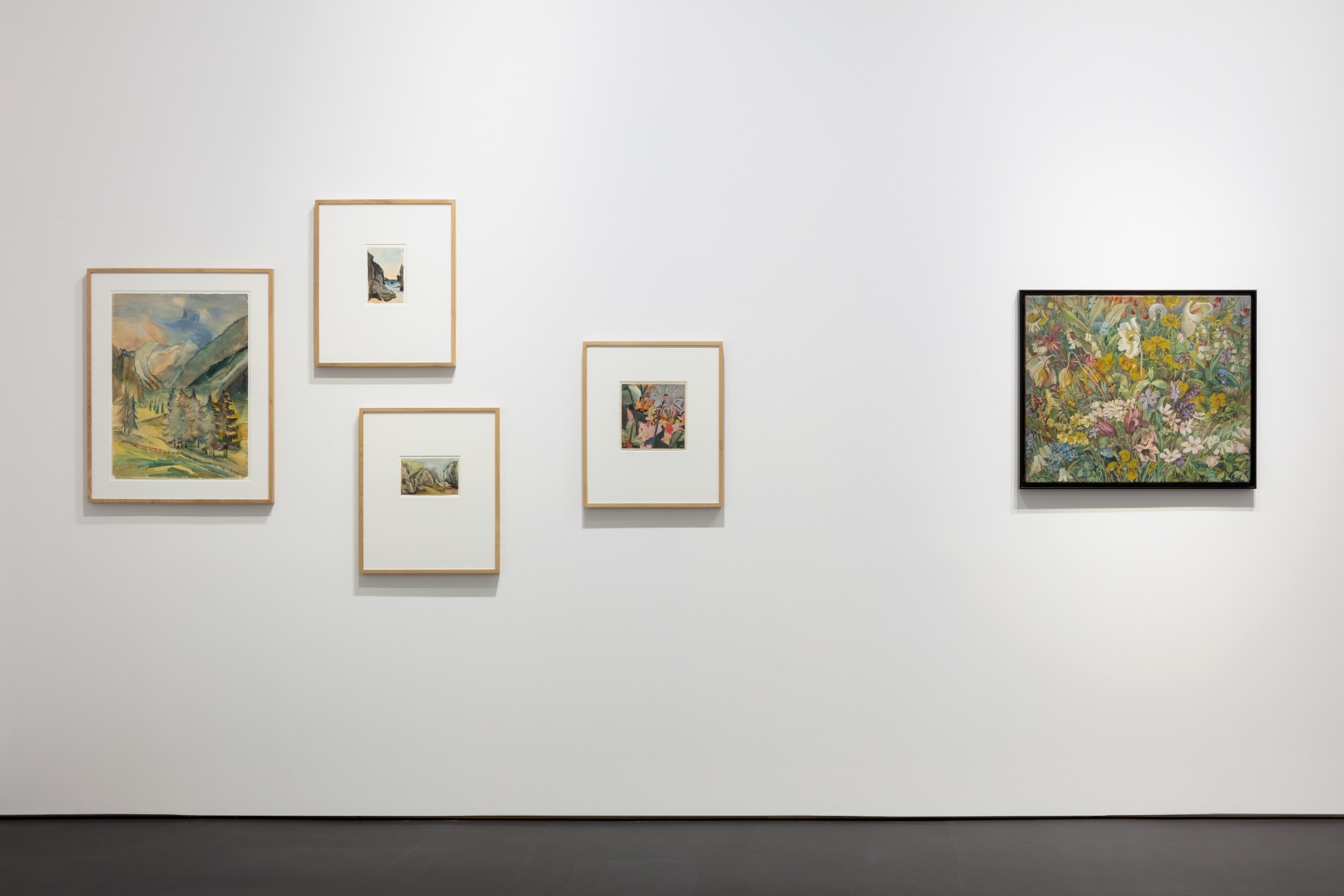 The works are from Hannah Höch's series of watercolors produced during her travels. In the spring of 1924, the artist traveled to Paris for the first time, equipped with addresses, letters of introduction and gifts. Establishing contacts with the European avant-garde was her goal, deepening old friendships and forging new ones. That is how she met the Dutch pianist and the founder of De Stijl Nelly and Theo van Doesburg with whom a lifelong friendship would follow.
A year later she accepted the invitation to spend a vacation together on the Atlantic island of Belle-Île, a round trip via London to the island where the friends had rented "in the most wonderful location" on the Côte Sauvage, the wild coast, a house in a secluded bay directly on the sea. A broad beach stretched out from the inlet. "On the right and on the left, like giant stage sets/giant stage flats, the rocks thrust forward. Indescribably beautiful," she writes in her calendar. The artist spent ten wonderful days here, and on June 21 she was back in Paris, accompanied by numerous landscape studies. The watercolors Belle île Felsenküste bei Donnant im Juni 1925 and Belle île Bucht bei Donnant im Juni 1925, painted with a light touch, convey the wild, solitary beauty with great immediacy.
Seekofel (2810 m) Pragser Wildsee, Braies vecchia/Dolomiten, Sommer 1935 was produced during a hiking trip to the Dolomite Alps in 1935. On this vacation trip to the South Tyrolean region around Braies vecchia, Höch met her future husband Heinz Kurt Matthies, an economist and pianist who was a passionate mountaineer.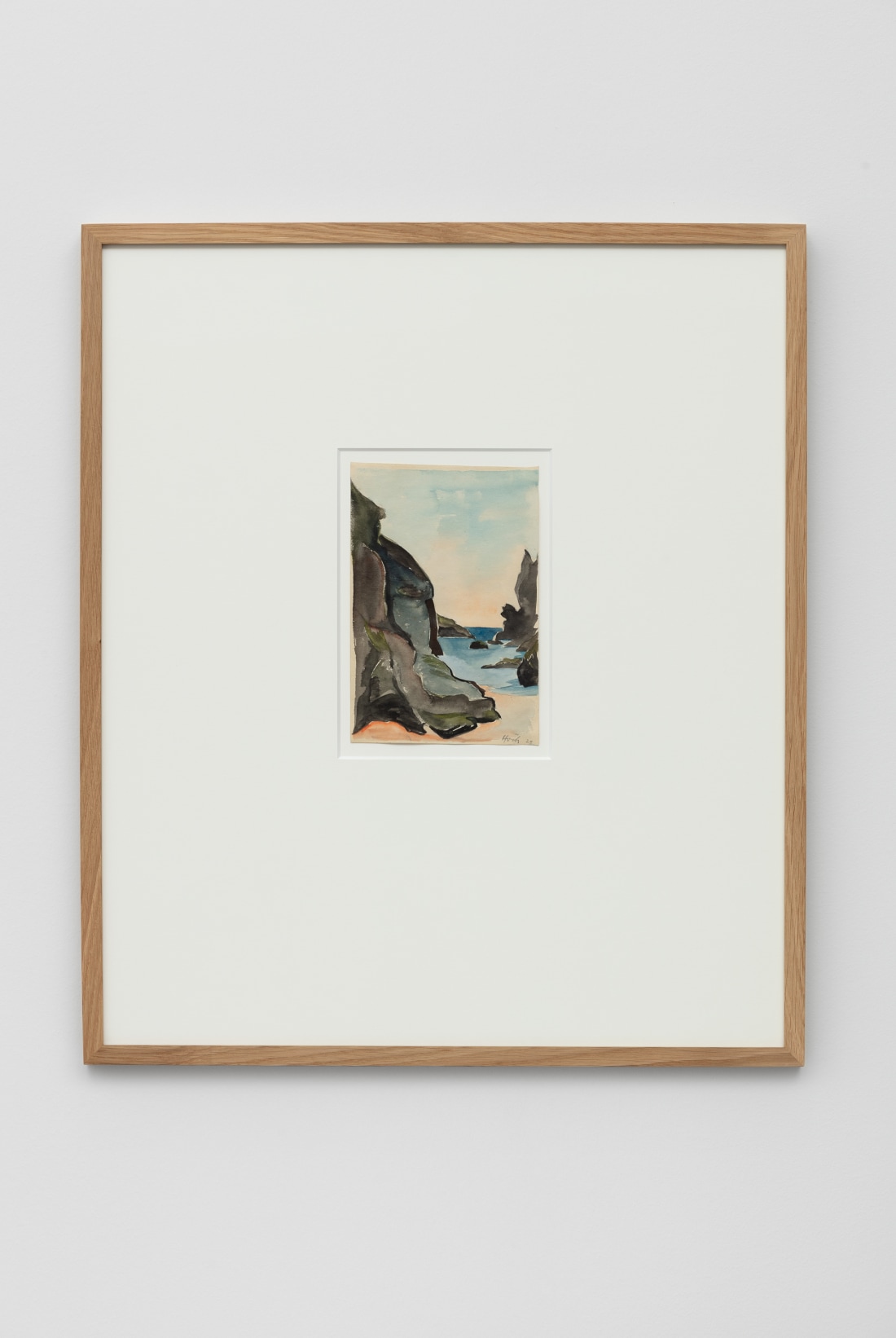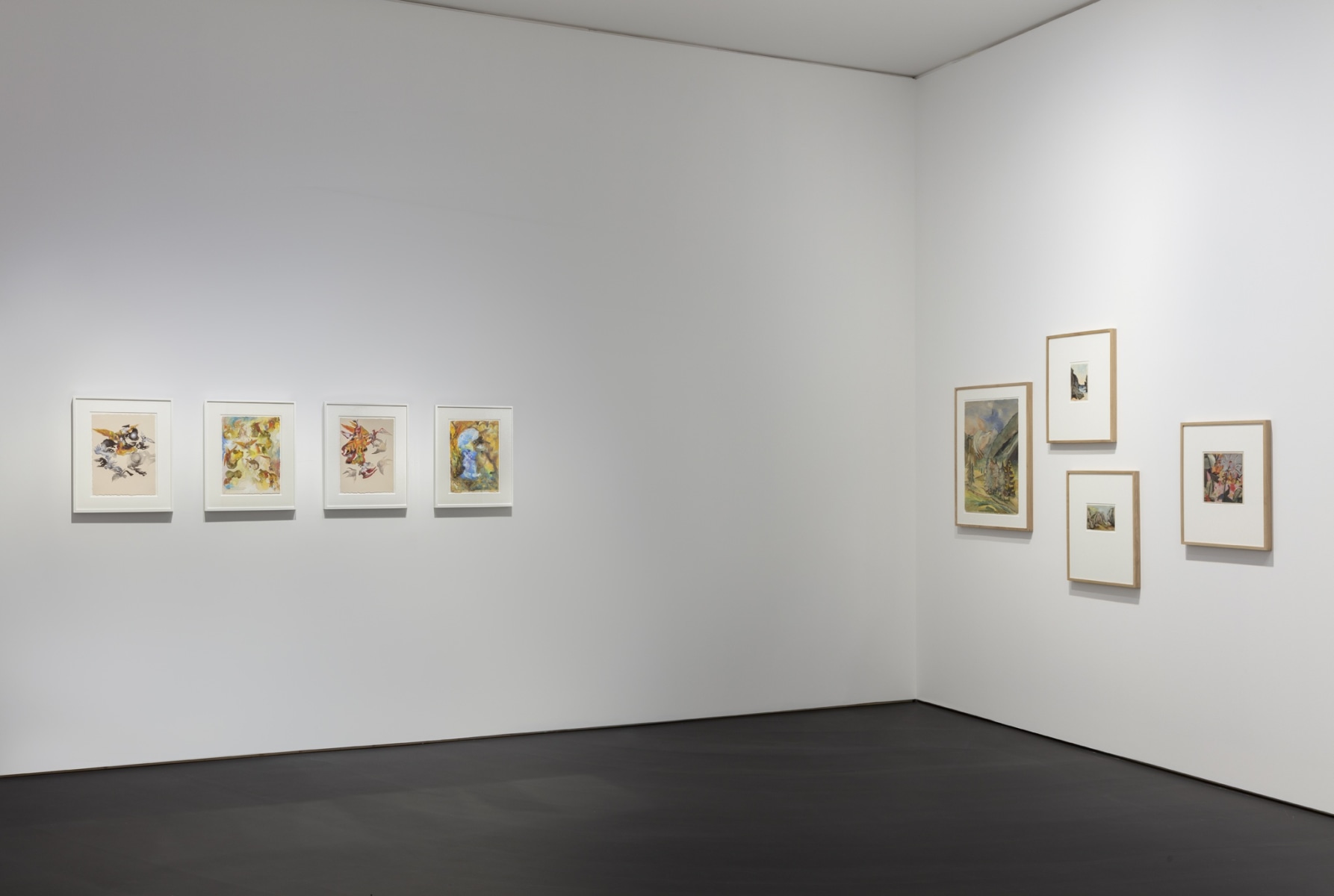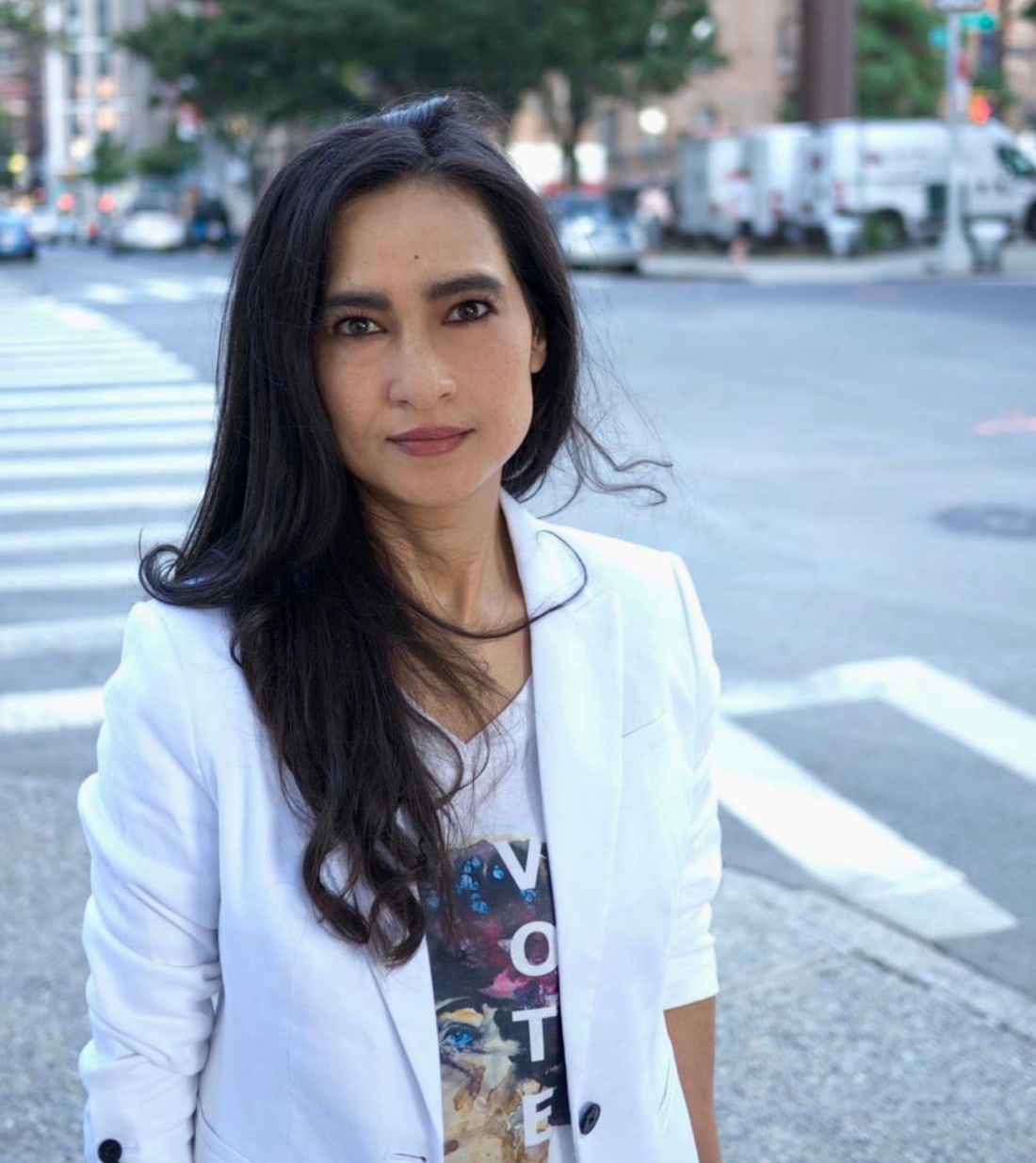 Shahzia Sikander
---
Shahzia Sikander (b. 1969 in Lahore, Pakistan / lives and works in New York) holds a BA from the National College of Arts, Lahore, and an MFA from the Rhode Island School of Design. Recent solo exhibitions include: Disruption as Rapture, Weatherspoon Art Museum, Greensboro, 2019; Aga Khan Museum, Toronto, 2017; and A Journey into the Great Unknown, Asian Art Museum, San Francisco, 2017. A traveling exhibition titled Shahzia Sikander: Extraordinary Realities opens at The Morgan Library, New York, in June 2021, at the RISD Museum, Rhode Island, in November 2021, and at the MFA in Houston in the spring of 2022.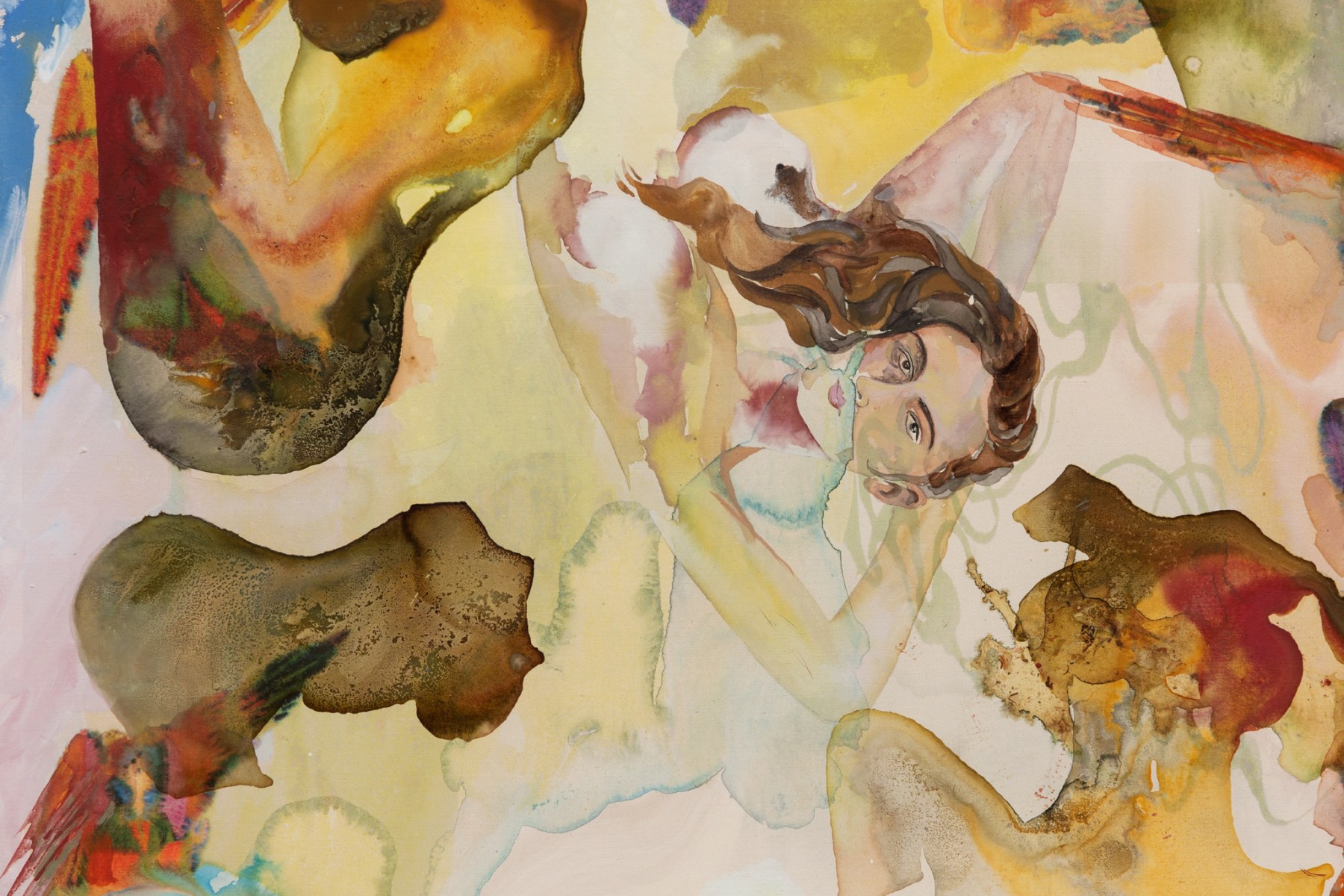 Shahzia Sikander is widely celebrated for expanding and subverting pre-modern and classical Central and South-Asian miniature painting traditions and launching the form known today as neo-miniature. By bringing traditional and historical practice into dialogue with contemporary international art practices, Sikander's multivalent and investigative work examines colonial archives to readdress orientalist narratives in western art history. Interrogating ideas of language, trade, empire, and migration through imperial and feminist perspectives Sikander's paintings, video animations, mosaics and sculpture explore gender roles and sexuality, cultural identity, racial narratives, and colonial and postcolonial histories.
About her 2020 series Empire Follows Art: States of Agitation the artist has noted: "History is substantially the account of the movement of objects and bodies. Trade, slavery, migration, colonial occupation – these are underlying currents, the root axes of modernity. How history is told, who gets to tell the story is about hierarchies of power and my interest in decolonizing the space of Indo-Persian miniature painting through feminist critique is about re-imagining the hypermasculine. Each drawing in the Empire Follows Art series depicts a state of struggle, of being caught variously between hyphenated identities, gender, vocabularies, monetizing worlds, competing cultures and histories. The iconographies take into account cyclical themes of struggle, warfare, memory and migration as well as the ultimate frame against which all experience unfolds, death and its opposite, life."
Sikander's work is not about hybridity. It is not fusing cultures or aesthetics. The multiple juxtapositions reflecting gender, race, class, and language differences are arranged and rearranged to imagine visual forms that challenge fixed narratives and break binary thinking in all its forms. Sikander's work is the antithesis of the fictions of purity and authentic national culture.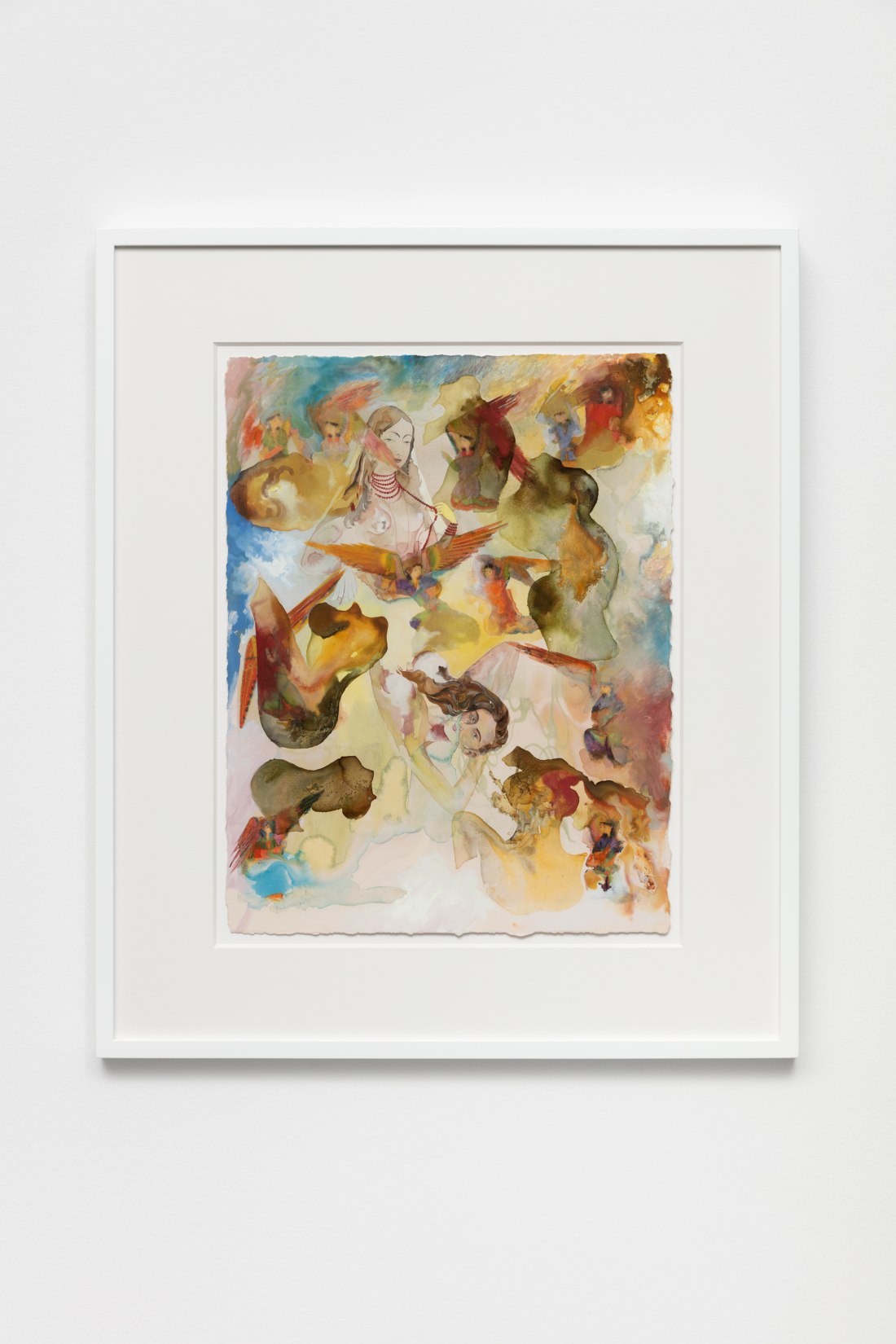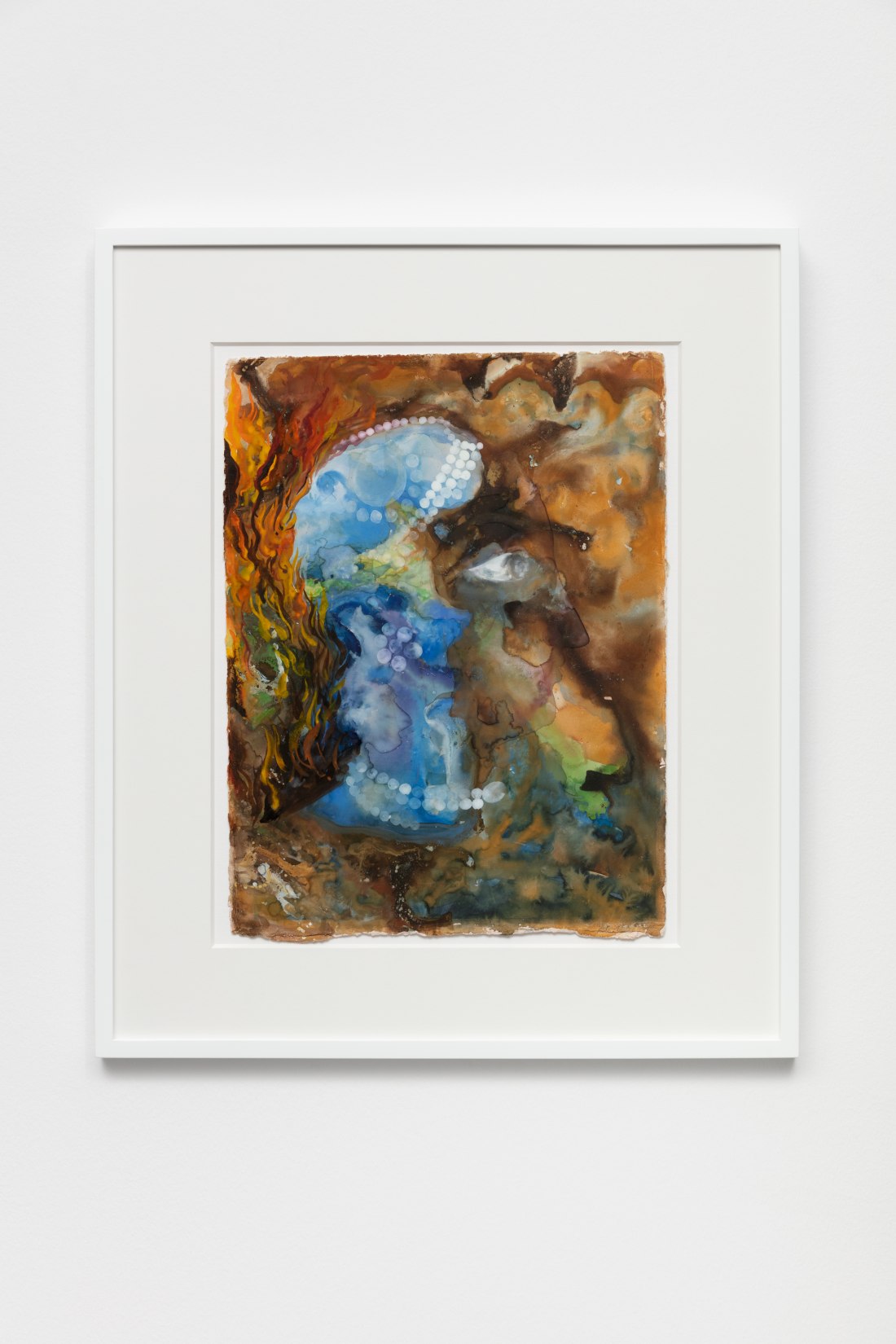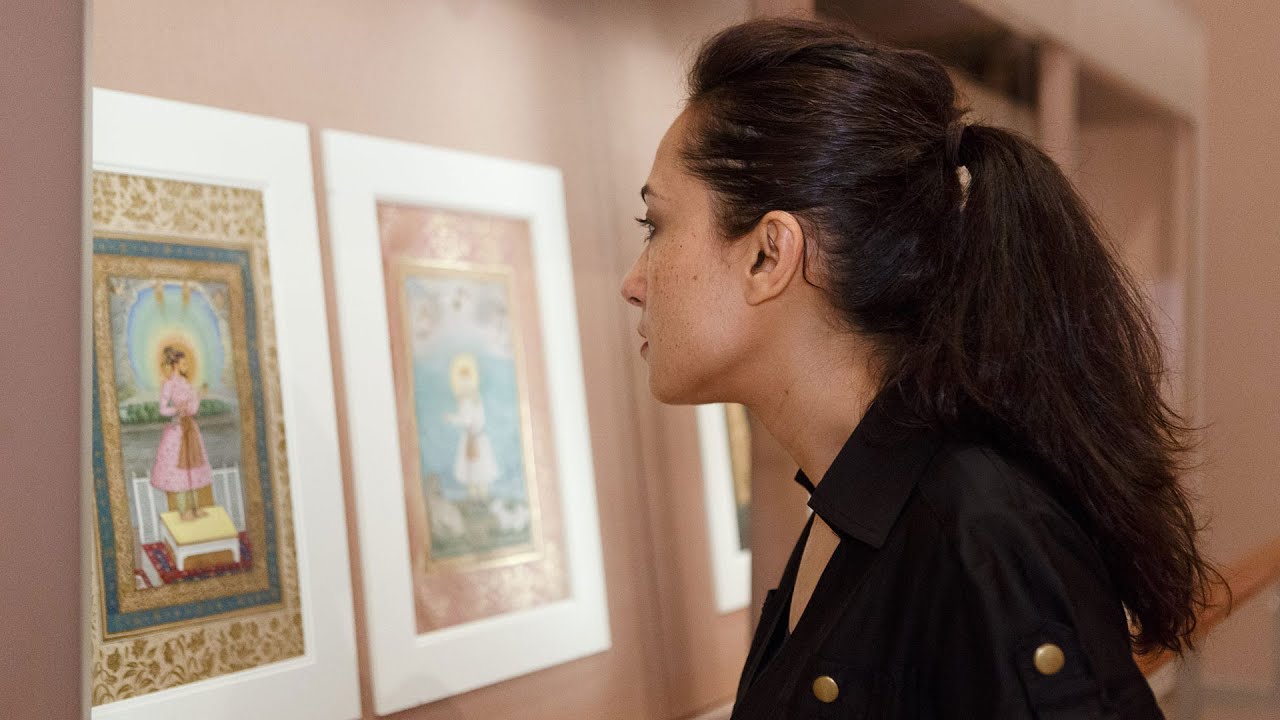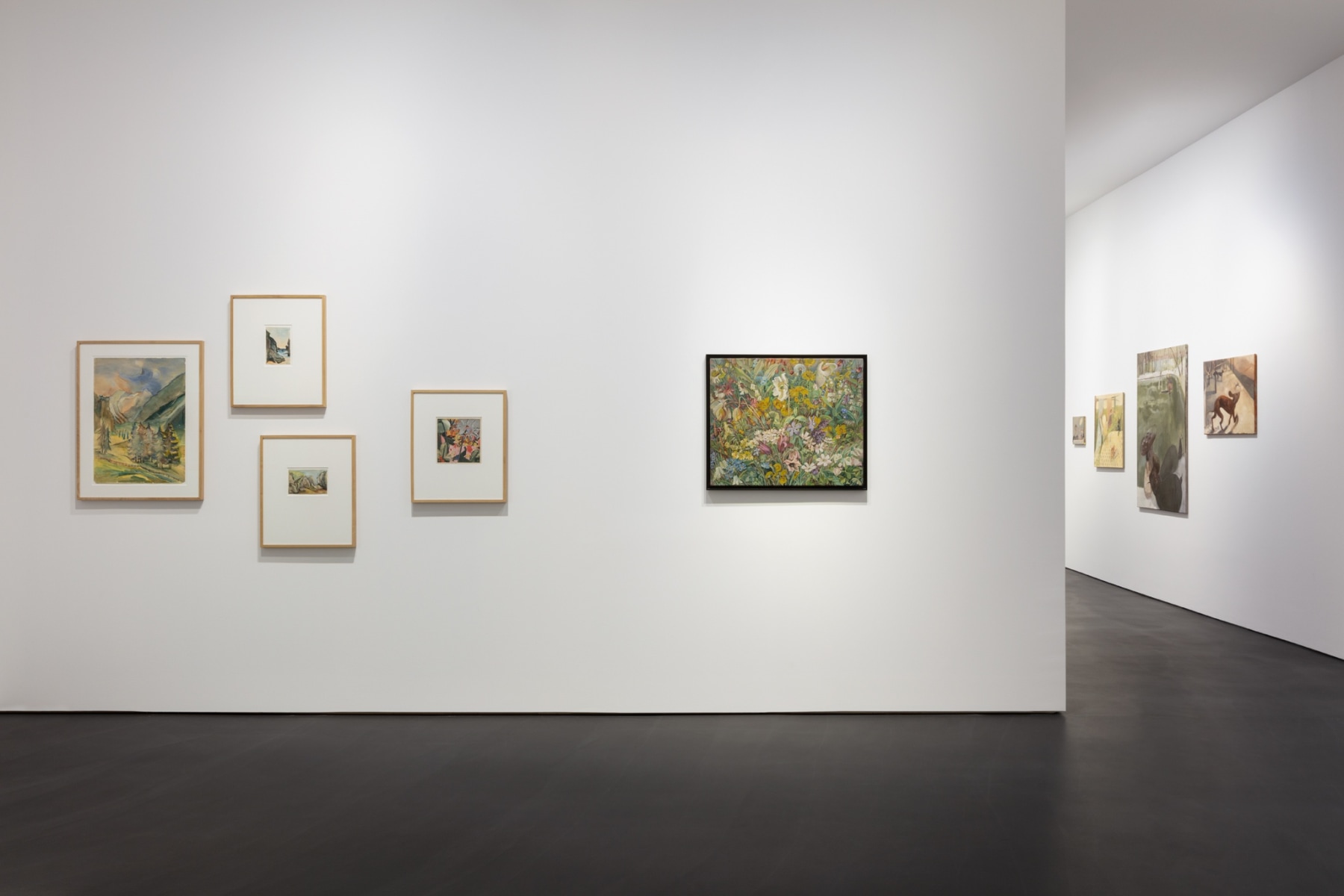 Sarah Buckner
---
Sarah Buckner (b. 1984 in Frankfurt am Main, Germany / lives and works in Cologne) studied at the Accademia di Belle Arti in Palermo from 2006 to 2008 and at the Kunstakademie Düsseldorf with Peter Doig from 2009 to 2017. In 2020–21, she was a resident at the NRW program at the Kunsthalle Münster. Recent exhibitions include: Chances Are, Ermes Ermes, Cologne, 2019; Manifesta 12, Palermo, 2018; Salon des Amateurs, Tramps, London, 2018; and Petto, l'ascensore, Palermo, 2015.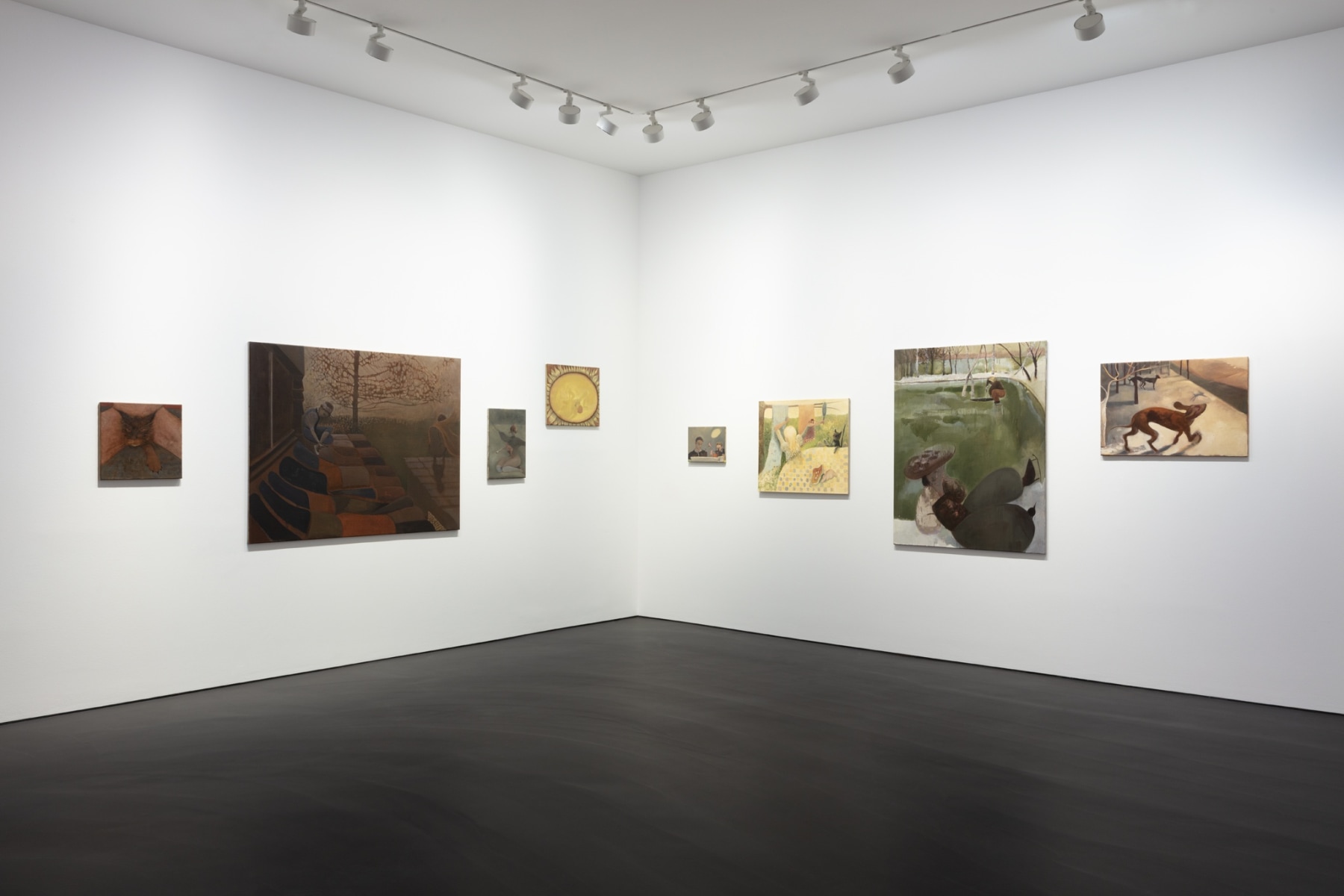 Sarah Buckner is a storyteller. In the past her image world was fed by multiple sources: real-life encounters, the dreams that sprang from them, books, and films. Thinking in paint, and through painting, Buckner has developed an intuitive and fluid approach that transforms these impressions through her material practice. Feeling both open-ended and precisely observed, her figures appear to emerge from a fully formed life of which we can catch a momentary glimpse. Bearing traces of the artist's life—reading, dreaming, imagining—some paintings are lighthearted for reasons we may not know, other images may come across as portraying moments of anxiety, confusion, or hope.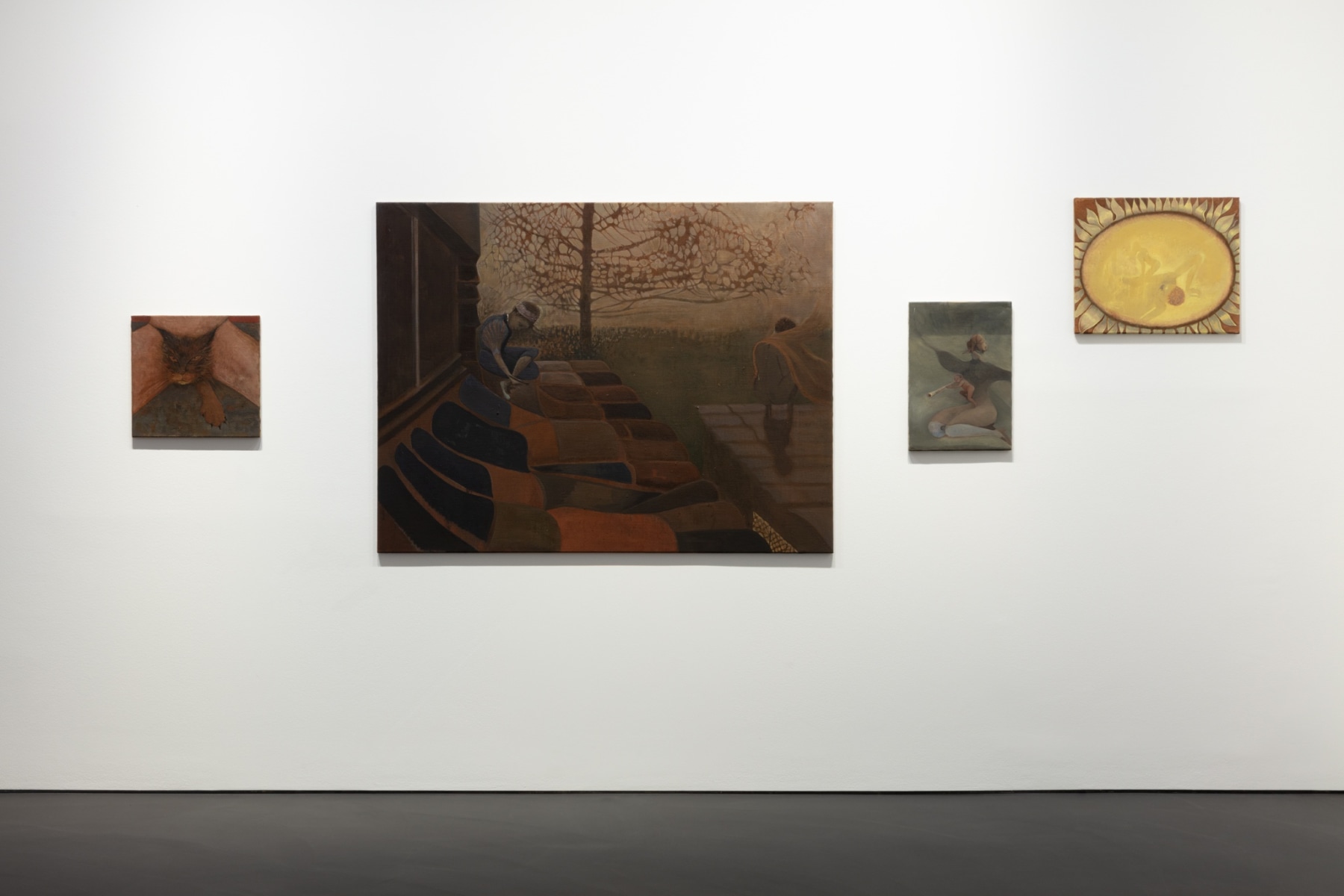 With its fragment of a tiled roof, figures perched on balcony and a deck-like structure, and the large tree, Midnight combines urban and natural imagery. To Sarah Buckner the pattern created by the tiles suggest a kind of network with a sense of constant change and uncertainties. A condition resonating with the events of 2020, as well as with the sense of rootlessness experienced by the protagonist of Virginia Woolf's novel Orlando, who lives several life-times, inhabiting different houses, social roles and cultural settings.
Anima draws on mythological representations of the feminine. As if originating from the crouching woman's lap, the small child with its trumpet recalls the traditional depiction of Cupid, or generally cherubs and putti. In this context then, the sickle-shaped silhouette in the female figure's outstretched arm invokes Psyche's use of that tool but also the moon's crescent. The title draws on the Carl Jung's theory of analytic psychology that stipulates the existence of archetypes, among them he described the animus as the unconscious masculine side of a woman, and the anima as the unconscious feminine side of a man, each transcending the personal psyche.
With the giant bright yellow disc surrounded by a circular row of petals as its main motif, golden blossom combines abstract and figurative elements. A number of figures appear in the flower's center, akin to spectral inhabitants. Especially the use of scale, gives the work a dreamlike quality.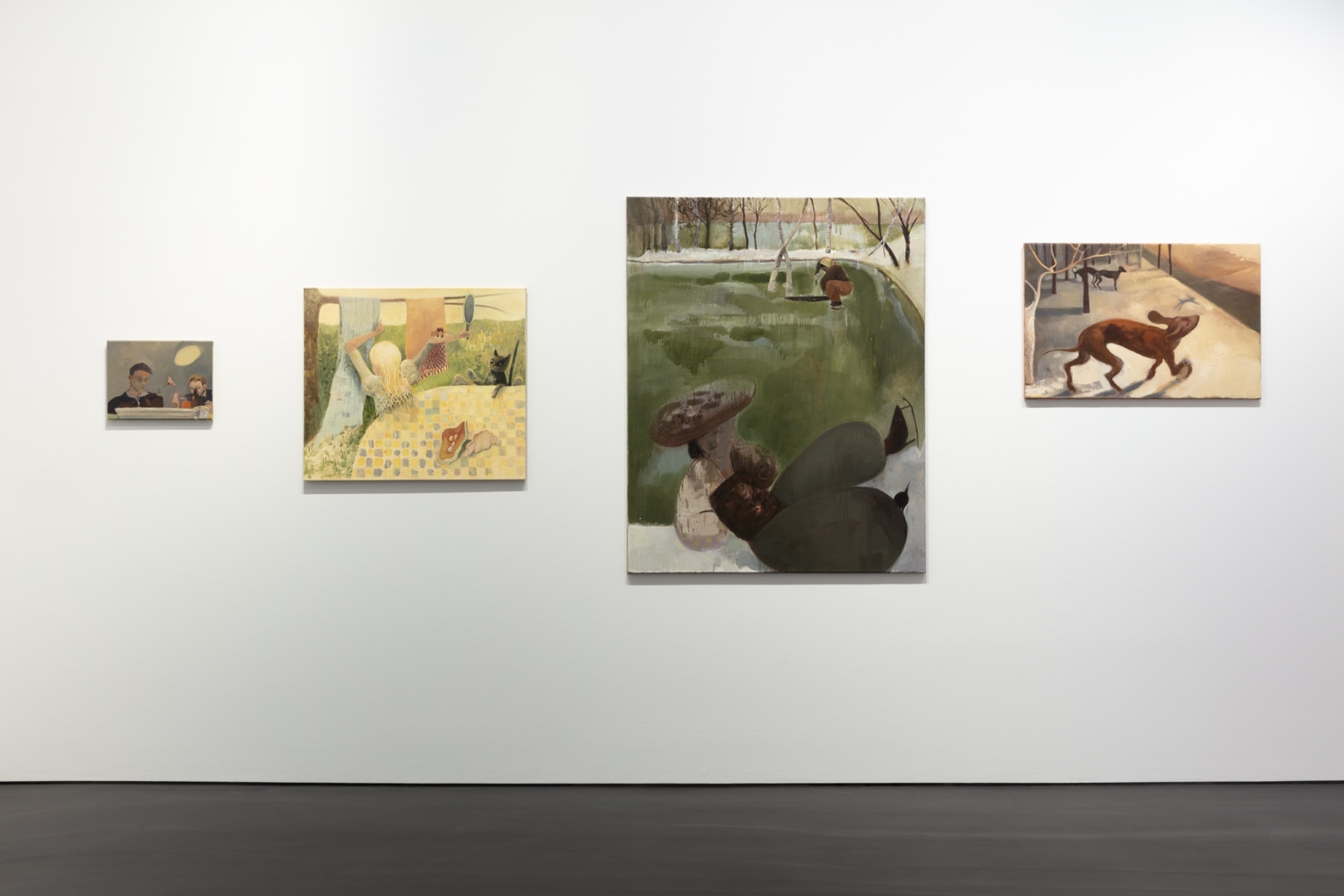 In the past year, during the long periods of enforced isolation, Sarah Buckner delved intensely into literature, blurring the boundaries between fictional and real situations, and conjuring images from those literary worlds. It is easy to see the appeal, for example, of entering the fantastic and exuberant world of Virginia Woolf's fantastic novel Orlando, published in 1928. Reading Woolf's narration of a young nobleman's inexplicably timeless existence over more than 350 years, and equally inexplicable transformation midway, sometime in the mid-18th century, into a noblewoman, can itself be a transformative experience. Even as the book is a scathing, if at times humorous, indictment of woman's inequity before law, art, and life, it is also a novel in which everything is possible.

Yet Buckner's reading of Orlando functioned not as literary compendium of imagery but sparked an equivalent lightness of spirit, as even the wit and economy of Woolf's narration left traces in the works the artist painted in a loose dialogue with the book.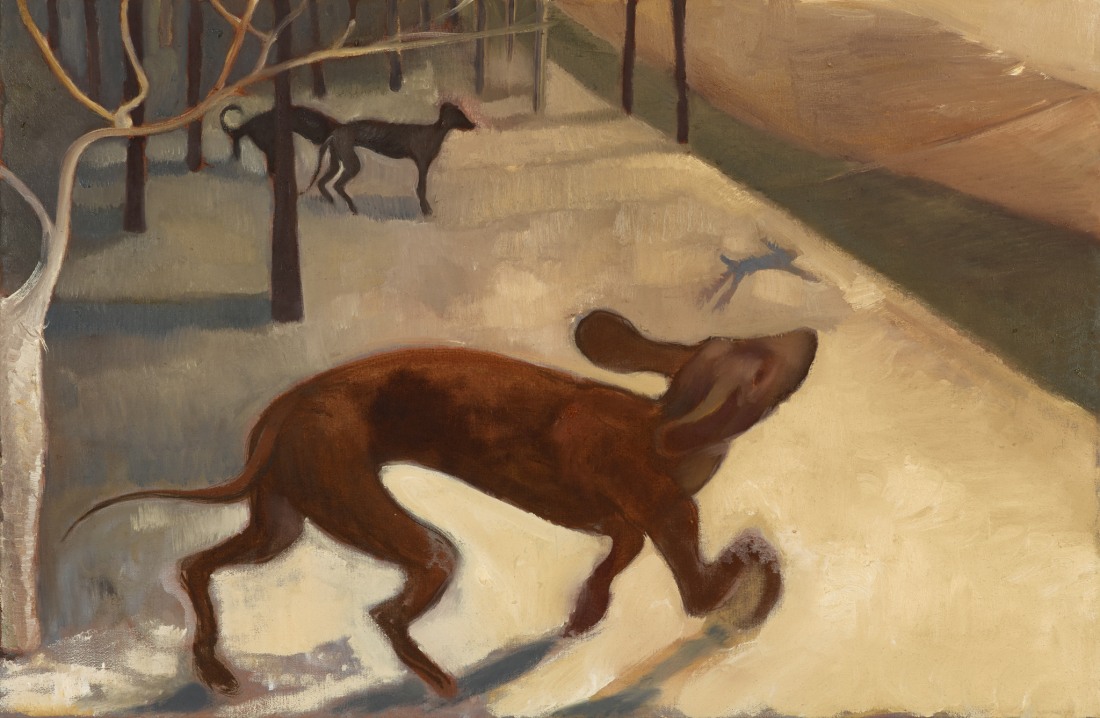 Here! here! (dogs) is loosely inspired by the figure's love of dogs. At the same time, impressions of changed every-day live in the past year—the increased attention to nature, the feeling of time standing still: i.e. being frozen, or the association of approaching a lighter, happier period—played a role in the development of this painting.
To Buckner the world with all its experiences—literary or otherwise—functions as a poetic springboard. Unafraid of the vulnerability inherent in image making and unconcerned by the need to make us understand exactly what makes an image meaningful to her, Buckner's paintings develop through her practice, feeling, listening, exploring, painting.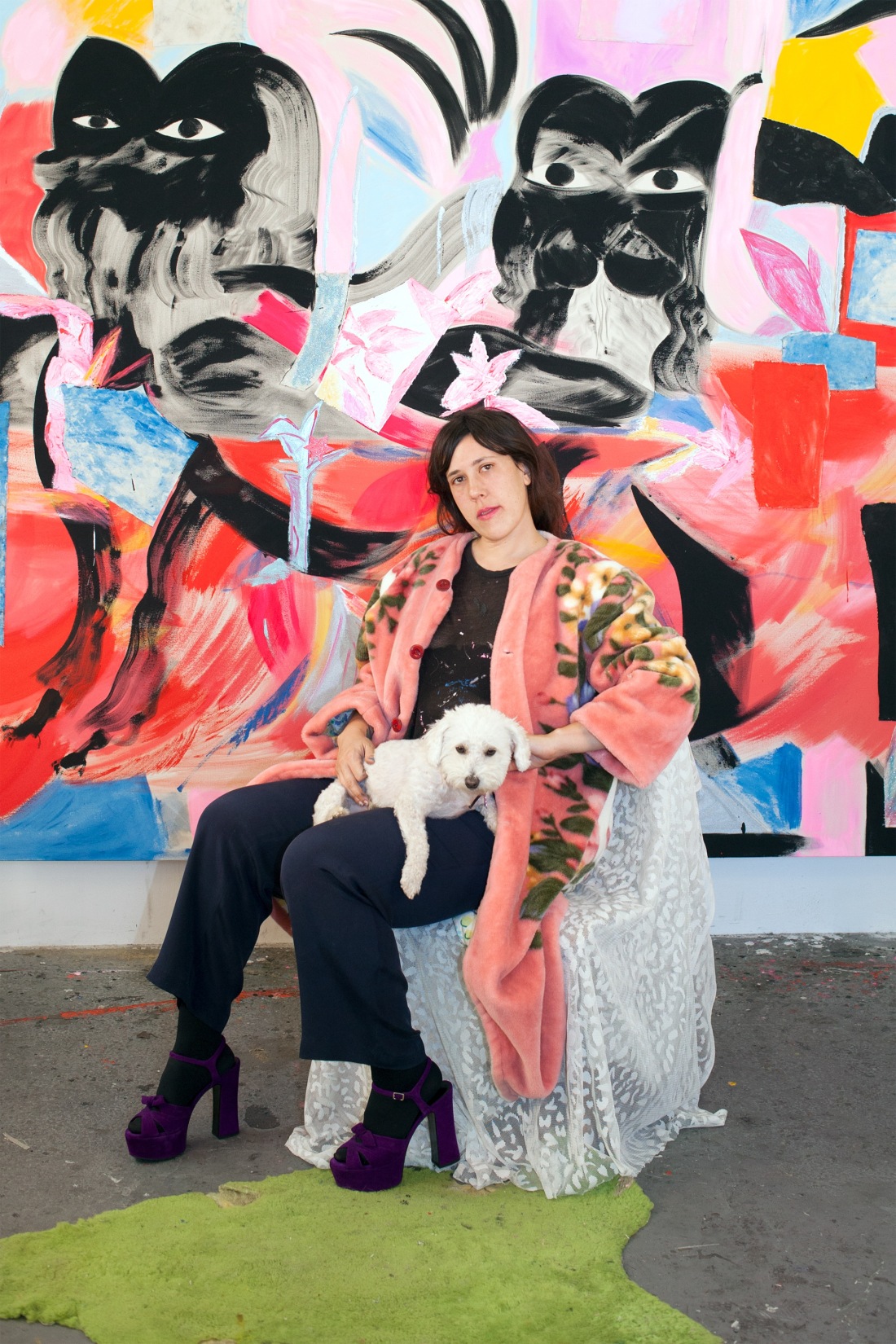 Sojourner Truth Parsons
---
Sojourner Truth Parsons (b. 1984 in Vancouver, Canada / lives and works in New York) studied at the Nova Scotia College of Art and Design in Halifax. Recent exhibitions include: This is America, Kunstraum Potsdam, 2021; The Sacred Vessel (PT. 1), Arsenal Contemporary, New York, 2020; and Holding Your Dog at Night, Oakville Galleries, Canada, 2017. She did an international residency sponsored by the Canada Council for the Arts in Santa Fe, New Mexico, in 2014.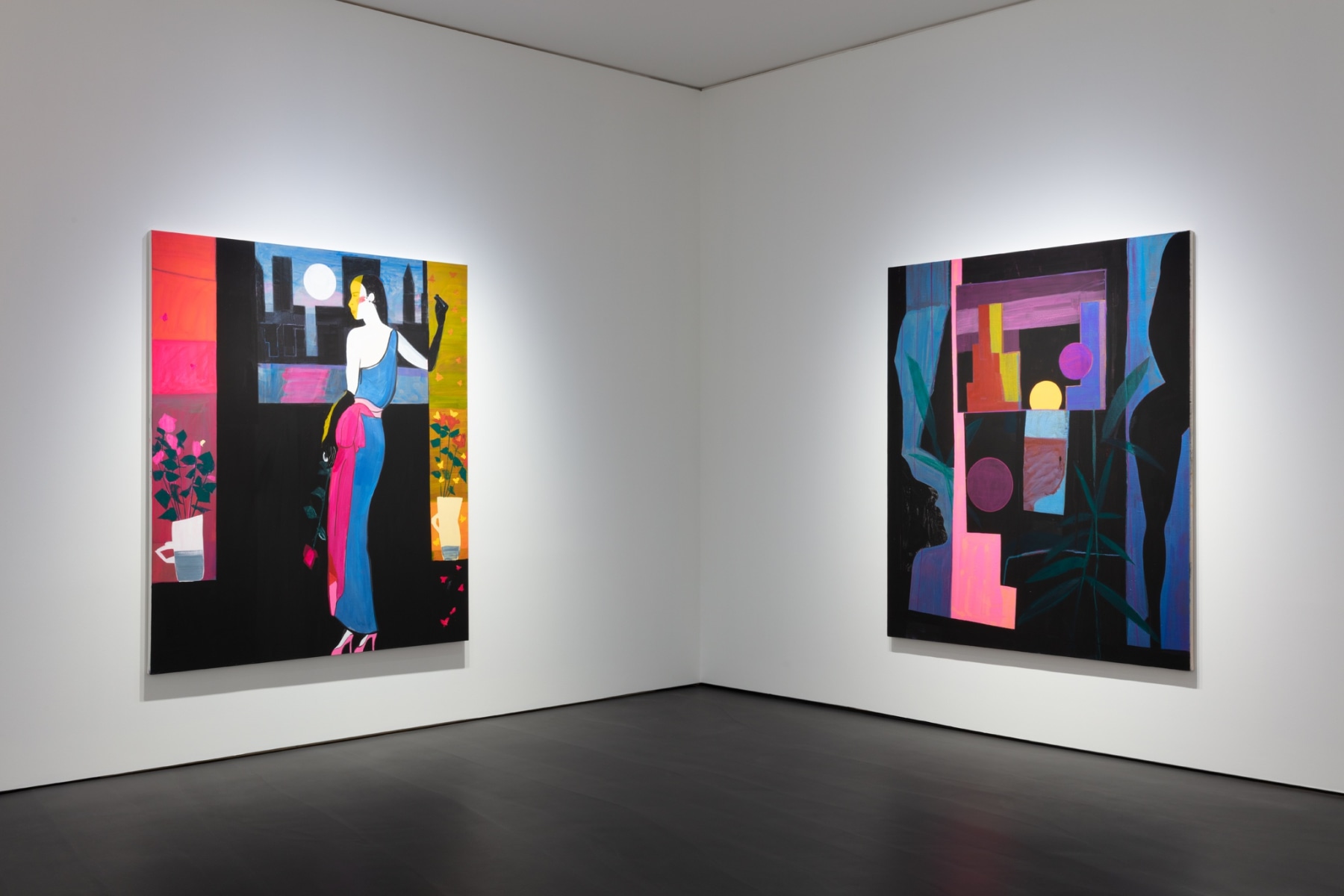 Sojourner Truth Parsons' paintings have a powerful sense of narrative intimacy, where we, as viewers, experience highly personal yet fictional slices of life. Like classical film noirs, her works combine dark surfaces, shadows, and fractured personas in a mix of illusion and desire. They incorporate psychic dramas where the drive for unity and completion is balanced by the pleasures of a dynamic multiplicity. While her marks and brushstrokes highlight her painting process, her fields of color, repetitions, reflections, and her figures' minimal forms engender a visceral, emotional subjectivity.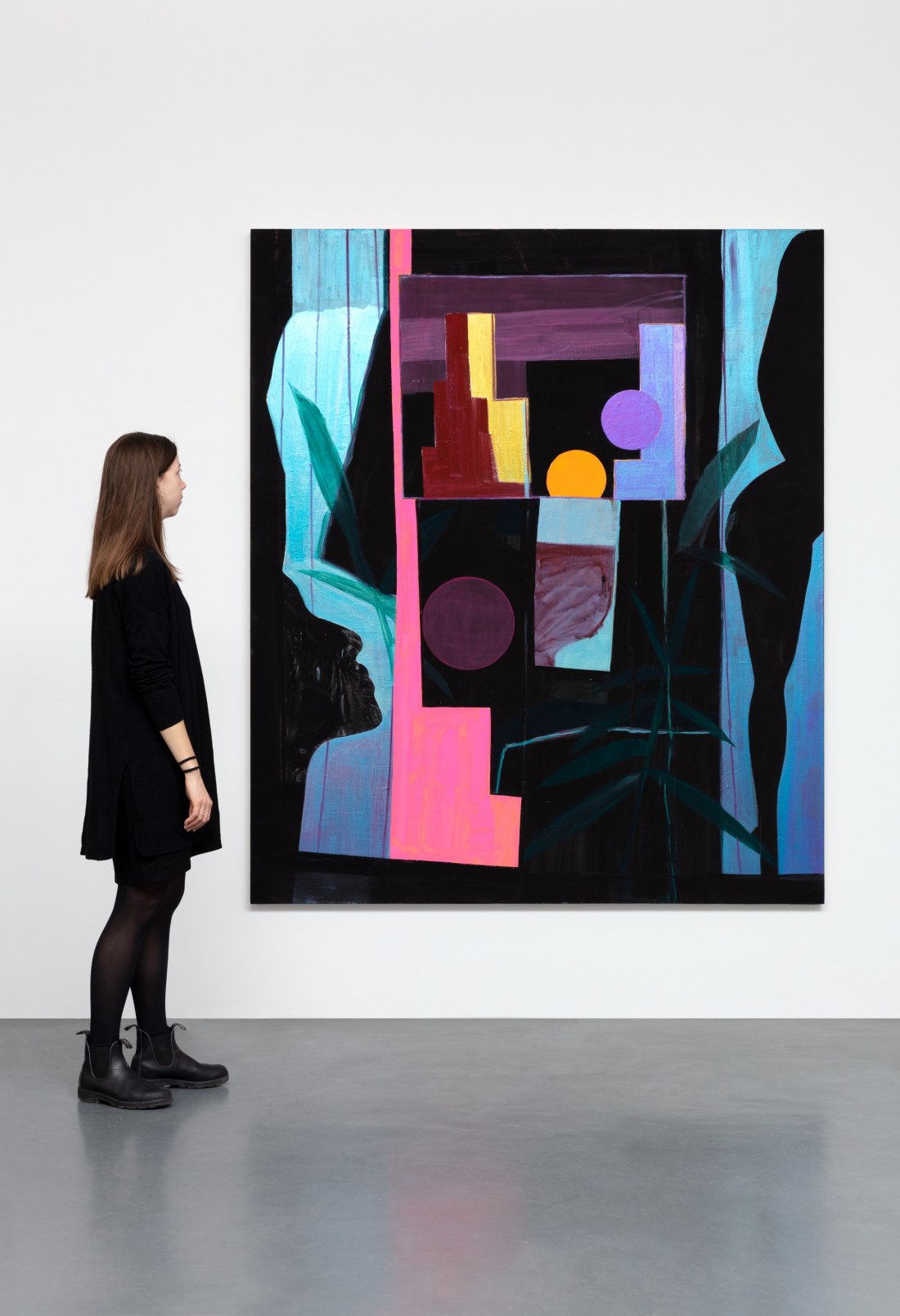 The moon hangs full and heavy in these works, the central figures in the canvases seemingly tethered to its transportive energies—desire, fantasy, introspection, risk. In July Tree, two female figures appear in silhouette, a recurring motif in Parsons' work, one that casts the body as both energy and form. A neck arched in pleasure, a lithe figure extending outside the frame— these are shadowy, sharp-edged presences, elusive as they are compelling. Amidst their charge sits the suggestion of the city at night, its structures and rhythms, the fullness of its promises and potency of its perils.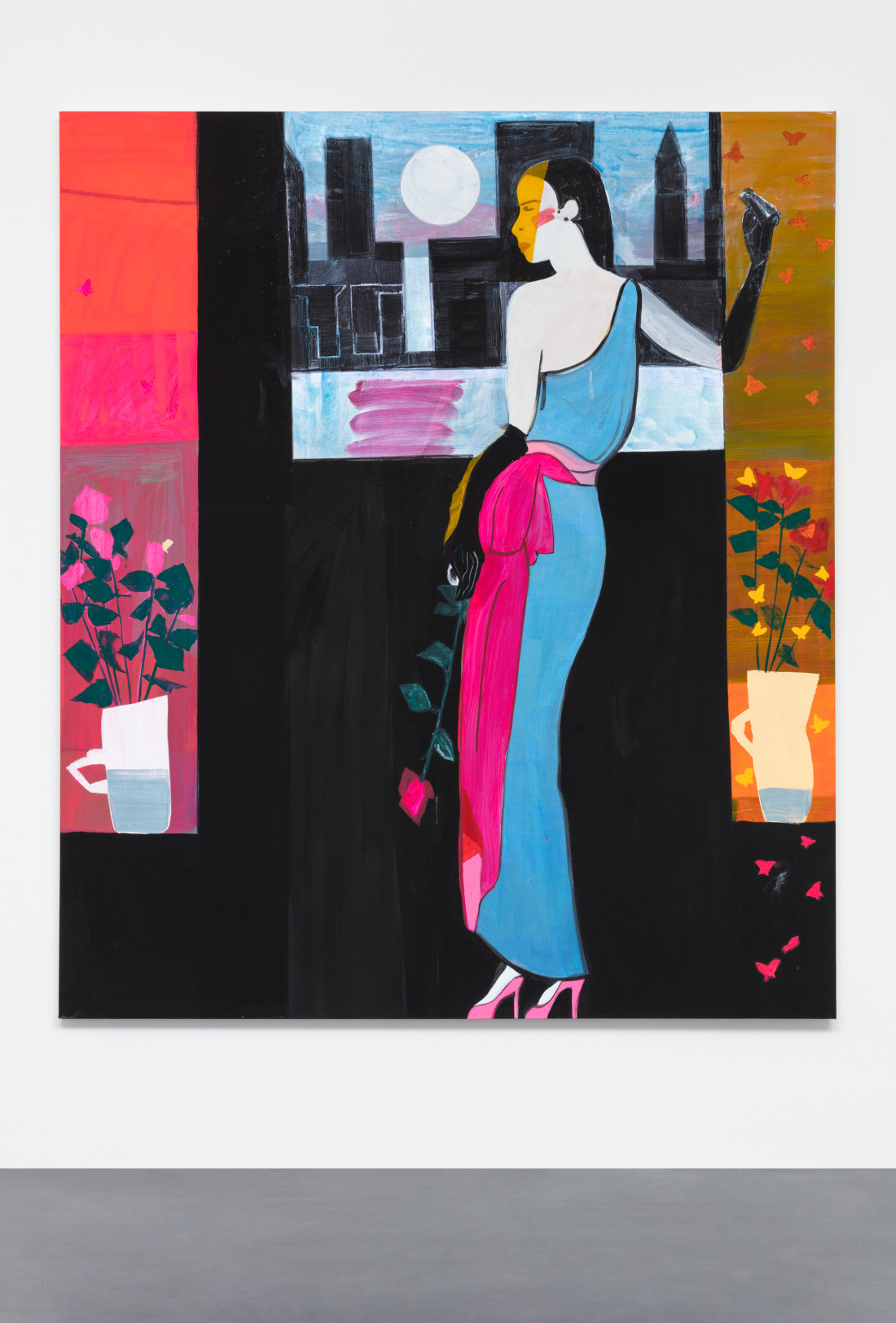 In Falling out of love with you, this tension comes into sharper focus, a gowned and gloved figure—noirishly stylized, the very projection of desire—gazing across the harbour toward Manhattan, a single longstemmed rose in hand. Looser, prosaic florals anchor the edges of the canvas, set against a patchwork of crimsons and golds. These arrangements puncture the shield of night, suggesting a scene about to end, the veil of darkness giving way to other forms of beauty—perhaps less precise in their elegance—but awaiting us regardless.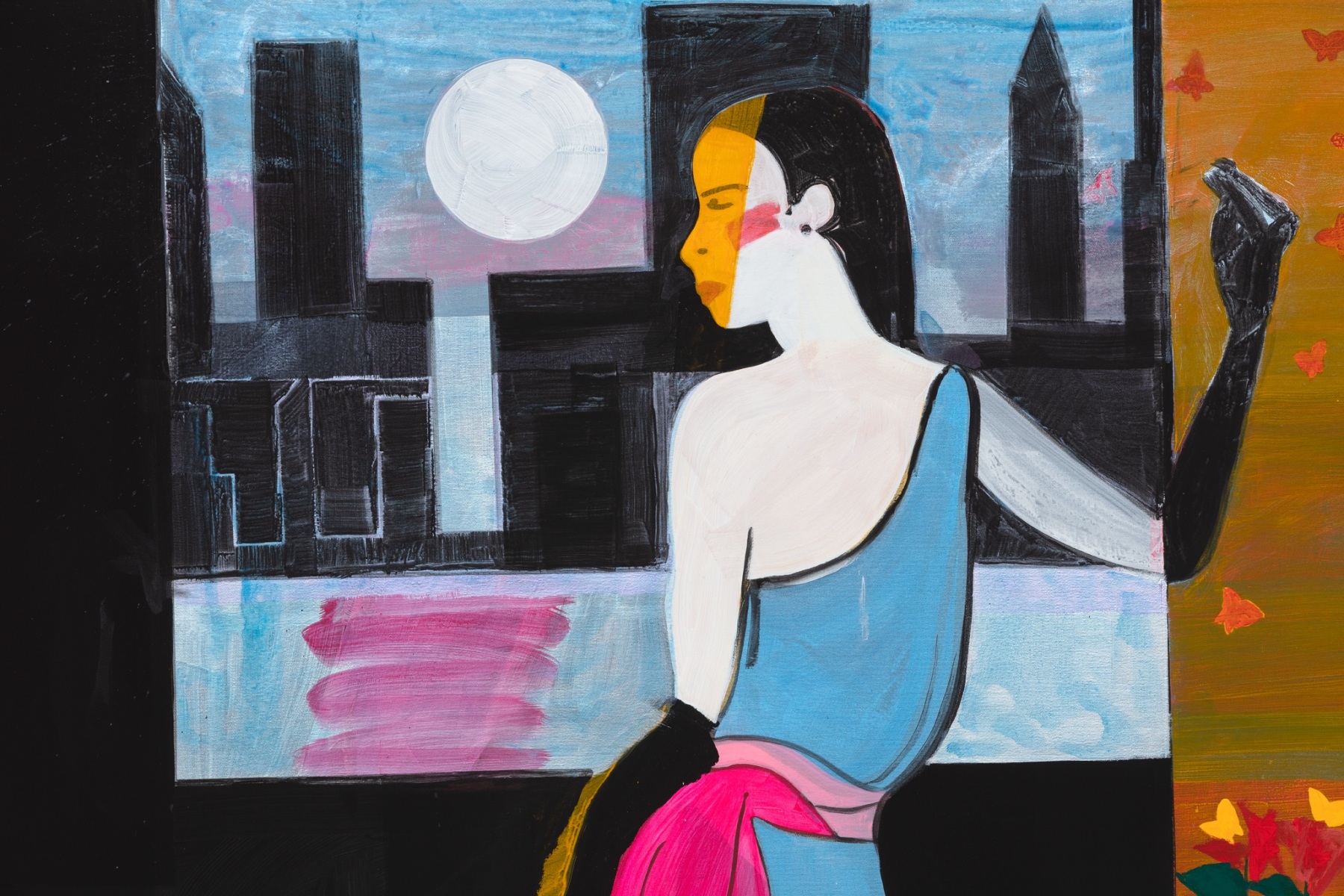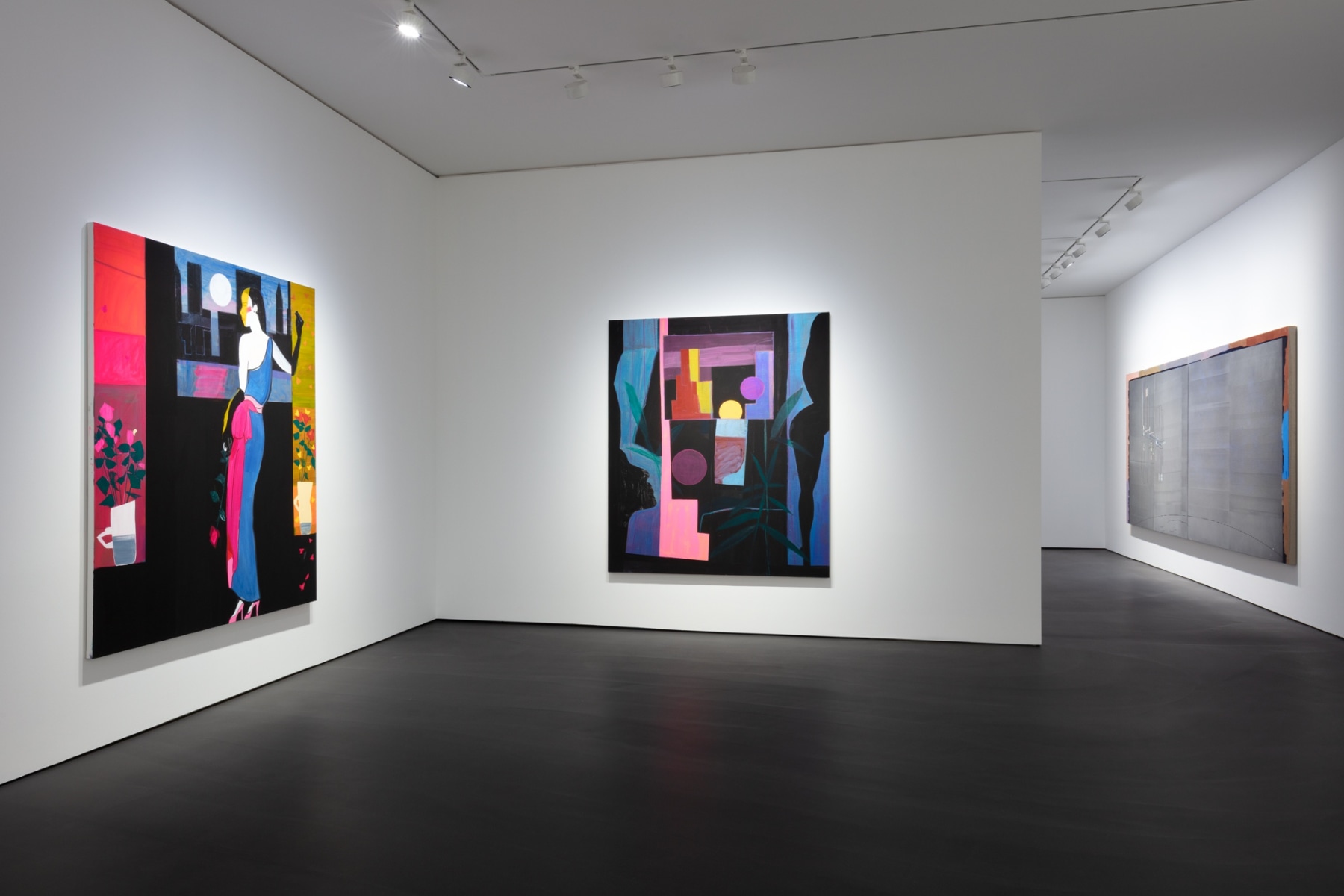 Cui Jie
---
Cui Jie (b. 1983 in Shanghai, China / lives and works in Shanghai) studied painting at the China Academy of Art, graduating in 2006. Recent solo exhibitions include: Cui Jie: From Pavilion to Space Station, Centre for Chinese Contemporary Art, Manchester, 2019–20; The Enormous Space, OCAT Contemporary Art Terminal, Shenzhen, 2018; and Latter, Former, mother's tankstation, Dublin, 2016. Her work was also included in the 12th Taipei Biennial, Taipei, 2020.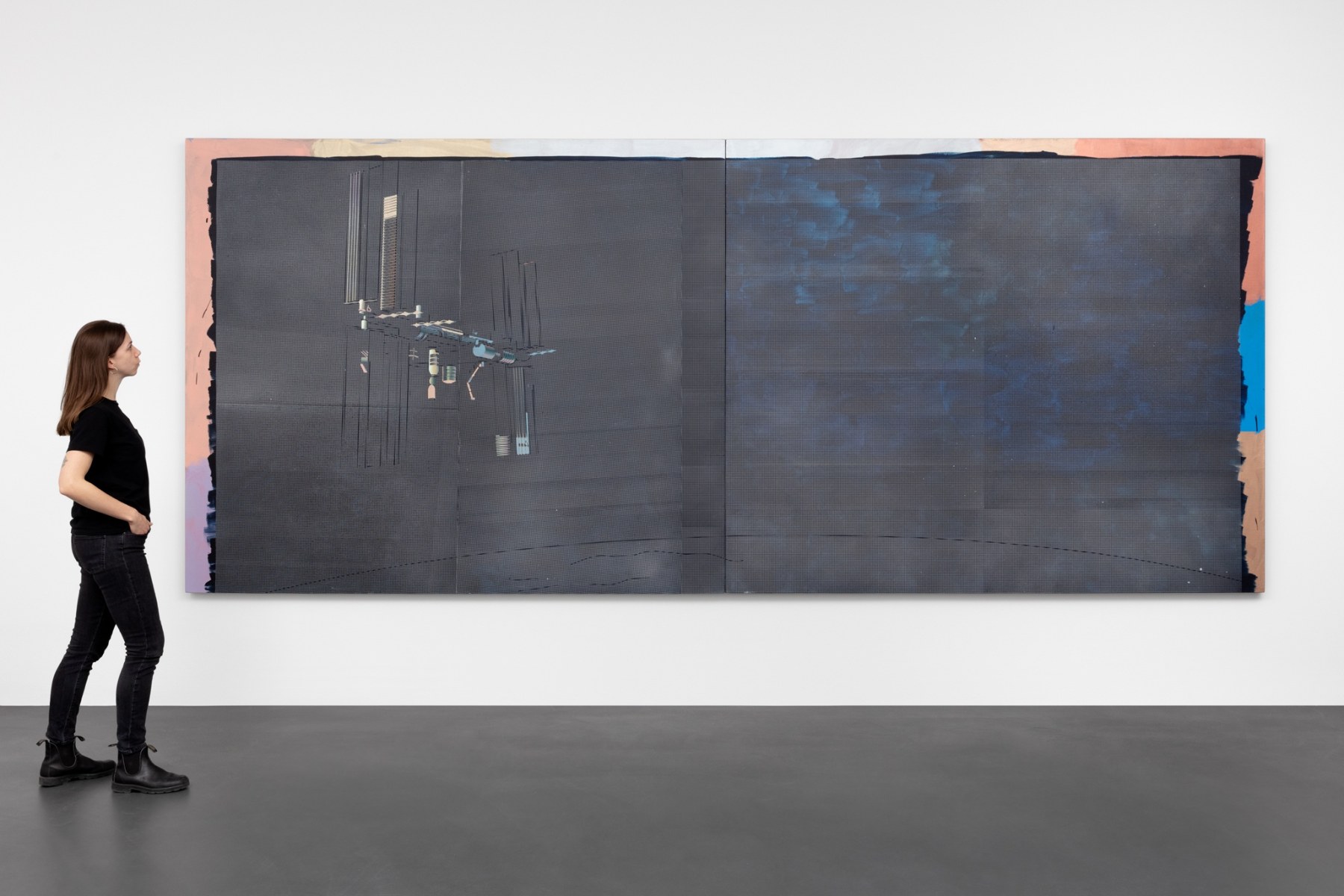 Cui Jie applies various layers of images—some realistic, some imaginary—on her canvases, exploring multiple perspectives of various locations simultaneously. Each layer is meticulously executed to represent the transformation of China's urbanscape.
Painted with calculated and deadpan brushwork combined with a warm and affective palette, Cui's landscapes and interiors make comparative studies of cities as distinctive models or laboratories of China's open-and-reform policies. This is depicted as a personal history informed by the aesthetic madness in one time and place, ranging from the architectural confusion of Bauhaus, to Chinese propaganda, and to Soviet communist aesthetics. In essence, Cui Jie's painting is a time capsule that re-imagines the past and the present.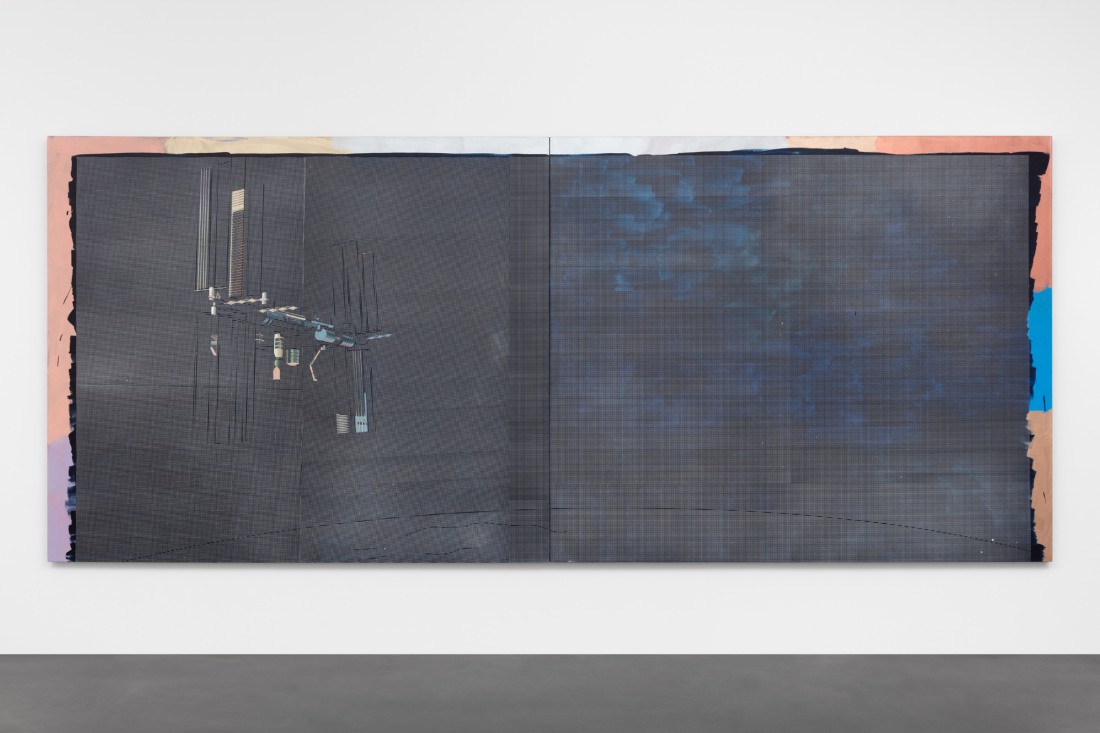 International Space Station is a five-meter long canvas almost entirely dominated by a color field of black dots, signifying the vastness of space. The ISS is reduced to its skeletal contours in the far left of the canvas, delineated by faint wisps of color in glinting, muted shades. The earth below is similarly pared down, to a black arc streaked across the bottom of the pictorial surface. One is reminded of the largely invisible and increasingly inescapable infrastructures of surveillance, WIFI networks and virtual technologies that have so powerfully reshaped our experience of contemporary everyday life.

While the urban metropolis has been the main subject of her paintings thus far, works such as International Space Station indicate her conceptual as well as artistic and technical shift towards an expanded definition of architecture, or rather, landscape. Indeed, Cui has always considered herself a 'landscape painter' above all else.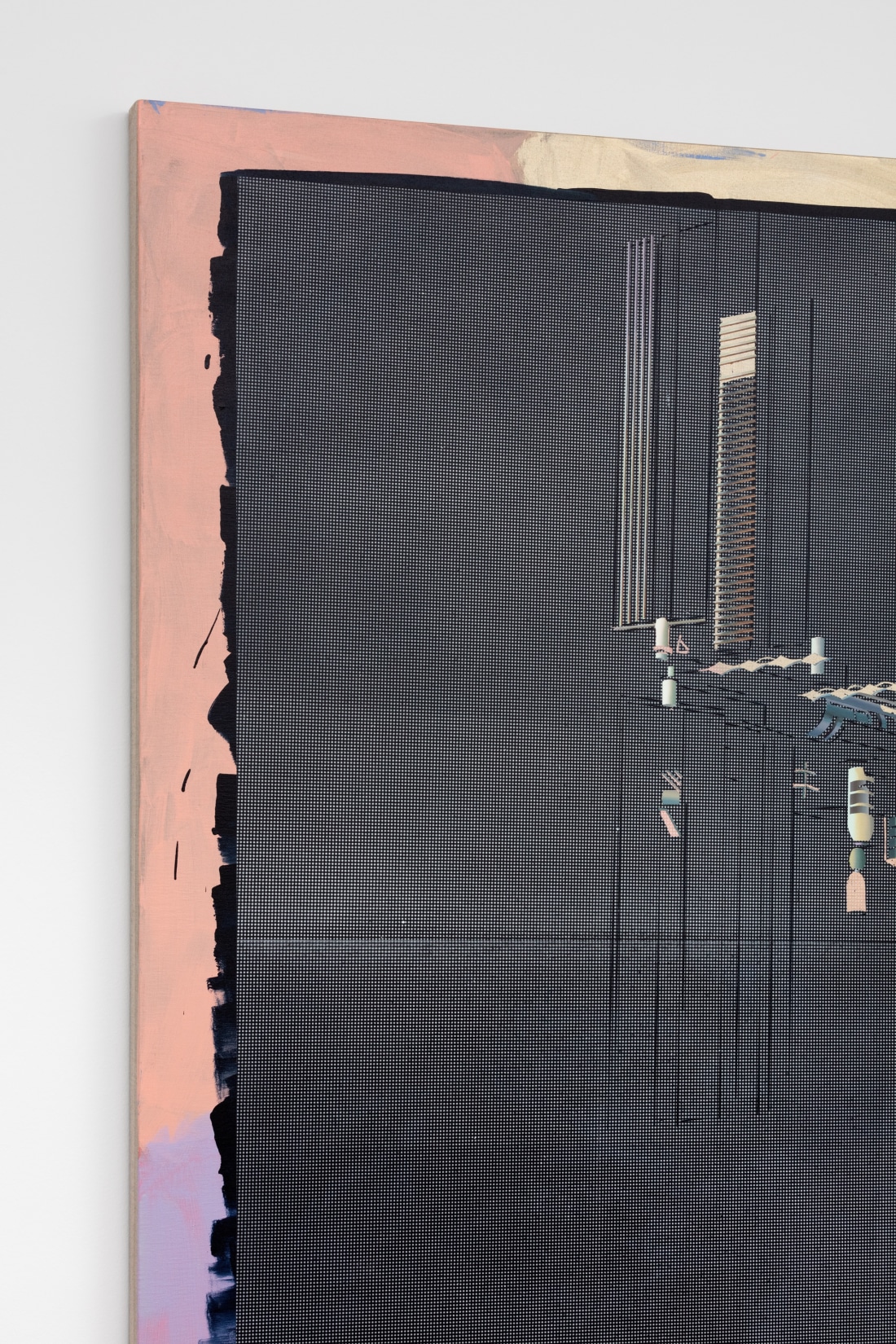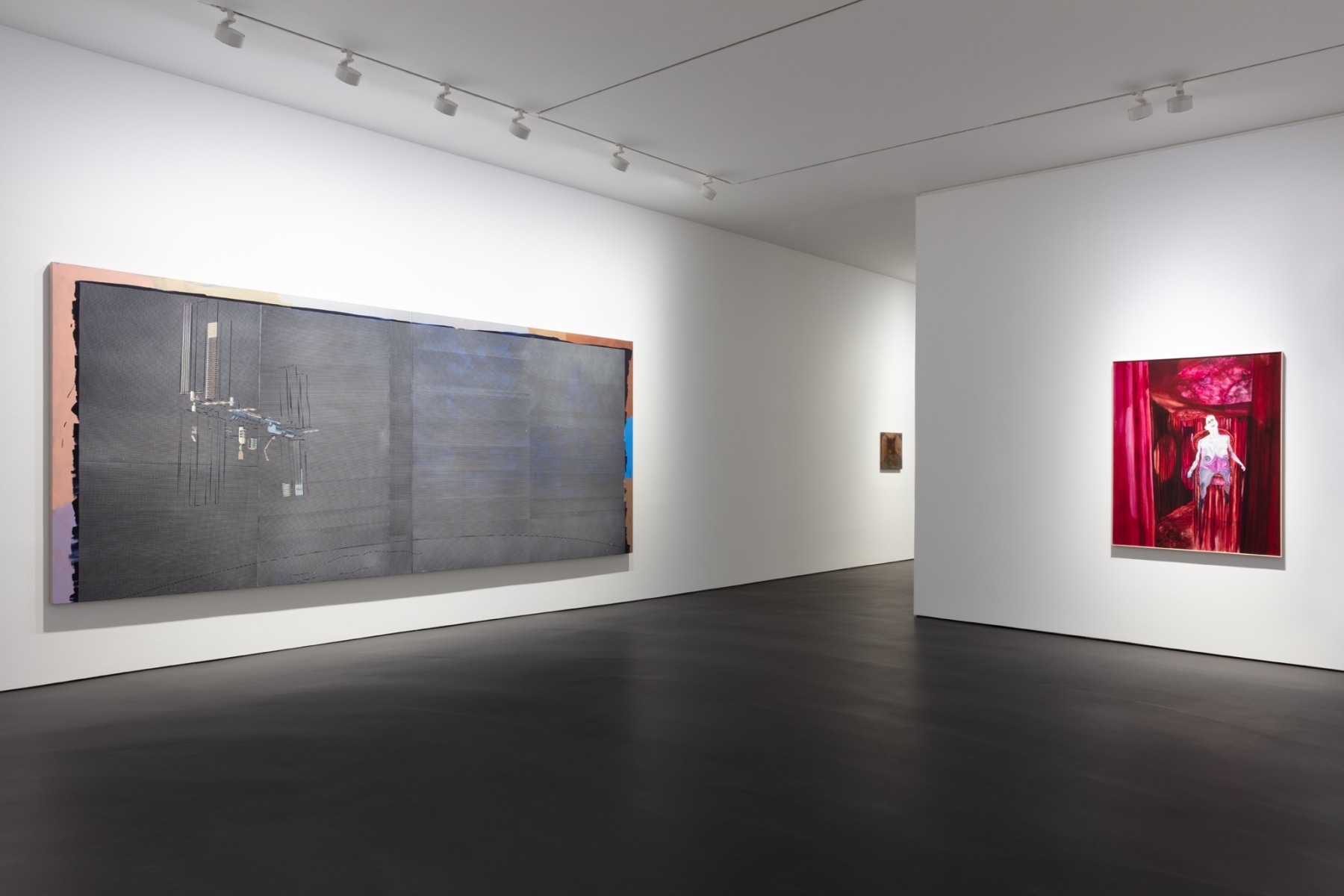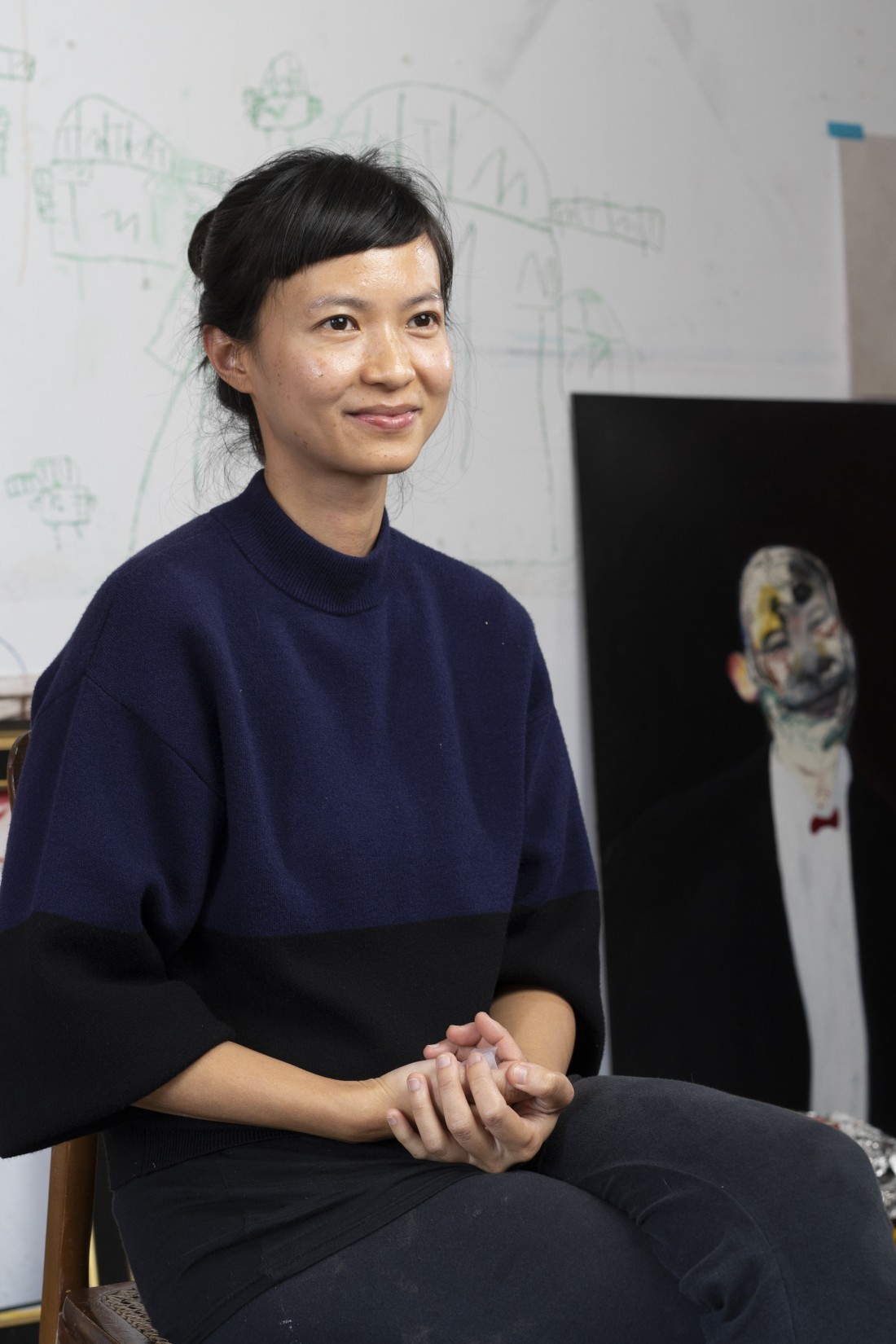 Tsai Yi-Ting
---
Tsai Yi-Ting (b. 1980 in Hsinchu, Taiwan / lives and works in Taipei) received a BFA from the Taipei National University of the Arts in 2004, an MFA from the Central Saint Martins College of Art, London, in 2006, and an MFA from the National Taipei University of Arts in 2020. Solo exhibitions to date: Newborn, Confinement, Beyond Gallery, Taipei, 2018; Tsai Yi-Ting, Jinbian- tang, Shin-chu, Taiwan, 2018; and Nanliao, A Gallery, Taipei, 2012.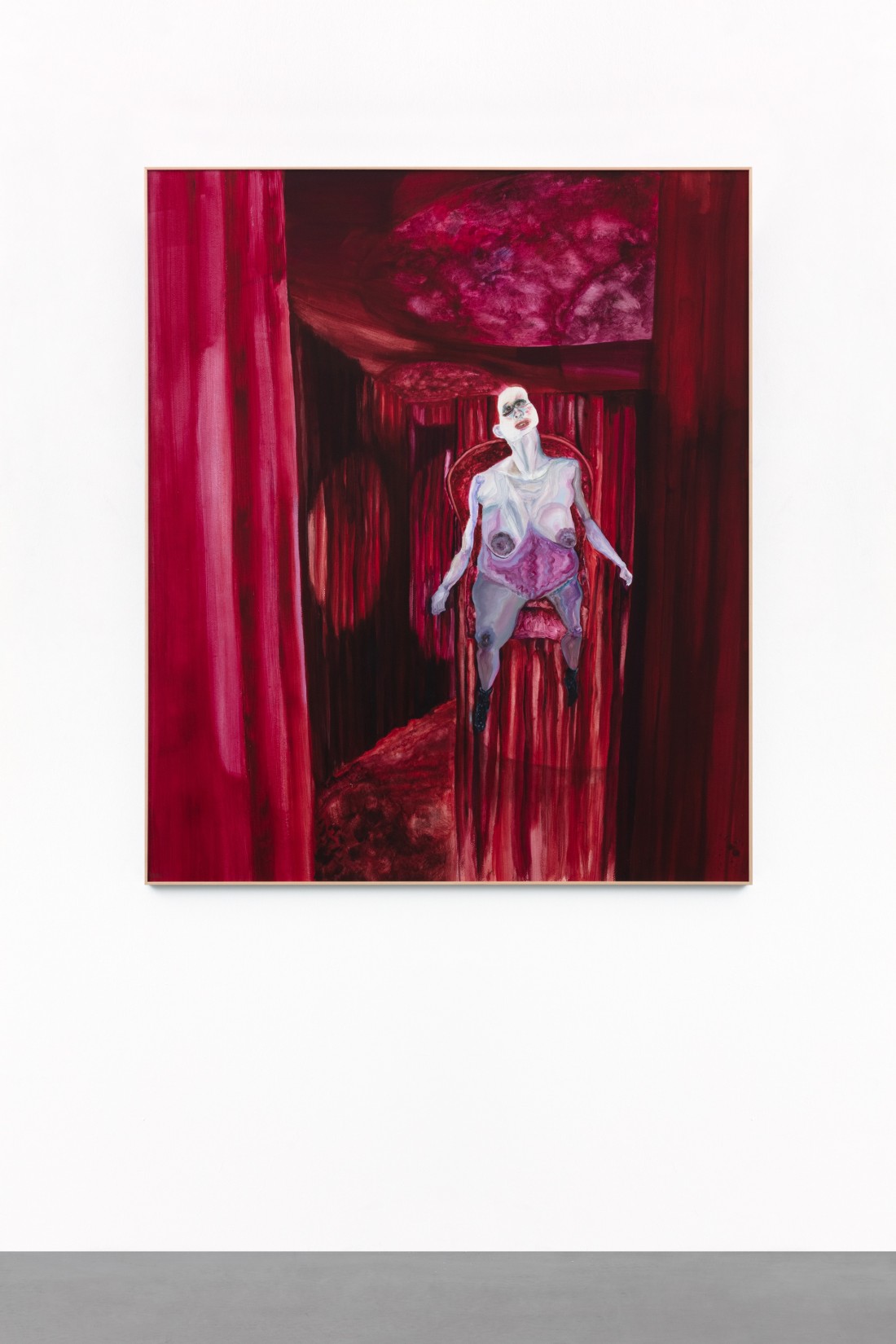 Unlike most works depicting women in pregnancy or motherhood, which generally portray images of boundless love, warmth, and maternal affection, Tsai Yi-Ting's new body of work, produced after giving birth to her son, clearly holds no intention of nurturing these principles or of reassuring her viewers. She has instead kept a diary of sorts, which accounts for this time through painting, and speaks of the complex and mystifying experience of relinquishing oneself in order to bring a new life into the world.
With her New Born, Confinement series, Tsai turned her attention to the profound journeys comprising pregnancy, childbirth, and motherhood, and the physical and psychological changes that leave indelible marks on every mother. For Tsai, such life-changing transformations are first and foremost a form of violence inflicted by nature. This violence involves the expansion and enlargement of the body, and it might entail mental isolation, caused by the physical and psychological pressures women experience during the thirty-day postpartum confinement period traditionally known in Eastern Asian culture as "sitting the month."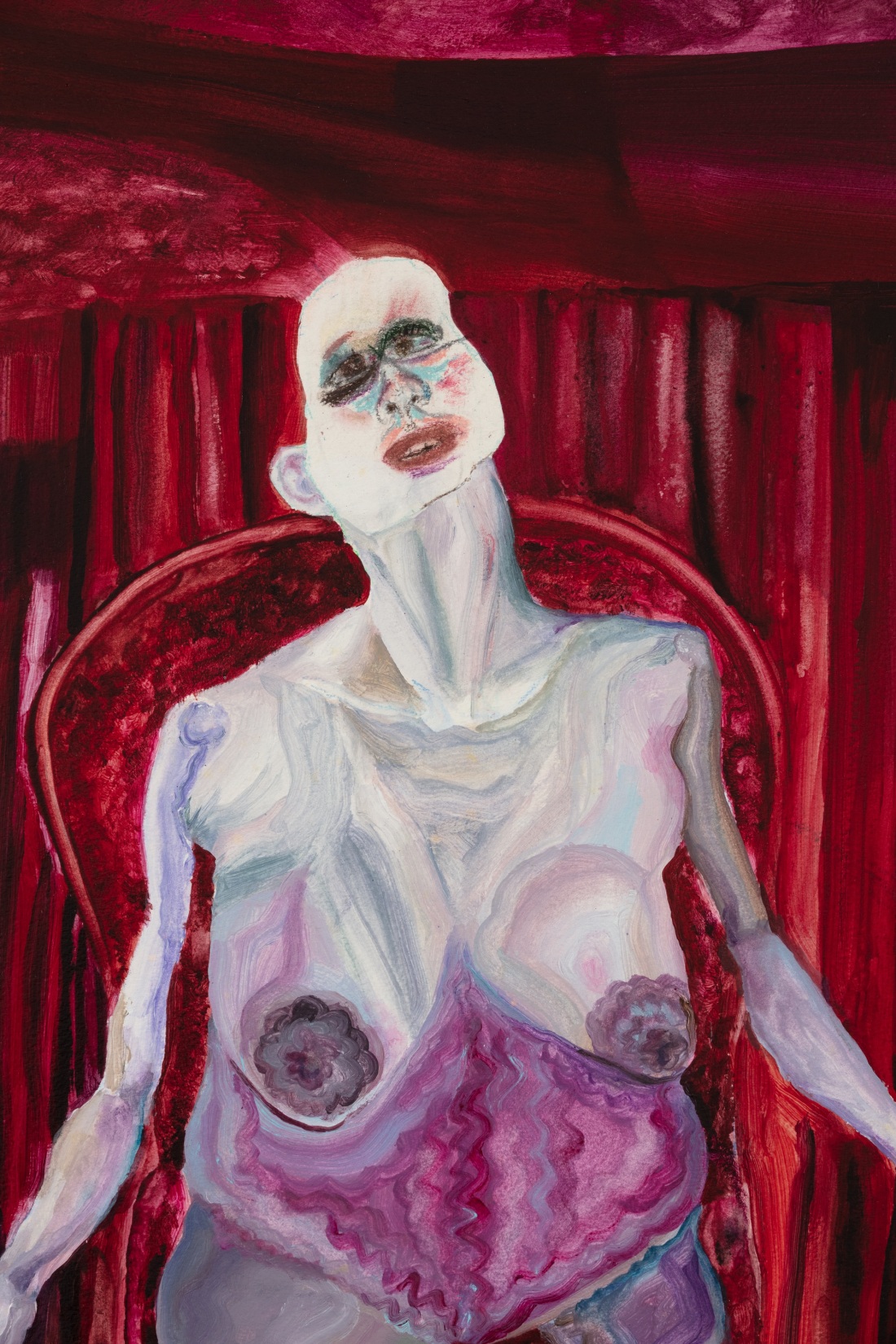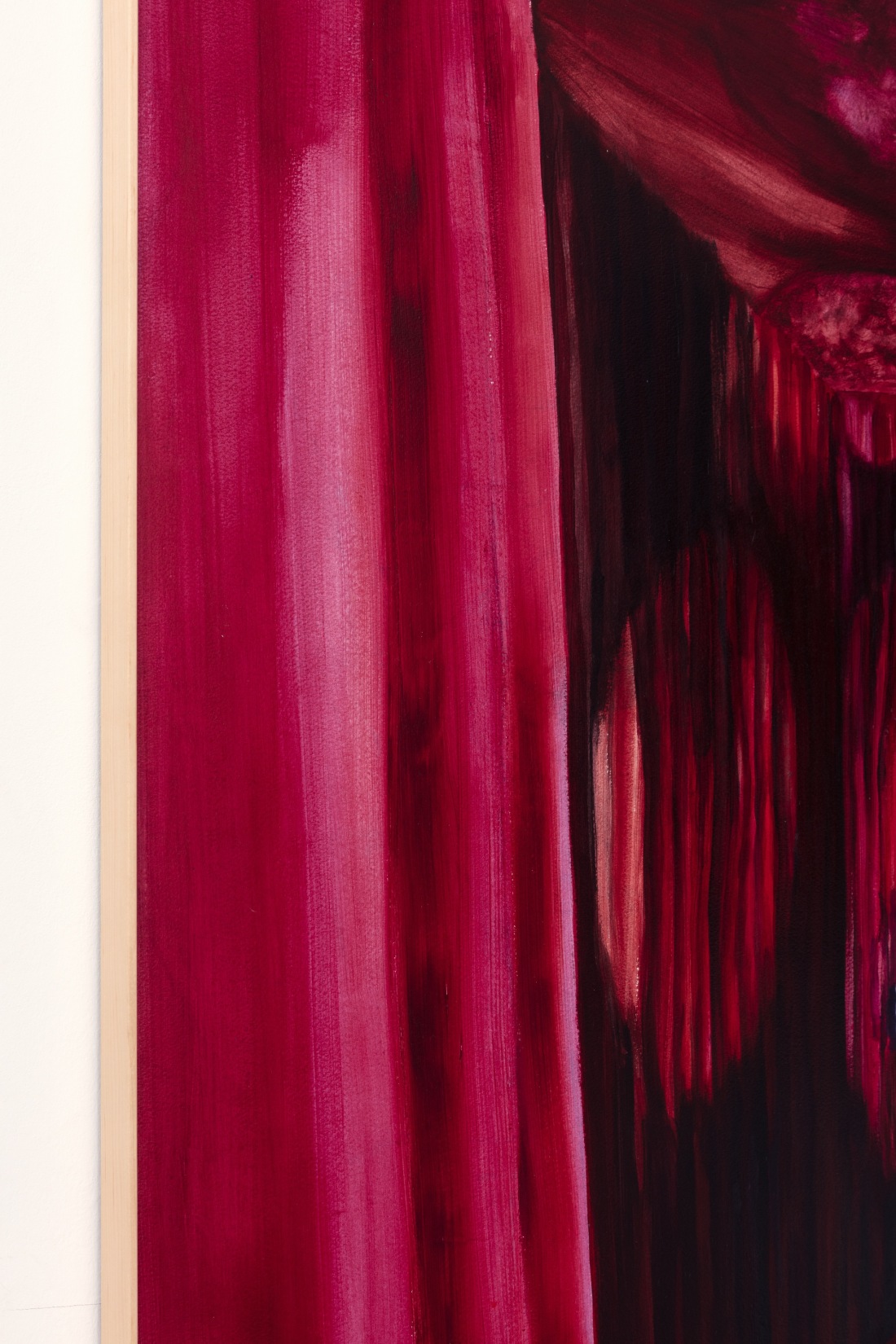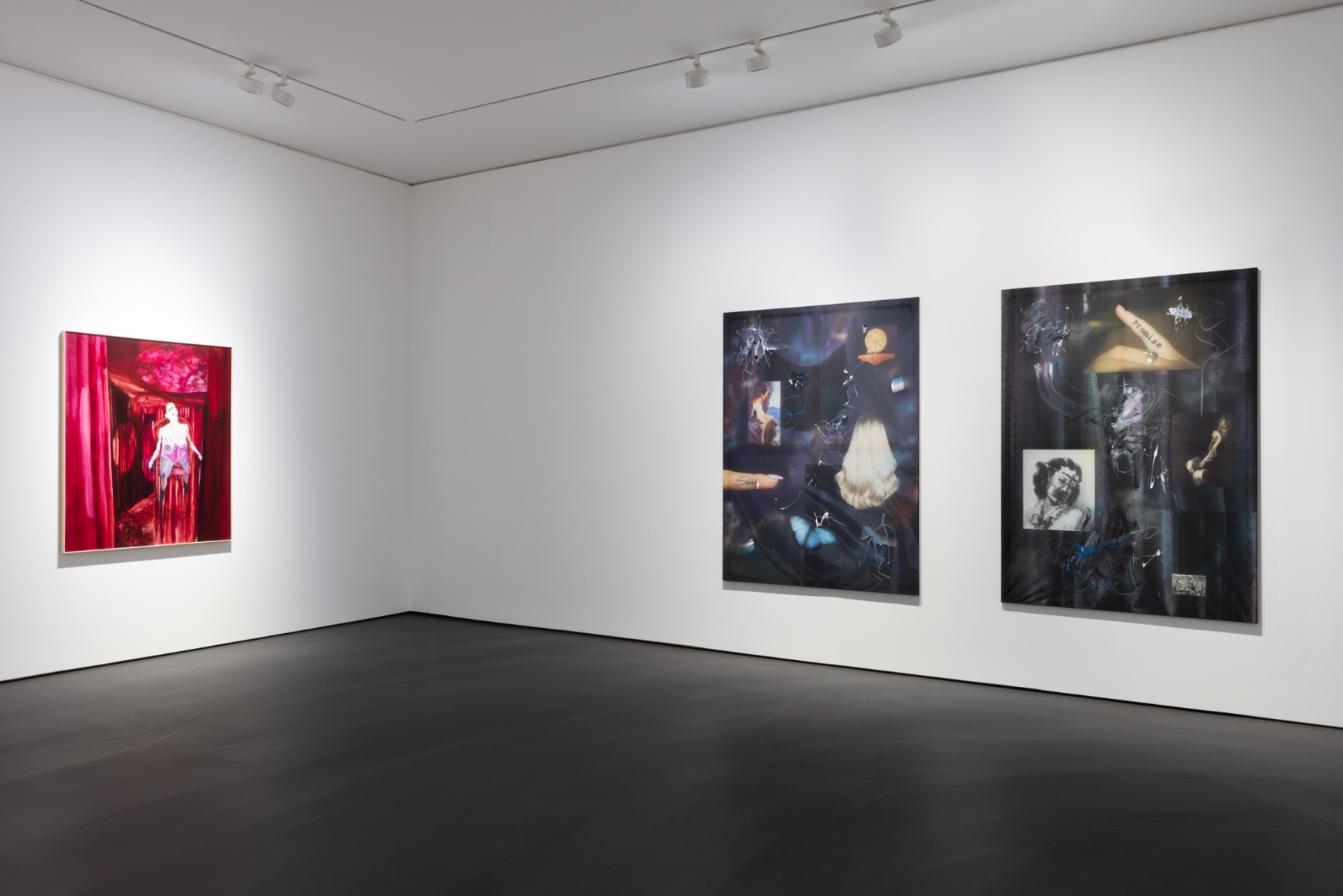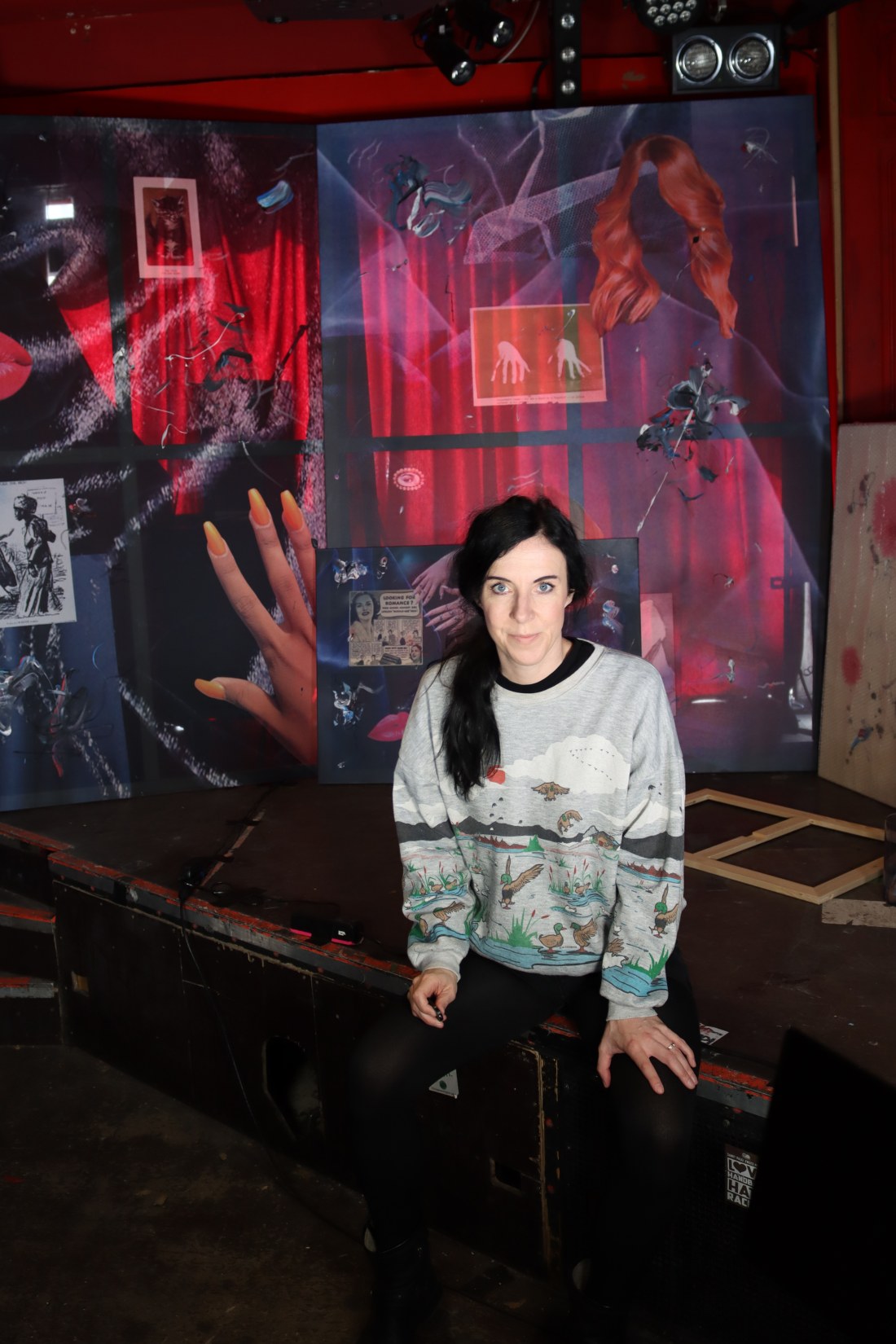 Cordula Ditz
---
Cordula Ditz (b. 1972 in Hamburg, Germany / lives and works in Hamburg) studied at the Academy of Fine Arts Vienna, and holds an MA from the University of Hamburg, which she completed in 2008. She was a guest professor at the Academy of Fine Arts in Munich (AdBK) in 2019–20. Recent exhibitions include: MIND the GAP #1, Bieberhaus, Hamburg, 2020; Your Silence is Very Disturbing, Galerie Marstall, Ahrensburg, 2019; and BEING LAID UP WAS NO EXCUSE FOR NOT MAKING ART, Kunstverein in Hamburg, 2020.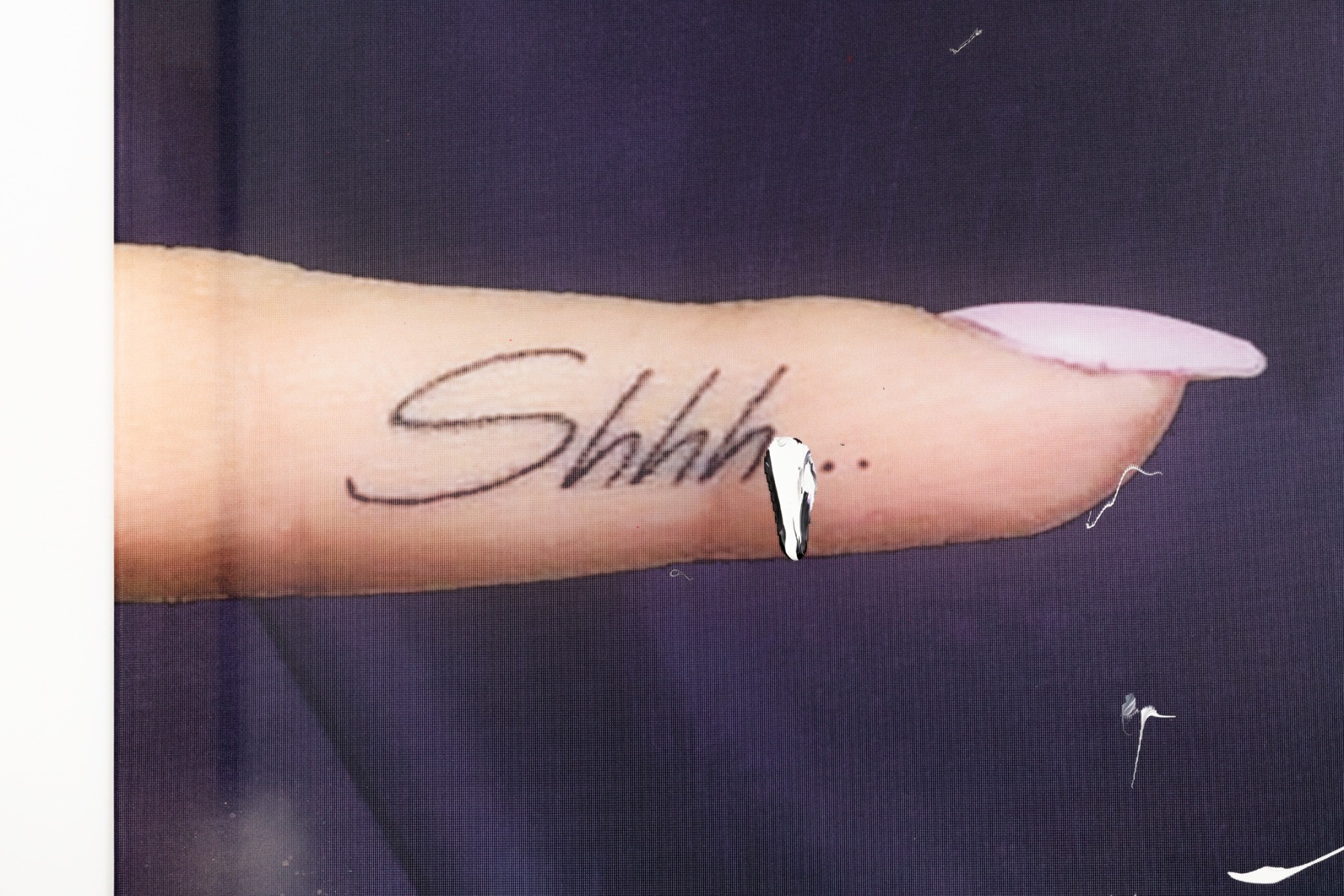 Cordula Ditz's work scrutinizes the ways in which our ideas about gender roles and identity are constructed, reiterated, and solidified—the media play a salient role in this process—and how they inform our conscious as well as unconscious minds. To this purpose, she gathers materials she finds online and in books, magazines, and films and integrates them into paintings and videos in the form of collages or montages. The result is a rich imagery that is open about its genesis and performative nature in order to prompt reflection on media representation and the production of normative codifications.
As digitally printed "linings" on translucent flag cloth, the paintings are layered, in a static equivalent of video montage, with found images from books, magazines, and the internet. Pastose paint applied in gestural brushwork balances, consolidates, and accentuates the pictorial collages. These paintings tell stories from the battles of the women's movement, instances of oppression, and normative ideals of beauty—though now with a marked historical emphasis. We encounter the suffragette movement of the early 20th century; selections from the 1895/1898 Women's Bible; the Swedish painter Hilma af Klint, an early pioneer of purely abstract painting in Western art, whom the art-historical discourse has long neglected in favor of her male colleagues; historic face packs with ice cubes said to rejuvenate the skin; nose correction equipment; and even muzzles that were used to silence women with brute force.
Crossing media boundaries, Ditz's practice investigates the ways in which cultural history conditions perspectives on who is entitled to what and patterns perceptions as well as the strategies of self-empowerment the defeated resort to. At first glance, this strategy would seem to collide with the abstract-expressionist style of the four canvases. Combining fierce sweeping gestures with graphical elements and restrained expressiveness, they counteract the material's subversive determinacy with an airy—though deceptive—lightness.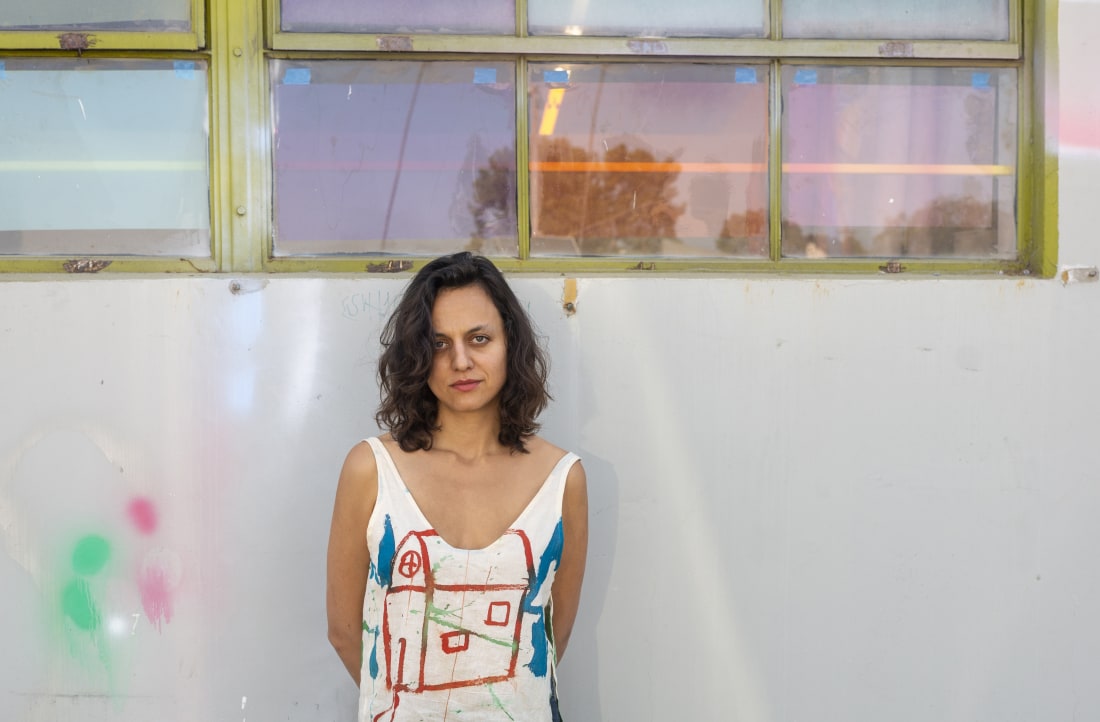 Tala Madani
---
Tala Madani (b. 1981, Tehran, Iran / lives and works in Los Angeles) received her MFA from Yale University School of Art in 2006. Solo exhibitions include: Mori Art Museum, Tokyo, 2019; Vienna Secession, Vienna, 2019; La Panacée, Montpellier, 2017; Centro Andaluz de Arte Contemporáneo, Seville, 2014; and Nottingham Contemporary, Nottingham, 2014. A major retrospective of her work is forthcoming at the Museum of Contemporary Art, Los Angeles.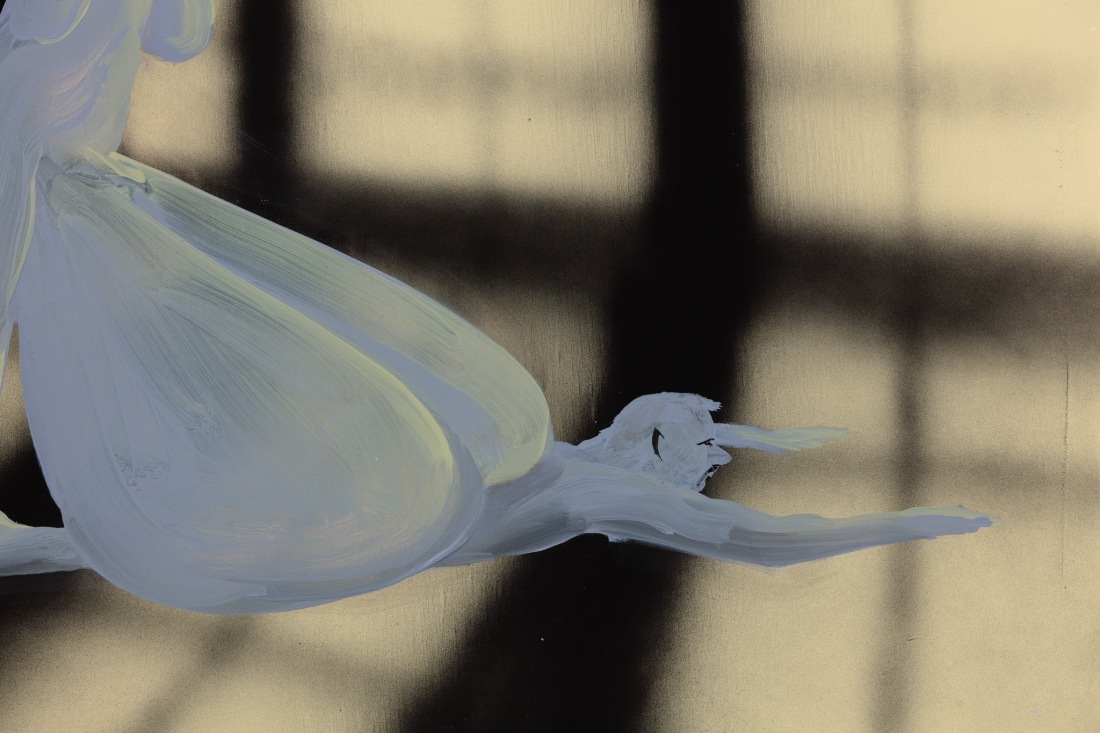 Tala Madani's work provokes strong reactions. Her iconography of male figures—rotund, scantily clad, and excreting bodily fluids, solids, or mysterious beams of light in scenes of degradation and humiliation—has often been read as biographical material. Madani, who lives in Los Angeles, grew up in Iran through her early teens, and the men in her paintings have been narrowly interpreted as Middle Eastern. Yet as the artist herself has pointed out, their physical qualities needn't be ascribed to Persian males. Her series entitled Shit Moms, begun in 2019, continues to address taboo topics: in this instance, feces and motherhood.

Madani's figures are caught in the moment. There is no invocation of past or present; they never present as fully-formed subjects, but rather as glimpses of affect. One can sense the simultaneity of contradictory emotions, characteristic of the illogic of dreams—or of the unconscious which, free of linear time, causality or volition, appraises the world from a perspective beyond our conscious control. The paintings register as metaphorical representations, with an emotional resonance exceeding their depicted subjects.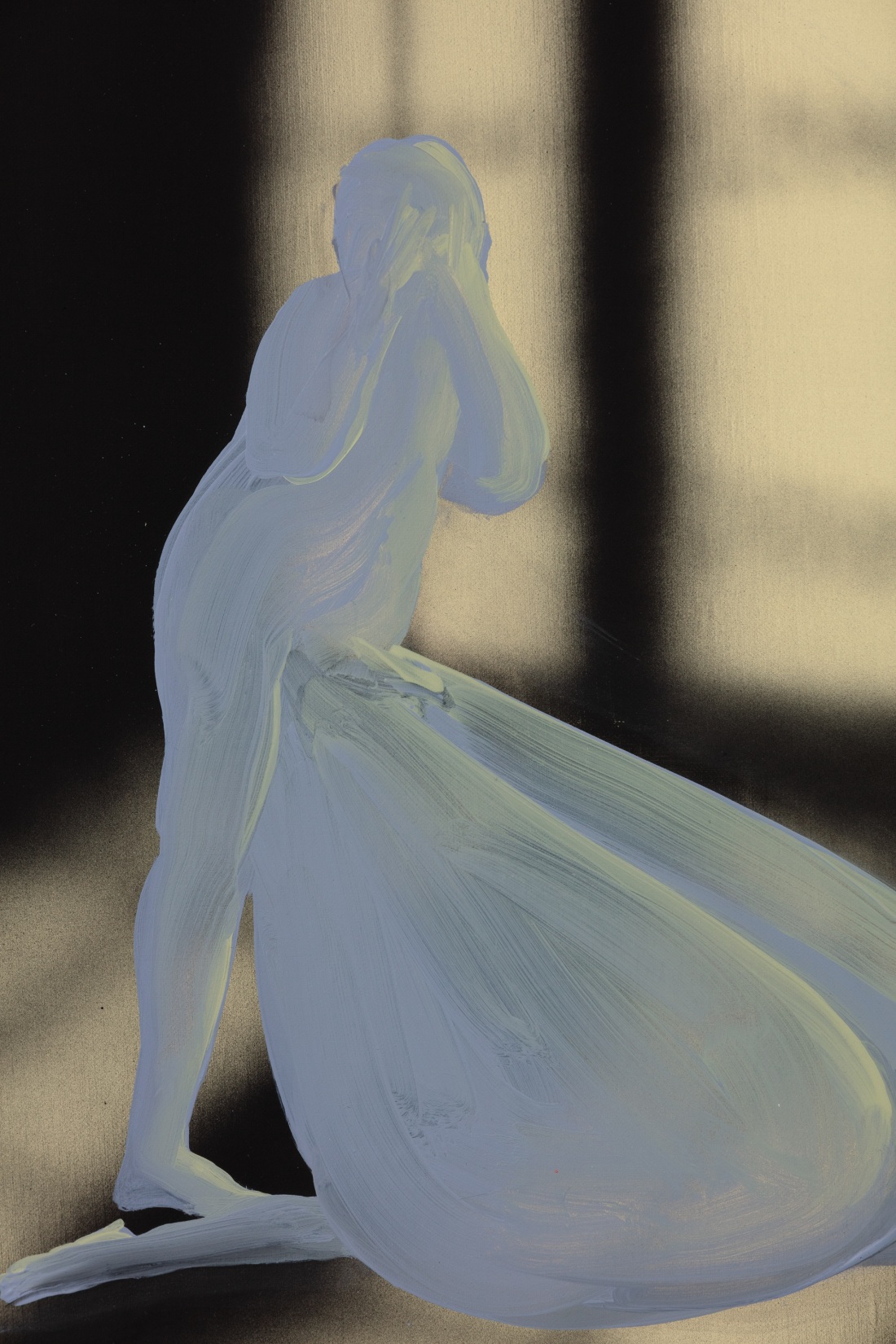 Formally the paintings are almost stage-like—delineated by very few spatial markers. A near constant is the presence of light. Sometimes a light source is suggested, say a spotlight or a beam emanating from flashlights or projectors, but often its origin remains mysterious: softly glowing illumination enters through gridded openings, read as window frames. In recent years her figures too have manifested as luminous blurs, ghost-like presences made of light, or as veils floating in an invisible breeze.
Madani has placed her paintings in the context of modernist abstraction. Yet in her work these iconographic references—color field, grid, even the blur—are bound to a belief in the body's expressive intelligence in the act of painting. Not biography, then, but perhaps "sensibility" may be a more fitting entry point, as the artist's sense of humor, her emotional and pictorial intelligence are palpably present throughout the work.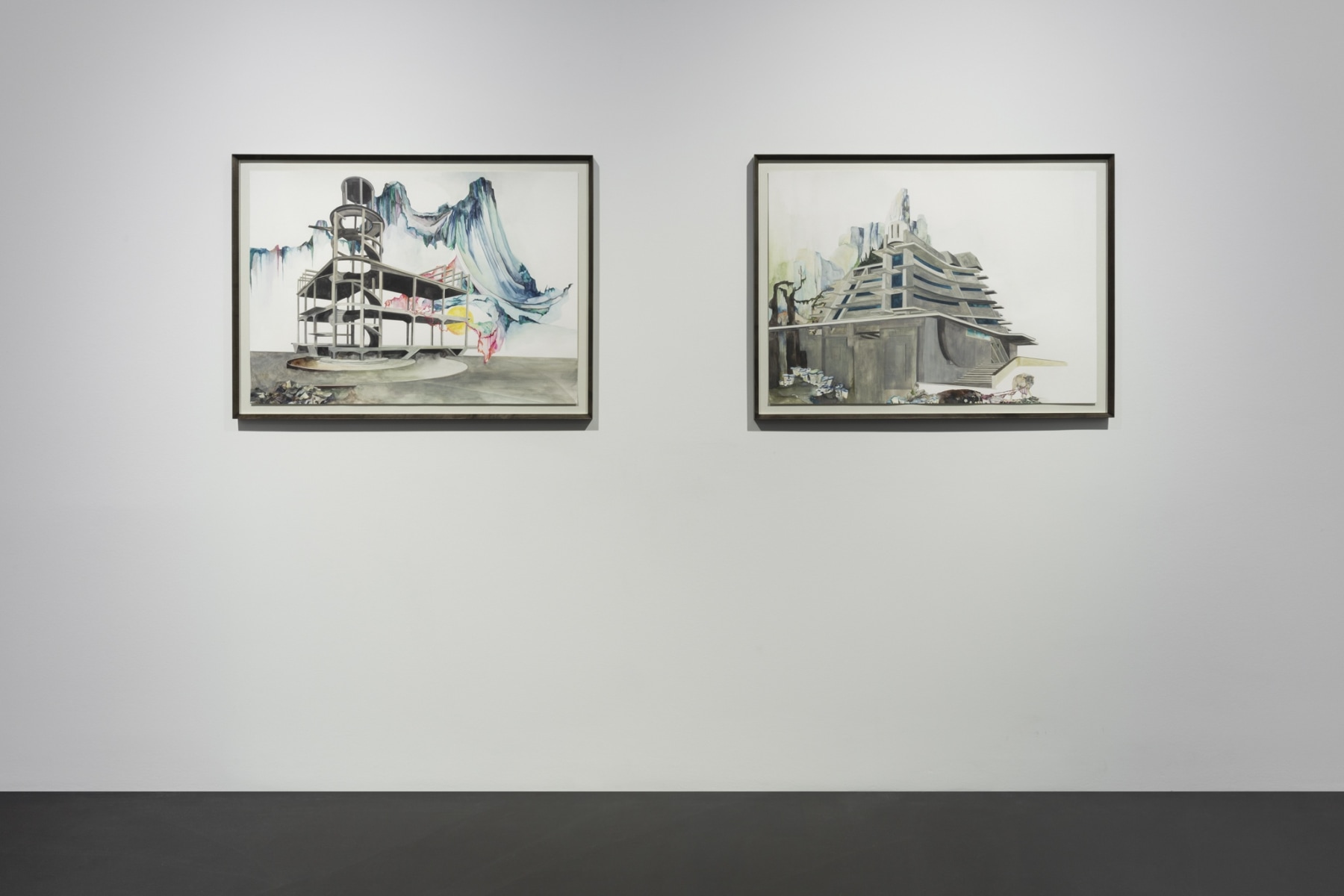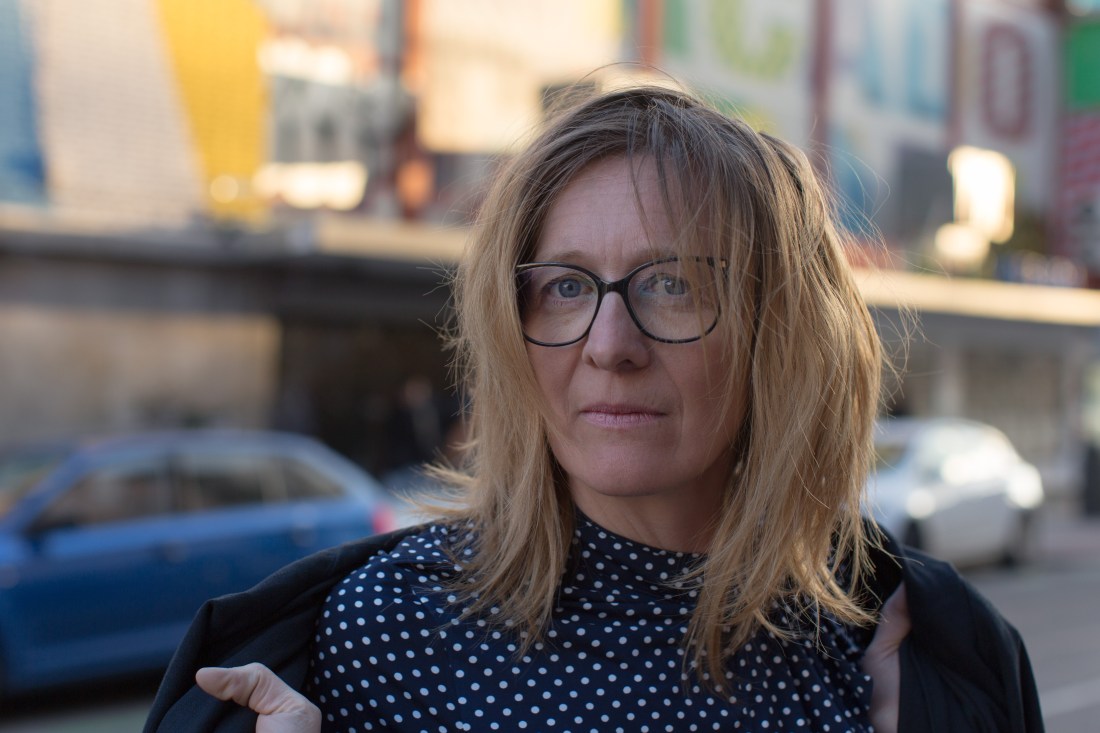 Isa Melsheimer
---
Isa Melsheimer (b. 1968 in Neuss, Germany / lives and works in Berlin) received an MA from the Universität der Künste, Berlin, where she studied under Georg Baselitz. Recent institutional solo exhibitions include: Der unerfreuliche Zustand der Textur, KINDL—Centre for Contemporary Art, Berlin, 2020; Psychotropische Landschaften, Städtische Galerie Delmenhorst, 2018; The Year of the Whale, Fogo Island Gallery, 2018; DER TOTE PALAST ZITTERTE—ZITTERTE!, Mies van der Rohe Haus, Berlin, 2017; and Kontrastbedürfnis, Ernst-Barlach-Haus, Hamburg, 2015.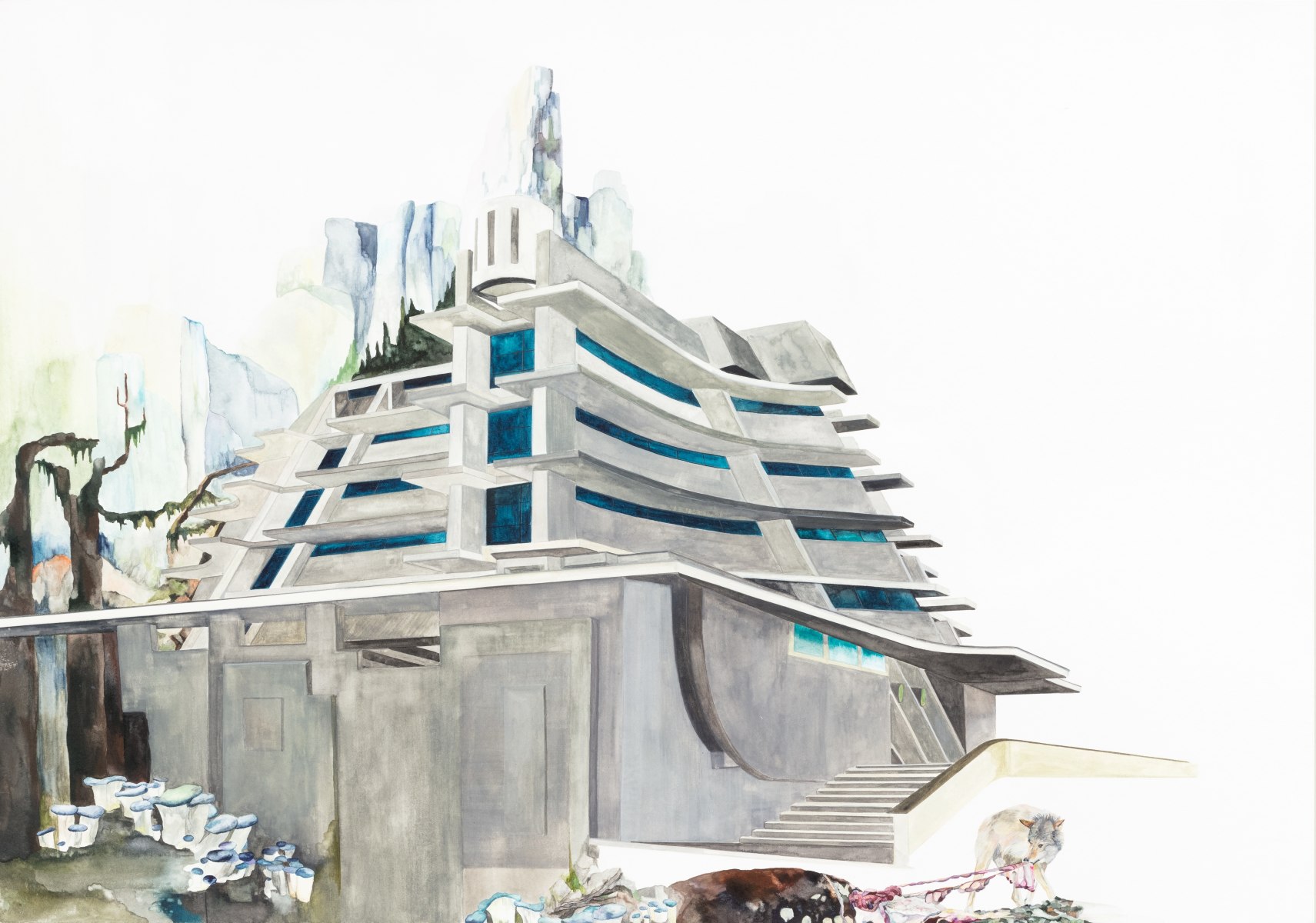 In her gouaches of architectural sites Isa Melsheimer constructs small autonomous worlds, seemingly detached from their real-world settings. The artist often chooses source material showing the building in their original condition, that is, without signs of subsequent decay or dilapidation and without later architectural or landscaping additions. Since the found photographs on which she bases the gouaches are often in black and white, the artist effectively reimagines the colors of the buildings and their interiors, unrestrained by the strictures of verisimilitude.
From a series of large-scale gouaches, this work depicts a Brutalist structure. The building is Chiesa di Santa Maria della Visitazione, a church in Rome planned by the Italian architect Saverio Busiri Vici and built in 1965-71. The building is depicted within a dramatic mountain landscape, inspired by motifs from the Isenheimer Altar, the Gothic masterpiece painted by Matthias Grünewald in 1512–1516. The dystopic, even postapocalyptic overtones of the depicted architectural environment are echoed by the smaller motifs of the work: a colony of oversized mushrooms and a wolf devouring a prey's carcass.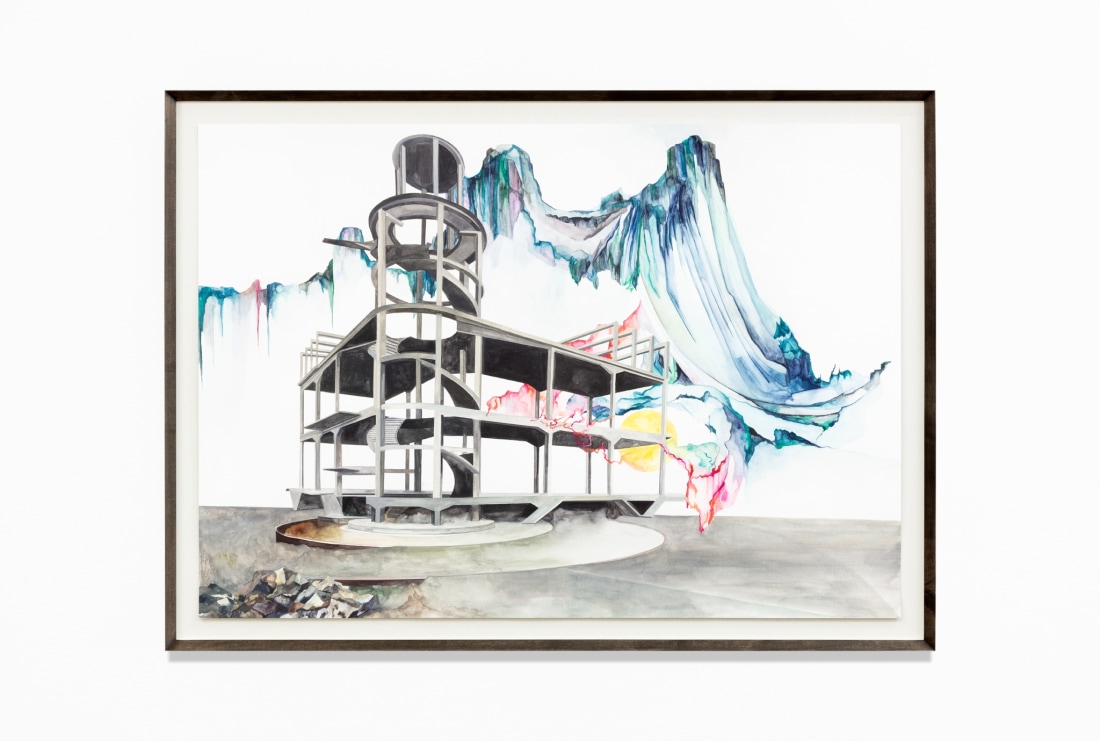 Nr. 473 depicts the skeleton of Villa Girasole, a house constructed in the 1930s in Marcellise, northern Italy, near Verona. Planned by an architect Angelo Invernizzi, the Girasole rotates to follow the sun as it moves, just as a sunflower opens up and turns to follow the sun. Hence the building's name: Girasole means 'sunflower' in Italian. The naked concrete structure is painted within a dramatic mountain landscape, inspired by sceneries from the Isenheimer Altar.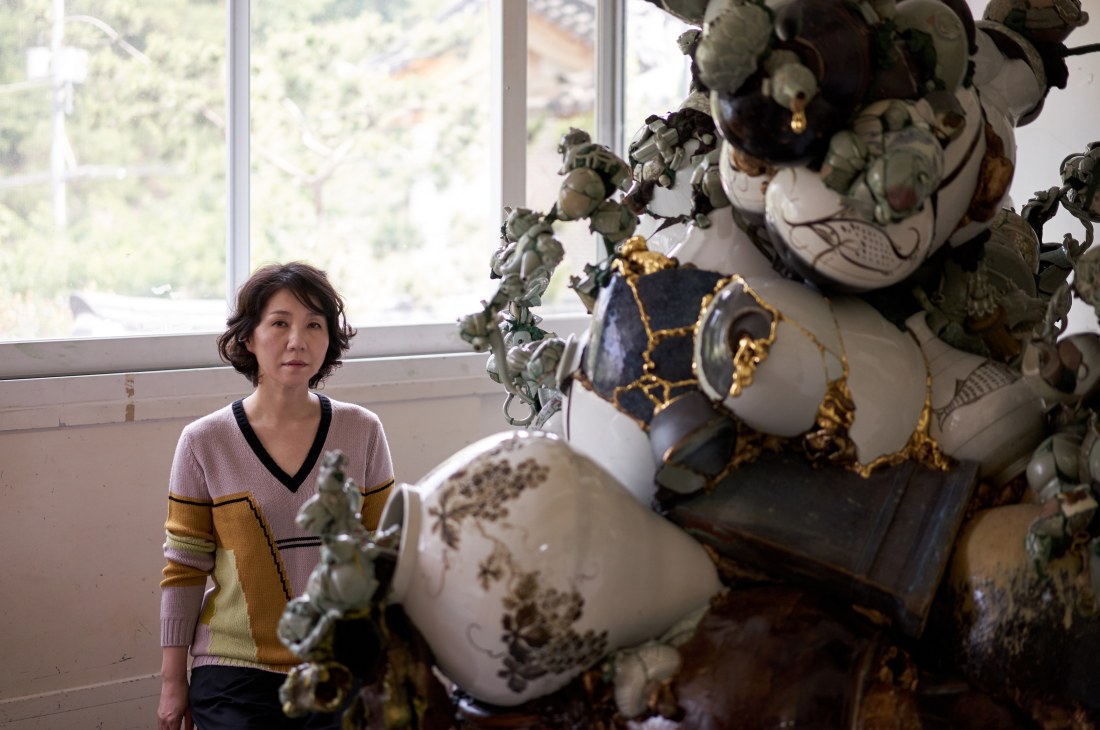 Yeesookyung
---
Yeesookyung (b. 1963 in Seoul, Korea / lives and works in Seoul) holds a BA and MFA in painting from Seoul National University. Recent institutional solo exhibitions include: Whisper Only to You, Museo e Real Bosco di Capodimonte, and MADRE, Museo d'arte Contemporanea Donnaregina, both in Naples, 2019, and When I Become You, Daegu Art Museum, Daegu, South Korea, and Museum of Contemporary Art Taipei, Taiwan, both 2018.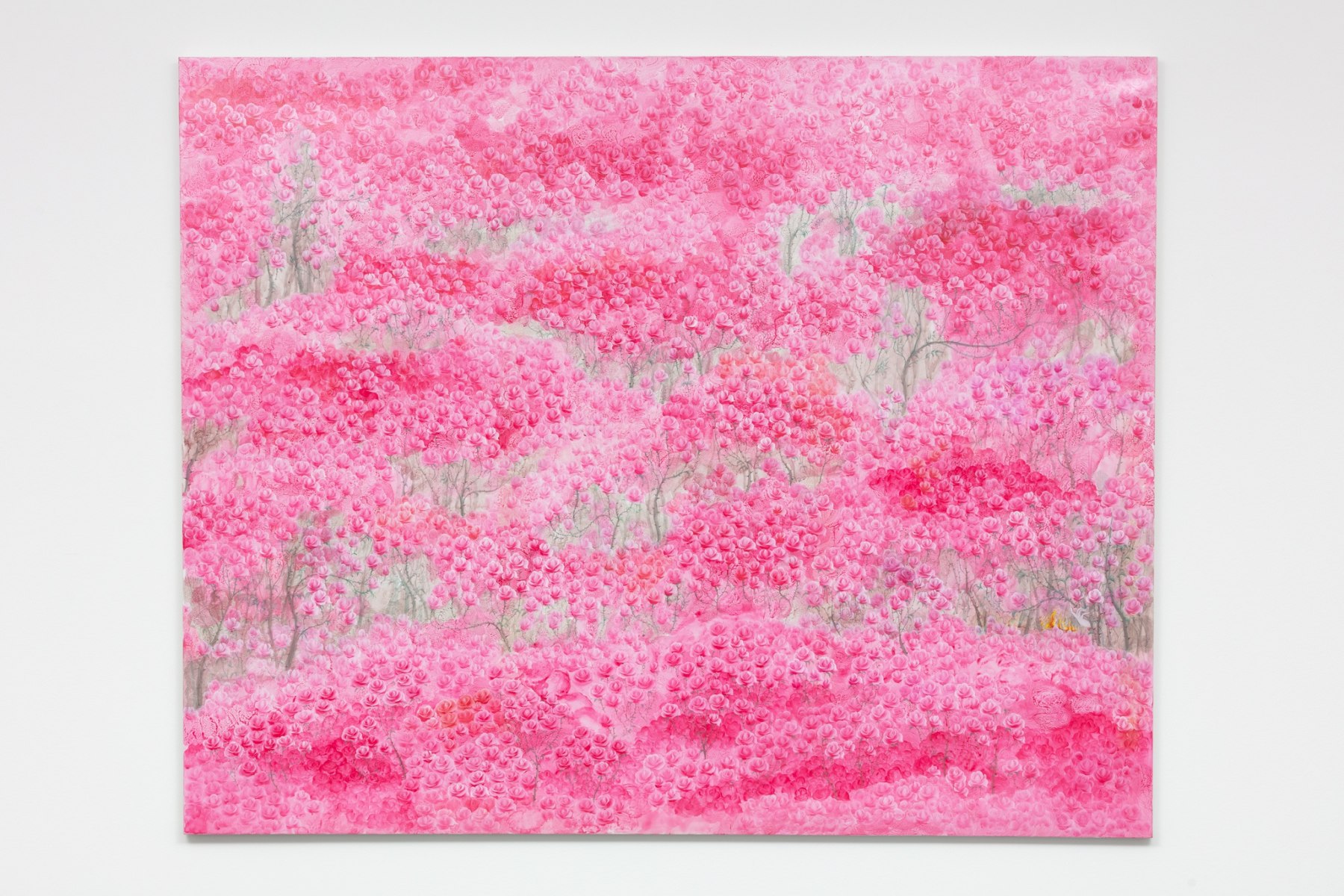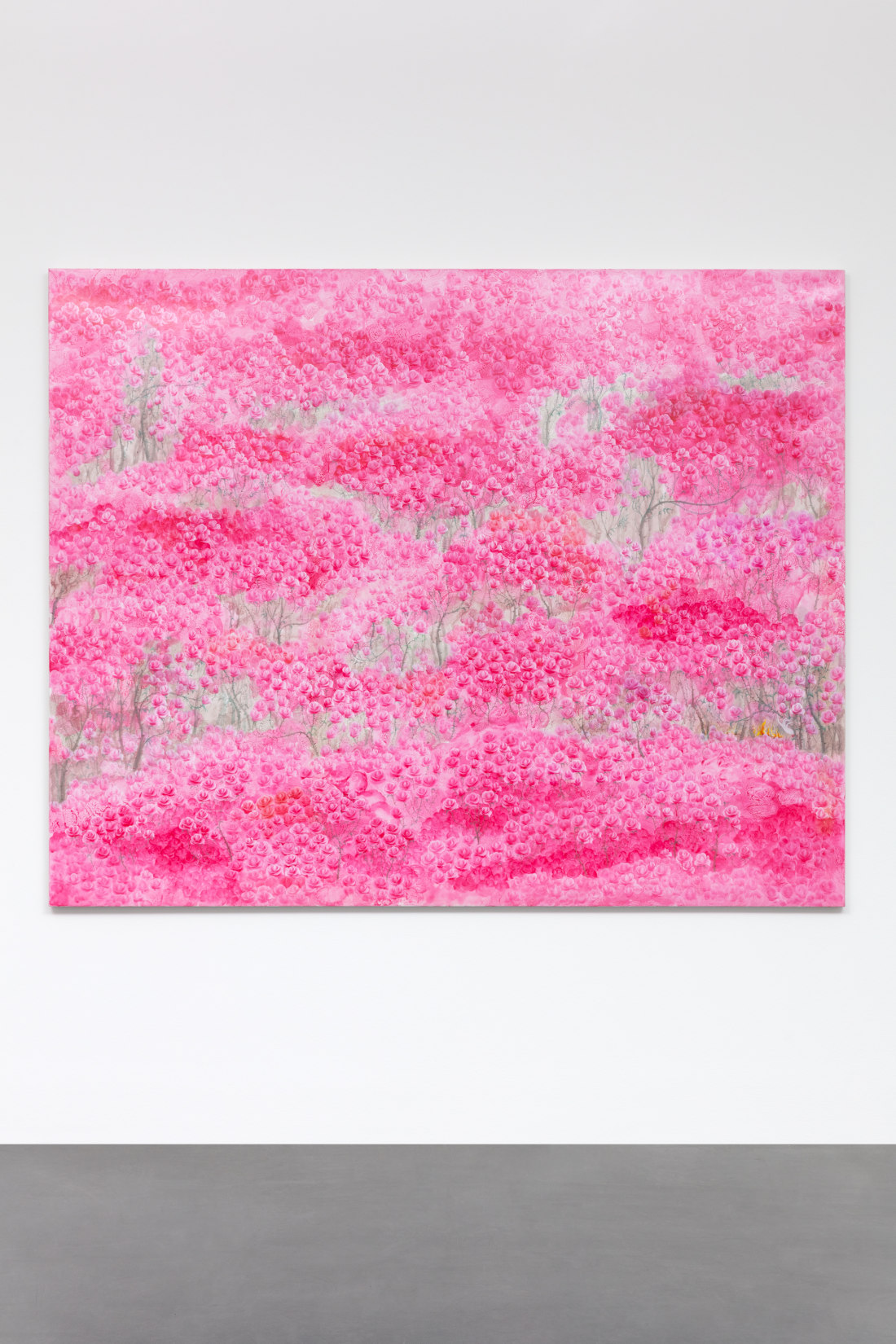 Yeesookyung is an interdisciplinary artist living and working in Seoul, South Korea. Yeesookyung combines histories—art historical, spiritual, and cultural—into unique objects, imagery, and performances that reflect both her personal heritage and a global borderless moment. Internationally known for her acclaimed Translated Vase series, Yeesookyung collects discarded porcelain shards from Korean ceramists who make reproductions of porcelain masterworks.

Past Life Regression Paintings are an ongoing project by Yeesookyung, a monthly painting series inspired by hypnosis sessions that the artist undertakes. She began seeing a hypnotherapist in 2014, in hopes of recovering memories of her past lives. During each monthly hypnosis session, the artist regressed deeper and deeper into her subconscious, gradually piecing together narratives from previous incarnations—a Buddhist monk, a courageous warrior, a daughter whose father was falsely charged with treason, a roe deer and even bubbling water.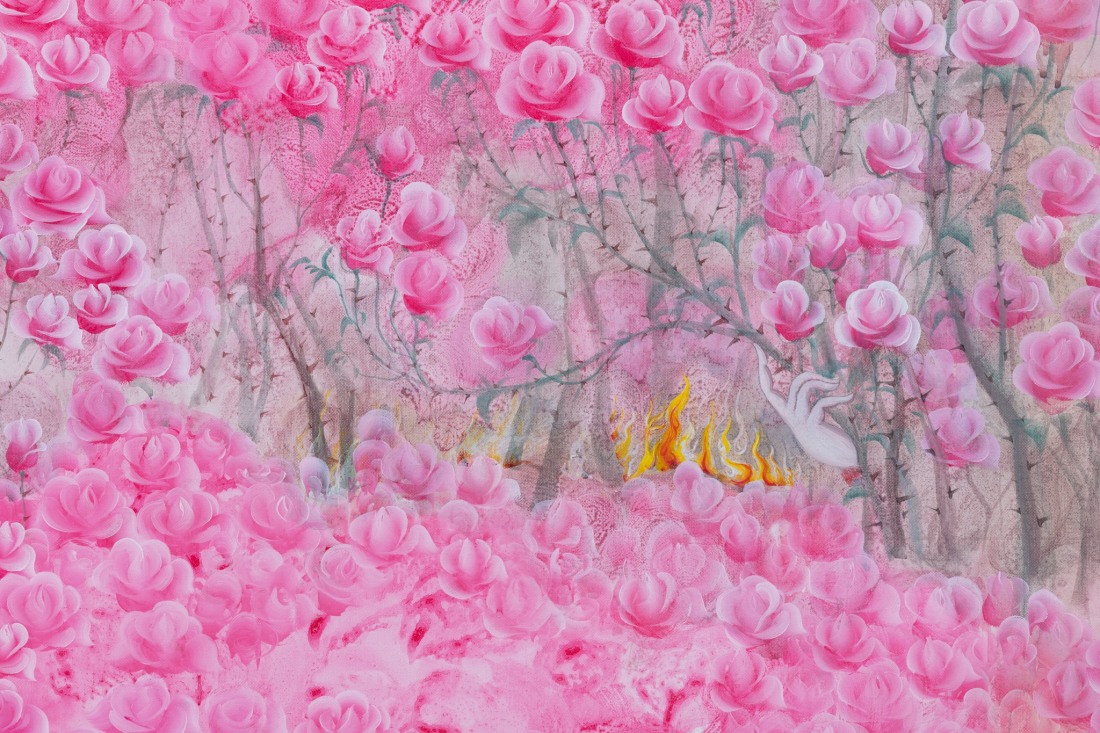 A sea of pink stretches from edge to edge of Just Started, its lack of any identifiable depth of field lending the picture an ambiguous spatiality that is at once alluring and disconcerting. This uncanny presence evokes early works from the artist's Flame series (2005-2009), in which repeating fire motifs fill the entire picture plane and assert an abstract modality in the absence of a fixed focal point. Much like the rosebuds in Just Started, the indefinite expansion of these flames enfolds the viewer in a hypnotic idyll that blurs the boundary between image and observer.
L'Invitation au voyage
with texts by Gayatri Gopinath, Karoline Hille, Matthew Hyland, Marco Livingstone, Isabelle Moffat, Tobias Peper, Andy St. Louis, Wenny Teo, Marie-Catherine Vogt, Wim Wenders, and Chung Wei-Tzu.
2021
Publisher: Esther Schipper
Language: English

Available here

We are pleased to present our exhibition catalogue. Richly illustrated, the publication includes especially commissioned and existing texts on each of the the artists, biographical information, and an introductory essay.