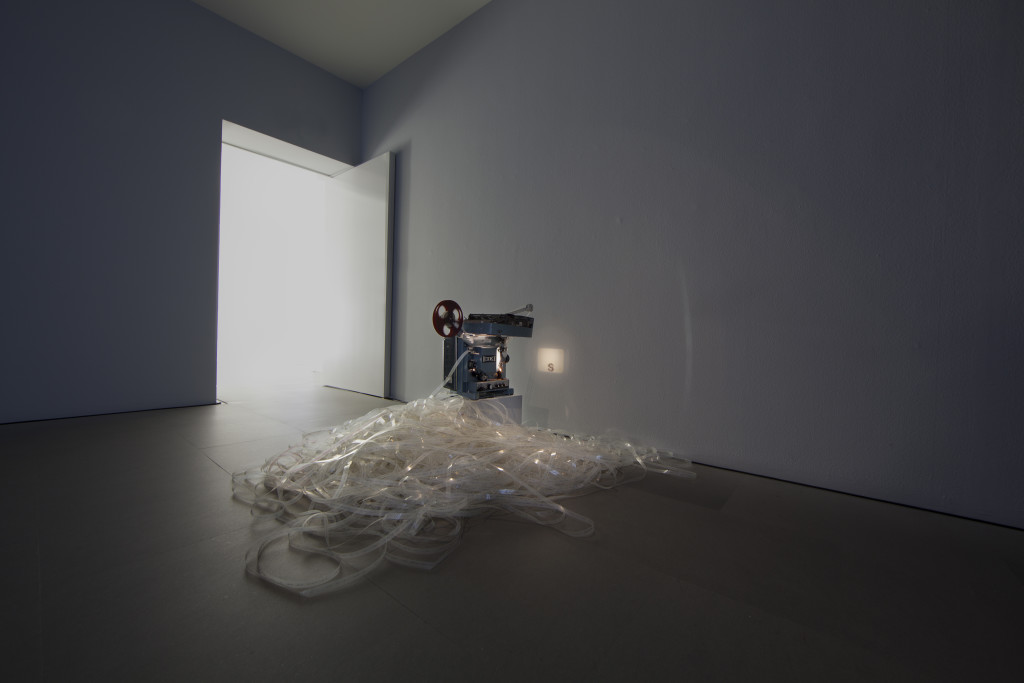 Rosa Barba
Spacelength Thought
2012
16 mm film, projector, typewriter, programming
Dimensions variable
Projection distance: 2-2.5 m approx.
In Spacelength Thought (2012), a typewriter is typing a monologue onto 16mm blank film, projecting one letter at a time against the wall. During the projection, film accumulates progressively on the floor, almost as if—as the artist explains—"in a Turing machine a code were recited mechanically and unveiled through the projection, creating a kind of poetry line—an imagistic form of language: at the same time an enigmatic machine and an openly spread process."

"Barba's films, installations and publications all raise the question of cinema as a kind of writing" notes the critic Melissa Gronlund, underlining the central role played in her works by the written word and the idea of the physicality of a film projection, usually perceived as something purely immaterial.

Rosa Barba engages within the medium of film through a sculptural approach. In her works, Barba creates installations and site-specific interventions to analyze the ways film articulates space, placing the work and the viewer in a new relationship. Questions of composition, physicality of form and plasticity play an important role for the artist as Barba examines the industry of cinema and its staging vis-à-vis gesture, genre, information and documents. Her film works are situated between experimental documentary and fictional narrative. They often focus on natural landscapes and human-made interventions into the environment and explore the relationship of historical records, personal anecdotes, and filmic representation, creating spaces of memory and uncertainty.
%3Cdiv%20class%3D%22artist%22%3E%3Cstrong%3ERosa%20Barba%3C/strong%3E%3C/div%3E%0A%3Cdiv%20class%3D%22title%22%3E%3Cem%3ESpacelength%20Thought%3C/em%3E%2C%202012%3C/div%3E%0A%3Cdiv%20class%3D%22medium%22%3E16%20mm%20film%2C%20projector%2C%20typewriter%2C%20programming%3C/div%3E%0A%3Cdiv%20class%3D%22dimensions%22%3EDimensions%20variable%3Cbr%20/%3E%0AProjection%20distance%3A%202-2.5%20m%20approx.%3C/div%3E%0A%3Cdiv%20class%3D%22edition_details%22%3EEdition%20of%203%20plus%202%20artist%27s%20proofs%3C/div%3E