Artist Profile
Nathan Carter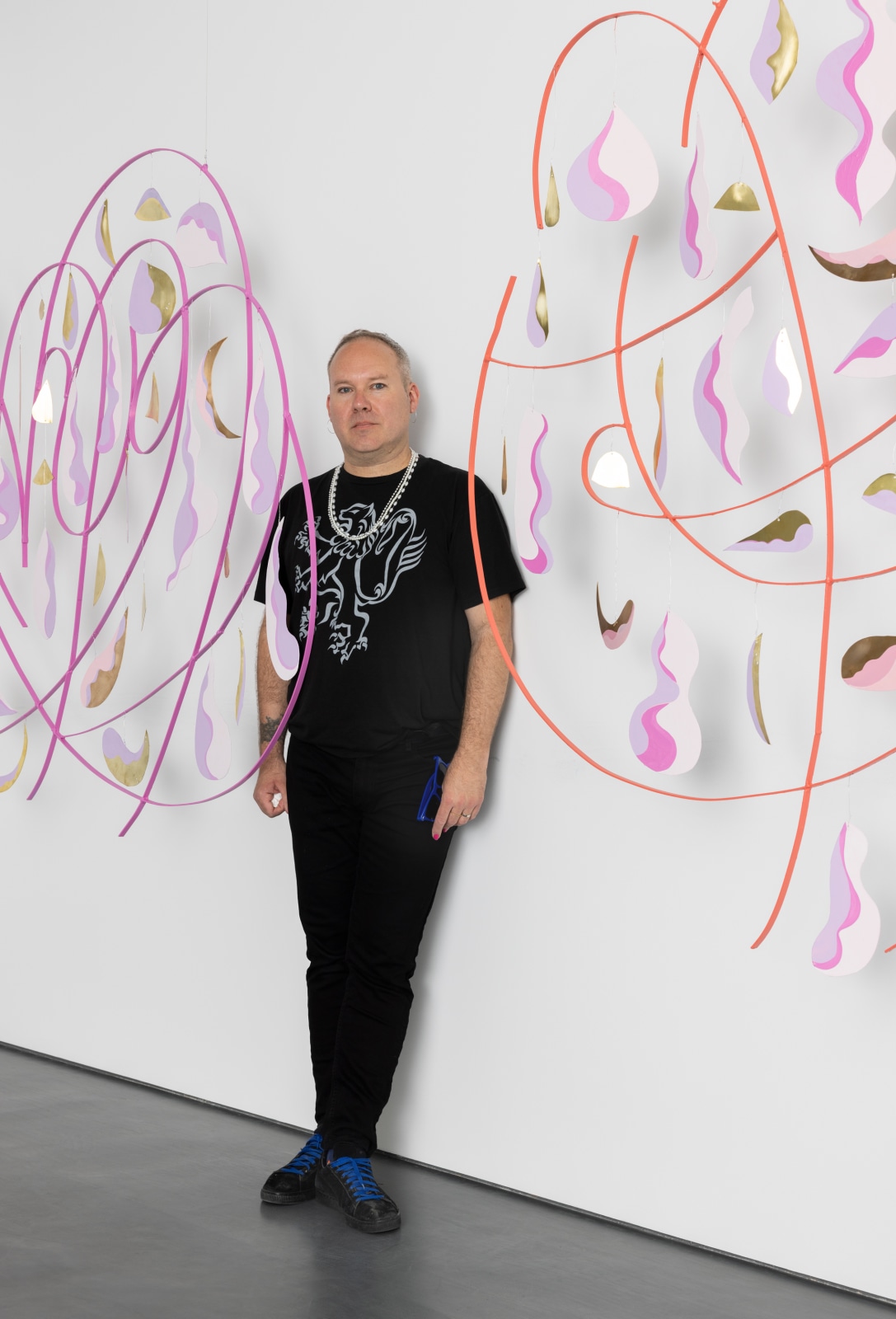 Nathan Carter was born 1970 in Dallas, Texas, United States. He studied at the School of the Museum of Fine Art, Boston and received his MFA from the Yale University School of Art. The artist lives and works in Brooklyn, New York.


Nathan Carter is known for creating fictional worlds. His objects, images and titles fuse elements of storytelling, the visual language of surrealist erotic illustration, cartography, celestial navigation charts, subversive music, outsider subcultures and the history of abstraction in order to make maps and fluid atmospheric landscapes that serve as sculptural way-finding diagrams leading to intentional communities. The artist's inspirations have always been eclectic and wide-ranging. His art develops from this voracious intake of information, images, music, popular culture & mass media but also from a culture of exchange of ideas, language, accumulation of shapes, colors, crossing boundaries of media, mining the exuberance of the visual world and of all social interaction.


A driving force of Carter's contemporary works is the question of self-invention, a notion also explored in his two films THE DRAMASTICS ARE LOUD, 2016, and LA GNARLIES, 2021, and most recently in the artist's recent collaborative series of staged photographs, images and portraits of the artist conjuring MARS The Goddess of Sex and Death as she explores her trans-identity and draws on historical photographs from the 1950s through the 1980s of marginalized groups considered transgressive by mainstream society.


The generous stance of Nathan Carter's works and his exhibitions as fun-fueled events, encapsulates the exuberance associated with youth subcultures, yet at the core of his production is the excessive force of culture in general, the expenditure of creative energy as gift—generosity as post-punk gesture.


The artist's solo exhibitions include: The DRAMASTICS: A Punk Rock Victory Twister in Texas, Nasher Sculpture Center, Dallas (2017); Ladies and Gentlemen, Meet the Dramastics, Museum of Contemporary Art Denver, Denver (2016); ALWAYS VOCAL ON THE INTERBORO CROSSTOWN LOCAL, Blaffer Art Museum, Houston (2012); CHERRY RIPE RADIO AND THE TEXAS TWO STEP SETUP, Onestar Press, Paris (2010), and THE FLYING BRIXTON BANGARANG AND RADIO VIBRATION VEX-VENTURE, MURA: Museo de Arte Raul Anguiano, Guadalajara (2009).
In the summer of 2013, the artist completed a large-scale permanent outdoor installation titled, HOUSTON RADIO RADAR REFLECTORS at the University of Houston, Texas. In the same year, Carter painted pressure vessel capsules for EBEX, a joint experiment between Columbia University and NASA, which successfully launched into the stratosphere above Antarctica.
Selected group exhibitions include: Sonic Rebellion: Music as Resistance, MOCAD, Detroit (2017); Art from Elsewhere: International Contemporary Art from UK Galleries, Bristol Museum & Art Gallery, Bristol (2016) and Gallery of Modern Art, Glasgow (2014); 2013 Annual Summer Exhibition, The Fields Sculpture Park, Omi International Arts Center, Ghent, N.Y. (2013); The Map as Art, Kemper Museum of Contemporary Art, Kansas City (2012–2013); Alexander Calder and Contemporary Art: Form, Balance, Joy, Nasher Museum of Art at Duke University, Durham (2012) and Orange County Contemporary Art Museum, Newport Beach (2011).
Their work is represented in the collections of the Museum of Contemporary Art, Chicago; The Art Gallery of Toronto; The Solomon R. Guggenheim Museum, New York; Miami Art Museum; Tate Modern, London; DA2 Centre of Contemporary Art, Salamanca; Museo Nacional Centro de Arte Reina Sofia, Madrid, and CU Art Museum, Boulder.