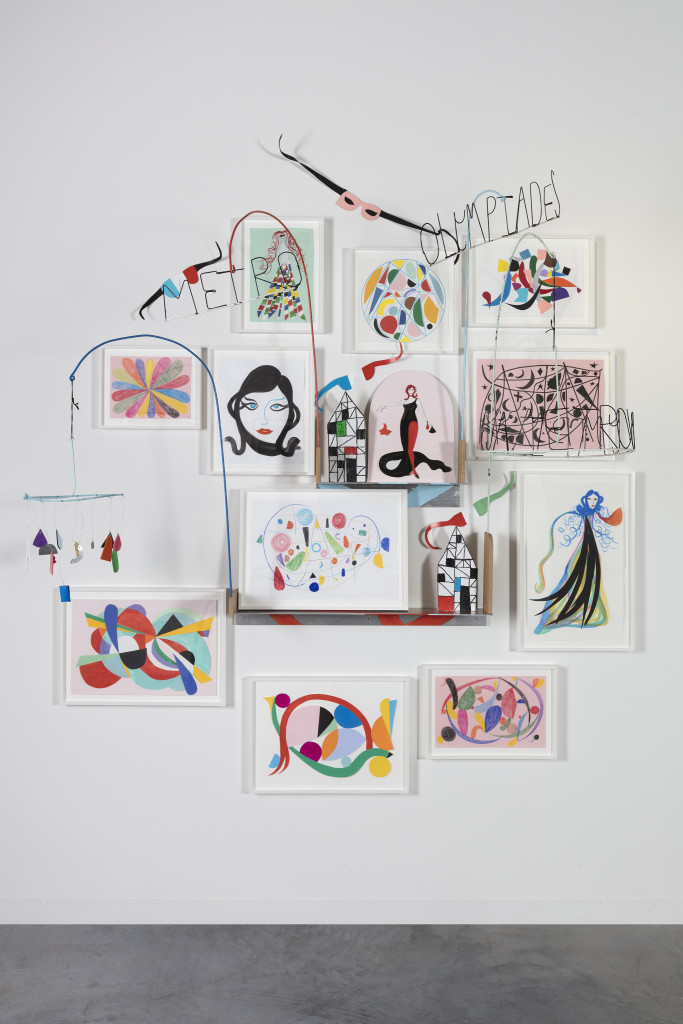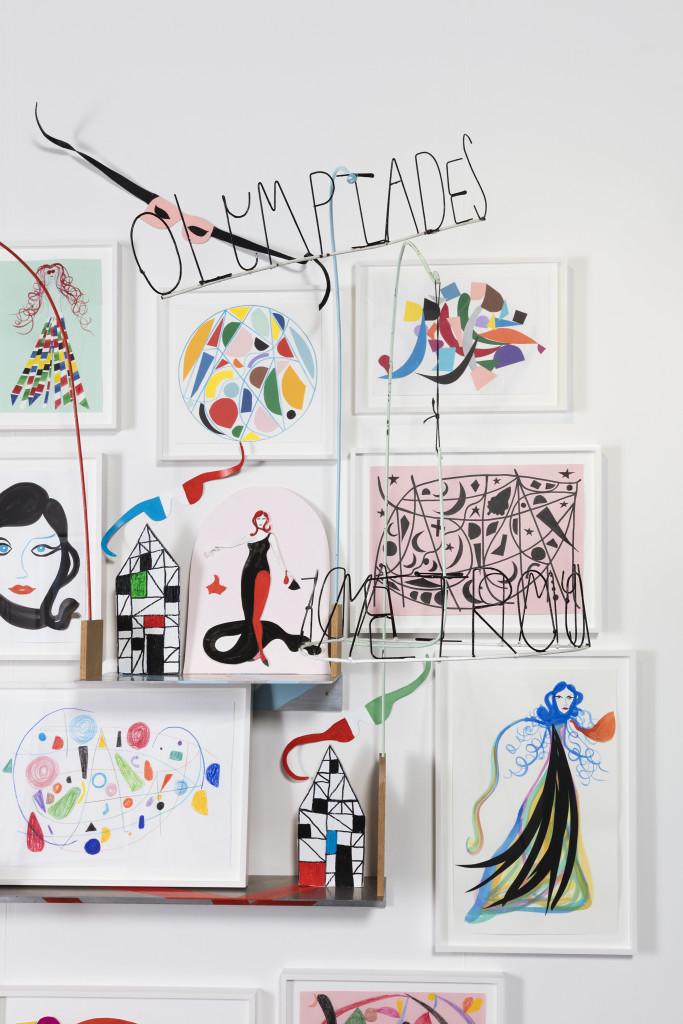 Nathan Carter
She kept a collection of small drawings, sculptures and paintings on the wall opposite her bed. "These were made for me" she felt.
2018
Steel, aluminum, stainless steel wire, string, wood, plastic, acrylic, watercolor, enamel and gouache paints, ink, pencil, paper
213 x 182 cm
Installation dimensions variable
The work combines a small central shelf with a small plywood figure, metal sculptural elements recalling friezes and mobiles, and a number of framed drawings, both abstract and figurative. Some of the drawings recall Nathan Carter's sculptures, while others refer to sets, costumes and paraphernalia the artist conceived for his film The Dramastics Are Loud AF.
%3Cdiv%20class%3D%22artist%22%3E%3Cstrong%3ENathan%20Carter%3C%2Fstrong%3E%3C%2Fdiv%3E%0A%3Cdiv%20class%3D%22title%22%3E%3Cem%3EShe%20kept%20a%20collection%20of%20small%20drawings%2C%20sculptures%20and%20paintings%20on%20the%20wall%20opposite%20her%20bed.%20%E2%80%9CThese%20were%20made%20for%20me%E2%80%9D%20she%20felt.%3C%2Fem%3E%2C%202018%3C%2Fdiv%3E%0A%3Cdiv%20class%3D%22medium%22%3ESteel%2C%20aluminum%2C%20stainless%20steel%20wire%2C%20string%2C%20wood%2C%20plastic%2C%20acrylic%2C%20watercolor%2C%20enamel%20and%20gouache%20paints%2C%20ink%2C%20pencil%2C%20paper%3Cbr%20%2F%3E%0AStahl%2C%20Aluminium%2C%20Edelstahldraht%2C%20Saite%2C%20Holz%2C%20Kunststoff%2C%20Acryl%2C%20Aquarell%2C%20Lack-%20und%20Gouachefarben%2C%20Tinte%2C%20Bleistift%2C%20Papier%3C%2Fdiv%3E%0A%3Cdiv%20class%3D%22dimensions%22%3E213%20x%20182%20cm%20%2883%207%2F8%20x%2071%205%2F8%20in%29%3Cbr%20%2F%3E%0A%28Installation%20dimensions%20variable%29%3C%2Fdiv%3E