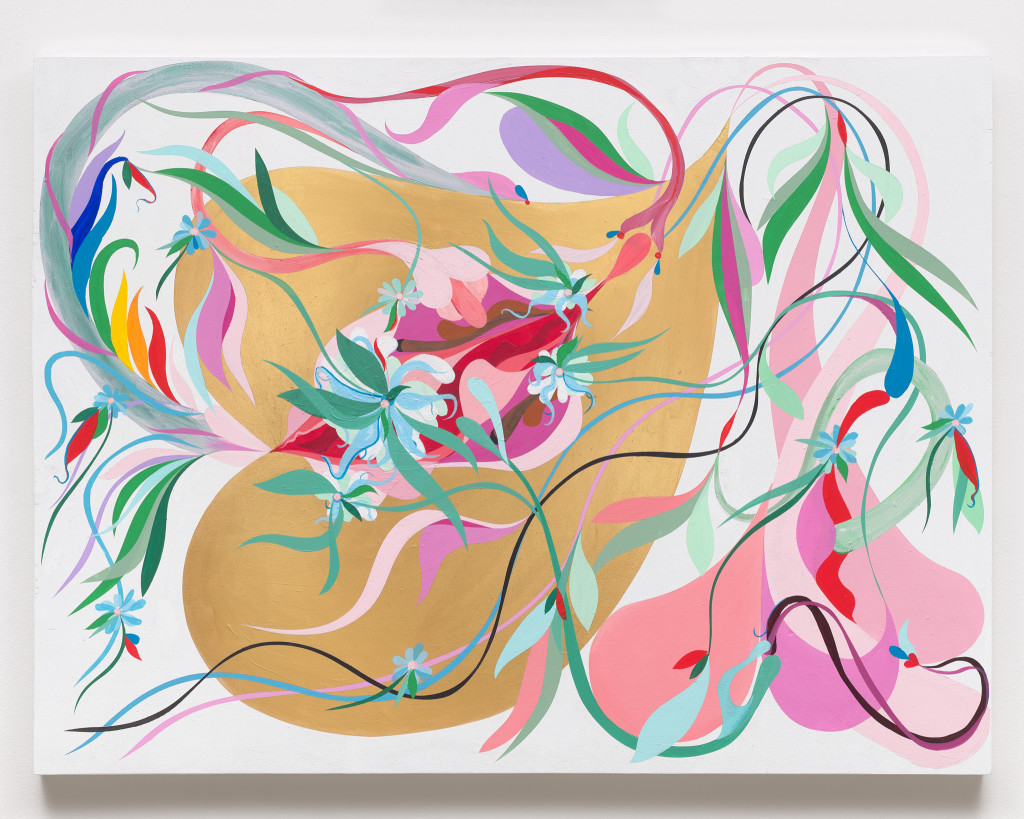 Nathan Carter
Rosa Rosaghetti in the Red Anemones Garden at Rougemont Castle.
2021
Acrylic on Baltic birch plywood
91,4 x 121,9 cm
Nathan Carter's exuberant paintings continue a theme of playfully mixing abstract and organic shapes to create fantastical botanical compositions, named for flowers and recalling their distinct shapes. Painted in acrylic enamel, the works focus on flowers in the process of blossoming. Thus, among the tightly intertwined forms reminiscent of leaves and vines, are also stamen and stigma, evoking the complex reproductive apparatus of plants. The intersexual botanical beings are curious proliferations, spiky prideful panorama, petals, stamen and ovule tentatively intertwining and coupling in a self-stimulating dance. Emphasizing the phantasmagorical element of these constructions, they can also include hearts or a row of rainbow spikes, or, as Carter calls them: "visible deadly warnings to all away supporters and dream killers." The titles of this series of works contain both scientific and common or fictional references to plants, paired with names or emotive qualifiers.
%3Cdiv%20class%3D%22artist%22%3E%3Cstrong%3ENathan%20Carter%3C/strong%3E%3C/div%3E%0A%3Cdiv%20class%3D%22title%22%3E%3Cem%3ERosa%20Rosaghetti%20in%20the%20Red%20Anemones%20Garden%20at%20Rougemont%20Castle.%3C/em%3E%2C%202021%3C/div%3E%0A%3Cdiv%20class%3D%22medium%22%3EAcrylic%20on%20Baltic%20birch%20plywood%3C/div%3E%0A%3Cdiv%20class%3D%22dimensions%22%3E93%2C5%20x%20124%20x%206%20cm%20%2836%203/4%20x%2048%203/4%20x%206%205/8%20in%29%3C/div%3E