Artist Profile
General Idea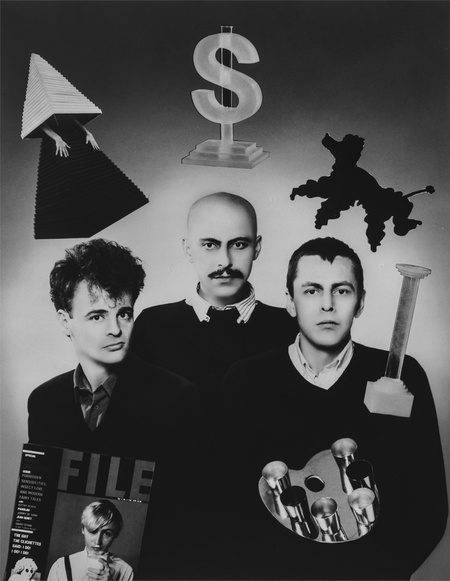 General Idea was formed in 1969 by AA Bronson, Felix Partz and Jorge Zontal.
AA Bronson, born Michael Tims, Vancouver, British Columbia, Canada (born 1946).
Felix Partz, born Ronald Gabe, Winnipeg, Manitoba, Canada, 1945 – 1994.
Jorge Zontal, born Slobodan Saia-Levy, Parma, Italy, 1944 – 1994.
The three artists worked and lived together until the deaths of Felix and Jorge in 1994.

Throughout its 25-year-long career, the Canadian group produced an important body of work in various media and formats, which continues to be a reference point for generations of artists around the world. Their works touch upon topics such as archaeology, history, sex, race, illness, and the myth of the group itself through self-portraits, a recurring subject of their production. General Idea began making AIDS-related works in 1987—they were pioneers in incorporating the issue of AIDS in art—and produced countless installations on this theme until Felix Partz and Jorge Zontal's deaths from AIDS-related illnesses in 1994.


General Idea founded Art Metropole, an artist archive and resource center in Toronto in 1974 and published FILE Megazine between 1972 and 1989. The General Idea Archive is held at The National Gallery of Canada, Ottawa.
In 2022, the National Gallery of Canada in Ottawa organized the most comprehensive retrospective of General Idea's work to date, bringing together over 200 works. The exhibition's 756-page publication stands as the definitive resource on General Idea. The retrospective is set to travel to Stedelijk Museum, Amsterdam in 2023.
A major survey of the group's oeuvre, curated by Agustín Pérez Rubio, artistic director of MALBA/Museo de Arte Latinoamericano de Buenos Aires, was presented at Museo Jumex in Mexico City from October 27, 2016 through February 11, 2017. The exhibition, entitled Broken Time, was on view at MALBA from March through June 2017.
Several important touring survey exhibitions of General Idea's work have been held, including: General Idea: Photographs (1969–1982), MAMCO, Geneva (2017); Haute Culture: General Idea. Une rétrospective, 1969 –1994, Musée d'Art moderne de la Ville de Paris, Paris and Art Gallery of Ontario, Toronto (2011); General Idea Editions: 1967–1995, which toured to 18 venues between 2003 and 2007, including the Henry Art Gallery, Seattle; Centro Andaluz de Arte Contemporaneo, Seville; Kunstverein München, Munich; Kunst-Werke, Berlin; Kunsthalle Zürich; Andy Warhol Museum, Pittsburgh, and Blackwood Gallery, University of Toronto, Mississauga; Fin de siècle, which toured between 1992 and 1993 to Württembergischer Kunstverein, Stuttgart; Centre d'Art Santa Mònica, Barcelona; Kunstverein in Hamburg, The Power Plant, Toronto, Wexner Center for the Visual Arts, Ohio State University, Columbus, Ohio, and SFMOMA, San Francisco.
General Idea's work is represented in the collections of The Art Gallery of Ontario, Toronto; The Grand Duke Jean Museum of Modern Art (MUDAM), Luxembourg; The Hirschhorn Museum, Washington, D.C.; Kunsthaus Zürich; The Museum of Contemporary Art, Chicago; The Museum of Modern Art, New York; Musée d'art contemporain, Montréal; The National Gallery of Canada, Ottawa; The Philadelphia Museum of Art, Philadelphia; The San Francisco Museum of Modern Art, San Francisco; Stedelijk Museum, Amsterdam, The Vancouver Art Gallery, Vancouver, the Whitney Museum of American Art, and Remai Modern, Saskatoon, among others.