Artist Profile
Karin Sander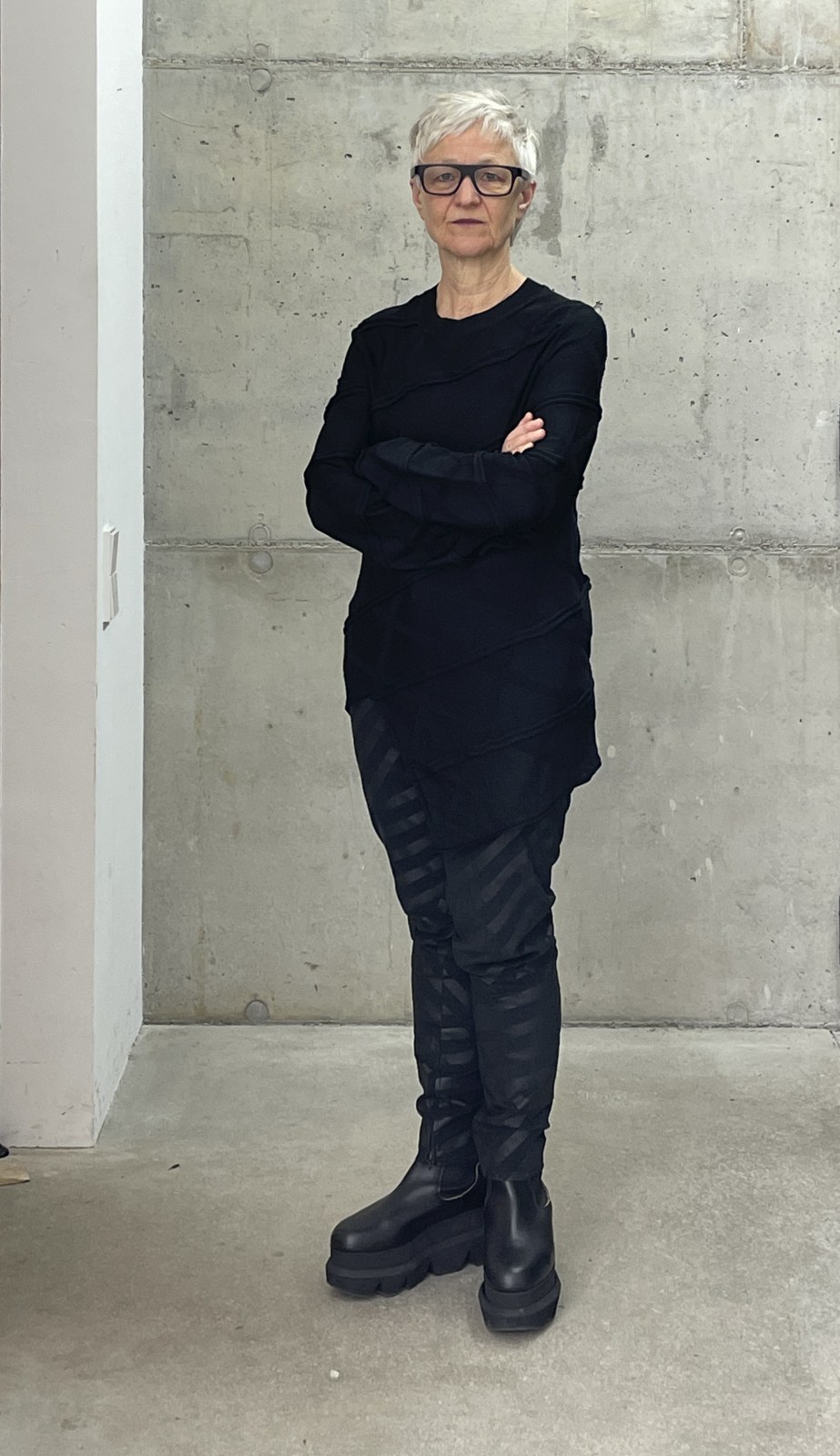 Karin Sander was born in 1957 in Bensberg, Germany. She studied at the Staatliche Akademie der Bildenden Künste in Stuttgart and at the Independent Study Program of the Whitney Museum in New York. From 1999 to 2007, Sander was professor at the Kunsthochschule Berlin-Weißensee. From 2007-2023, she held a professorship of Art and Architecture at ETH Eidgenössische Technische Hochschule Zürich. Since 2021, the artist has been the Director of Visual Arts at the Akademie der Künste Berlin. In 2023, she was selected to represent Switzerland at the Architecture Biennale in Venice together with the art and architecture historian Philip Ursprung.
The artist has received numerous prizes, including the Rome-Prize of the German Academy in Rome, Villa Massimo, Rome (2014), Hans-Thoma-Preis, Großer Landespreis für Bildende Kunst Baden-Württemberg (2011), Cité Internationale des Arts, Paris (1996), Stipendium der Akademie Schloss Solitude, Stuttgart (1993–1995), Rubens-Förderpreis der Stadt Siegen (1994) and the Villa-Romana-Prize, Florence (1993).
Karin Sander works with situations, their social and historical contexts, involving interventions in existing structures and institutions. The medium the work is realized in is painting, sculpture, electronic media, science, architecture; in brief: each medium is available for working out its specific potential. The intersection of work, recipient and institution, of what is found and what is added, of presence and absence, is emphasized and exhibited. Her Mailed Paintings (begun in 2004), for example, standard-sized and primed canvases of various shapes, are sent to exhibitions without any kind of protection; while being on display constantly, they collect and display traces and marks of their journey.
At n.b.k. – Neuer Berliner Kunstverein (2011), one work consisted of piles of crumpled-up waste paper, post-it notes, tossed-out magazines etc. accumulating on the floor, the material originating from the offices of the institution, located directly above the exhibition space. Karin Sander had 30-centimeter-wide holes drilled through the ceiling of the exhibition space, the floor of the n.b.k. offices above, in places where originally waste paper baskets were located and instructed the staff of n.b.k to use these holes in the floor just as they would normally use the bins.
Sander is also known for her highly polished Wall Pieces (ongoing since 1986) as well as for her 3-D bodyscans of the living person (ongoing since 1997). As Harald Welzer noted about the latter series: "Since most of these people are also actors in the field of the arts, now as artworks in the context of exhibitions they gain a certain degree of self-awareness."
Sander's work has been exhibited extensively. Notable solo exhibitions include: Neighbours, Architecture Biennale, Swiss Pavillon, Karin Sander/Philip Ursprung, Venice (2023); Chambre Directe (with Manfred Holtfrerich), Chambre Directe – Schubiger, St. Gallen (2021); Karin Sander Office Works, Kunsthalle Tübingen, Tübingen (2021); Karin Sander – Skulptur / Sculpture / Scultura, Museion, Bolzano (2020); 43°45'51.8″N 11°15'46.8″E, Base / Progetti per l'arte, Florence (2020); Karin Sander. A - Z, Haus am Waldsee, Berlin (2019); Karin Sander, Kunst Museum Winterthur, Winterthur (2018); Zeigen. An Audio Tour through the collection of the GfZK,Galerie für Zeitgenössische Kunst (GfZK), Leipzig (2017); Transzendenzaufzug, permanent work at Kunstuniversität Linz, Linz (2017-ongoing); Karin Sander – Identities on Display, Kunstmuseum Villa Zanders, Bergisch Gladbach (2017);Karin Sander, Kunsthalle Marcel Duchamp, Cully (2016); Karin Sander, Tongewölbe T25, Ingolstadt (2015); Identities on Display, Humboldt Lab Dahlem, Berlin (2013); Museumsbesucher 1:8, Lehmbruckmuseum, Duisburg (2013); Karin Sander, Neuer Berliner Kunstverein, Berlin (2011); Gebrauchsbilder und Andere, Kunstmuseum St. Gallen (2010); Labor, K20 Kunstsammlung Nordrhein-Westfalen, Düsseldorf (2010), and Zeigen. An Audio Tour through Berlin, Temporäre Kunsthalle, Berlin (2009).
Selected group exhibitions include: Der König ist tot, lang lebe die Königin, Museum Frieder Burda, Baden-Baden (2023); Scale:Sculpture, Fundación Juan March, Madrid (2023); Fun Feminism, Kunstmuseum Basel, Basel (2022); Codes and algorithms. Wisdom in a calculated world, Espacio Fundación Telefónica, Madrid (2022); Fragile, Alles aus Glas, Kunstmuseum Ahlen, Ahlen (2022); Blancs de Blanc, Villa Schöningen, Potsdam (2022); The Music Chamber, Art Geneva, Geneva (2022); 友達と – "tomodachi to". With friends, Kunsthalle Düsseldorf, Düsseldorf (2021); On Celestial Bodies, Arter, Istanbul (2020); KölnSkulptur #10, ÜberNatur – Natural Takeover, Skulpturenpark Köln, Cologne (2020); Pop, Minimal, and Figurative Art, SFMOMA San Francisco Museum of Modern Art, San Francisco (2020); Meeting in Language, Städtische Galerie Delmenhorst, Delmenhorst (2020); Out of Order | Works from the Haubrok Collection Part 1 & 2, Neues Museum Nürnberg, Nuremberg (2019–20); Hidden Beauty, Kunsthalle Nürnberg, Nuremberg (2019–20); Frozen Gesture. Gesture in painting, Kunst Museum Winterthur, Winterthur (2019); Abenteuer Freundschaft, Kunstsæle Berlin, Berlin (2018); The World on Paper, PalaisPopulaire, Deutsche Bank Collection, Berlin (2018); Nature Unleashed, Hamburger Kunsthalle, Hamburg (2018); Rehearsal, Tai Kwun Contemporary, Hong Kong (2018); Exhibiting the Exhibition, Staatliche Kunsthalle Baden-Baden, Baden-Baden (2018); Mentally Yellow. High Noon, The KiCo Collection, Kunstmuseum Bonn and Städtische Galerie im Lenbachhaus, Munich (2017); MEXIBILITY, Casa del Lago – Goethe Institute, Mexico City (2017); Mixed Media – Karin Sander & Dieter Roth, Safn Berlin (2016); Artists' Rooms, Staatsgalerie Stuttgart, Stuttgart (2015); Solides Fragiles, Musée d'Art Moderne Grand-Duc Jean (MUDAM), Luxembourg (2014); Waywords of Seeing, Le Plateau, FRAC Île de France, Paris (2014); When Now is Minimal, Museion, Bolzano (2014); 1980–NOW, The Museum of Modern Art, New York (2012).
The artist's work is held in many public collections, including: The Museum of Modern Art, New York; The Metropolitan Museum, New York; SFMOMA, San Francisco; MUSEION – Museo d'arte contemporanea di Bolzano, Bolzano; Kunstmuseum, Bonn; Staatsgalerie Stuttgart; Kunstmuseum Stuttgart; Kunst Museum Winterthur; National Museum, Osaka; Sprengel Museum, Hannover; Muzeum Artystów, Łódź; Kunstmuseum St. Gallen; and Hirshhorn Museum, Washington, D.C.