Artist Profile
Daniel Steegmann Mangrané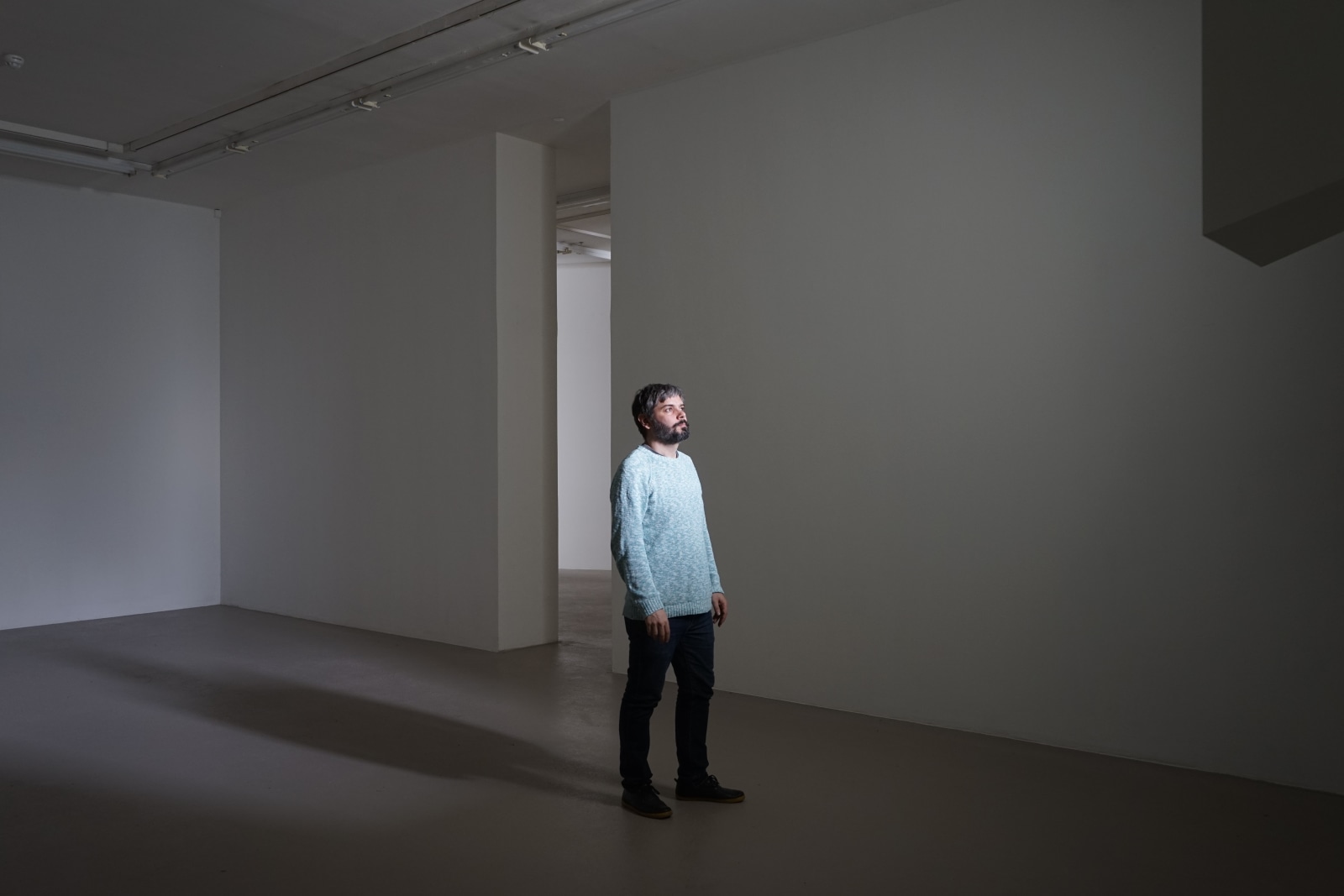 Daniel Steegmann Mangrané was born in 1977 in Barcelona, Spain. He studied at the Escola de disseny i art, and the Gris ART School of Photography, both in Barcelona. The artist lives and works in Rio de Janeiro.
Steegmann Mangrané was nominated for the prestigious PIPA Prize for Latin American artists in 2012, 2013 and 2014.
The artist's practice encompasses a wide range of media, including film, sculpture, sound, gardens and drawing. His work focuses on the creation and migration of forms between different formal registers in nature, art and architecture. The artist is particularly interested in forms that, while appearing familiar, cannot be related to any specific references, be it in nature or culture. Using self-imposed systems, the artist creates works that undermine the boundaries between organic and man-made aesthetics and materials, as well as between chance and rule-based principles of composition. Consequently, his works often appear both sparse and sensual.
Selected solo exhibitions include: Breathing Lines, Nordnorsk Kunstmuseum Tromsø, Tromsø (2022) Dog Eye, Kunsthalle Münster, Münster (2020); A Leaf-Shaped Animal Draws the Hand, Pirelli HangarBicocca, Milan (2019–20); Ne voulais prendre ni forme, ni chair, ni matière, Institut d'Art Contemporain, Villeurbanne / Rhône-Alpes (2019); The Word for World is Forest, Nottingham Contemporary, Nottingham (2019); A Transparent Leaf instead of the Mouth, CCS Bard, Hessel Museum of Art, Annandale-on-Hudson, (2018); -'– -'-, Fundacío Tàpies, Barcelona (2018); Phantom, CAC – Contemporary Art Center, Vilnius (2018); A Transparent Leaf Instead of the Mouth, Serralves Museum of Contemporary Art, Porto (2017–18); (Paisaje de posibilidades), Museo de Arte Moderno de Medellín, Medellín (2016); Não queria ter corpo humano, carne humana ou forma humana, The Green Parrot, Barcelona (2016); Daniel Steegmann Mangrané / Philipp van Snick, MAM Rio de Janeiro and Casa Modernista, São Paulo (both 2015); Animal que no existeix, CRAC Alsace – Centre rhénan d'art contemporain, Altkirch (2014); Cipó, Taioba, Yví, Casa França Brasil, Rio de Janeiro (2013), and Duna económica / maqueta sin calidad, Halfhouse, Barcelona (2011).
Steegmann Mangrané's work has been included in numerous group exhibitions and biennales, among them: Under Construction. New Acquisitions for the Nationalgalerie's Collection, Hamburger Bahnhof, Berlin (2022-23); Phenomenon 4, Association Phenomenon and the Kerenidis Pepe Collection, Anafi (2022); Fata Morgana, Jeu de Paume, Paris (2022); Liverpool Biennial 2021; 58th October Salon: The Dreamers, Belgrade (2021); I am Nature – Of Vulnerability. Survival in the risk society: ROHKUNSTBAU 26, Schloss Lieberose, Liberose/Spreewald (2021); Curtain, Para Site, Hong Kong (2021); Liverpool Biennial 2021: The Stomach and the Port, Liverpool (2021); Taipei Biennial 2020: You and I don't live on the same planet, Taipei Fine Arts Museum, Taipei (2020–21); How to Tread Lightly, Thyssen-Bornemisza National Museum in collaboration with TBA21, Madrid (2020); Untitled, 2020. Three Perspectives on the Art of the Present, Punta della Dogana, Venice (2020); Dhaka Art Summit 2020: Seismic Movements, Shilpakala Academy, Dhaka (2020); Konkrete Gegenwart, Haus Konstruktiv, Zurich (2019); Space Shifters, Hayward Gallery, London (2018–19); Mixed Realities, Kunstmuseum Stuttgart, Stuttgart (2018); Floating Worlds, 14th Lyon Biennale, Lyon (2017–18); Infinite Garden. From Giverny to Amazonia, Centre Pompidou-Metz (2017); Biotopia, Kunsthalle Mainz (2017); New Shamans/Novos Xamãs: Brazilian Artists, Rubell Family Collection, Miami (2016); Where Text is Broken by a Building..., Arario Museum, Seoul (2016); The present in drag, 9th Berlin Biennale (2016); The world was flat, Museo de Arte de Zapopan, Guadalaraja (2016); 2015 Triennial: Surround Audience, The New Museum, New York (2015); Canibalia, Kadist Art Foundation, Paris (2015); Ir para volver, 12th Biennal de Cuena, Ecuador (2014); Weather Permitting, 9th Mercosul Biennial, Porto Alegre (2013); Suicide Narcissus, Renaissance Society, Chicago (2013); Unique Forms of Continuity in Space, 33° Panorama da Arte Brasileira, Museu de Arte Moderna de São Paulo (2013); Tropicalia Negra, Museo Experimental el Eco, Universidad Nacional Autónoma de México, Mexico City (2013); The Imminence of Poetics, 30th Bienal de São Paulo (2012).
His work is in the collections of: Nationalgalerie, Staatliche Museen zu Berlin, Berlin; MACBA, Barcelona; CA2M – Centro de Arte Dos de Mayo, Madrid; Castello di Rivoli, Turin; Centro de Art Contemporânea Inhotim, Brumadinho; CPPC – Colección Patricia Phelps de Cisneros, Caracas and New York City; Fondazione Morra Greco, Naples; Fundação de Serralves, Porto; "la Caixa" Collection of Contemporary Art, Barcelona; Fundación Jumex Art Contemporáneo, Mexico City : MAM – Museu de Arte Moderna do Rio de Janeiro; MUSAC – Museo de Arte Contemporáneo de Castilla y Léon, León; NMNM – Nouveau Musée National de Monaco, Monaco; Pinault Collection, Paris; Taipei Fine Arts Museum, Taipei; Tate Gallery of Modern Art, London; TBA21 – Thyssen Bornemisza Art Contemporary, Vienna.