Artist Profile
Prabhavathi Meppayil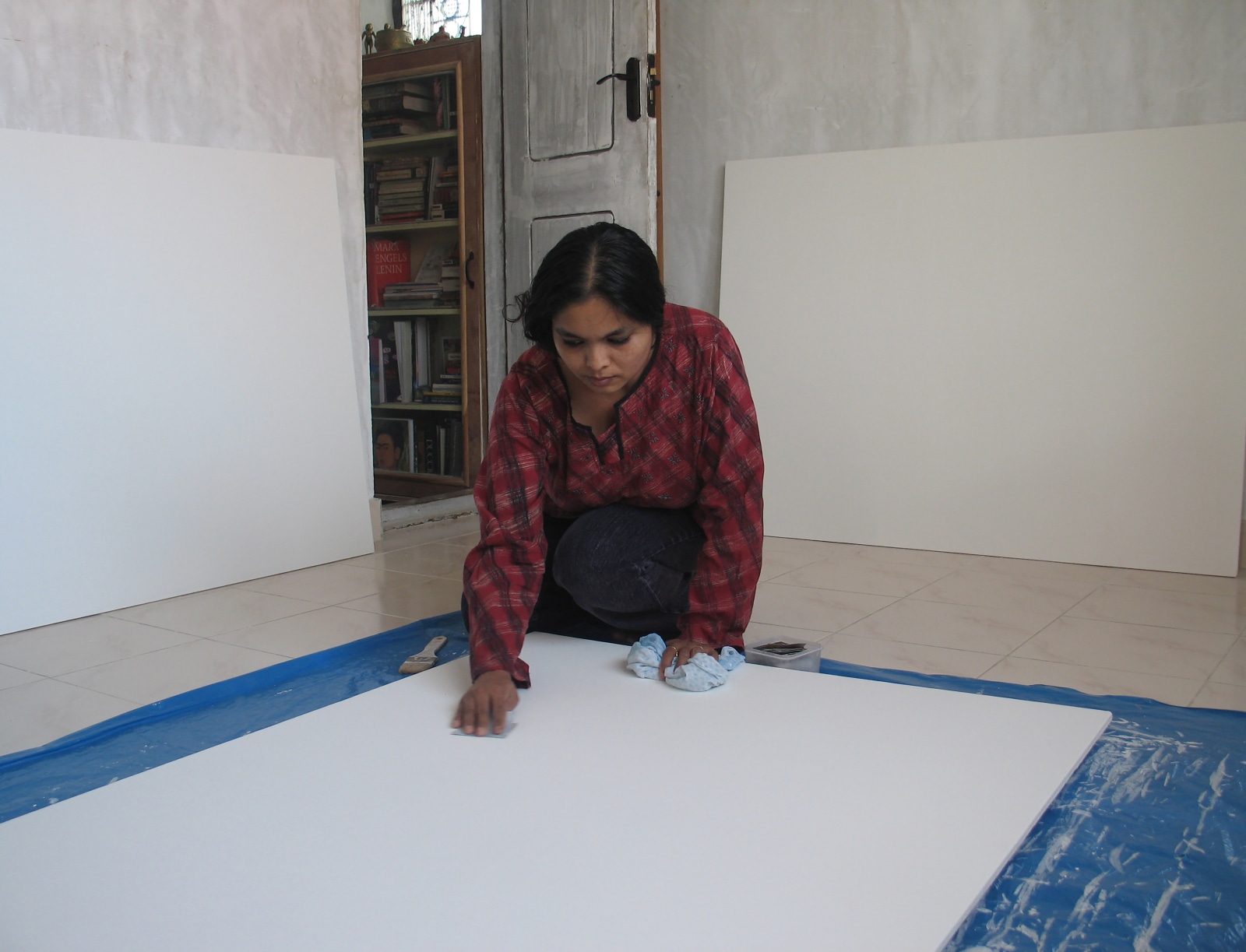 Prabhavathi Meppayil was born in 1965 in Bangalore, India, where she currently lives and works. She studied at Bangalore University and Ken School of Art, Bangalore.
Born to a family of goldsmiths, Meppayil transposes the techniques and materials associated with this ancestral savoir-faire into a contemporary plastic language that formally draws on the modernist canon.
Whether by embedding
metal
wires
in
layers of white gesso, or by marking its surface with tools traditionally used by goldsmiths,
Meppayil's
practice
is process oriented,
focusing on materials and
tools
. As she says herself, "the panels
filled with tool marks
[are]
the abstraction of the tapping sound of the tool
.
"
Meppayil's work has been exhibited at numerous institutions, particularly in India and Europe. In 2014, she had a solo exhibition at the American Academy in Rome,
Nine Seventeen: Prabhavathi Meppayil
, and in 2013, her work was shown in the 55th Venice Biennale exhibition,
The Encyclopedic Palace
, curated by Massimiliano Gioni.
Selected group exhibitions include:
Scripting Time - Memory - Ecology: Line, beats and shadows
, Kiran Nadar Museum of Art, New Delhi (2020);
Dhaka Art Summit 2020: Seismic Movements
, Shilpakala Academy, Dhaka (2020);
Cosmopolis #1.5: Enlarged Intelligence
, Mao Jihong Arts Foundation in collaboration with the Centre Pompidou, Chengdu (2018–19);
SUPERPOSITION: Art of Equilibrium and Engagement
, 21st Biennale of Sydney (2018);
Yokohama Triennale 2017: Islands, Constellations & Galapagos
, Yokohama (2017);
Everything we do is music
, Drawing Room, London (2017);
Dhaka Art Summit
, Bangladesh (2016); f
orming in the pupil of an eye
, Kochi-Muziris Biennale (2016);
Accrochage
, Punta della Dogana – François Pinault Foundation, Venice (2016);
Phantoms of Asia: Contemporary Awakens the Past
, The Asian Art Museum, San Francisco (2012);
Biennale Jogja XI – Equator # 1 | Shadow Lines: Indonesia Meets India
, several locations in Indonesia (2011);
Chalo! India: A New Era of Indian Art
, Essl Museum, Klosterneuburg and National Museum of Contemporary Art, Seoul (both 2009).
Her work is held in the collections of: Kasturbhai Lalbhai Museum, Ahmedabad; Kiran Nadar Museum of Art, Delhi; Metropolitan Museum of Art, New York; Mori Art Museum, Tokyo; Pinault Collection, Paris, and Samdani Art Foundation, Bangladesh.