Artist Profile
Roman Ondak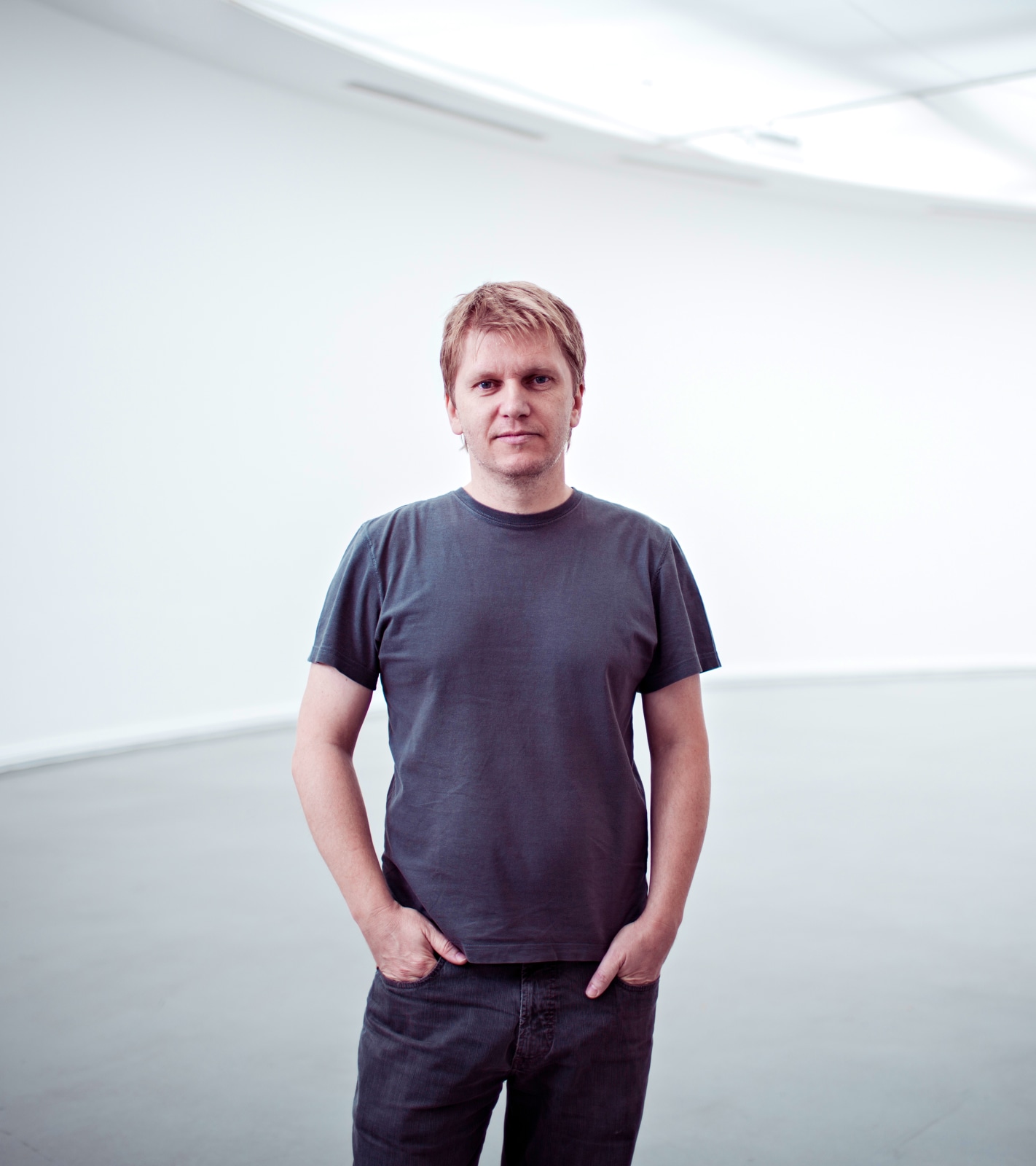 Roman Ondak was born 1966 in Zilina, Slovakia. He studied at the Academy of Fine Arts in Bratislava and Slippery Rock University in Pennsylvania. The artist lives and works in Bratislava.
Roman Ondak represented Slovakia at the 53rd Venice Biennale in 2009. In 2012, he participated in dOCUMENTA (13) and was named Artist of the Year by Deutsche Bank in Berlin. Ondak is recipient of the Lovis-Corinth Prize 2018.
Ondak's work evolves from a performative conception and consists of sculpture, installation, photography, drawing and performance. The artist often uses found objects. His medium is the everyday and society's sets of expectations, assumptions, automatisms and projections that shape our perception of reality. Although the collaborative approach is not always immediately visible, Ondak has also foregrounded the production of object-based elements by others: For his series of drawings and objects entitled Common Trip, for example, the artist asked others, among them family and friends, to make a drawing or object based on his description.
The artist has had numerous solo exhibitions, among them: Roman Ondak – Measuring the Universe, Pinakothek der Moderne, Munich (2022); SK Parking, Kunsthalle Bratislava (2021); #12 Roman Ondak, mezzaterra 11, Belluno (2018–19); Based on True Events, Lovis-Corinth-Preis, Kunstforum Ostdeutsche Galerie, Regensburg (2018); Objects in the Mirror, BASE Progetti per l'arte Arte, Florence (2018); Man Walking Toward a Fata Morgana, The Arts Club of Chicago, Chicago (2017); History Repeats Itself, KUNSTEN Museum of Modern Art, Aalborg (2017); The Source of Art is in the Life of a People, South London Gallery, London (2016); Storyboard, Times Museum, Guangzhou (2015); Roman Ondak, Kaldor Art Projects, Sydney (2014); Some Thing, The Common Guild, Glasgow (2013); Escena, Museo Nacional Centro de Arte Reina Sofia, Madrid (2013); Roman Ondak, Musée d'art moderne de la Ville de Paris /ARC, Paris (2012); do not walk outside this area, Deutsche Guggenheim, Berlin (2012); Within Reach of Hand or Eye, K21, Düsseldorf (2012); Time Capsule, Modern Art Oxford, Oxford (2011); Before Waiting Becomes Part of Your Life, Salzburg Kunstverein (2010); Shaking Horizon, Villa Arson, Nice (2010); and Measuring the Universe, DAAD Galerie, Berlin, Museum of Modern Art, New York, and Stedelijk Museum, Amsterdam (2008–10).


Recent group exhibitions include: Still Alive, Aichi Triennale (2022); Aller contre le vent, Frac Franche-Comté, Cité des arts, Besançon (2022); Three Stations for Art-Science, Palazzo delle Esposizioni, Rome (2021); The Paradox of Stillness: Art, Object, and Performance, Walker Art Center, Minneapolis (2021); Diversity United, Flughafen Tempelhof, Berlin (2021); Time Present – Photography from the Deutsche Bank Collection, Deutsche Bank Collection/PalaisPopulaire, Berlin (2020); Bon Voyage! Reisen in der zeitgenössischen Kunst, The Ludwig Forum, Aachen (2020); Shutters and Stairs. Elements of Modern Architecture in Contemporary Art, The Israel Museum, Jerusalem (2020); Making Art Public, Art Gallery of New South Wales, Sydney (2019); Someone Walking Around. Cycle of performances and interventions, Fundació Antoni Tàpies, Barcelona (2019); What Are We Made Of?, Kunsthalle Darmstadt, Darmstadt (2019); 1914/1918 – Not Then, Not Now, Not Ever, Deutscher Bundestag, Berlin (2018); The World on Paper, PalaisPopulaire, Deutsche Bank Collection, Berlin (2018); Dismantling the Scaffold, presented by Spring Workshop, Tai Kwun Contemporary, Hong Kong (2018); Against the Current. Journey into the Unknown, Museum Morsbroich, Leverkusen (2018); I AM THE MOUTH, Museum of Contemporary Art Zagreb, Zagreb (2018); WAITING. Between Power and Possibility, Hamburger Kunsthalle, Hamburg (2017); Punto de Partida. Colección Isabel y Agustín Coppel, Fundacíon Banco Santander, Madrid (2017); High Line Plinth: A New Landmark Destination for Contemporary Art, The High Line, New York (2017); Food – Ecologies of the Everyday, 13th Fellbach Triennial of Small-Scale Sculpture, Fellbach (2016); Ellipsis, Pulitzer Arts Foundation, St. Louis (2016); Wanderlust, The High Line Art, New York (2016); The Distance of a Day, The Israel Museum, Jerusalem (2016); A fragile but marvelous life, Aspen Art Museum, Aspen (2015); Burning down the house, 10th Gwangju Biennale, Gwangiu (2014); Invocable Reality, MACBA – Museu d'Art Contemporani de Barcelona, Barcelona (2014); 13 Rooms, Kaldor Art Projects, Sydney (2013); When Attitudes Became Form Become Attitudes, CCA Wattis, San Francisco (2012); September 11, MoMA PS 1, Long Island (2011); ILLUminazioni – ILLUminations, 54th Biennale di Venezia (2011), and 6th Berlin Biennale (2010).


His work is held in many public collections including the Centre Pompidou, Paris; Kunsthaus Zürich; Tate Modern, London; Neue Nationalgalerie, Staatliche Museen zu Berlin; The Museum of Modern Art, New York, and the Slovak National Gallery, Bratislava.