Artist Profile
Martin Boyce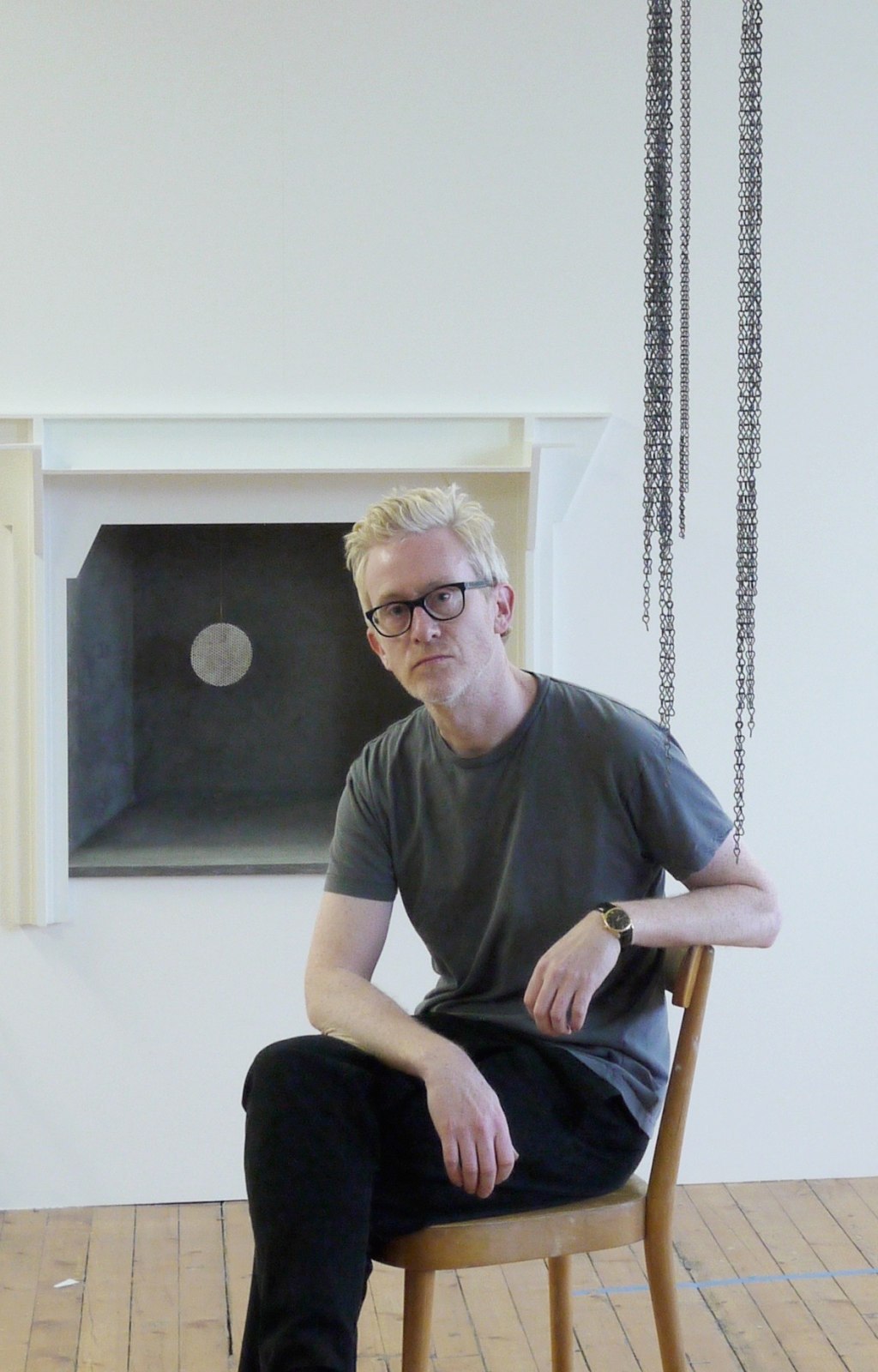 Martin Boyce was born 1967 in Hamilton, Scotland. He studied at the Glasgow School of Art and at the California Institute for the Arts. He lives and works in Glasgow.
In 2011, the artist received the Turner Prize. In 2009, Boyce represented Scotland at the 53rd Venice Biennale and participated in the Skulptur Projekte Münster in 2007.
Martin Boyce has reworked and reformulated iconic design objects, developing his own pictorial language based on a reading of the formal and conceptual histories of design, architecture and urban planning. In an extended act of homage, deconstruction and re-imagining, Boyce has, for example, assembled reconstructed versions of Charles and Ray Eames 1949 storage units or created mobiles with fragments of Arne Jacobsen's chair from 1955. Since 2005, elements drawing on Jan and Joel Martel's concrete trees constructed for the Robert Mallet-Stevens's Pavilion of Transport at the Exposition des Arts Decoratifs et Industriels Modernes in Paris in 1925 have been an important part of the artist's formal vocabulary. His recurring use of unlikely elements, among them sections of rusted chain-link fences or suspended metal chains of various thicknesses, freed from their function as demarcation or restraint, create oddly affecting sculptures.
While Martin Boyce's oeuvre includes shapes drawn both from modernist and classic design sources, it also includes references to everyday urban objects, such as fences, trash bins, or telephone boxes. Transformed by Boyce's vision of the history of design, these elements, remaining more or less reminiscent of utilitarian objects, create enchanted landscapes that appear as slightly laconic witnesses of past urban development programs but also imbue the formal vocabulary of contemporary urbanism with moments of unexpected tenderness and beauty.
Boyce has exhibited extensively. His institutional solo exhibitions include: Martin Boyce: Recurring Dreams, FAHRBEREITSCHAFT, haubrok foundation, Berlin (2021); Just Beyond the Undertow, CONVENT Space for Contemporary Art, Ghent (2019); Martin Boyce: An Inn For Phantoms Of The Outside And In, Mount Stuart, Isle of Bute (2019); Hanging Gardens, LUXELAKES·A4 Art Museum, Chengdu (2018); Remembered Skies, Clore Gallery Courtyard, Tate Britain (2018); Do Words Have Voices, Tate Britain, London (2016); Spook School, CAPRI, Düsseldorf (2016); Martin Boyce, Museum für Gegenwartskunst, Basel (2015); Martin Boyce: When Now is Night, Rhode Island School of Design, Providence (2015); Study: Eyes – Martin Boyce, David Roberts Art Foundation, London (2013), and a commission for the Massachusetts Institute of Technology, Cambridge, Massachusetts (2010).
Recent group exhibitions include: The New Man, The Announcer, The Constructor. El Lissitzky: Self- Portrait as the Kestner Gesellschaft, Kestner Gesellschaft, Hannover (2023); HOUSE OF CARD, MOCA Toronto (2022); Camere che sognarono Camere: Thomas Demand & Martin Boyce, Fotografia Europea 2021, Palazzo da Mosto, Reggio Emilia (2021); Out of Order | Works from the Haubrok Collection Part 1 & 2, Neues Museum | Staatliches Museum für Kunst und Design Nürnberg, Nuremberg (2019-20); Making Art Public: 50 Years of Kaldor Public Art Projects, Art Gallery of New South Wales, Sydney (2019); The Turner, The Royal Glasgow Institute of Fine Arts, Glasgow (2019), Negative Space. Trajectories of Sculpture, ZKM | Center for Art and Media, Karlsruhe (2019); Objects of Wonder - British Sculpture 1950s – Present, PalaisPopulaire, Berlin (2018); She sees the shadows, MOSTYN David Roberts Art Foundation, Cardiff (2018); paperwork, Haubrok Foundation, Berlin (2018); ISelf Collection: The Upset Bucket, Whitechapel, London (2017–18); I am not my target audience, Kunsthaus Dresden, Städtische Galerie für Gegenwartskunst, Dresden (2017); Mentally Yellow (High Noon), Kunstmuseum Bonn, and Städtische Galerie im Lenbachhaus, Munich (2017); L'Esprit du Bauhaus, L'Objet en Question, Musée des Arts Décoratifs, Paris (2016); How to live? Visions of the future yesterday and today, Wilhelm-Hack Museum, Ludwigshafen (2015); Private Utopia – Contemporary Art from the British Council Collection, Dunedin Public Art Gallery, Dunedin (2015); Urban/Suburban, City Art Centre, Edinburgh (2014); London: City of Disappearances, CCA Wattis Institute for Contemporary Arts, San Francisco (2013); Common Ground, 13th International Architecture Exhibition, Venice Biennale (2012), and The Sculpture Show, Scottish National Gallery of Modern Art, Edinburgh (2011).
His work is represented in the collections of the Museum of Modern Art, New York; Tate, London; Museum für Moderne Kunst, Frankfurt; British Council, London; Gallery of Modern Art, GoMA, Glasgow; Rhode Island School of Design, Providence; Massachusetts Institute of Technology List Visual Arts Center, Cambridge, MA; National Gallery of Victoria, Melbourne; LACMA, Los Angeles; Henry Moore Institute, Leeds; Scottish National Gallery of Modern Art, Edinburgh; Carnegie Museum of Art, Pittsburgh, among other institutions worldwide.