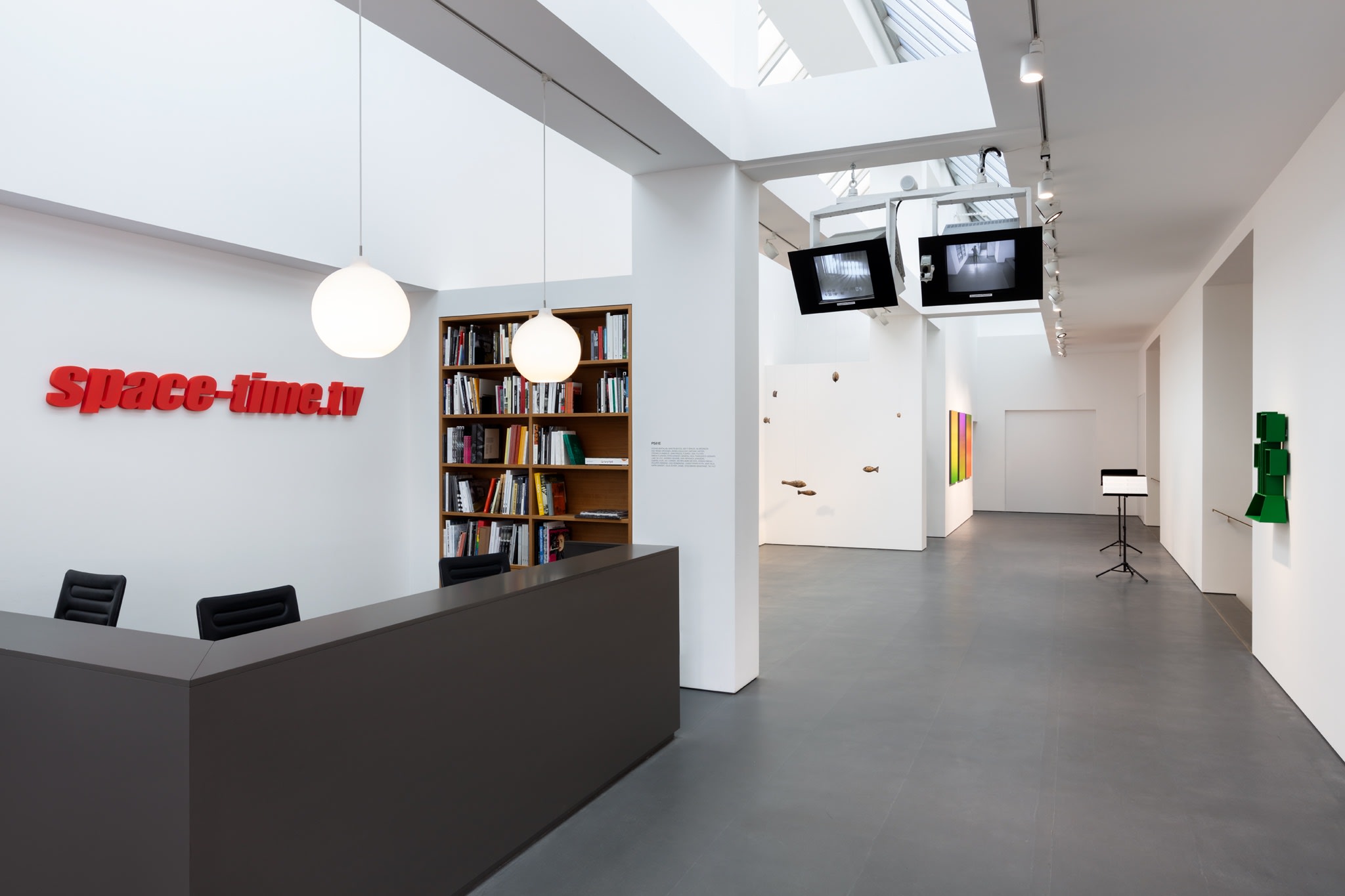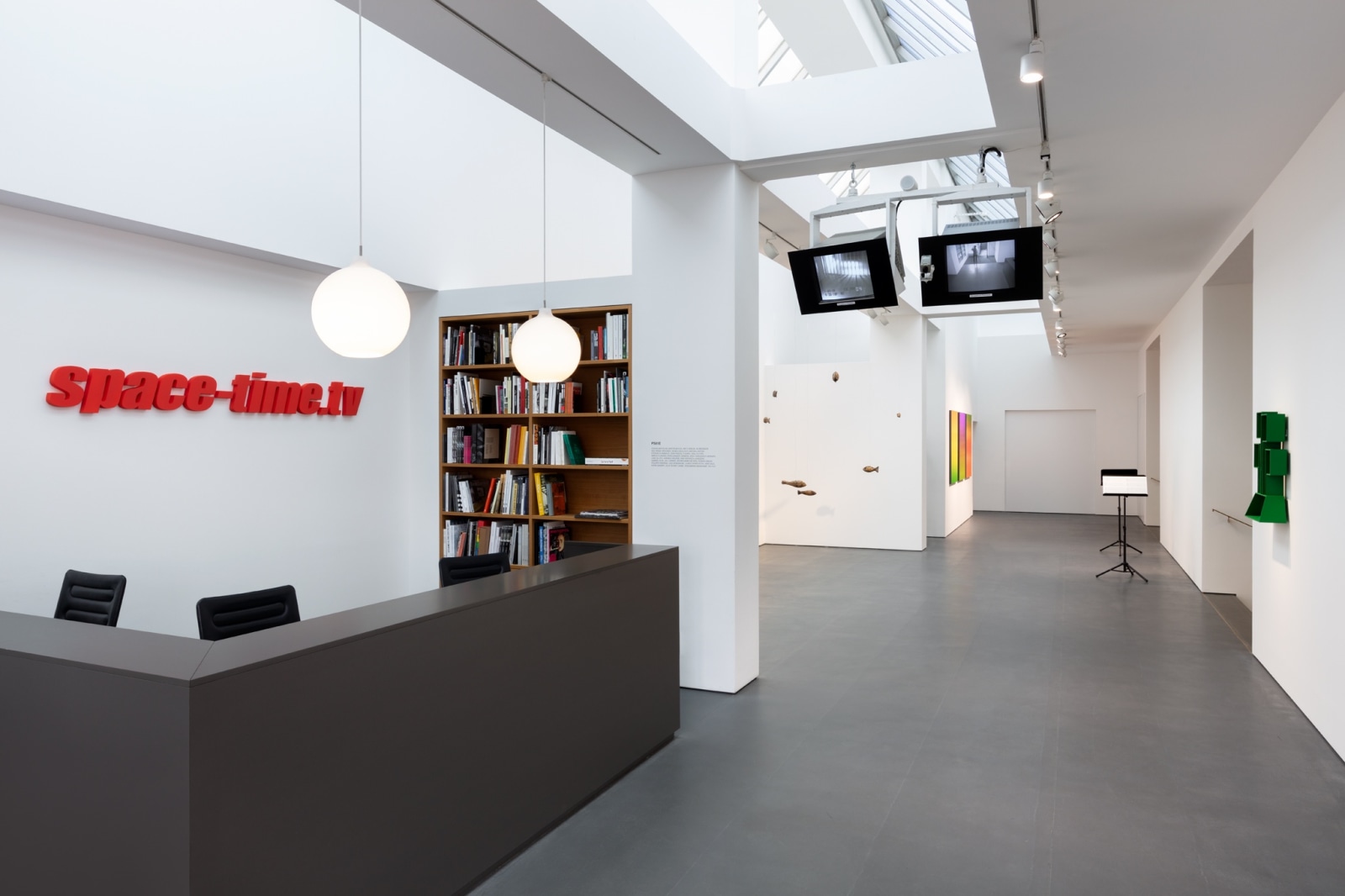 PS81E
Esther Schipper, Berlin
PS81E
Stefan Bertalan, Martin Boyce, Matti Braun, AA Bronson and Reima Hirvonen, Angela Bulloch, Nathan Carter, Etienne Chambaud, Jean-Pascal Flavien, Ceal Floyer, Simon Fujiwara, Ryan Gander, General Idea, Francesco Gennari, Liam Gillick, Andrew Grassie, Ann Veronica Janssens, Gabriel Kuri, Jac Leirner, Ari Benjamin Meyers, Roman Ondak, Philippe Parreno, Ugo Rondinone, Christopher Roth, Anri Sala, Karin Sander, Julia Scher, Daniel Steegmann Mangrané, Tao Hui.
In a normal year we would be at Art Basel right now. We curated an extraordinary booth for this year's fair, selecting major works and producing many new ones. Crated and shipped from around the world, the booth installed in three full days, our team would be ready to greet you. As doors would open and visitors rush in, time would become elastic: a million short encounters compressed into these hours.
Instead we have installed these works in our Berlin gallery. To some extent, this is an anti-fair: with certain social distancing requirements in place, there will be ample space and plenty of time to engage with each visitor. While access may be limited at times, time is not. With our exhibition PS81E we acknowledge the irreplaceable experience of encountering an artwork in person. We take this as an opportunity.
Yet, we also realize that our artists, friends and colleagues trust us to continue to be present around the world. Information, documentation, mediation: the gallery's in-house research department has always produced comprehensive viewing and reading materials focused on our artists, their works, and exhibitions.
When we launched our first Online Viewing Room back in October 2019, we wanted to bring our artists' program to a wider audience – this project has now found a new function: continuing to connect you with the ideas and works of our artists, bringing exhibitions, fairs, and works to an audience that cannot travel, near or far, In a similar spirit of connection, we have begun a new weekly newsletter, titled Letter from Berlin, with an editorial, narrative format that features texts by our team, artists and guest writers. All our digital content can now be found on our website at Continuity.
As the gallery has enhanced its digital accessibility, the last months have also led to an expanded dialogue with our artists that has informed this exhibition. What might have been Art Basel 2020—our fair booth—has grown in long conversation to become part of a new beginning, a new way to tell the story of our exhibitions—live and online.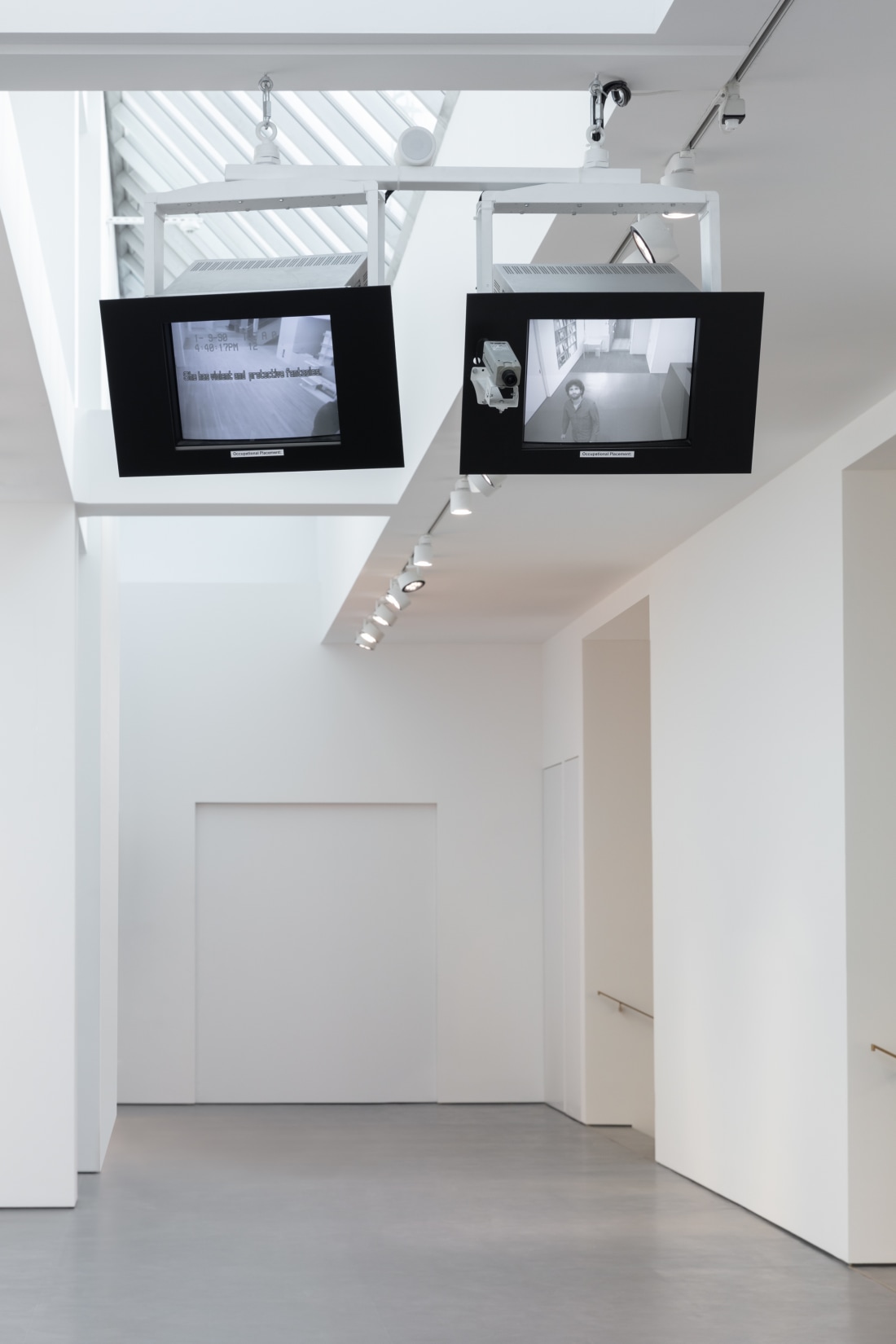 JULIA SCHER
---
In Occupational Placement, commissioned in 1989 by the Wexner Center for the Arts in Columbus, images from live permanent security system cameras, temporary cameras, and pre-recorded video (fake feeds) are mixed with overlays of random computer-generated text, recorded and output to screens. Visitors become part of the artwork as they watch themselves on the monitors, seeing their images overlaid with such vaguely unsettling text as "you are not protected here but are being watched."
About Occupational Placement, Scher has said, "The viewing audience will be asked to consider the implication of being within an environment that, rather than being observed itself, is engaged in observing, collecting, organizing and transposing images. You look at the building – but the building looks back."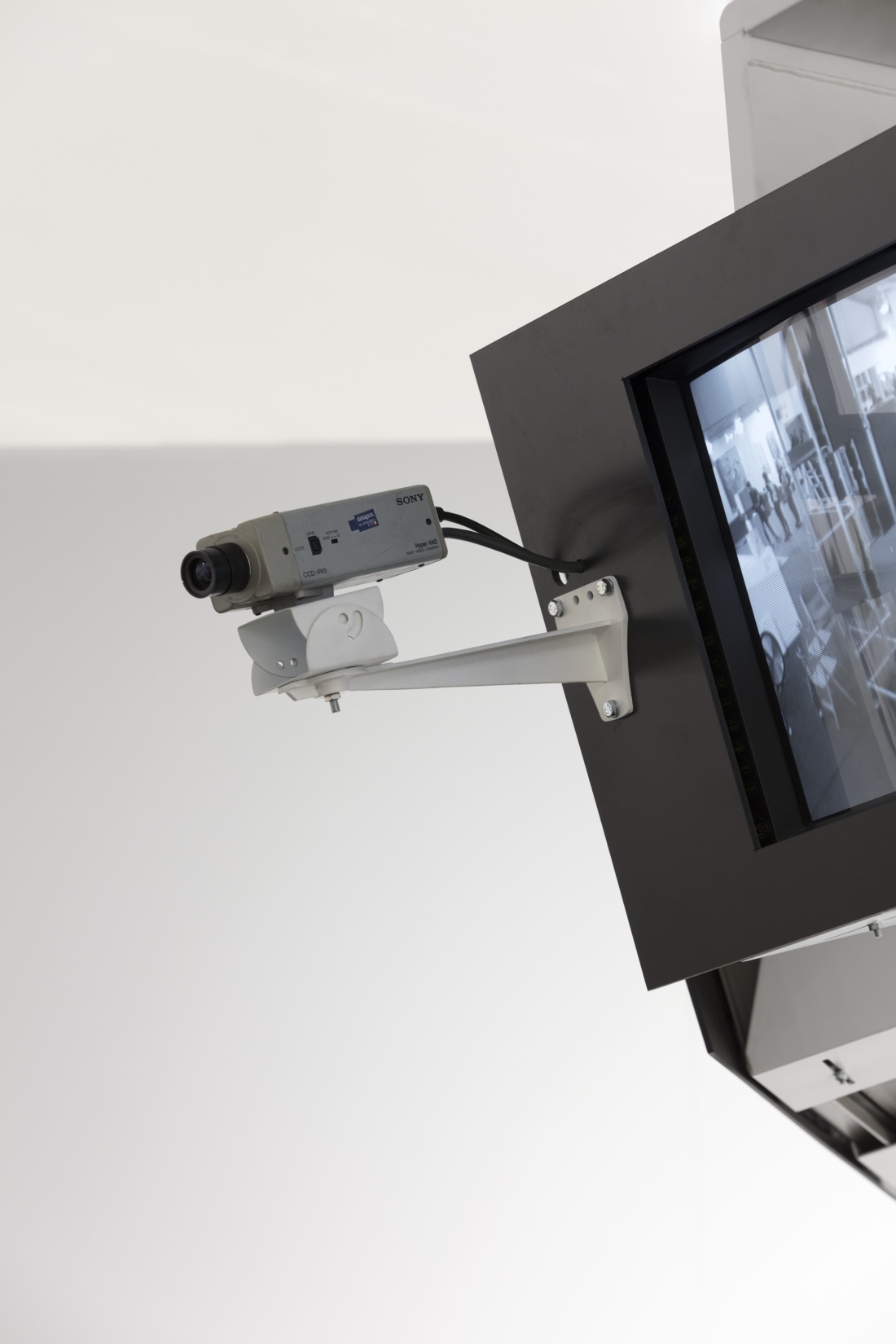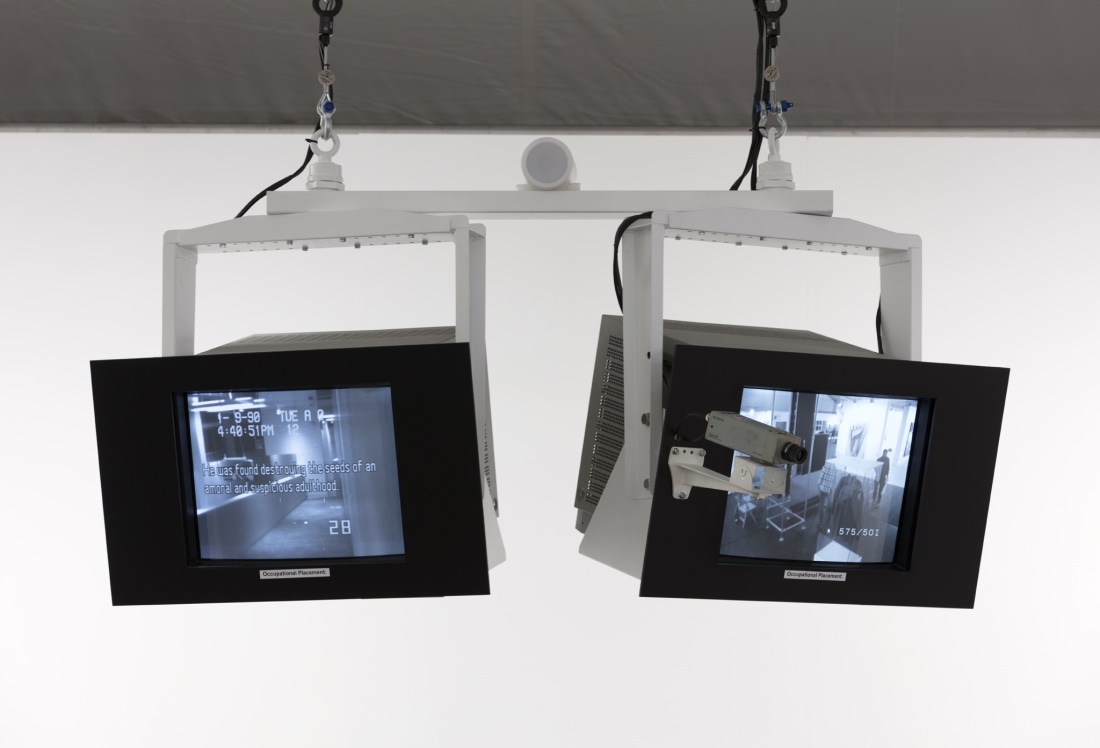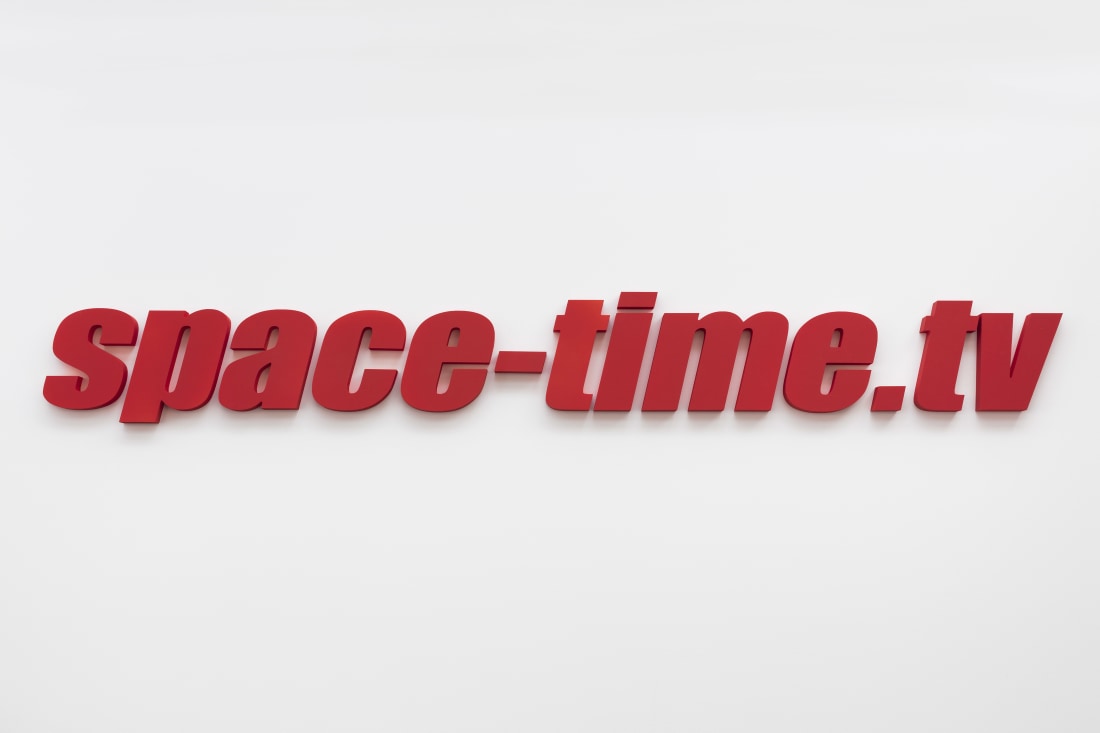 CHRISTOPHER ROTH
---
space-time.tv is a project presented by Christopher Roth that brings together television and contemporary art. The project comprises three TV stations and can be watched live HERE.
Roth's work seeks to understand how information, words, pictures and ideas are received, travel and are mediated at a constantly accelerating pace. Since the 1990s, Roth has focused on the "emptiness" of single images and certain generic imagery that surround us. These images only accrue meaning in context—a function easily manipulated by the mass media. This knowledge — acquired and practiced as an accomplished film editor and director of feature films, and given theoretical underpinnings by his engagement with cultural history and philosophy—informs his entire practice.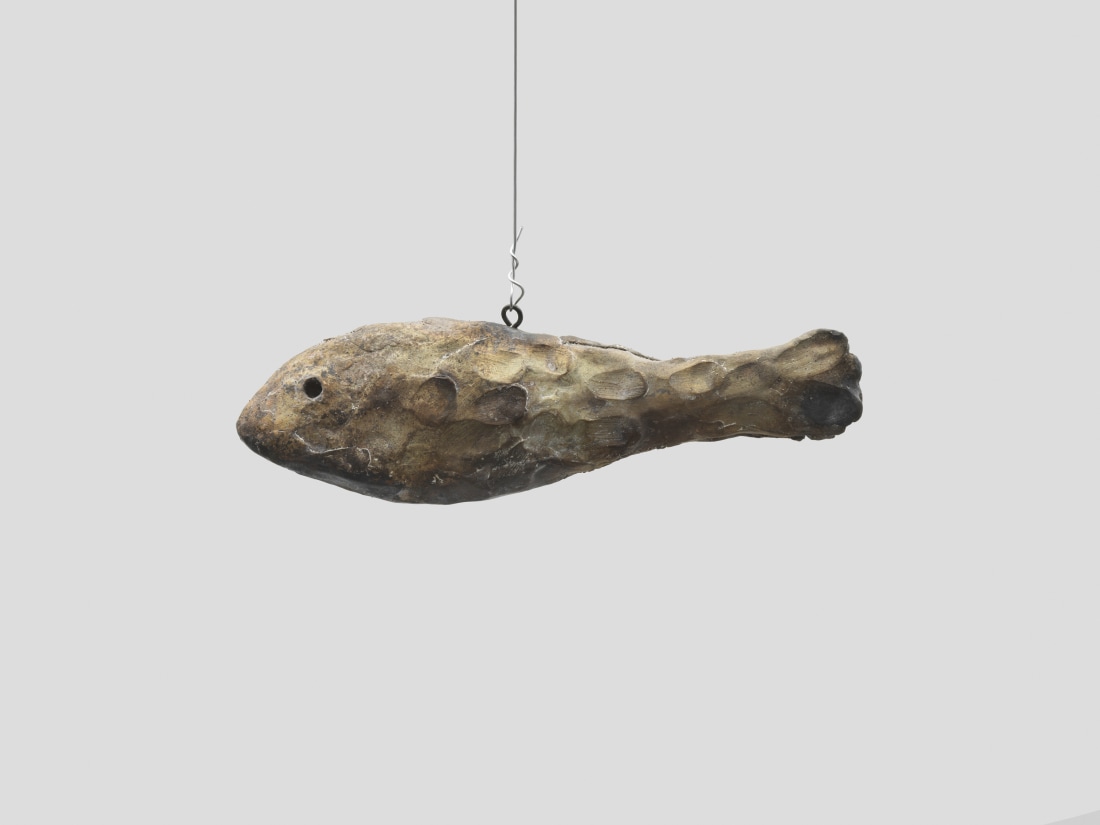 UGO RONDINONE
---
These sculptures are part of a body of work that includes a collection of fish, primordial (2016), of horses, primal (2013), and birds, primitive (2011) all cast in bronze. The groupings of creatures from sea, land and air represent the wider world, and encapsulate the trinity of themes — natural phenomena, Romanticism and existentialism — that underpin the artist's oeuvre.

The fundamental subject matter that the small bronze figure of a fish probes is visually emphasized by their honest and unadorned aesthetic. Each animal is unique, hand modeled by the artist in clay before being cast into bronze. The roughness of the process means that fingerprints are still visible in the bronze, calling attention to the individuality of each sculpture and the manner of its creation. Rondinone has spoken of how each sculpture "represents the emotional situation of the time I made them," and how the traces of his personal touch give them an immediacy that should speak directly to the viewer.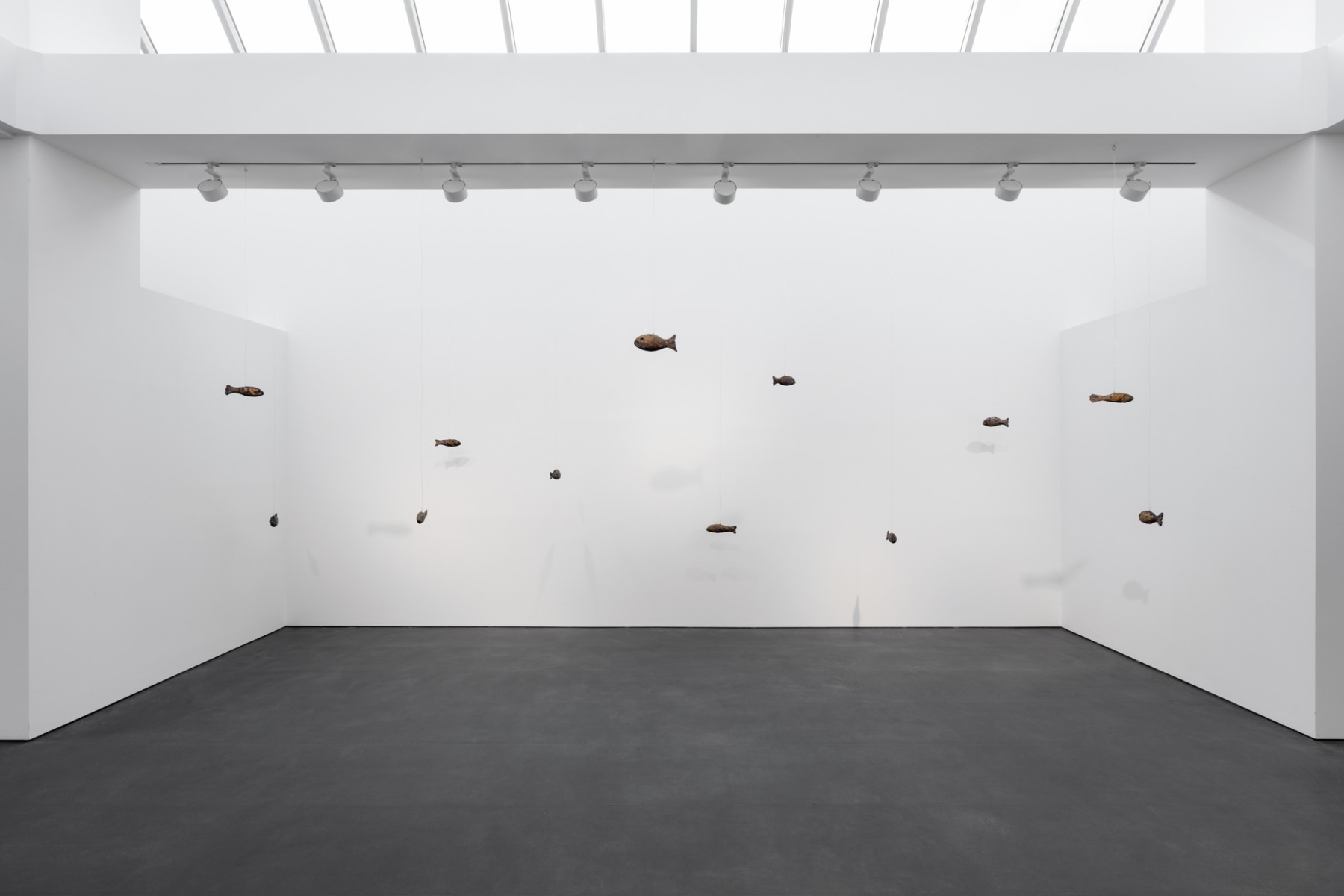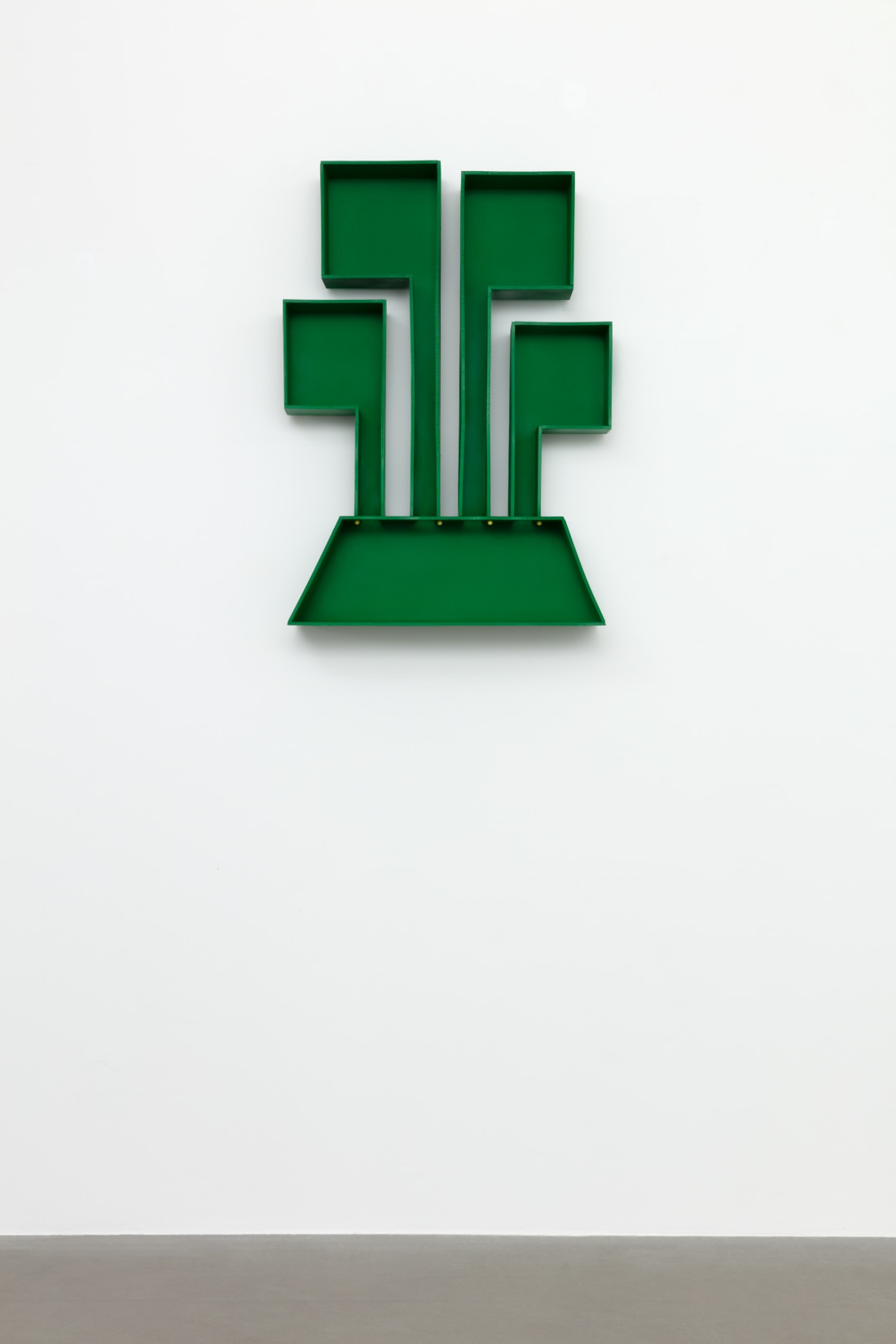 JEAN-PASCAL FLAVIEN
---
Jean-Pascal Flavien's work is a model for greenhouse, a real-size house project that has not been built yet (the house will be completed later this year at the Sprengel Museum in Hannover).
The concept of the building is articulated in its floor plan which features a large rectangular space from which four equidistant entryways connect to four narrow corridors of varying length, each leading to a room at its end. Seen from above, the plan is reminiscent of a plant from which four limbs extend. The association with organic growth is reinforced by the structure's dark green color.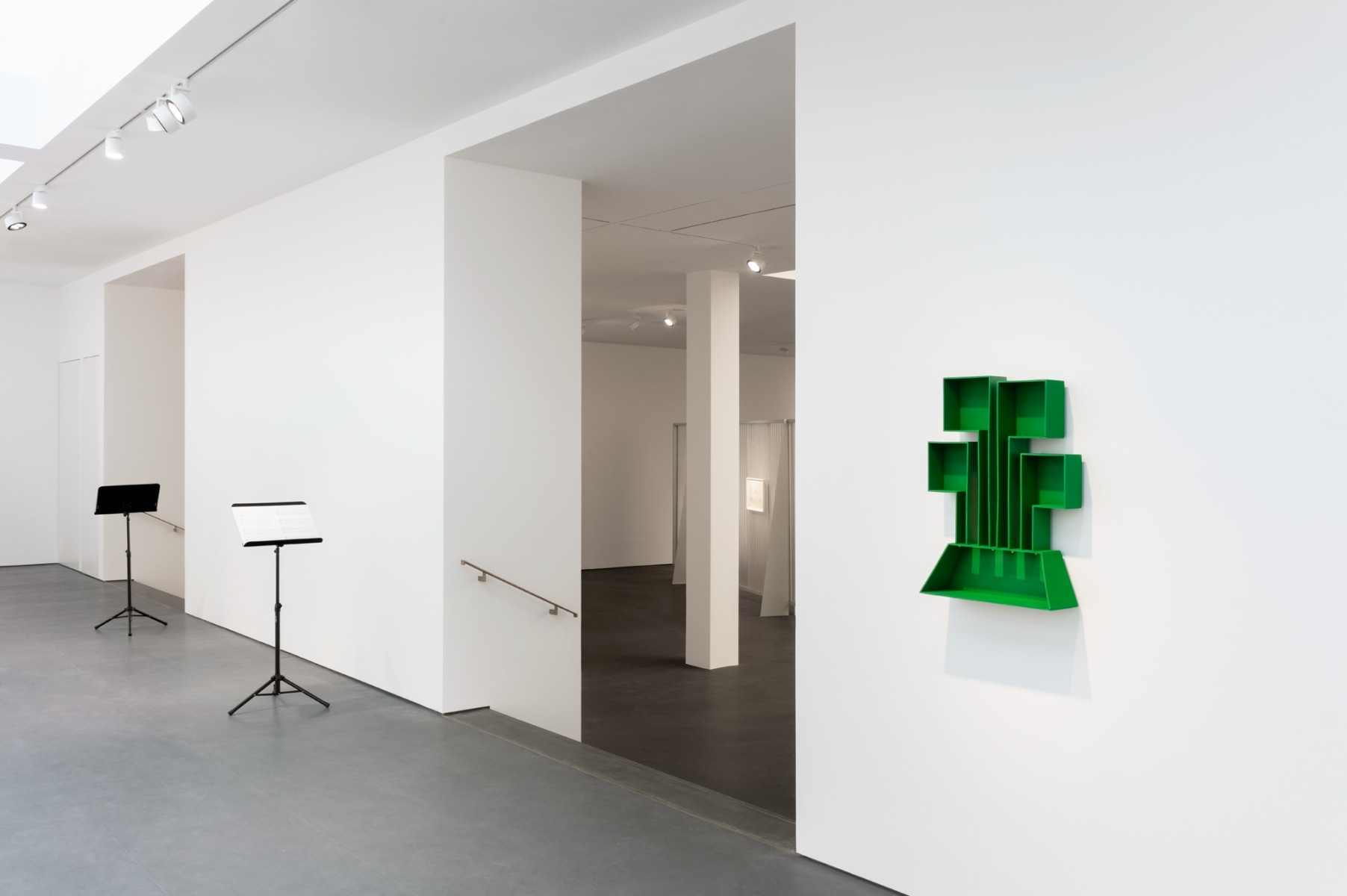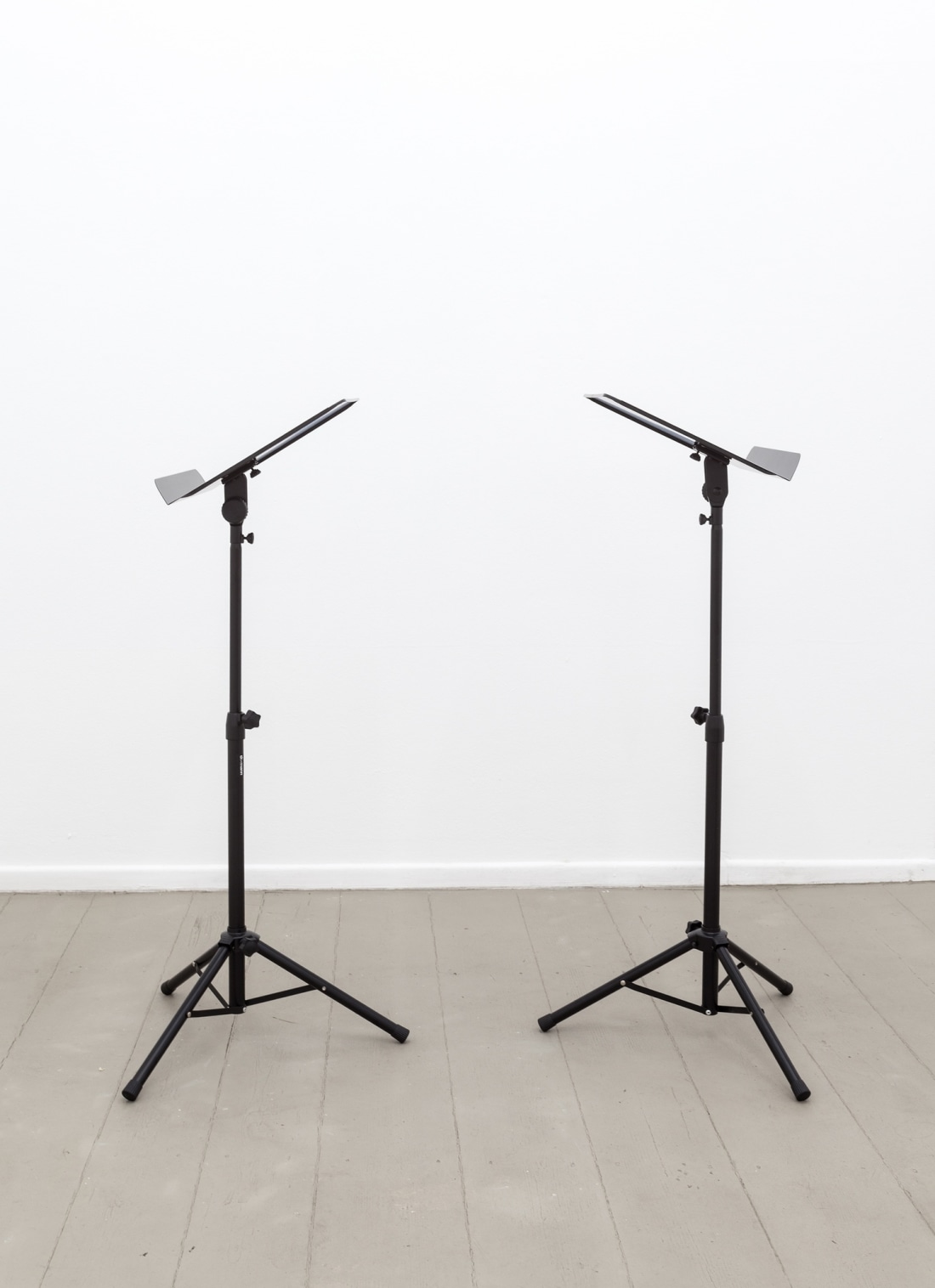 ARI BENJAMIN MEYERS
---
DUET is a composition to be performed by two strangers and is based on three motives. The composition is simple and written in a way it could be comprehended by a person who cannot read musical notations. It has two voices to perform the same score: Me and You. Me is to be performed by a member of an institution, exhibiting the work, or an entitled person. You is performed by a visitor.
The performance is always initiated by the question, posed by Me performing person to a visitor: "Would you like to sing with me?" If the answer is yes, a short rehearsal takes place (10 minutes approximately) followed by a complete performance of the piece. If the invited visitor answers negatively, nothing happens.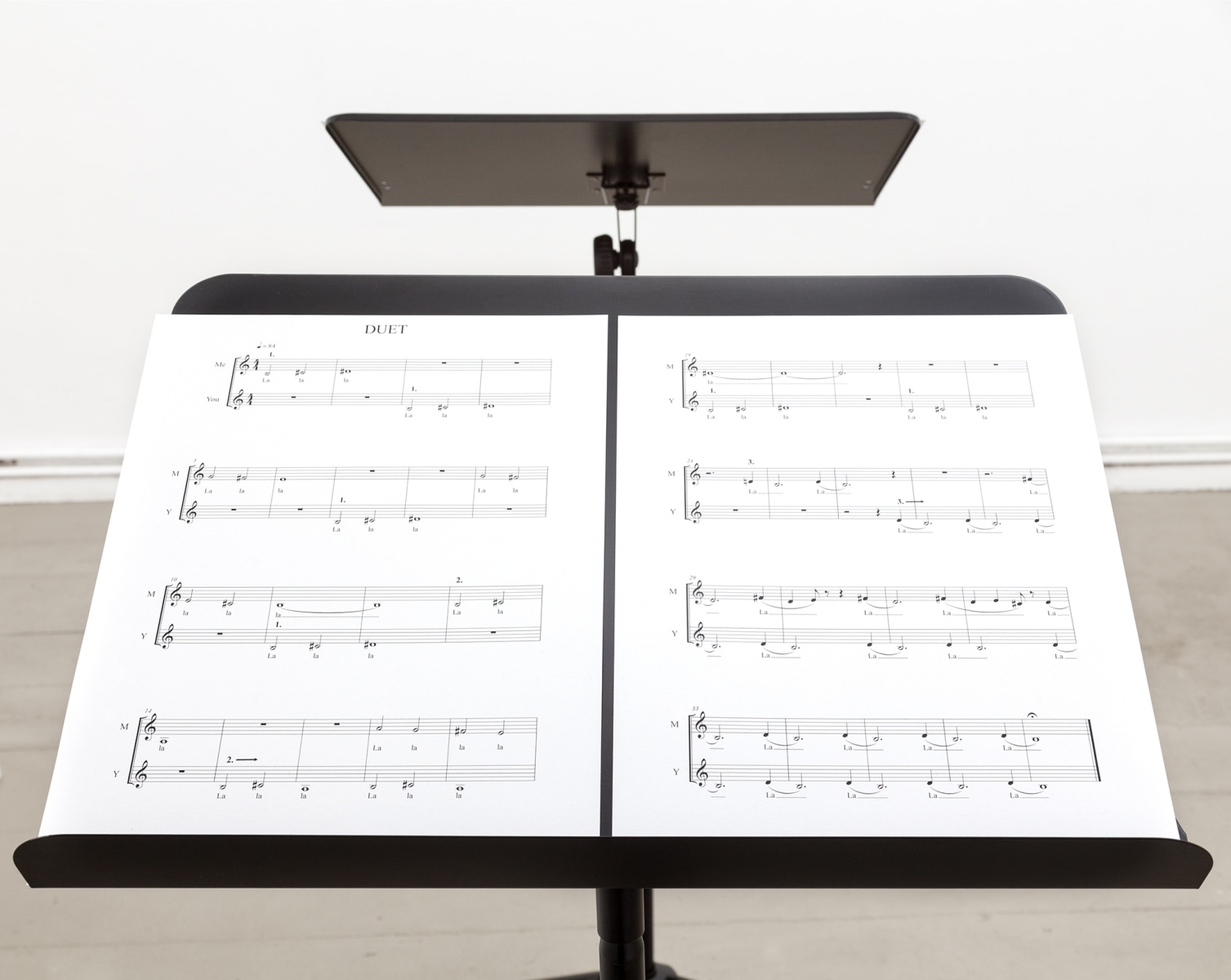 MATTI BRAUN
---
Matti Braun's new work consists of a silk panel in a narrow aluminium frame. The rectangular image shows a progression of very bright, deeply saturated colors. The work is a continuation of Braun's series of seamless color progressions on silk. Because of their intense coloration, these works are technically extremely demanding to produce.
The dye process has its roots in the artist's investigation and appropriation of traditional techniques of textile production often used for religious or ritualistic purposes but unlike his earlier patola or batik series they no longer show the iconographic traces of their sources. There is a palpable tension between the work's restraint and its hypnotic lushness created by the combination of apparently simple means and the complexity of their creation, both the extensive references to the artist's project of investigating historical and cultural phenomena and the more immediate curiosity of how the seamless color modulations are created.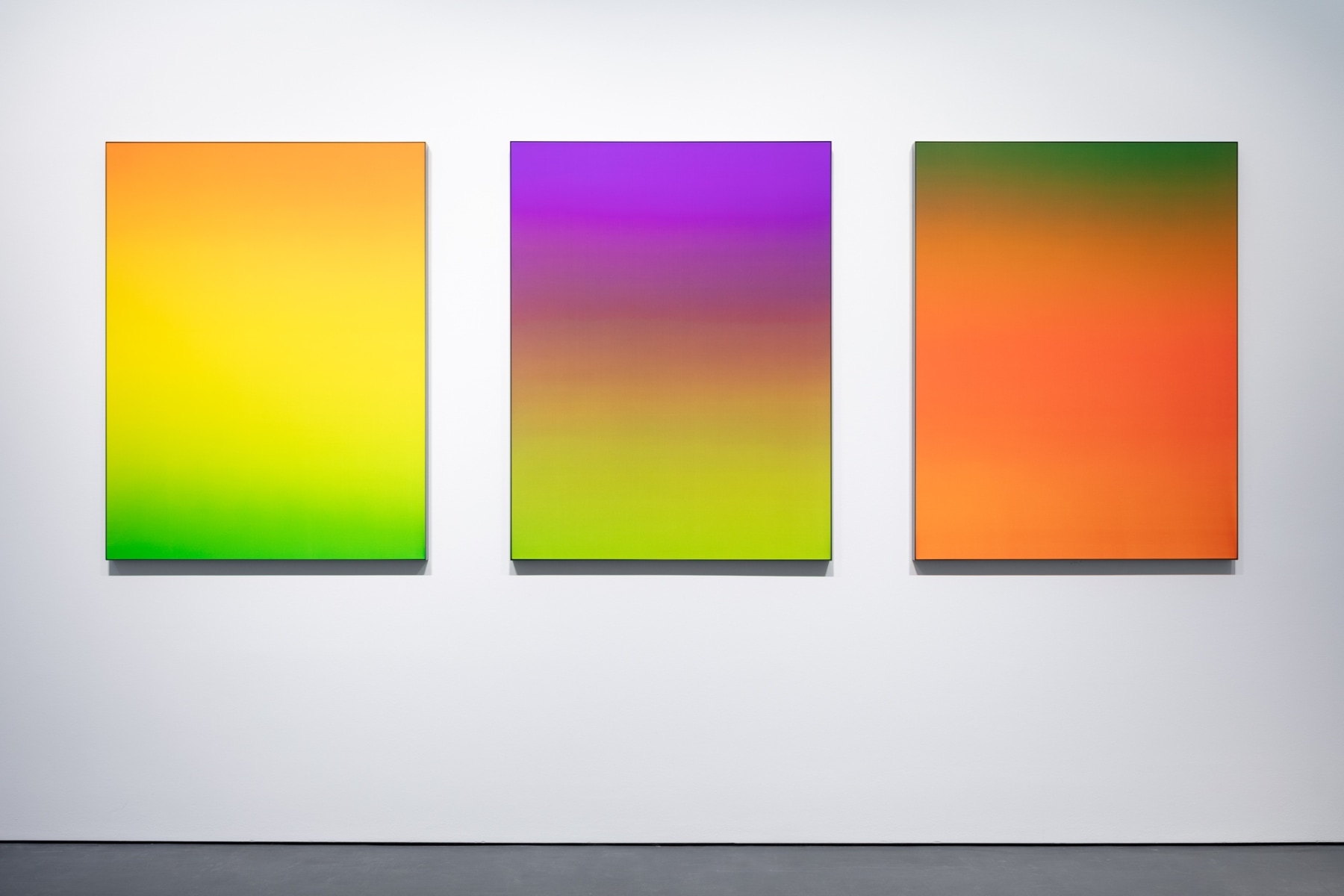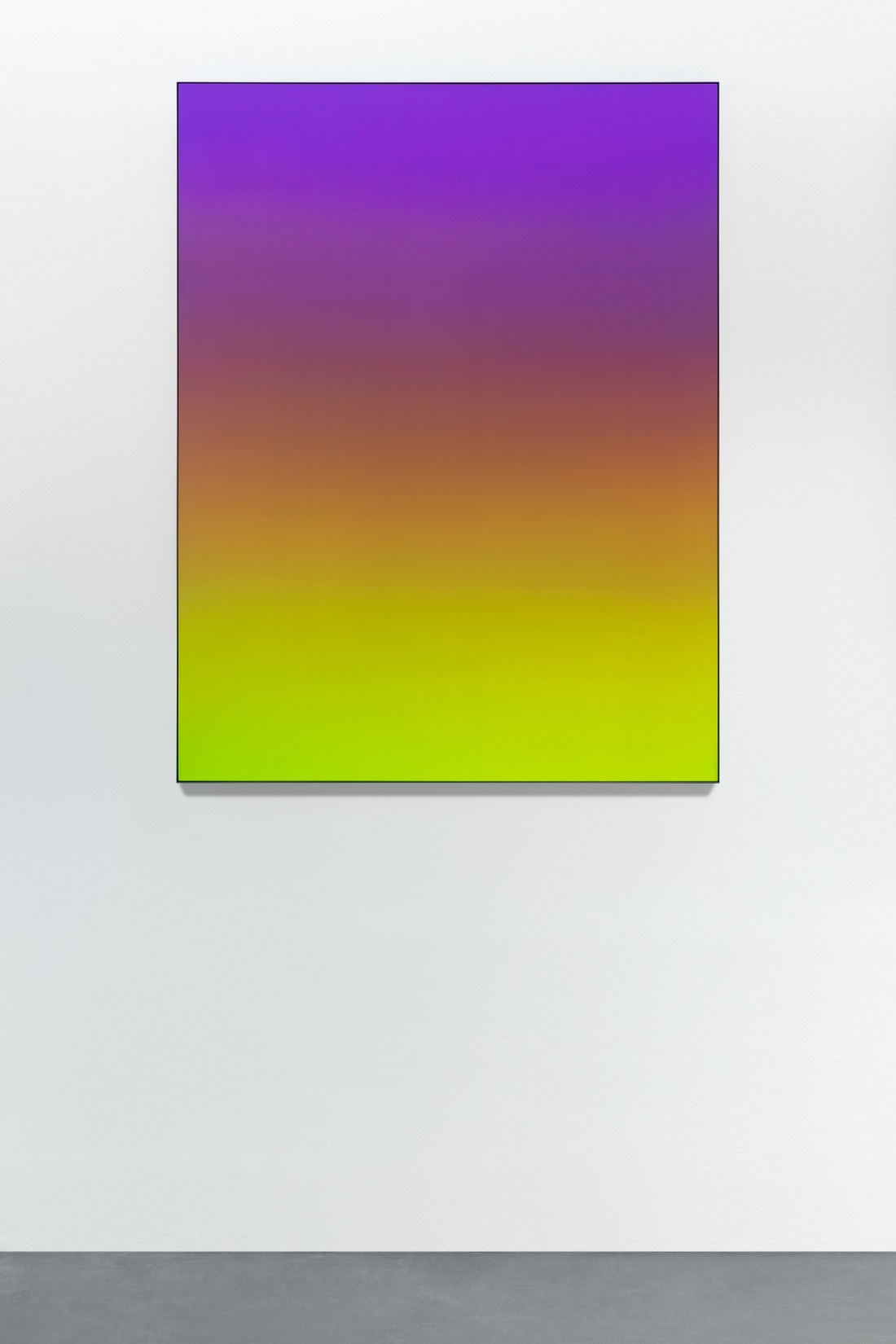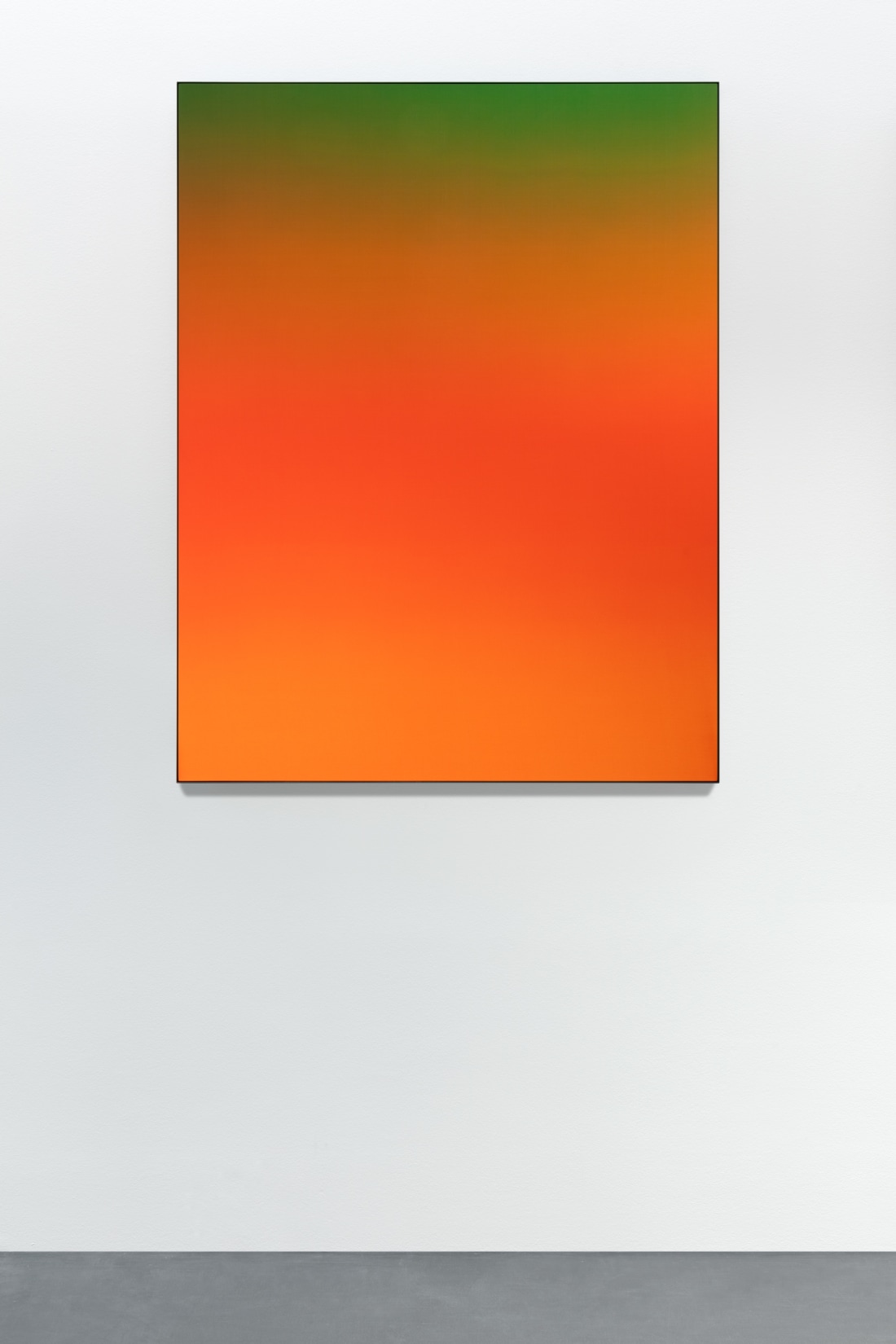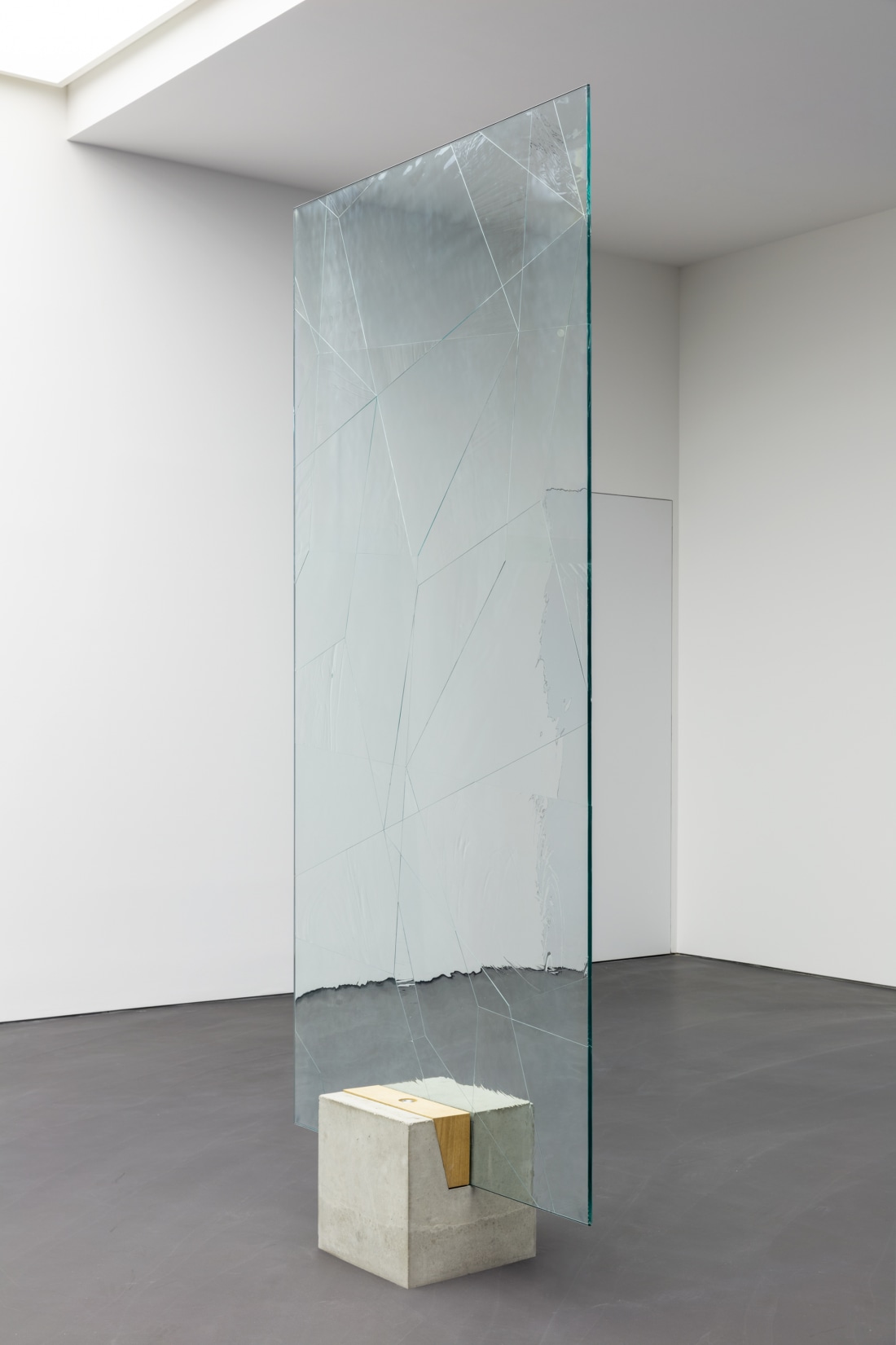 DANIEL STEEGMANN MANGRANÉ
---
This work from Steegmann Mangrane's series of Systemic Grids consists of a glass panel constructed of sections of clear and of slightly distorted glass that are affixed to an underlying sheet of security glass to create a geometric pattern. As distorting looking-glass, the work creates a formal filter, blurring sections of the environment and superimposing a fragmenting grid. At the same time, the uneven sections of glass draw attention to the material's properties: it has changing consistency and thickness.
The geometric pattern used as grid (in which some sections are clear, others filled with slightly distorting glass) is created using a self-imposed rule—by pivoting, turning, and mirroring a simple geometric shape. The pane of glass is secured by a concrete base, recalling the iconic museum architecture designed by the modernist Lina Bo Bardi for the Museum of Art of Sao Paulo in 1957.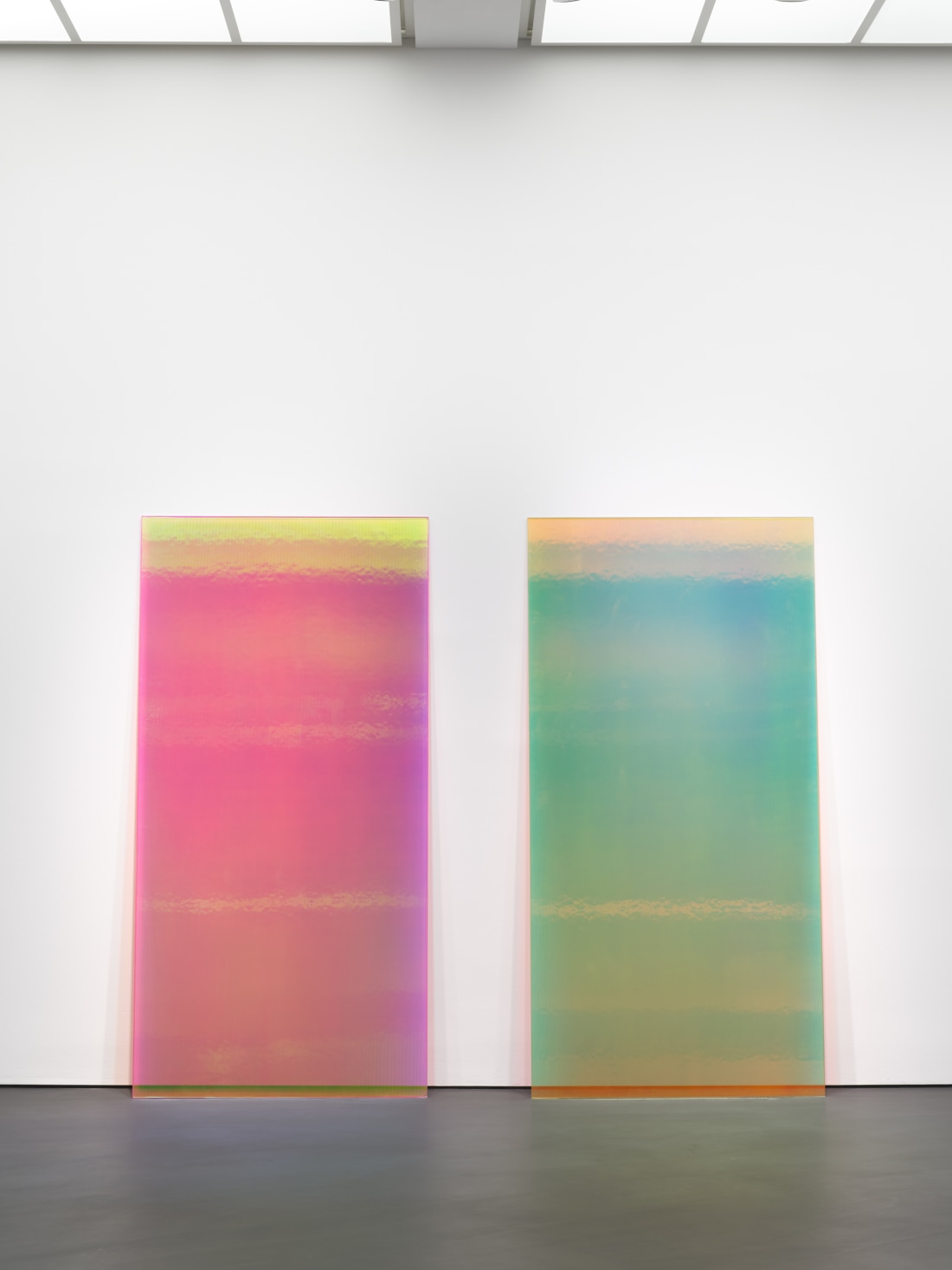 ANN VERONICA JANSSENS
---
The work of Ann Veronica Janssens foregrounds the body's perception of the world and itself in it. She often uses light, natural optical phenomena or glass as medium. Produced with great care, her works exude the impression of great simplicity yet create vivid experiences of the act of seeing, evoking a heightened awareness of the changeability and fleetingness of individual perceptions.

The diptych consists of two glass panels, each made of two layers of vertically ribbed annealed glass that encompass a colored PVC filter. The association of the glass pattern with the colored filter creates iridescent effects and deep changing colors. As one moves around the work, the ribbed surface reflects the light at different angles, creating extreme variations in colors. The work belongs to Janssens' ongoing series of "gaufrettes" which highlights the pictorial materiality and spatiality of color.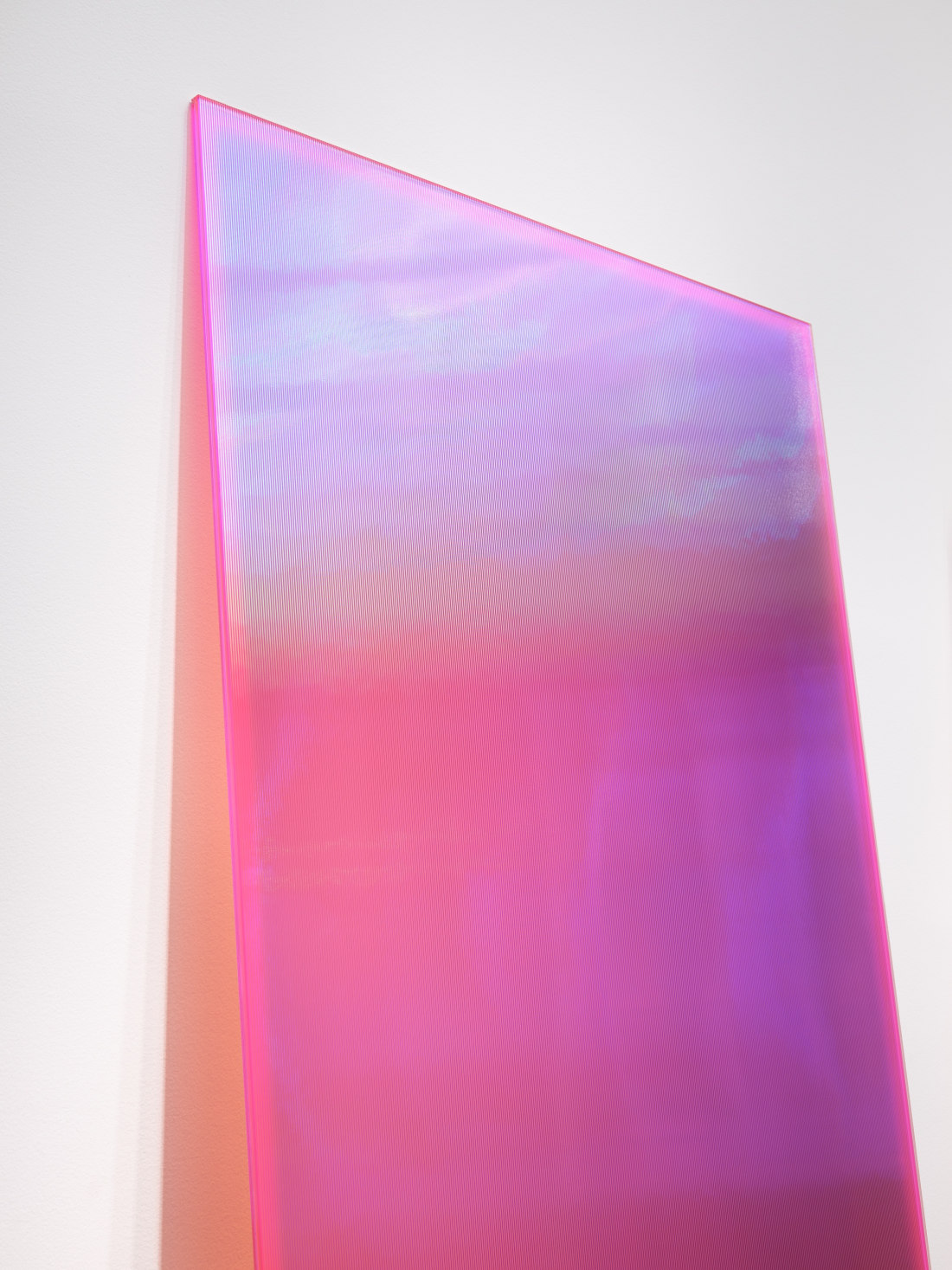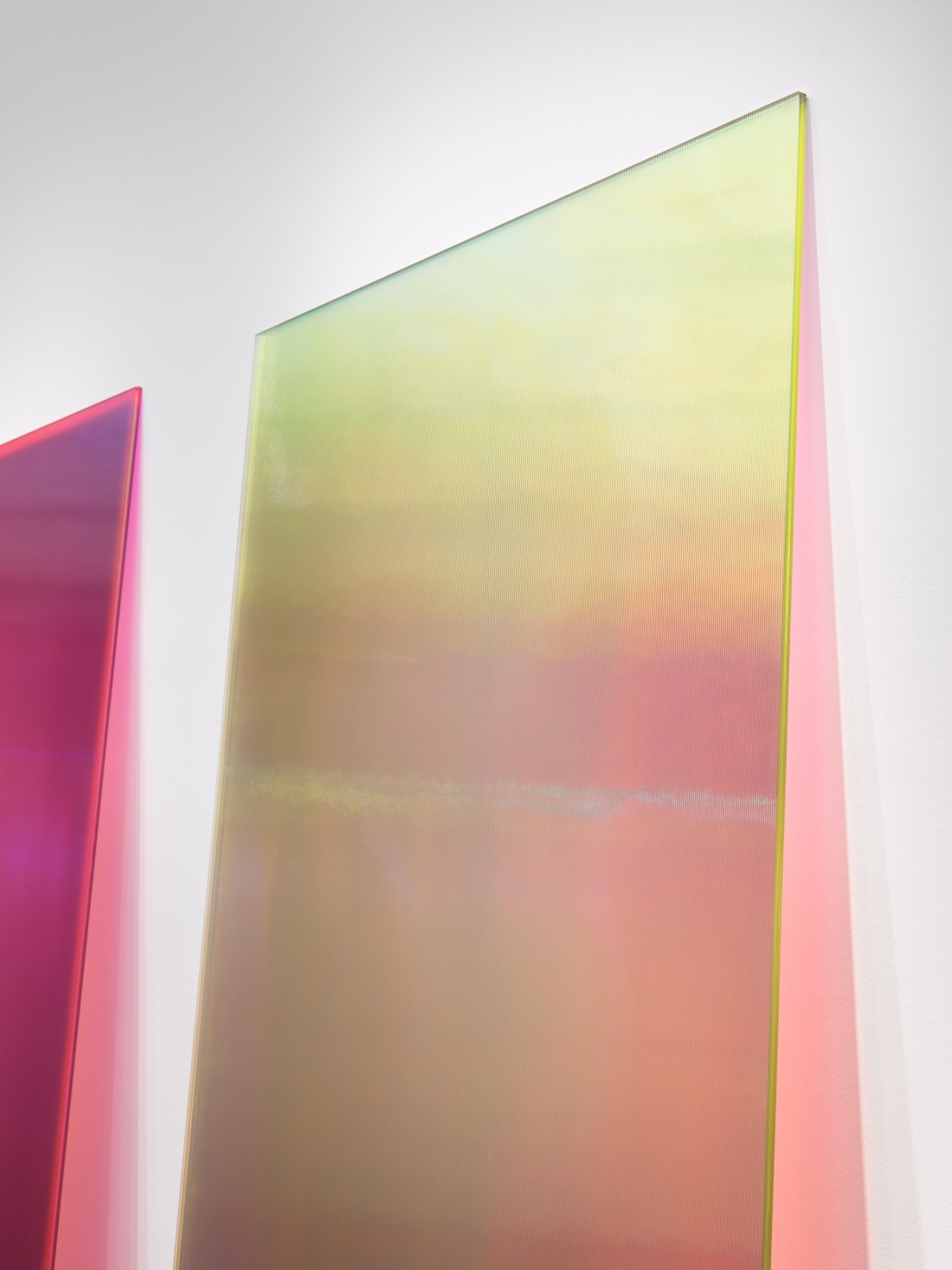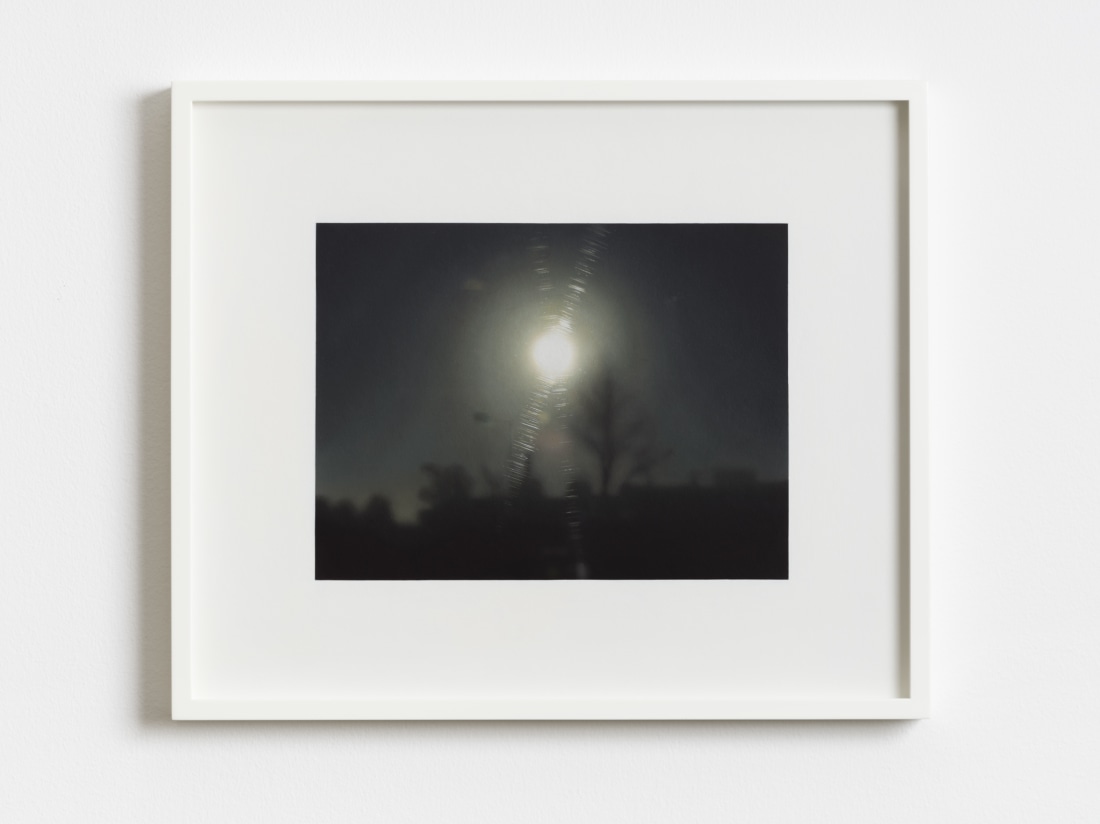 ANDREW GRASSIE
---
The image shows a blurred, abstracted landscape with silhouettes of trees. The tempera painting meticulously reproduces a photograph taken through a window using a flashlight. The flashlight hinders to look through the glass and to see what is out there. In turn, it gets reflected and illuminates two crossing stripes of glass scratches, creating an abstract pattern superimposed on the faint background. The work's title Sunset straightforwardly defines its subject, adding up to the somewhat melancholic quality of the image.
Andrew Grassie's paintings are based on photographs the artist has taken himself or in some cases found. Often they have been elaborately staged, although this effort is veiled by the ostensibly unassuming matter-of-factness the small, precisely painted works exude. The works are executed with tempera, a technique associated with pre-Renaissance panel paintings anteceding the development of oil paint. Tempera dries very rapidly and remains relatively sheer. To create cover and solid colors therefore many layers are needed. The final image is modulated through the application of multiple different glazes.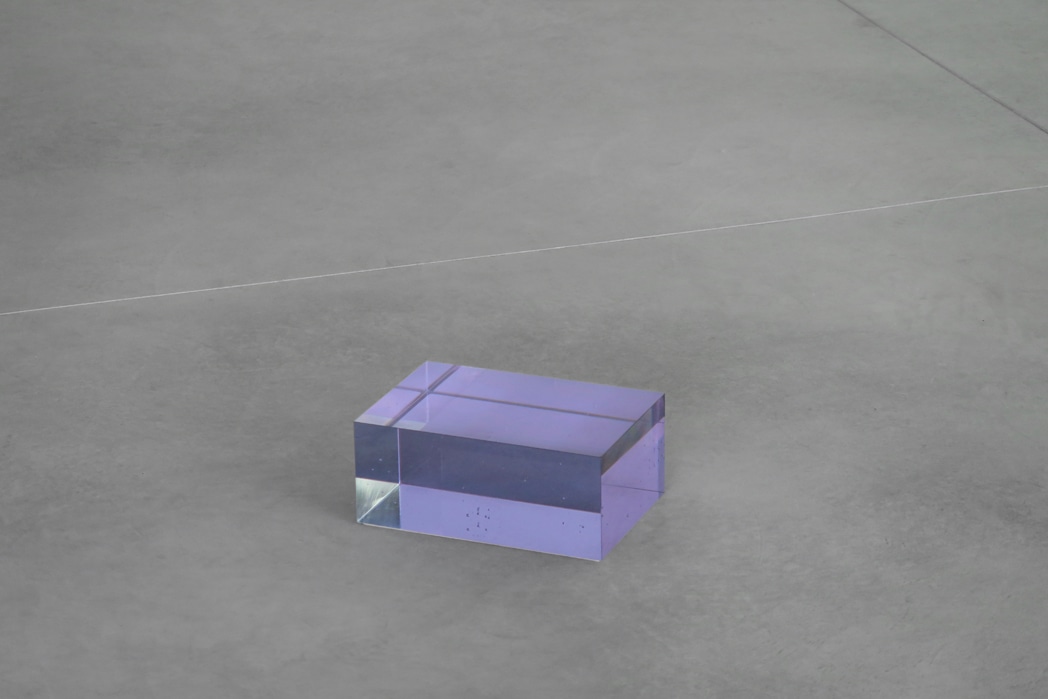 FRANCESCO GENNARI
---
Vorrei essere me stesso ma solo alla luce del sole (I would like to be myself but only in daylight) consists of a block of transparent Murano Alessandrite glass lit by different sources of natural and artificial light (neon, halogen). Depending on the lighting condition, the Murano glass reflects the light spectrum differently and its color appears to shift from blue to purple to green. Francesco Gennari's works find their origin in his observation of everyday life and the elements that surround him. For this sculpture, the artist reinterpreted the changing colors of the Parisian sky.
Gennari's artistic practice is based on minimal formal characteristics and a metaphysical approach of colors and materials. Characterized by its conceptual consistency, Gennari's work draws from a cosmology of divergent mediums (Murano glass, bronze, marble, gin, mint syrup), selected not for their outward appearance but for their inherent specificities. Their apparent matter-of-fact aspect contrasts with the artist's attachment to the ideas of sensibility and poetry that lie behind the experience of being in this world.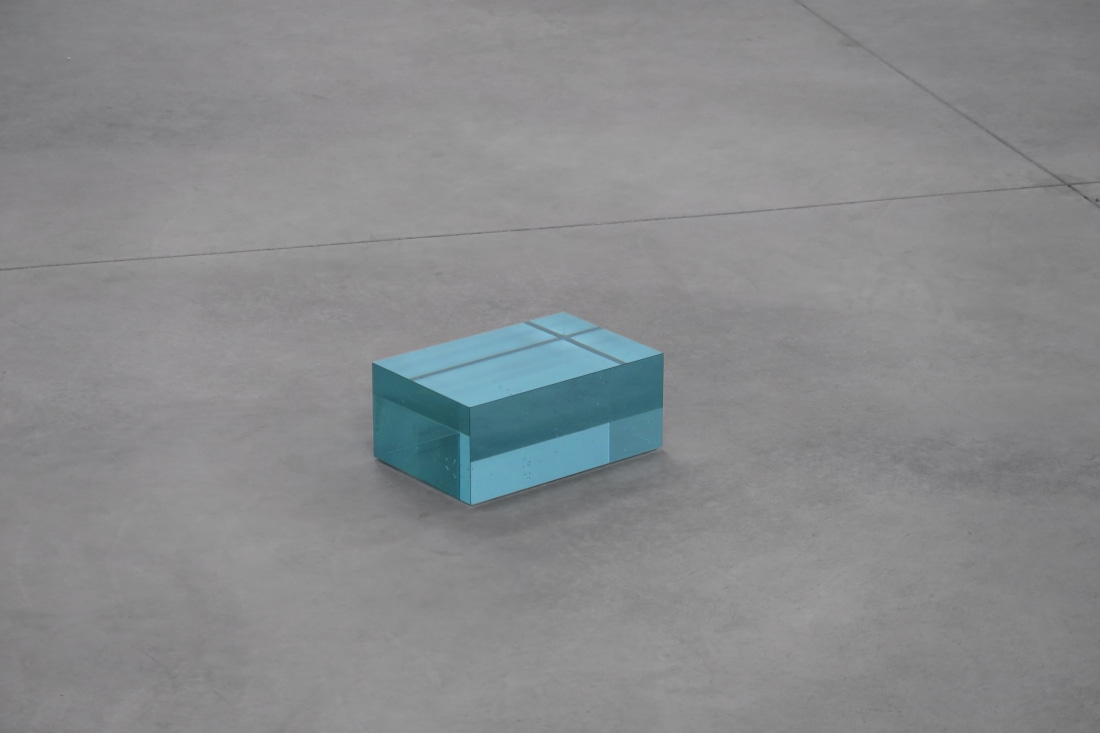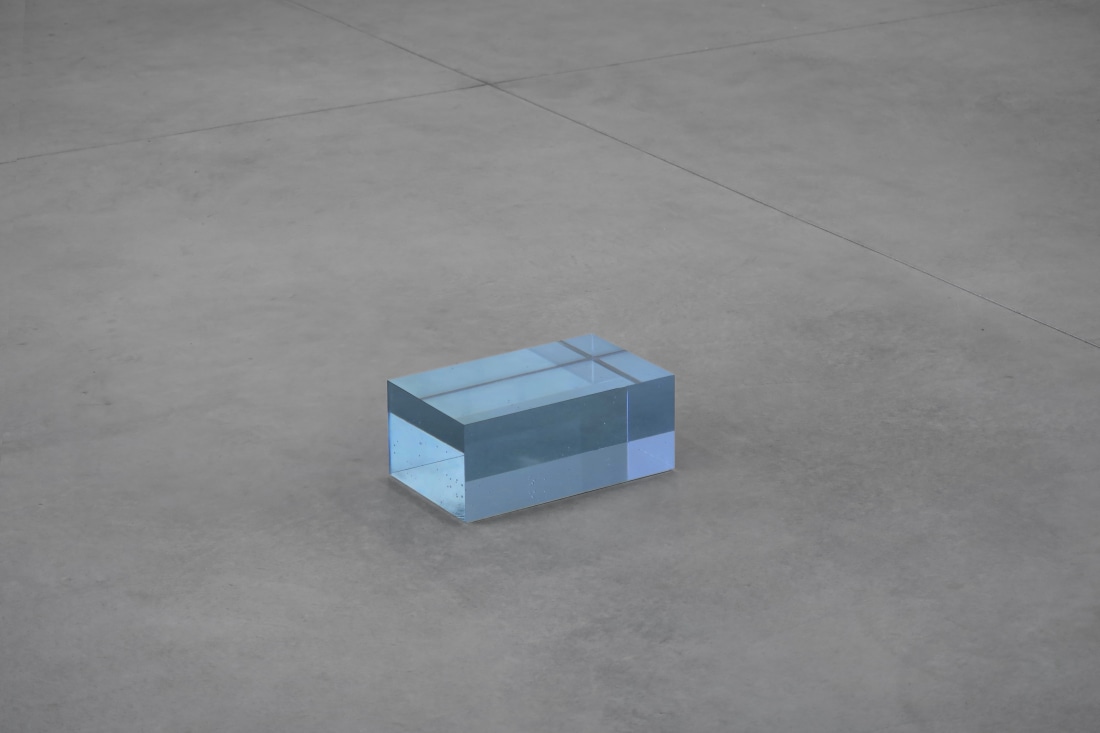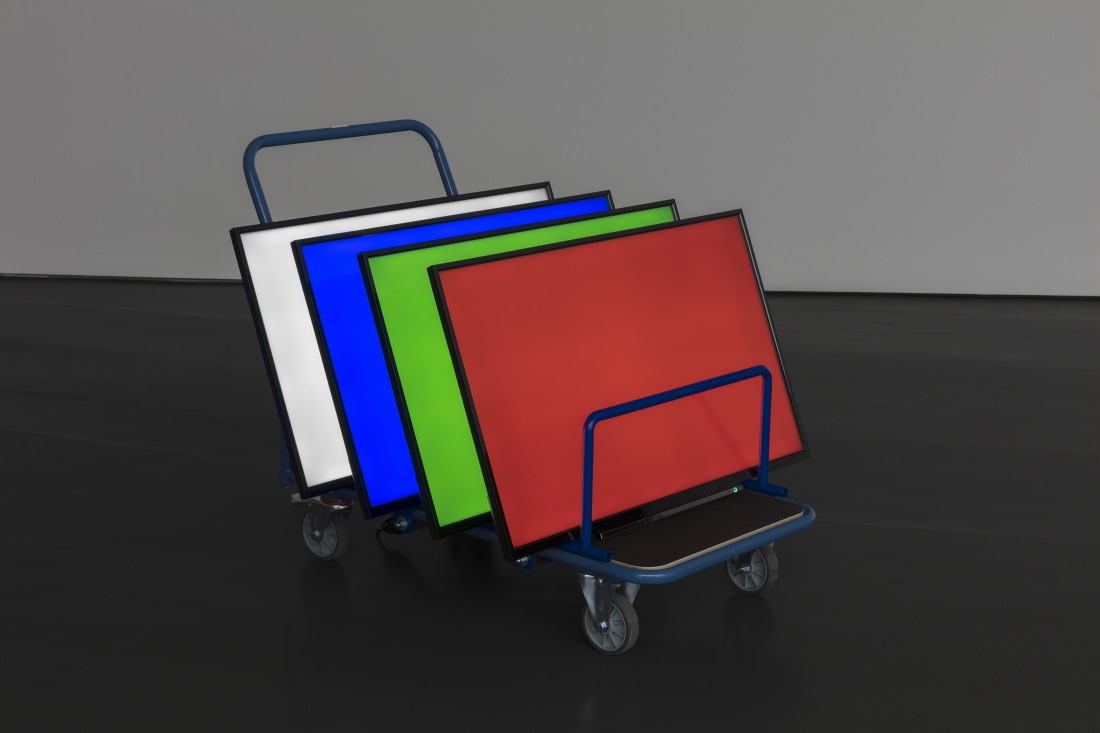 TAO HUI
---
Screen as Display Body consists of four LED screens mounted on a trolley. Each broadcasts a single color: red, blue, green, and white. The work refers to the RGB color model, used for image display in TVs, in which red, green and blue are combined in various ways to reproduce a wide array of colors.
Tao Hui's immersive multimedia installations bend the boundaries of fiction and reality to address cultural and identity related issues. His works are visceral and provocative, yet enlightening and always imbued with a strong emotional power and a sense of displacement, inviting the viewers to confront themselves with their own cultural history, ways of living and identities.
KARIN SANDER
---
The work consists of several differently colored table tennis balls that have been polished to a high gloss. As in the artist's Wallworks, that consist of polished sections of a wall, the discrepancy between the economy of means and the disproportionate effort needed to achieve this impression of simplicity adds a laconic, dry wit and playfulness to the strikingly sensual work.

Karin Sander's work uses found settings and objects to uncover aesthetic properties of our surroundings that usually go unnoticed but, made visible, fundamentally alter our understanding in subtle but often startling and eye-opening ways.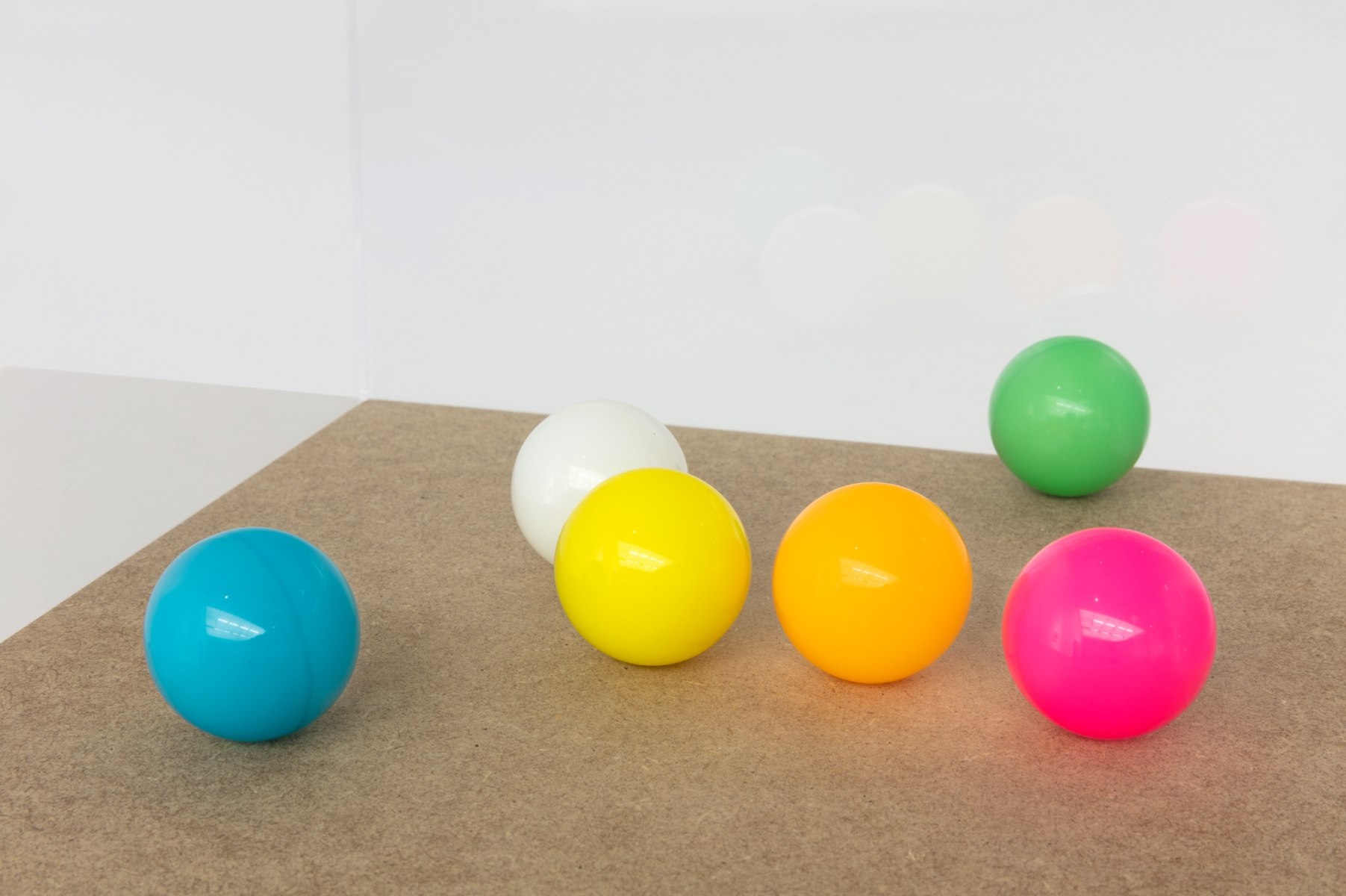 GABRIEL KURI
---
Gabriel Kuri's untitled (AE DEC 18) consists of a number of objects in different colors made from hard plastic (High Molecular Polyethylene) that have been arranged in a loose grouping. Their shape is taken from a standard fastening clip, a closure best-known for use on packages of sliced bread (but also used to seal bags of fruit and other perishables). Small and made of flexible polystyrene in a range of colors—which can also signify the day on which, for example, the bread was baked—they are usually inscribed with packaging or expiration dates ("best by…," "sell by…").
First invented in the early 1950s by an American entrepreneur, the clip—colloquially known as "bread clip" or under its brand name Kwik Lok—is a familiar sight in North American grocery markets. Kuri has enlarged the shape and rendered in in thick, sturdy plastic, each inscribed with individualizing letters or a sell-by date.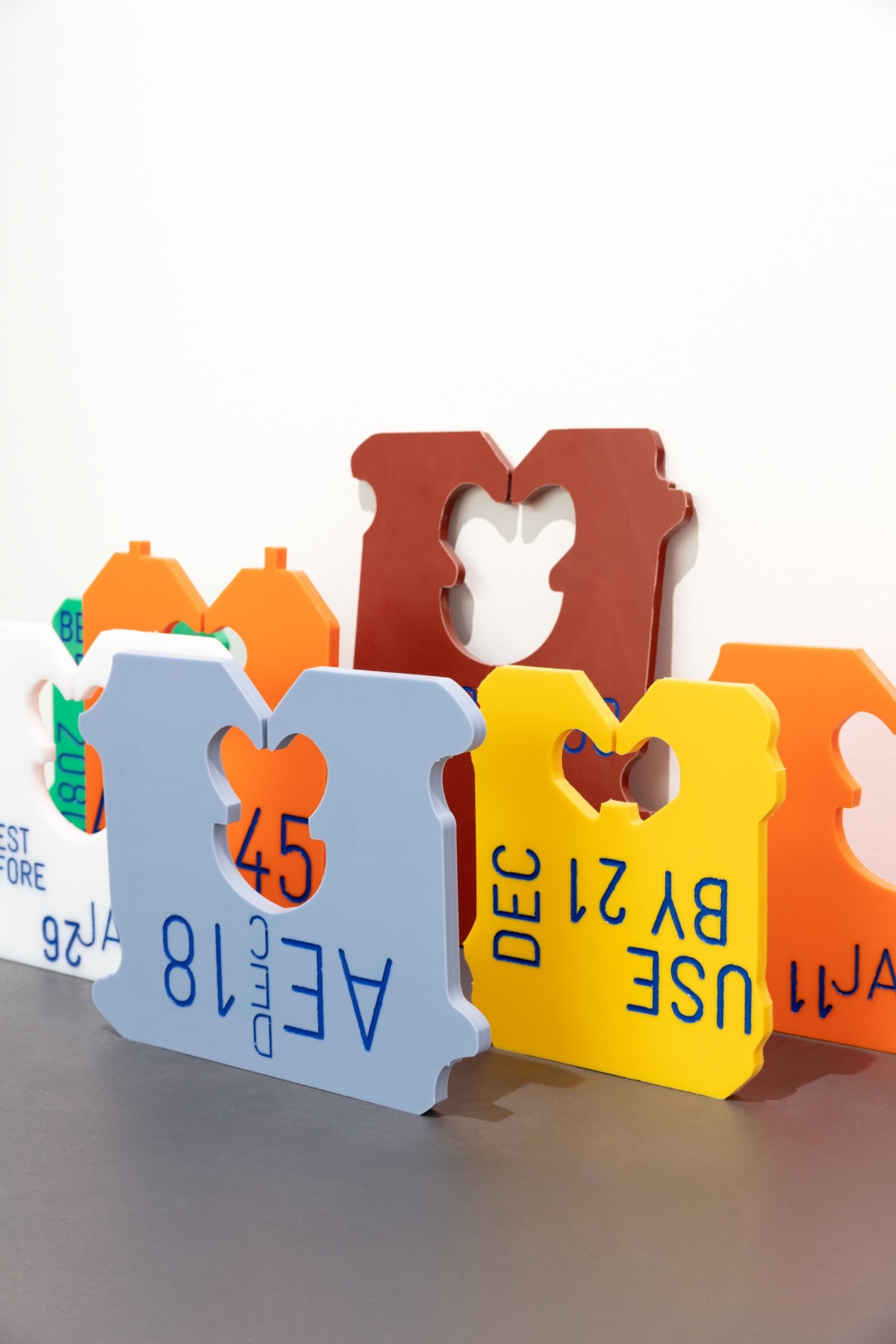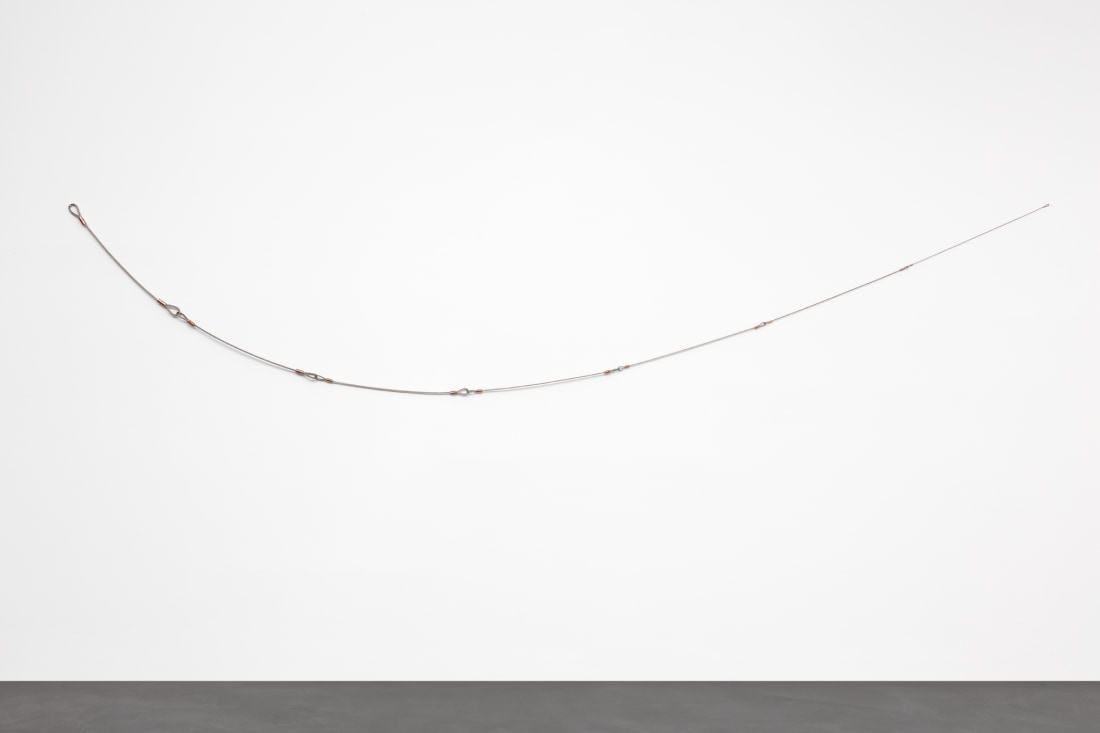 JAC LEIRNER
---
A series of 70 cm steel cables, attached to one another to form a gently dropping curve, organized by diminishing thickness of the individual wires, Jewel is characteristic of Jac Leirner's repurposing of found or store- bought materials to produce works that playfully recall the legacy of Minimalist sculpture, albeit with a utilitarian twist: the materials she uses appear to embody their function even as there are largely freed of any purpose, thus the cables connect, but only to one another.
The works of Jac Leirner are often created from mundane or formally unremarkable materials such as bank notes, blankets, cigarette paper, or water levels. Her large-scale installations recall the formal stricture of minimalist seriality and the evocative use of found materials characteristic of Arte Povera, while at the same time offering commentary on social codes.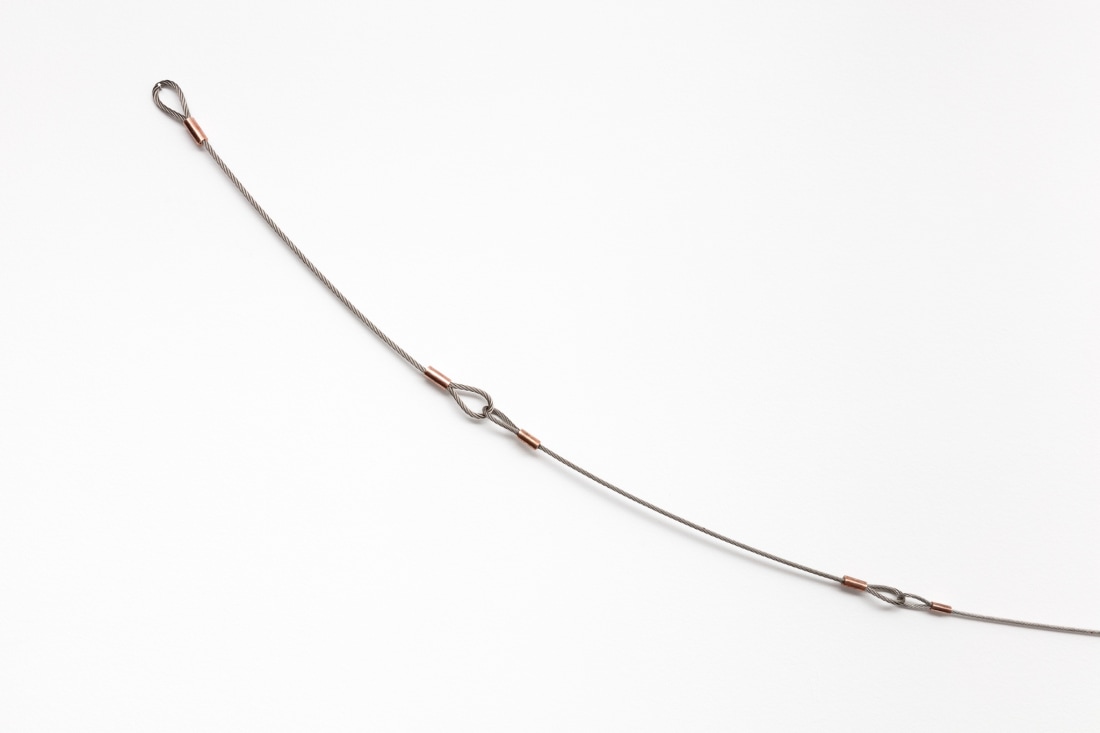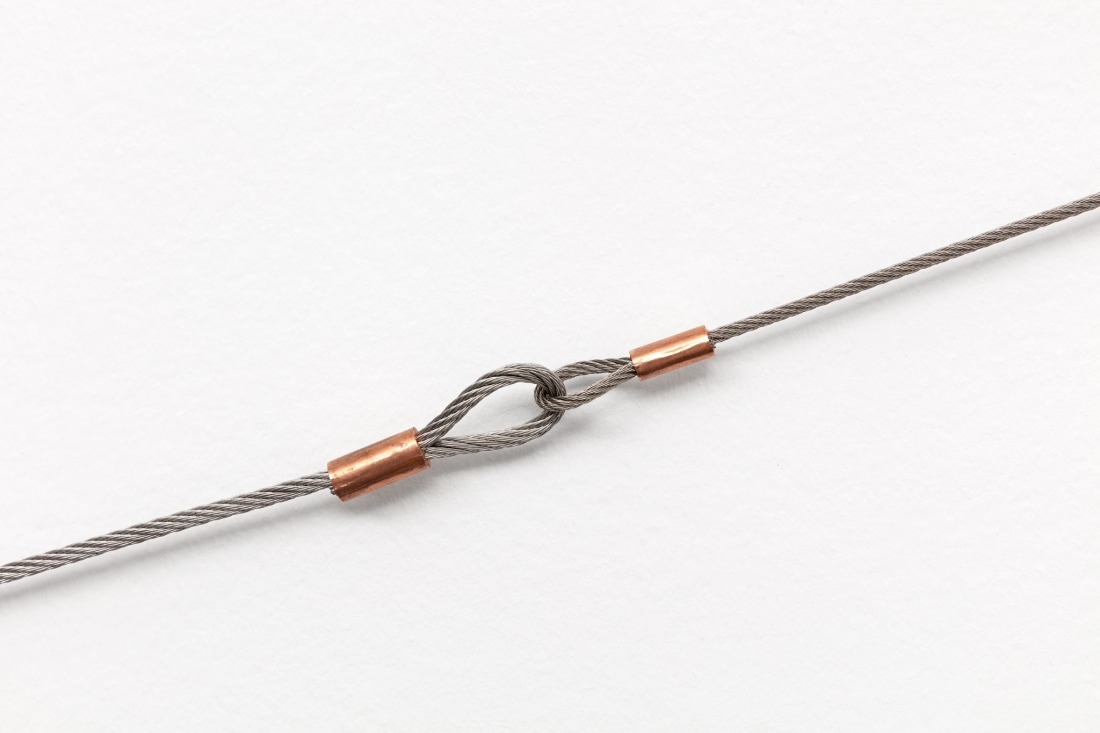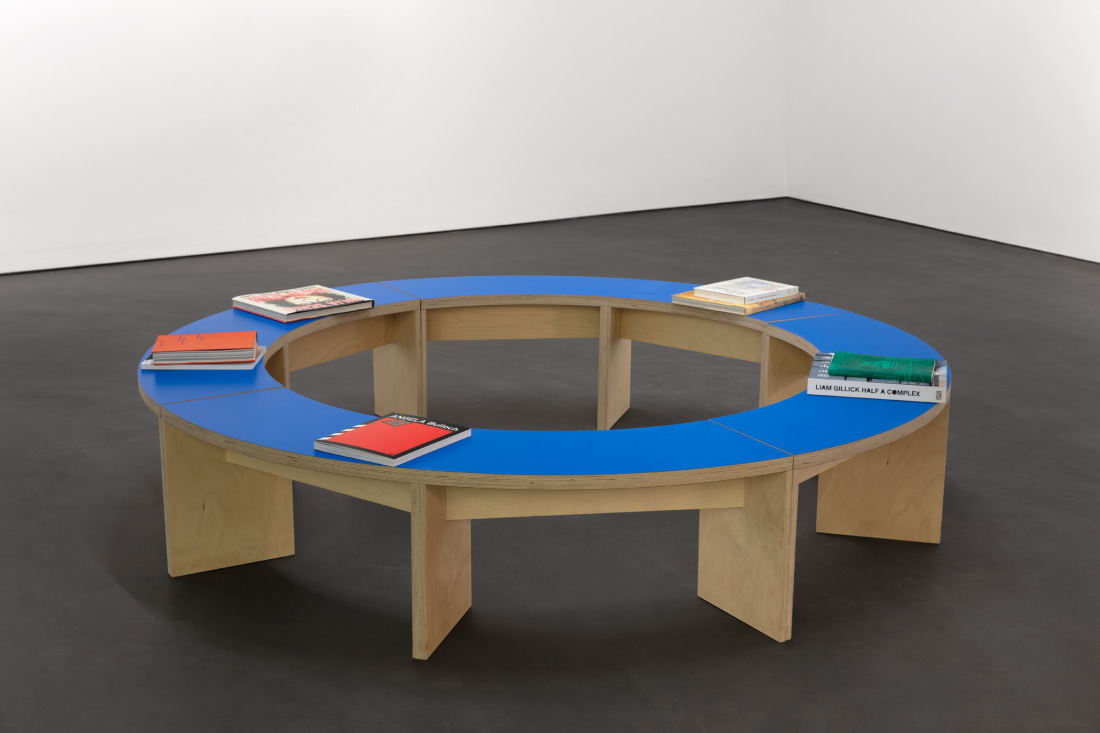 LIAM GILLICK
---
The blue seating/display ring Prototype Seating For A Revised Production Centre was created in 2005 and relates to the post-utopian scenario outlined in Construcción de Uno. The scenario was re-addressed by the artist in a number of exhibitions, performances and books of Factories in the Snow cycle.
Gillick's project Construction of One — a book project (and 2005 exhibition at the Palais de Tokyo in Paris) — explores the story of a closing northern European factory and the fate of semi-contented former factory workers once they have exhausted their productive play in their former site of work. Their days get consumed attempting to evaluate new models of production towards an economy of equivalence, where one unit of input, whether intellectual or physical can produce one unit of output. Their economic and social models seem to improve and become more and more elegant as the book progresses until we realise that it is they who have become the drained element in the process.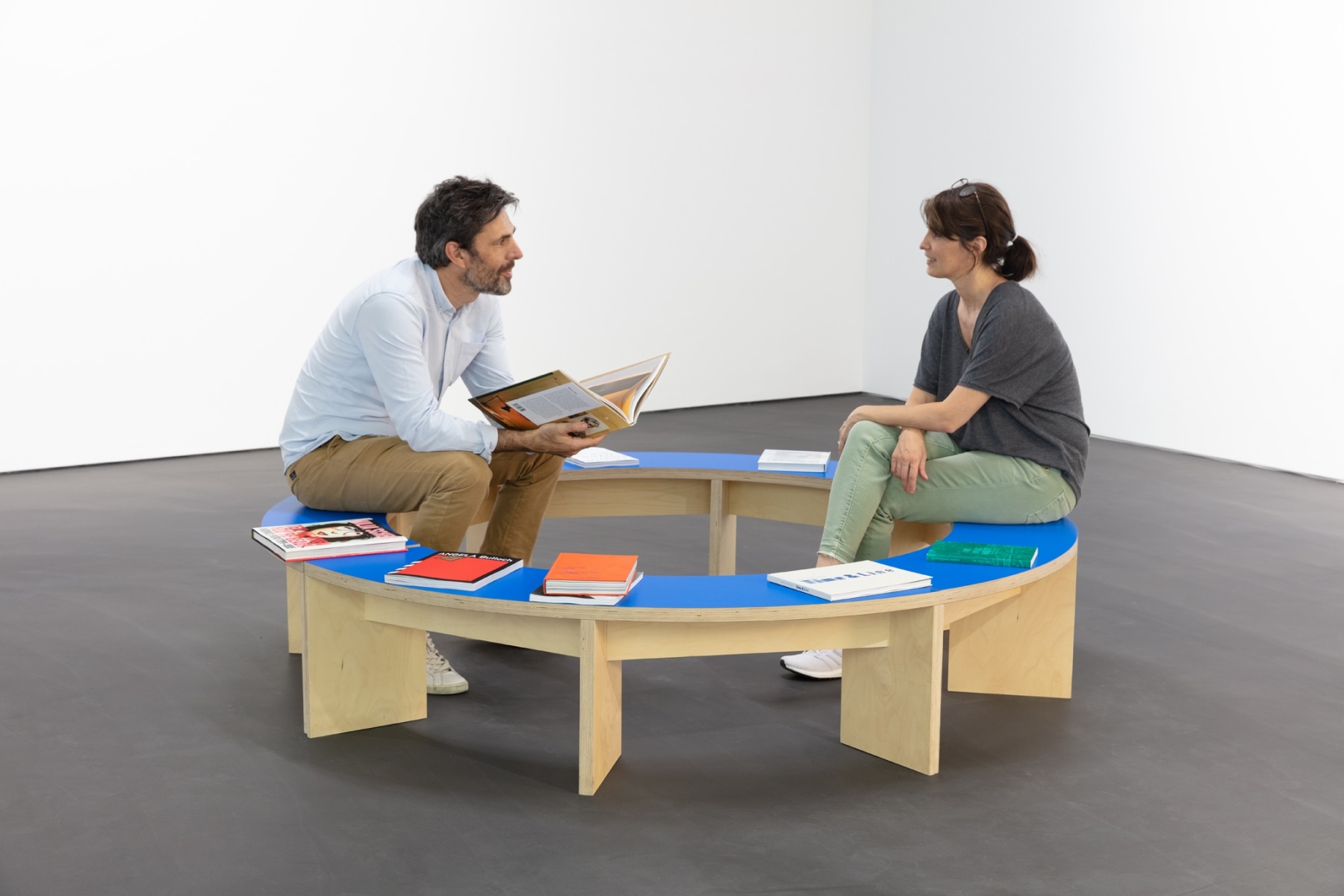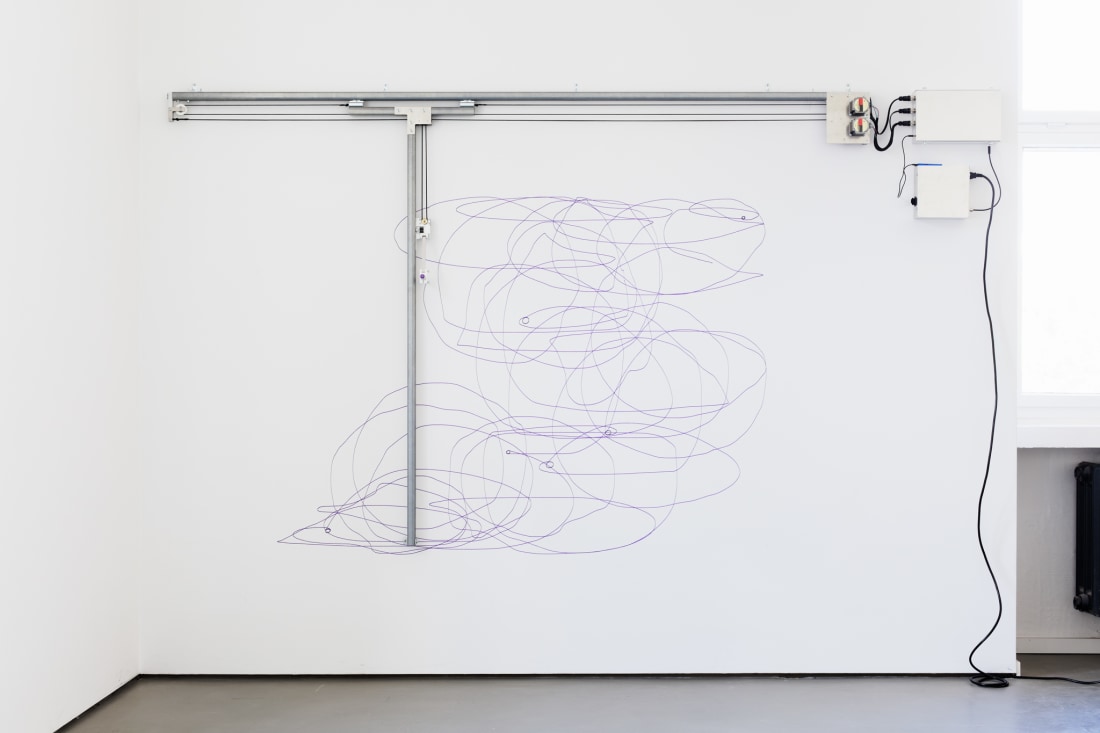 ANGELA BULLOCH
---
Dynamic Stereo Drawing Machine is the latest iteration in Angela Bulloch's major body of work: Drawing Machines (1990–ongoing). The work is an automated machine that draws on a sheet of paper placed on the wall. Two metal rails hold the mechanism that executes the drawing: a longer horizontal and a shorter movable vertical part. The latter one holds a pen that is pulled across the surface of the wall by combining horizontal, vertical, and elliptical movements. A small metal box on the right contains the apparatus that steers the machine.
This drawing machine is part of a more recent series that executes elliptical lines creating rounded shapes (somewhat reminiscent of human doodling). Like other drawing machines the current work reacts to a particular impulse, but unlike earlier ones, Dynamic Stereo Drawing Machine's input mechanism has been designed to accommodate rounded motions possible. The machine's movements are generated via an integrated internal microphone that respond to a sound impulse.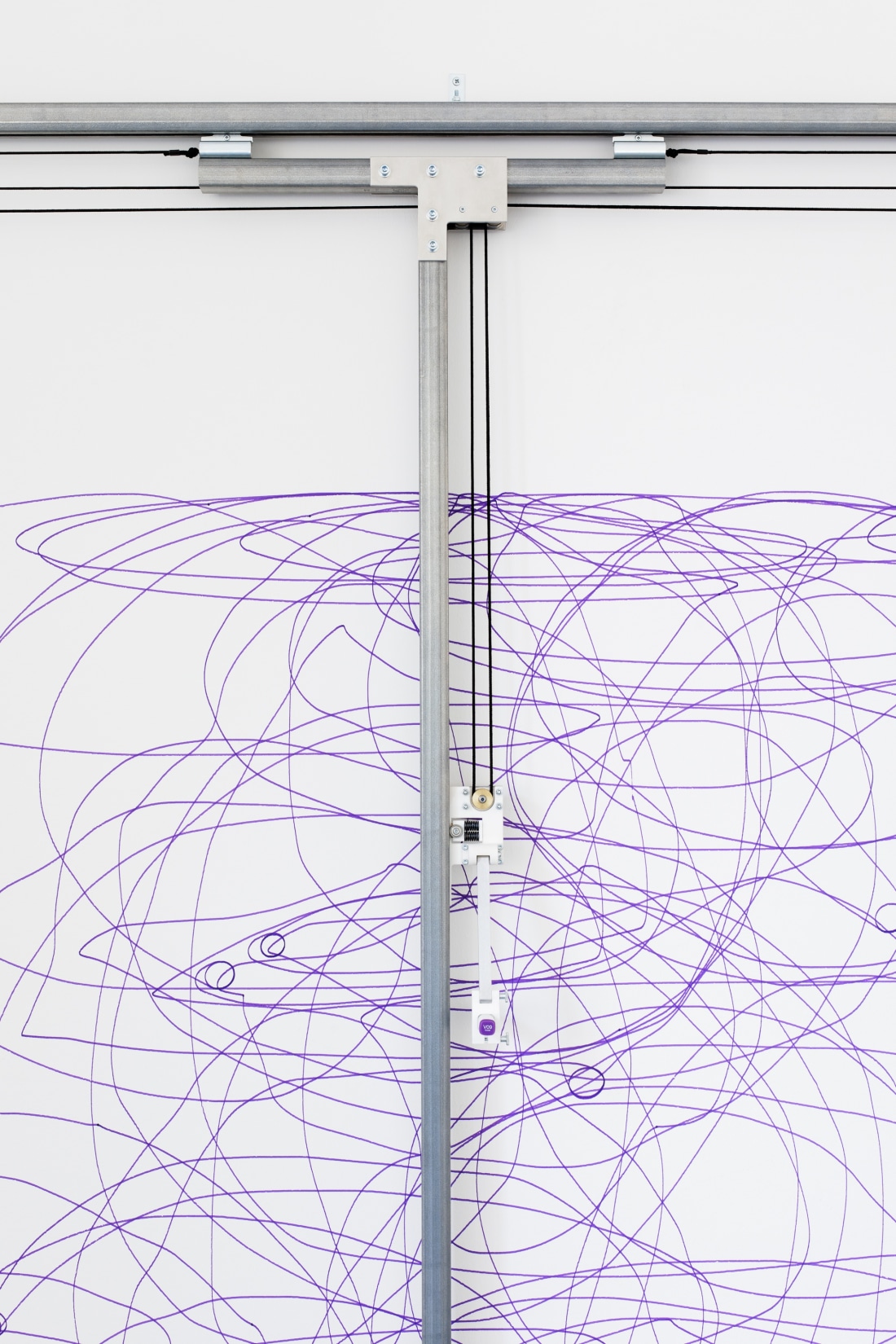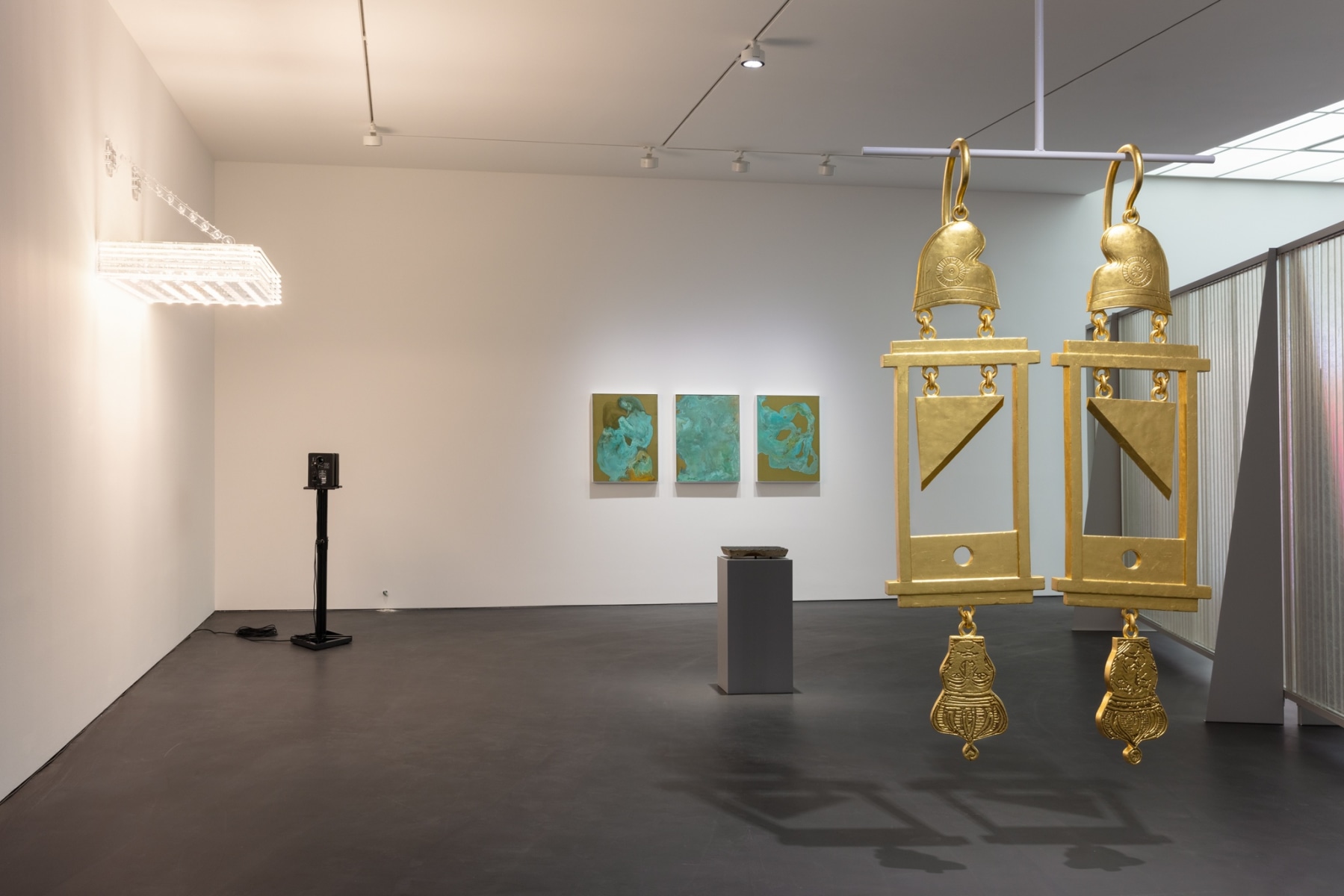 SIMON FUJIWARA
---
The point of departure for Simon Fujiwara's new sculpture is a pair of earrings in the shape of two guillotines with the heads of Queen Marie-Antoinette and King Louis XVI hanging from them; the earrings are believed to be made and sold around the time of the French Revolution. Fujiwara has digitally reproduced and enlarged the earrings to create a monumental sculpture printed in 3D and hand-gilded in 23K gold.
For the artist, "The work connects deeply to my ongoing study of human-product-object relations, and the commodification of 'everything' that is reaching a peak today. They are a gruesome but glorious reminder of the ways human capitalize and reinvent almost any kind of event but they are also a celebration of the human ingenuity to convert everything into some form of object or celebration, in this case, the perversity of celebrating the fall of a kingdom that was plagued by excess and overspending by making gold earrings."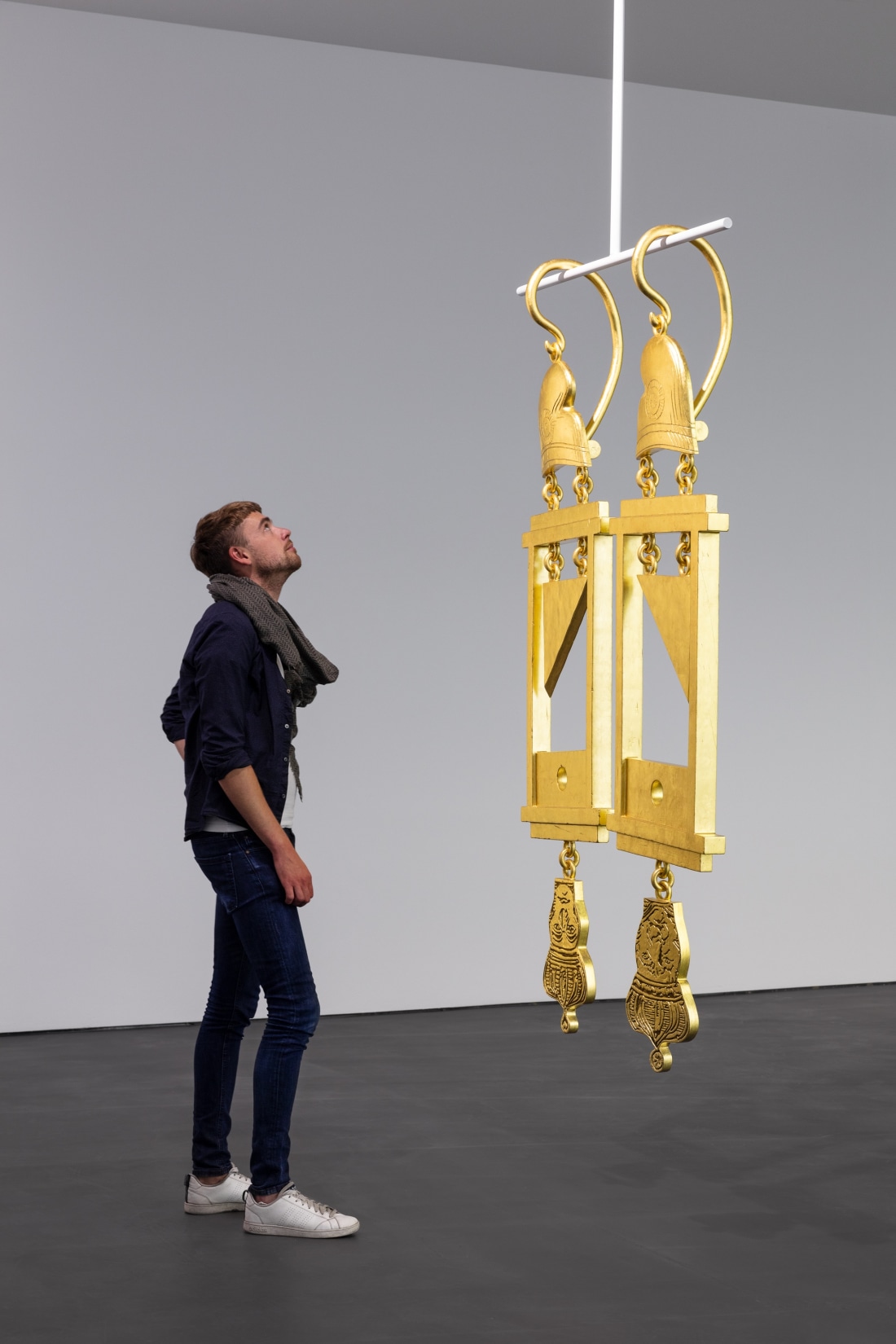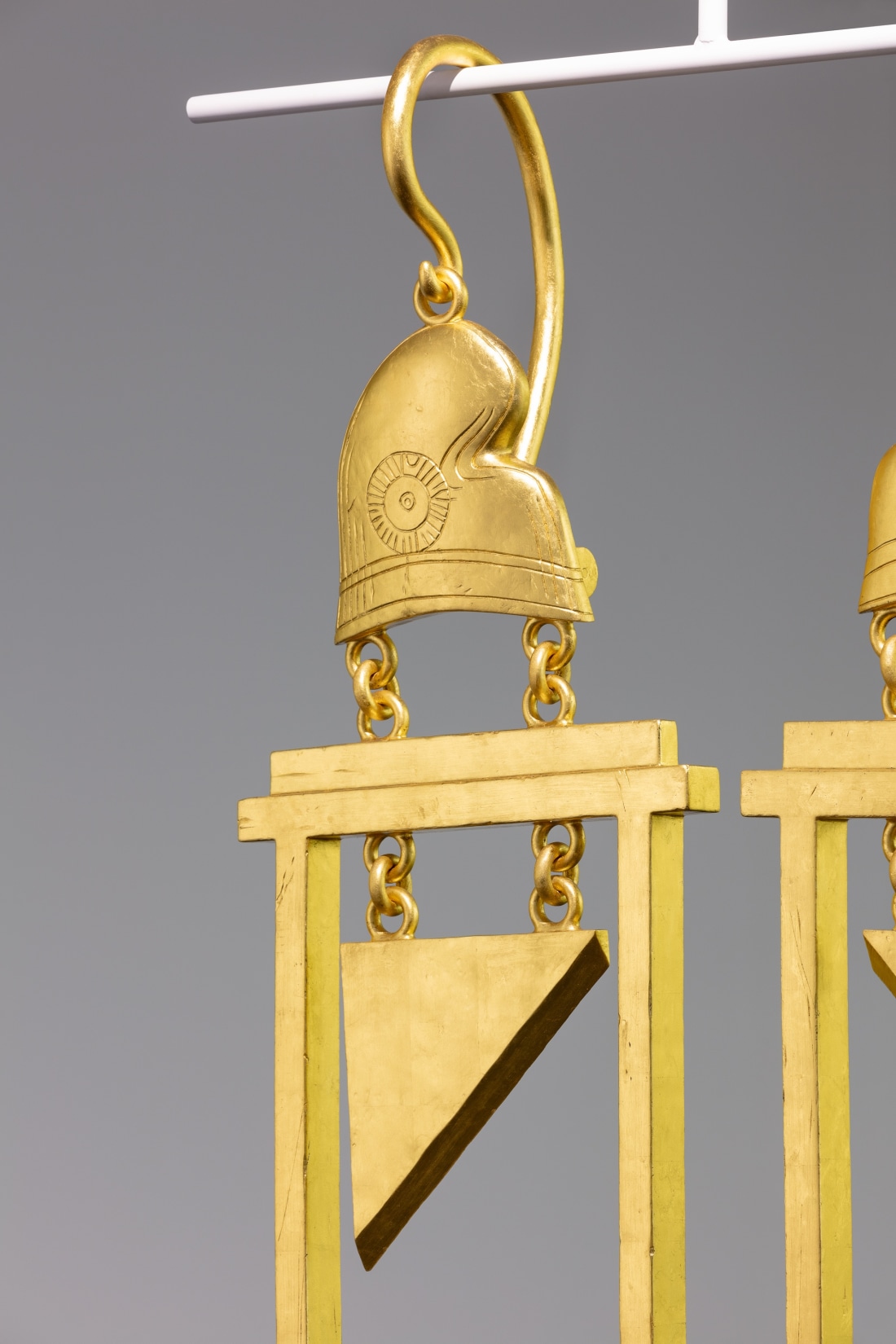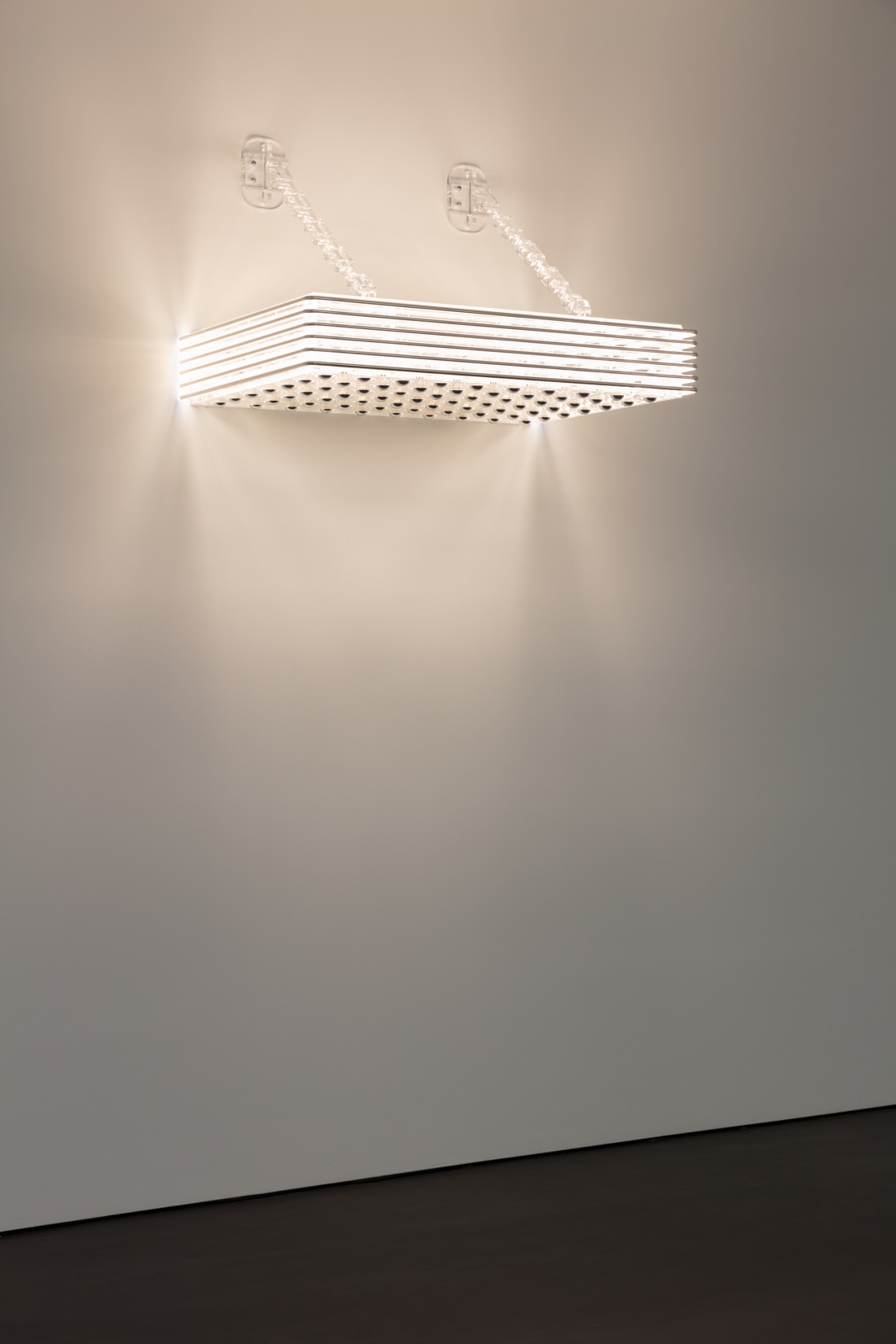 PHILIPPE PARRENO
---
Philippe Parreno's Marquee belongs to an ongoing body of work started in 2006 that consists of more than 60 existing marquees to date. The rectangular corpus made of transparent Plexiglas houses 70 white light bulbs arranged on a grid; it is strapped with 6 white neon tubes. The light bulbs and neon lights flicker alternatively according to five different lighting programs conceived by the artist.
Parreno's Marquees are unique pieces, individual in their form, light effect and construction. The artist's Marquees combine lighting techniques that are almost a thing of the past (such as incandescent bulbs and neon tubes) with modern acrylics that are milled, shaped and formed according to the latest fabrication methods. The light-lit planes of the Marquees carry no text, thus the works play with a level of abstraction and acquire a different meaning according to the context of an exhibition and imagination of the viewer.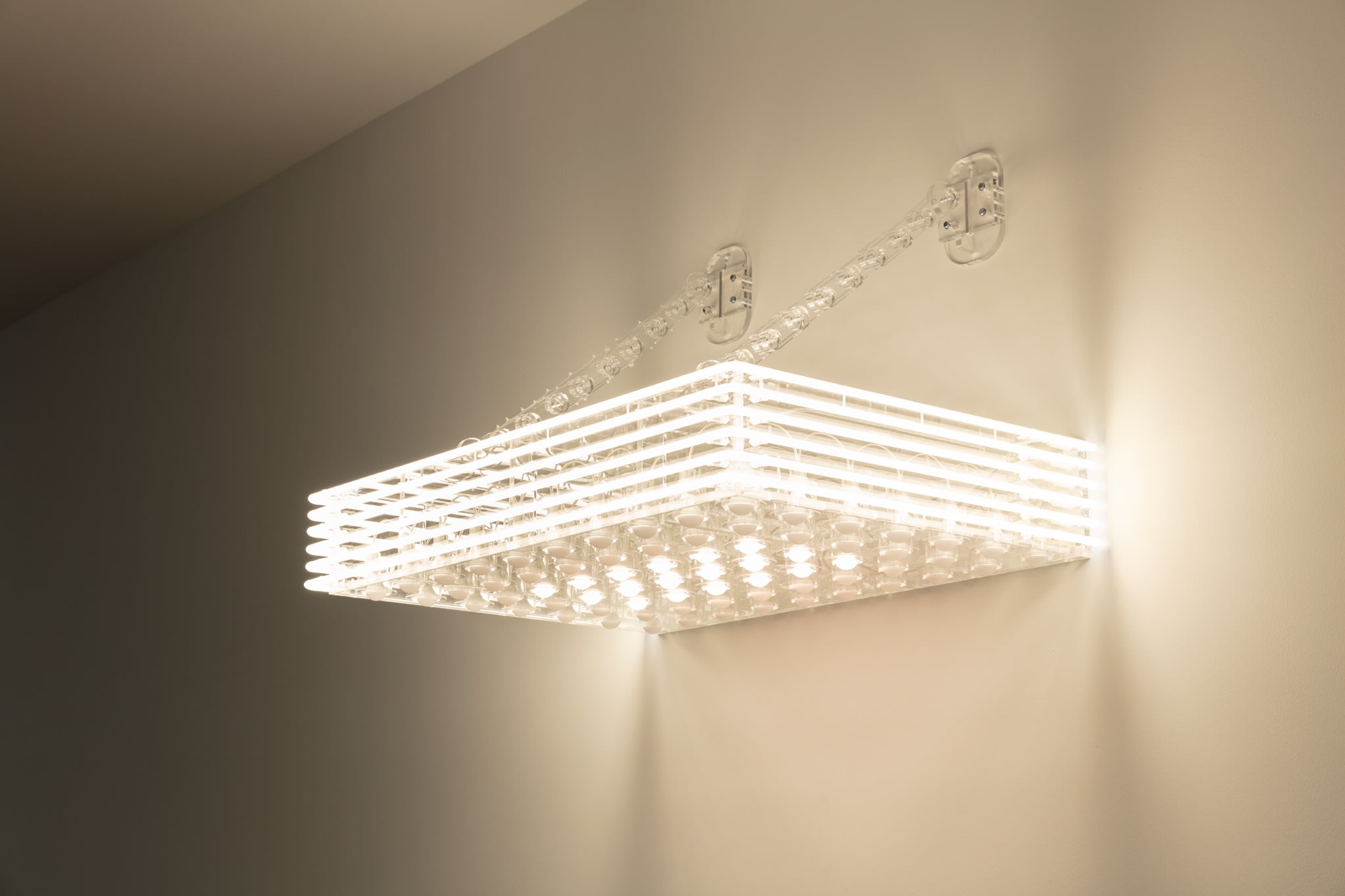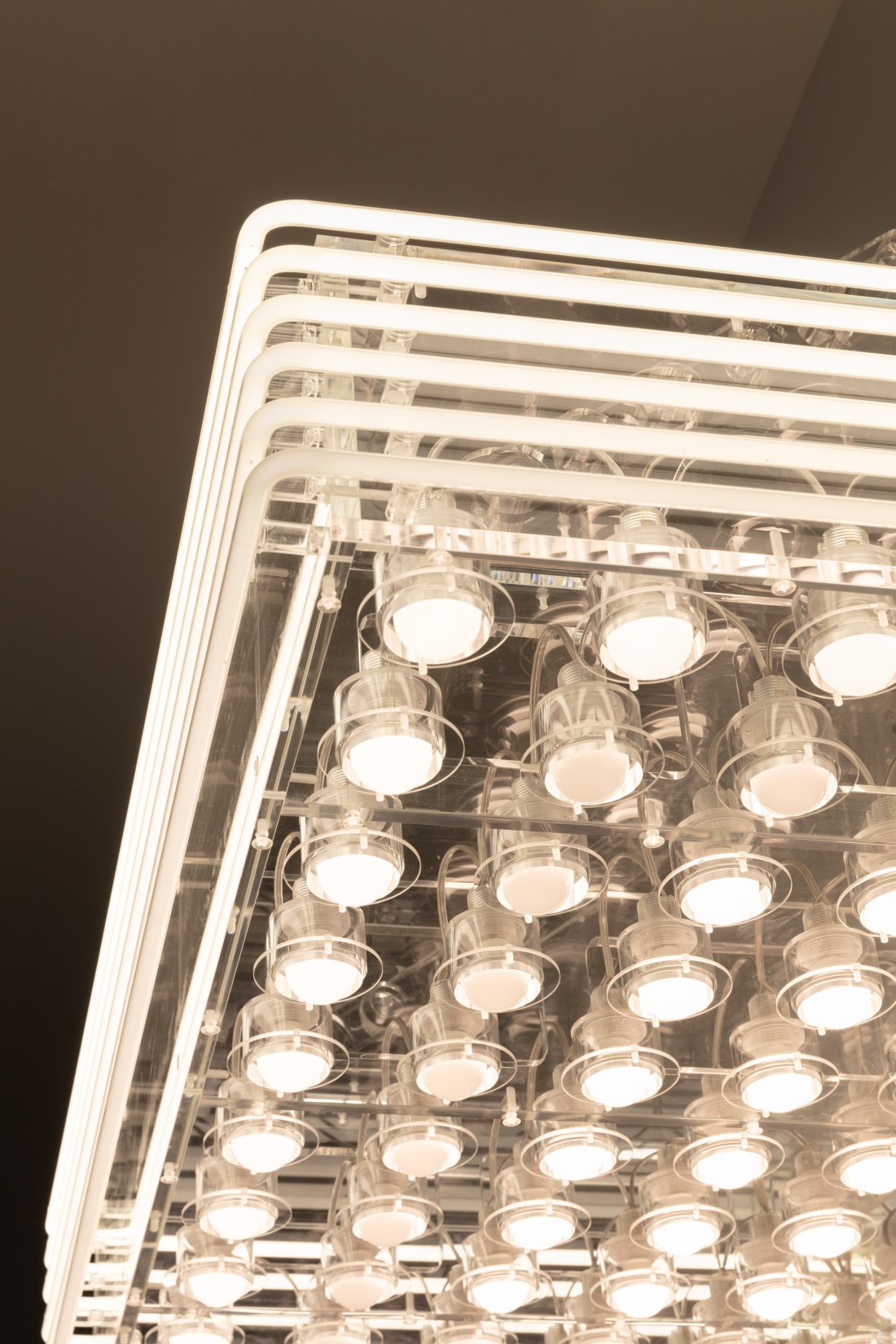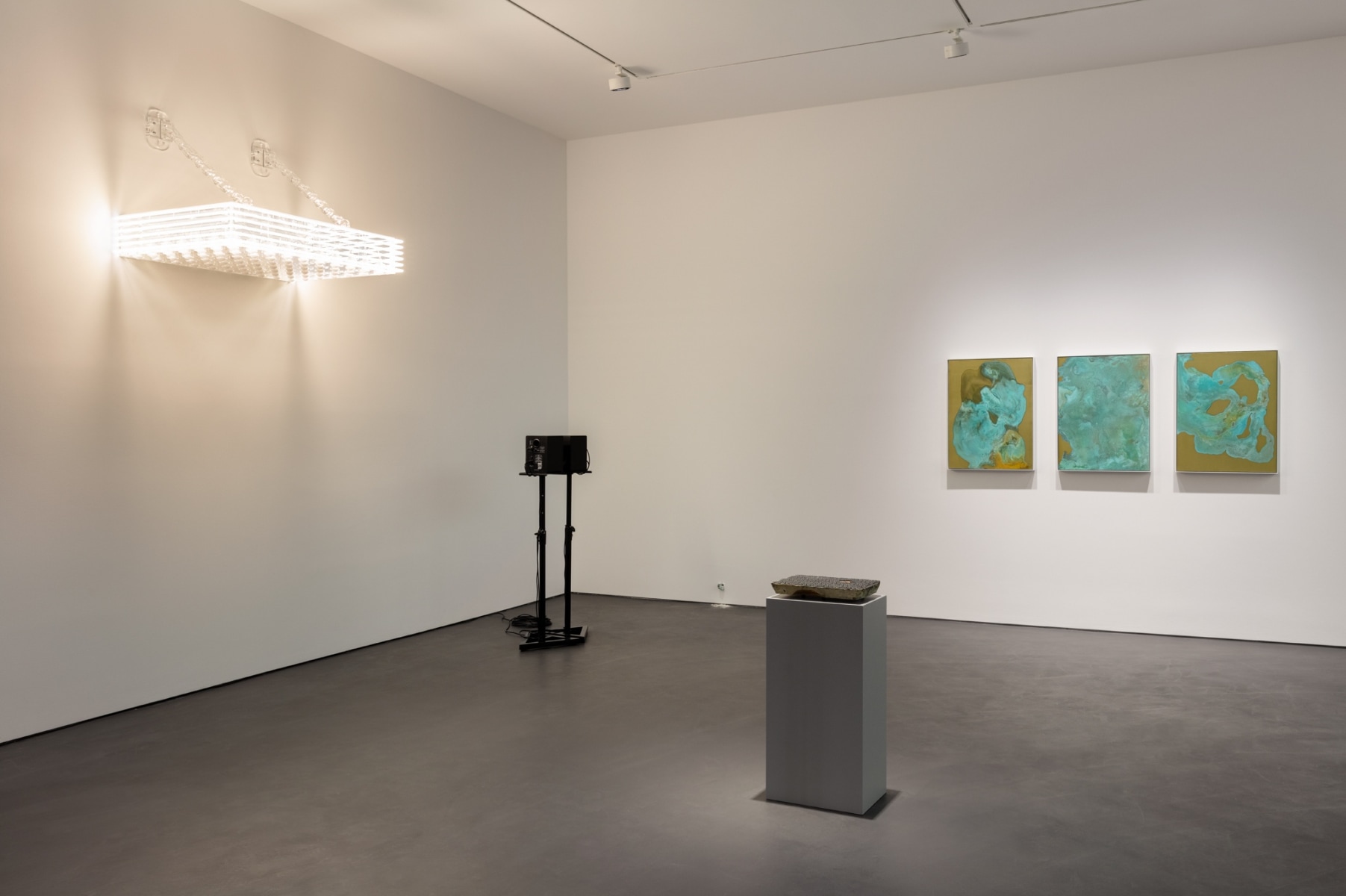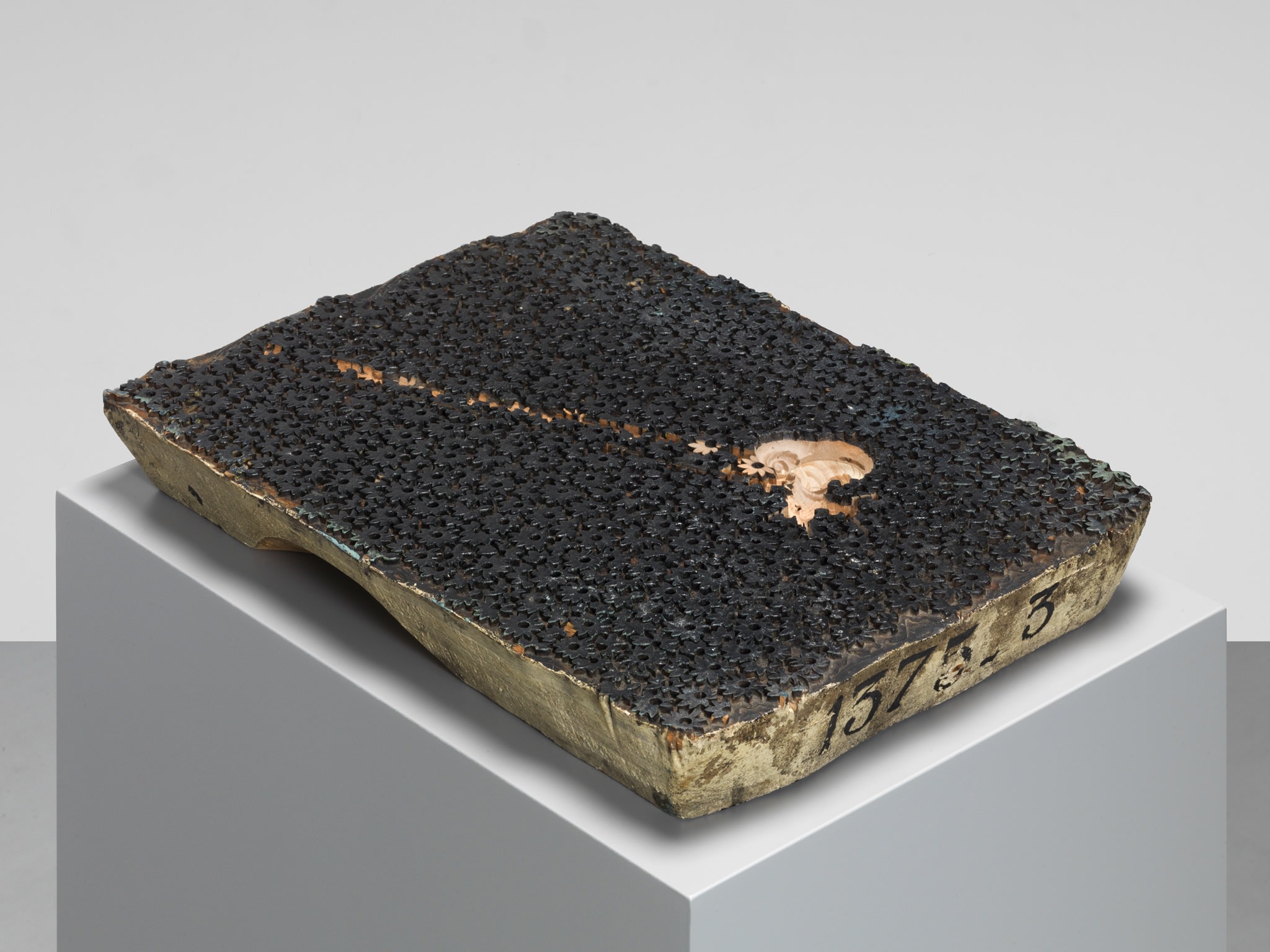 ANRI SALA
---
Anri Sala's work If and Only If (modern times) is a vintage textile printing stamp with a motif etched on its surface, presented on a plinth. The carved image depicts a snail on a viola bow. It refers to the artist's 2018 film If and Only If in which a snail travels the full length of a bow, altering the performance of the renowned violist Gérard Caussé playing Igor Stravinsky's Elegy for Solo Viola. The performance becomes both an interactive improvisation and an exchange between the musician and the animal. As the snail moves forward or slows down, the performer responds accordingly. As a result, the original score is reinterpreted, and the composition's duration gets extended.
Sala's wooden sculpture expands on time, its passing and units of measurement. While in the film the tempo of Stravinsky's Elegy is contrasted with the speed of the snail, the wooden stamp engraving creates a fossil of a film still, materializing a single frame of the ephemeral moving image.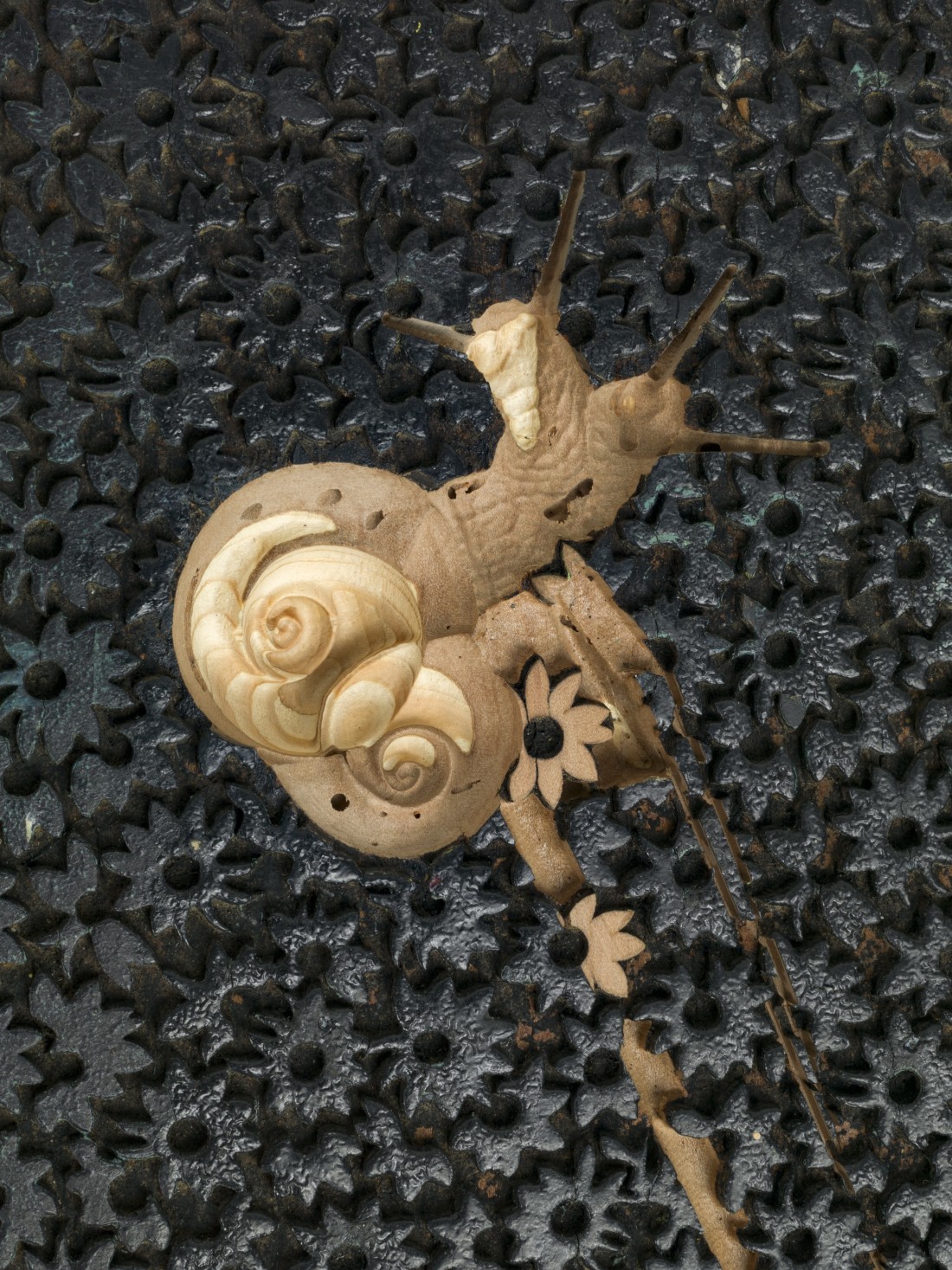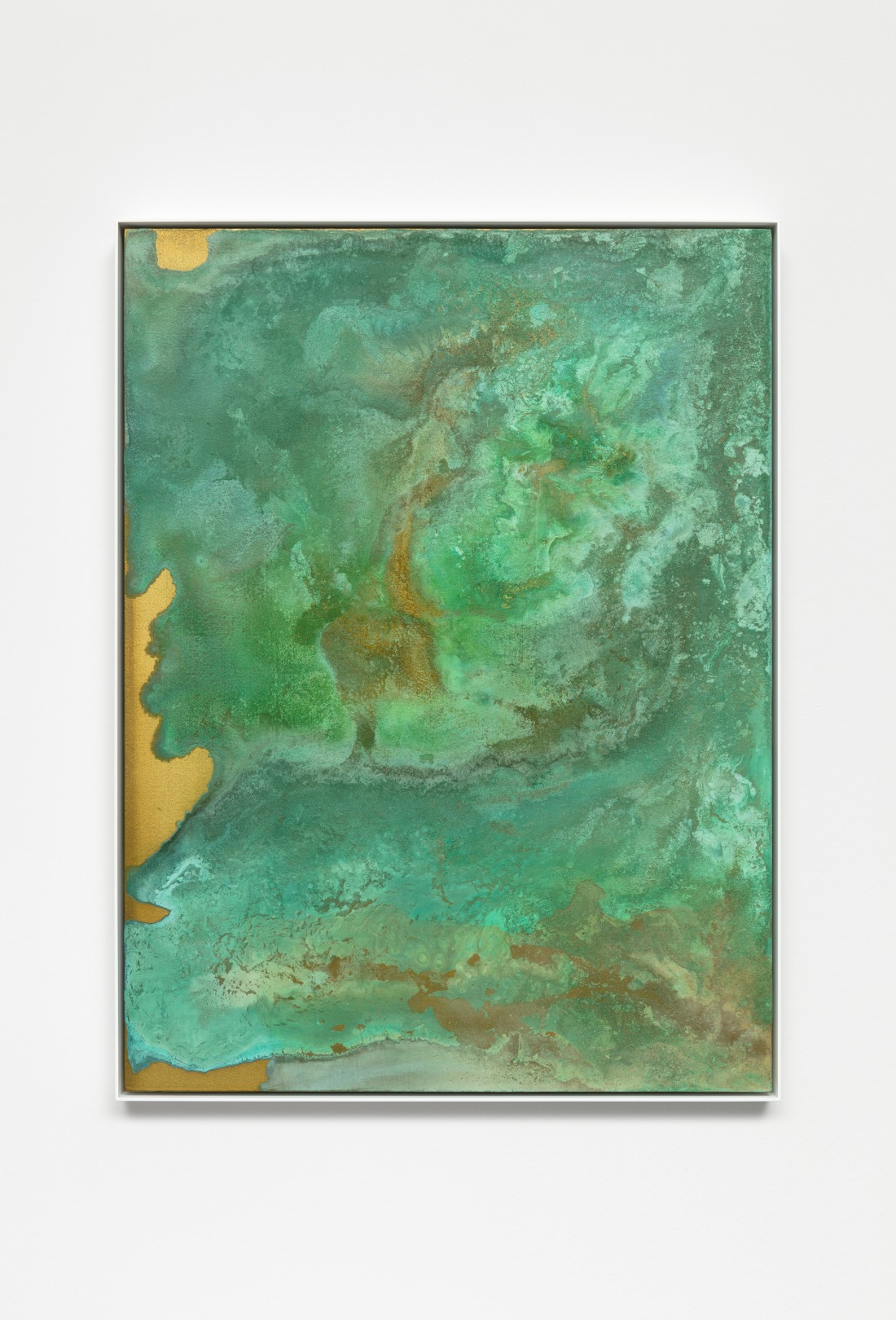 ETIENNE CHAMBAUD
---
The material basis for the Nameless series is a mixture of medium and bronze or copper dust applied on stretched canvas. Different animal urines –squirrel, mink, wolf, coyote, zebra, bear, lama, deer, dog, puma, lynx, etc.— set randomly on the canvas oxidize the metal, thus creating motifs that alter the monochromatic background.
Departing from the heroic and/or ironic figure of the artist urinating on his paintings (from Pasolini's Teorema or Warhol's Oxidation Paintings from 1977-78), the oxidations that compose each canvas are manifestations constituted and given form by the digestive processes of anonymous individuals from disparate species.
If for human eyes this only produces an amorphous image, reminiscent of human-made abstraction, yet reveals nothing of each non-human individual that "participated", these oxidations preserve, at least during the time the series is fabricated, the animal expression (scent, pheromones, proteins) contained in each of the urines. Indeed, these possess a "semiotic" quality tied to the marking of territory, social hierarchy, or the signs of coupling belonging to each individual and to each species, but inaccessible to human understanding. Crystalized by the oxidation process, the sum of animal expressions that do not address the spectator, become a thing without name or shape, an improbable chimera that can only be mentally reconstituted through a text listing the species.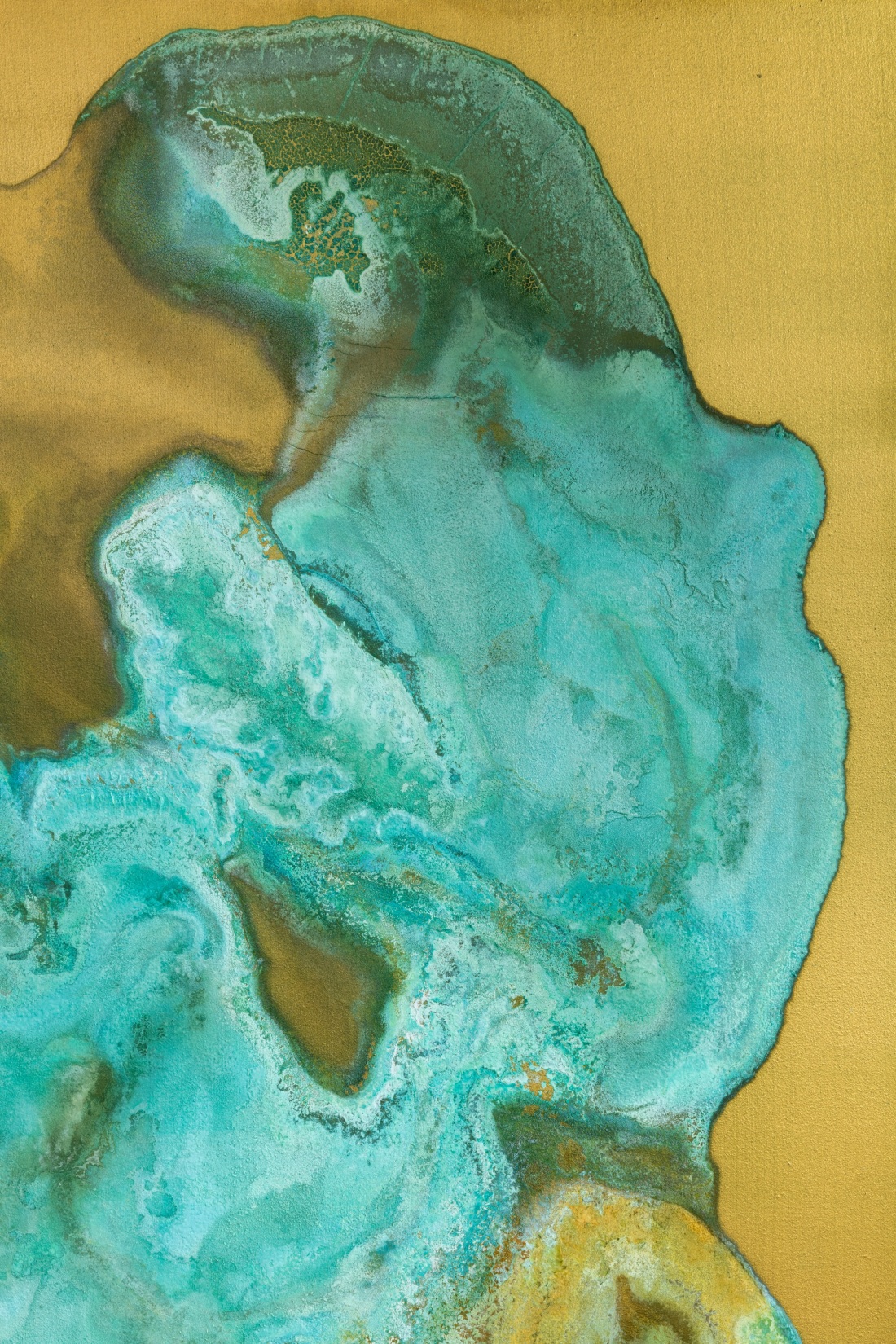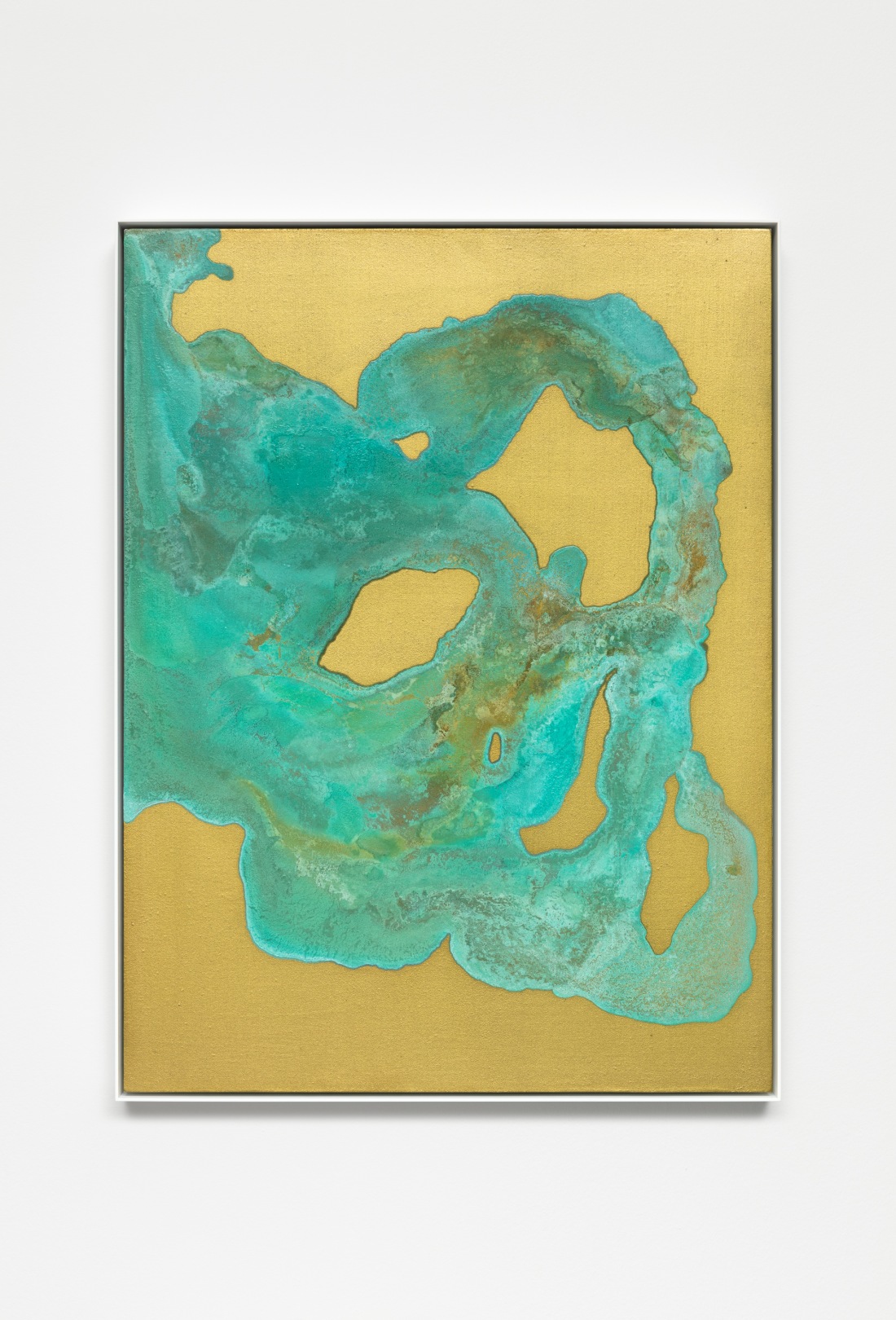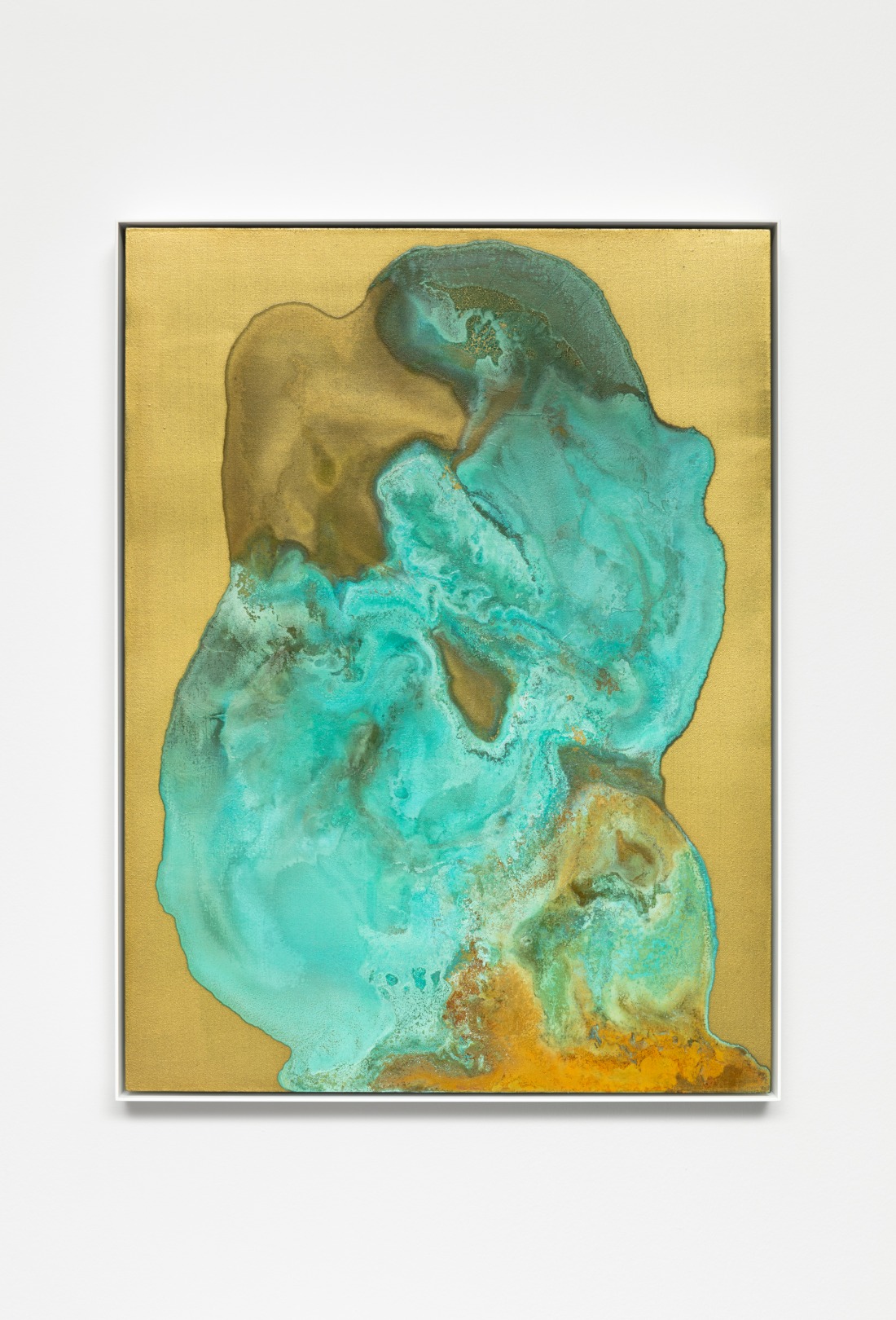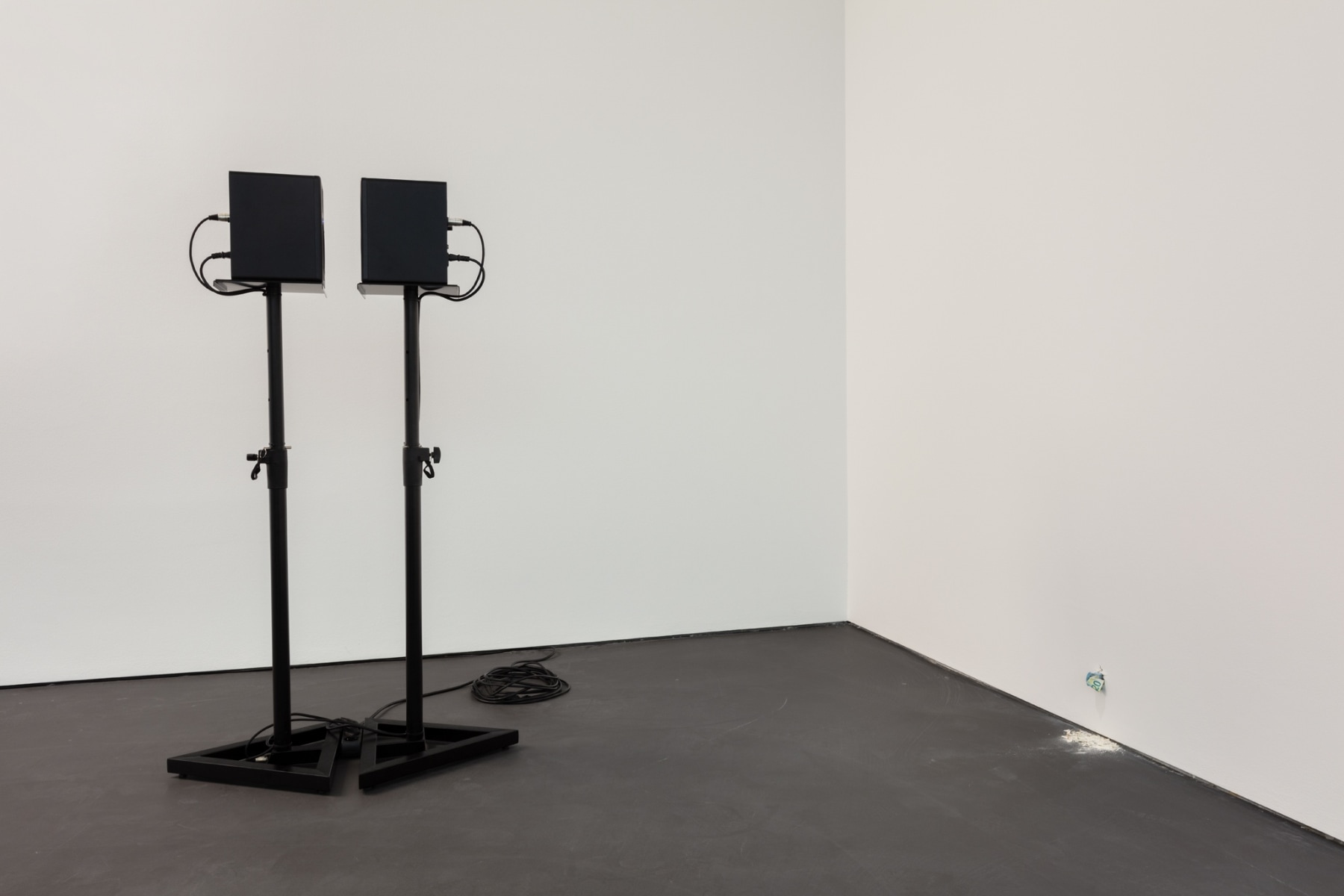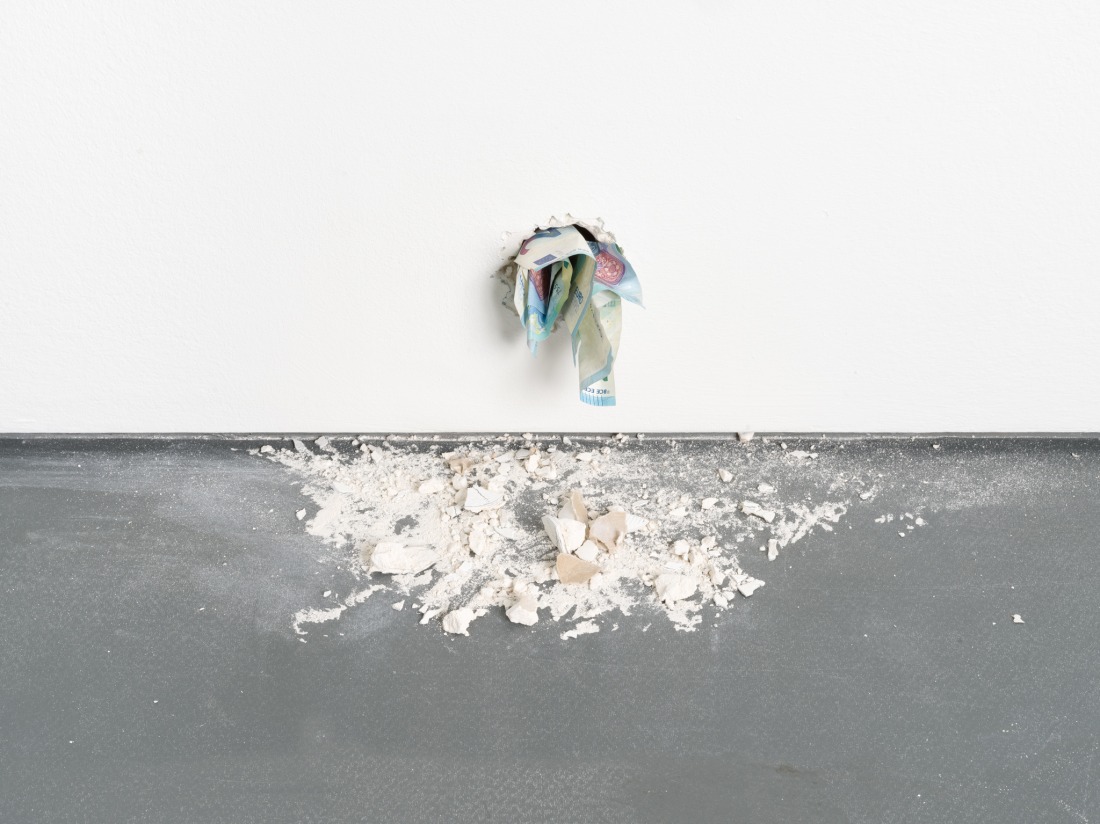 RYAN GANDER
---
I'm never coming back to London again is an iteration of Ryan Gander's animatronic works set in a wall. In this particular example, Euro banknotes of the denomination of 20 are set in a 'mouse hole' broken in the gallery wall, close to the floor. Dust and pieces of plaster are scattered below the hole as if it was punched through just a moment ago. The robotics of the work slightly moves the banknotes, and the speaker plays an mp3 file with rustling sound. The resulting effect suggests that there might be a small animal, perhaps a rodent behind it, or hints to another imaginary, playful scenario.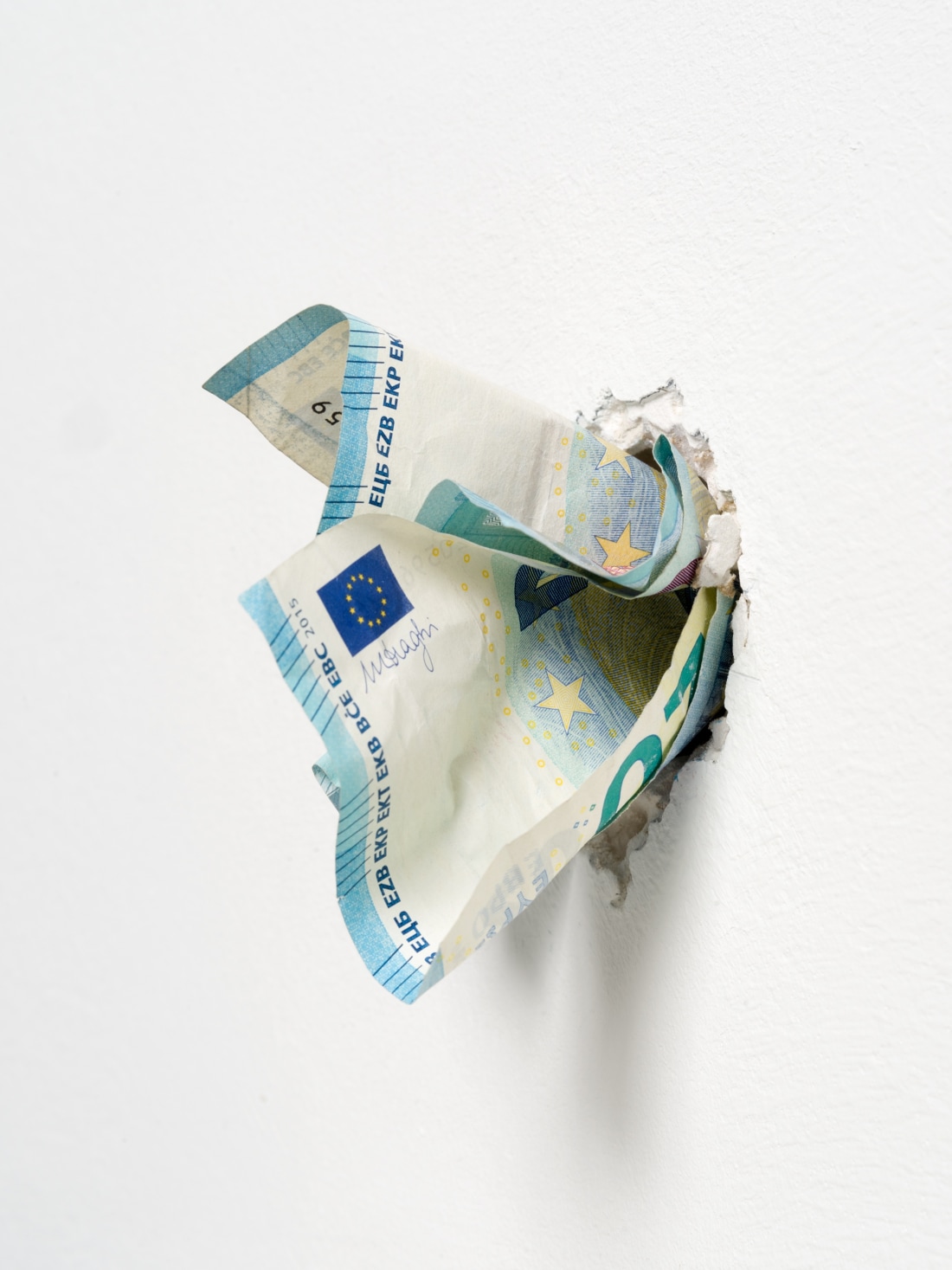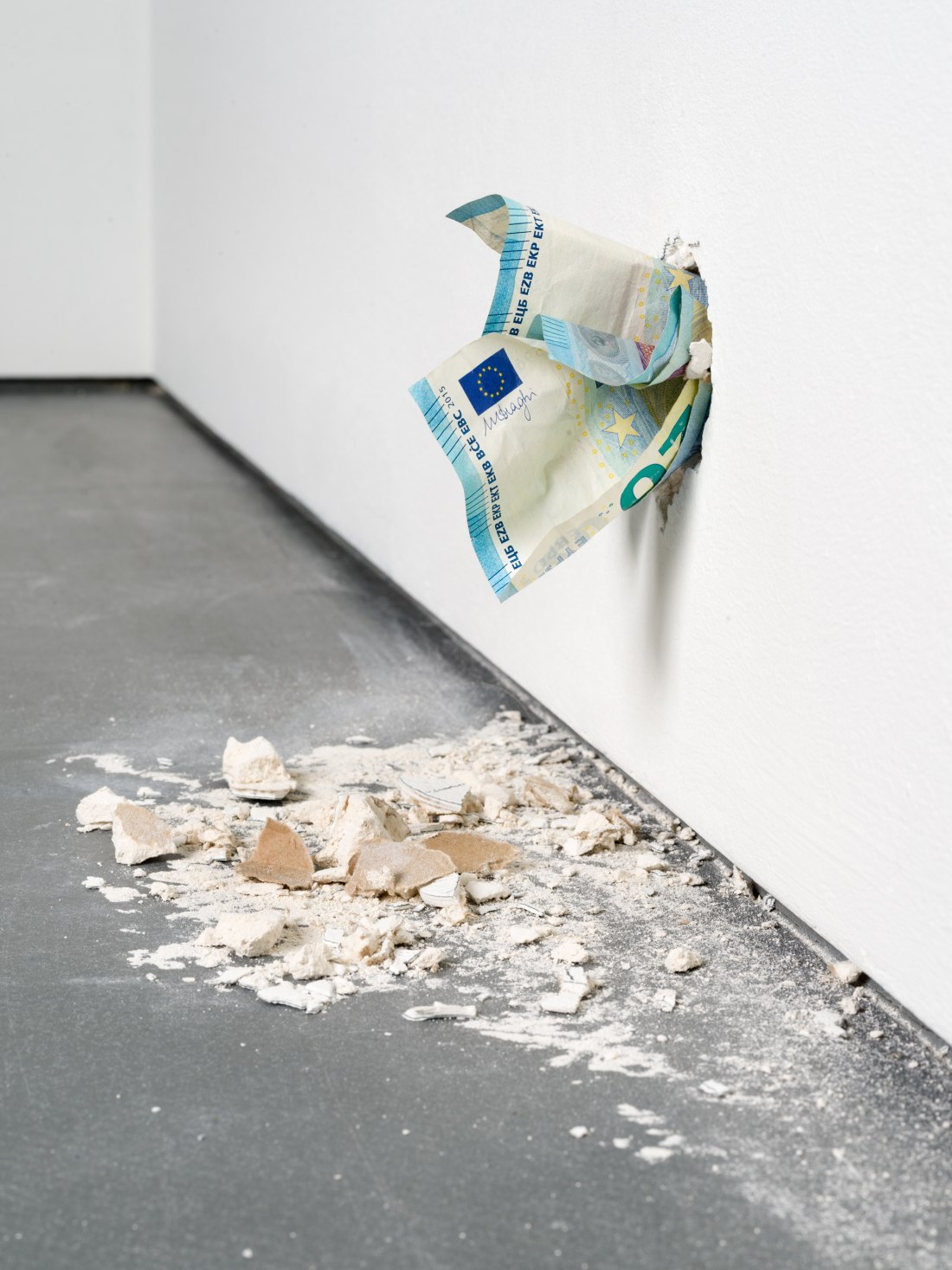 CEAL FLOYER
---
Two speakers face each other uncomfortably close, playing the sound of clapping hands. The congratulatory gesture is slightly distorted and further undercut by its repetition. The work's title, Mutual Admiration, adds an element of derision, as the term often refers to two persons entangled in a dynamic of uncritical giving of praise. Since we are listening, essentially to a dialogue of one, we may take this as Ceal Floyer's wry comment on the requirements of an artist's existence—the necessity of public display and longing for acclaim. This being said, there is of course also comfort to be had as beneficiary of mutual admiration.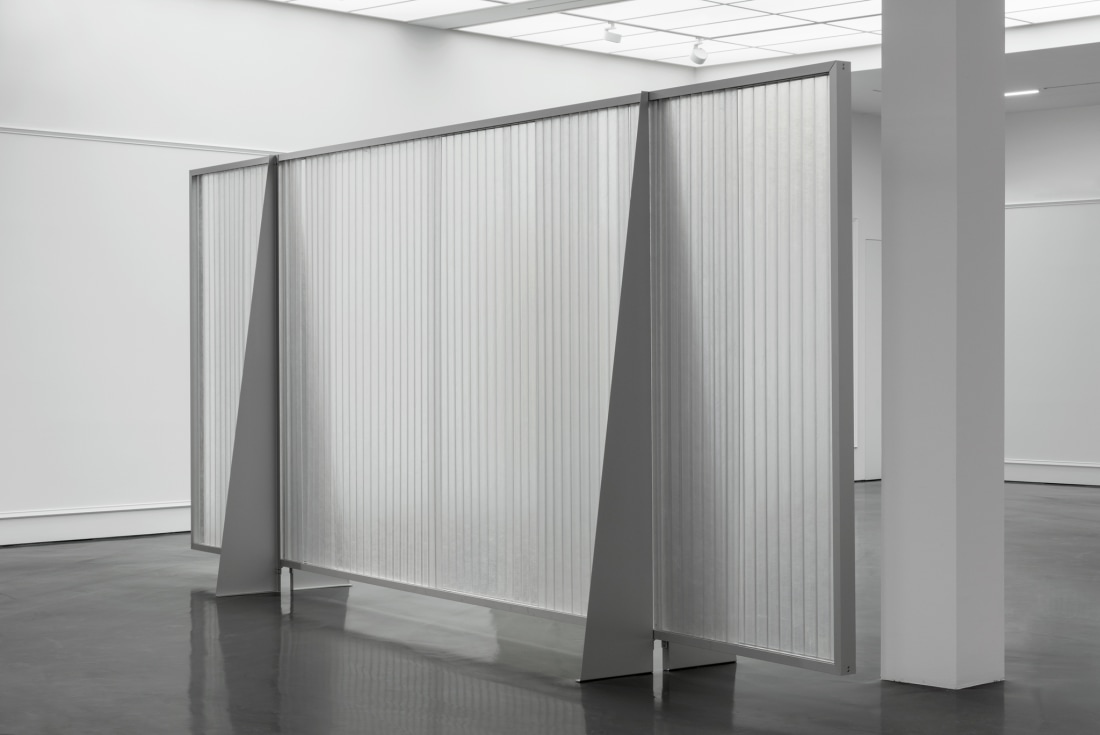 MARTIN BOYCE
---
The large-scale free-standing work functions both as divider and frame, a form Martin Boyce has employed as part of his creation of hybrid architectural landscapes to highlight the polysemy of screens as boundaries, openings, and markers of liminal spaces. Its diaphanous quality—the surface is made from semi-transparent glass-reinforced plastic mounted over a rectangular metal frame—emphasizes its function as conceptual threshold.
Large-scale gates or screens that structure Boyce's urban landscapes, creating parcours or individuated pockets of space, have combined architectural and urban references. While fences, gates, windows, composed of upturned benches, metal grilles, or chains, that recalled the temporary constructions of low-cost housing or shantytowns have been a recurring motif, this new work further articulates the implicit debt to the sliding paper walls of traditional Japanese architecture. At the same time, the translucency invokes the effect of curtains paradoxically shielding the large glass windows of modernist buildings, blurring what was conceived as an architecture of transparency, thus invoking the demise or, at the very least, a willful misreading of modernist ideas, so often a topic in Boyce's work.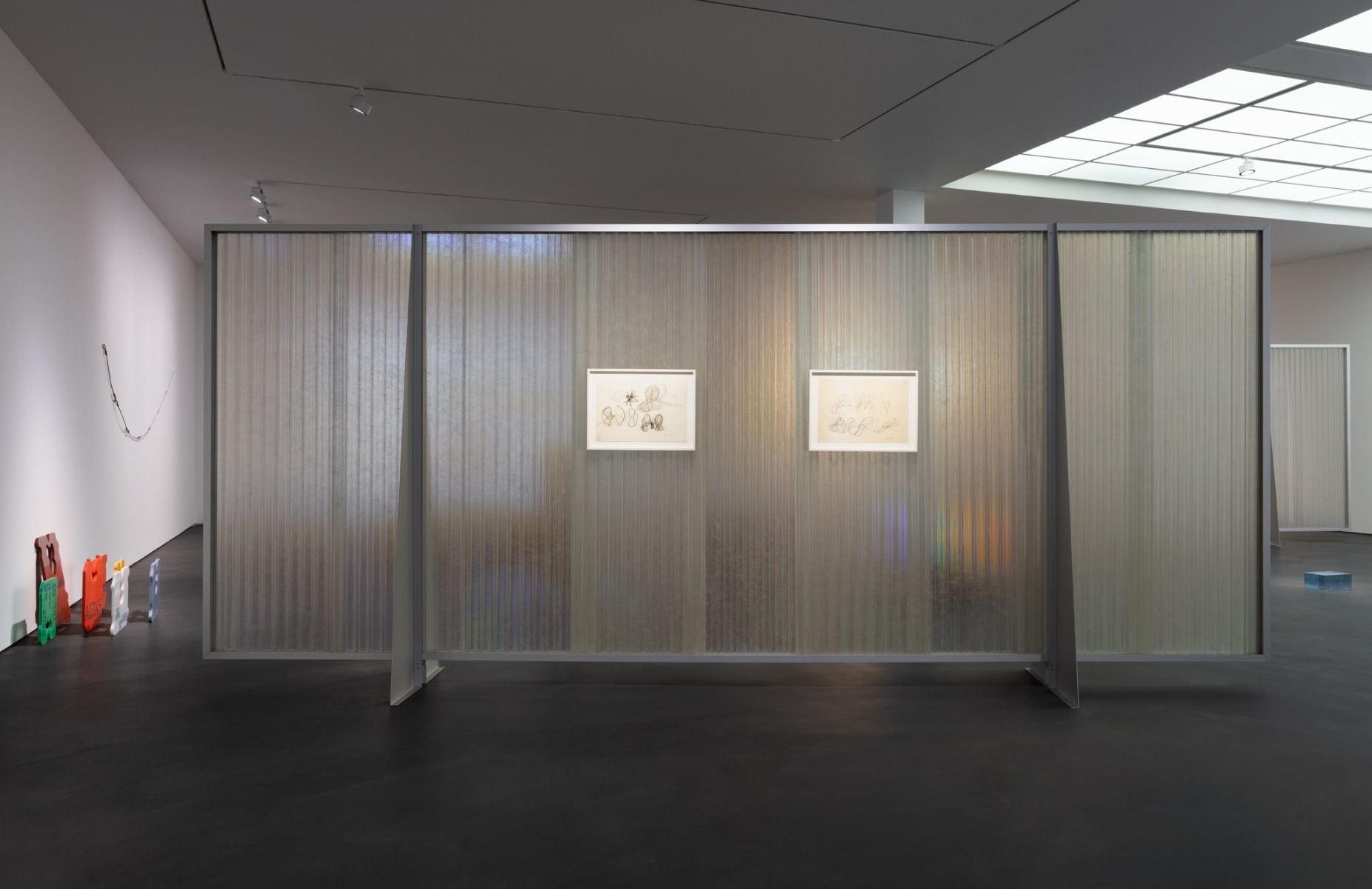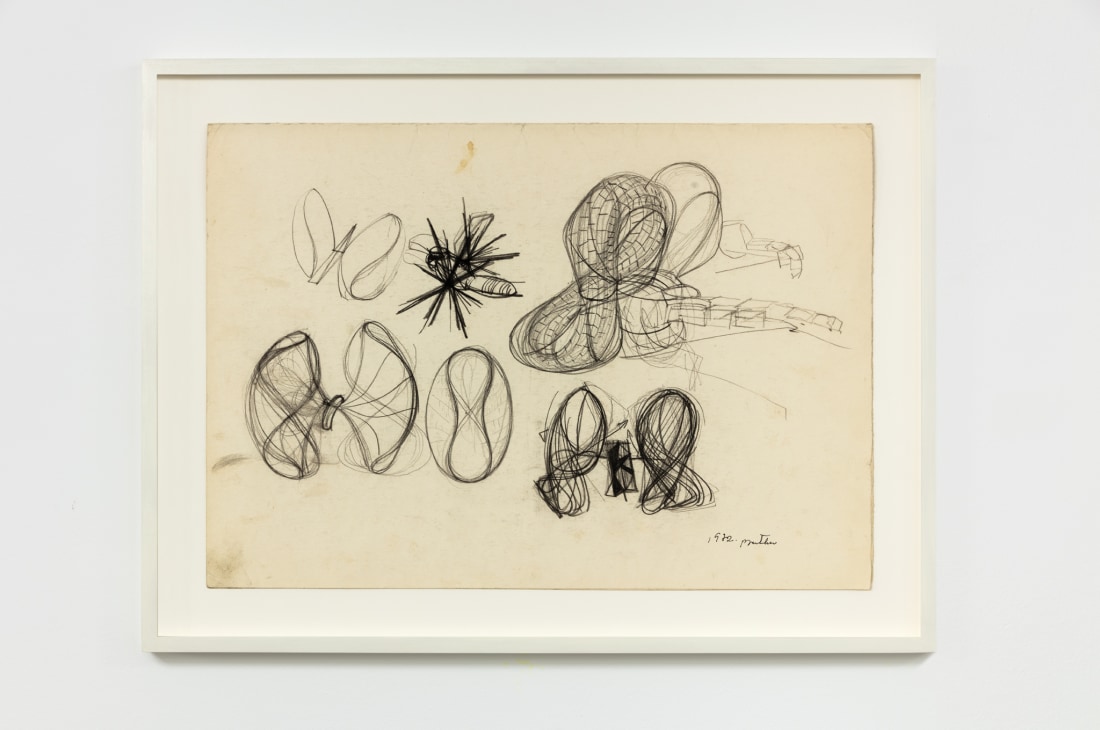 STEFAN BERTALAN
---
This drawing from 1972 combines elements from the early geometric, neo-constructivist period of Stefan Bertalan's work, with the close observation of organic processes and systematic studies of shapes found in organic, vegetal, and mineral forms that eventually led to the artist's development of an interconnected cosmology of all things, represented in later series by the interacting forms of landscape, vegetal pattern, and atomic structure.
For Bertalan drawing—which constitutes about ninety percent of his surviving œuvre—was a research tool, fusing scientific method and artistic imagination. His entire practice developed from studies of geometric structures and detailed observations of plant and animal life, but was deeply informed by post-World War II sciences: information and communication theory, cybernetics, mathematics, semiotics and, later, fractal geometry.
Stefan Bertalan was a pivotal figure in the history of post-war Romanian art. His activities in the 1960s and 1970s—as founder of the influential avant-garde groups 111 (1966-1969) and Sigma (1970-1978)—gained international recognition. Yet, despite a surge of interest in the years preceding his death in 2014, fueled by a small number of artists and art historians Bertalan had allowed entry to his studio, his remarkable later bodies of work remain largely unknown.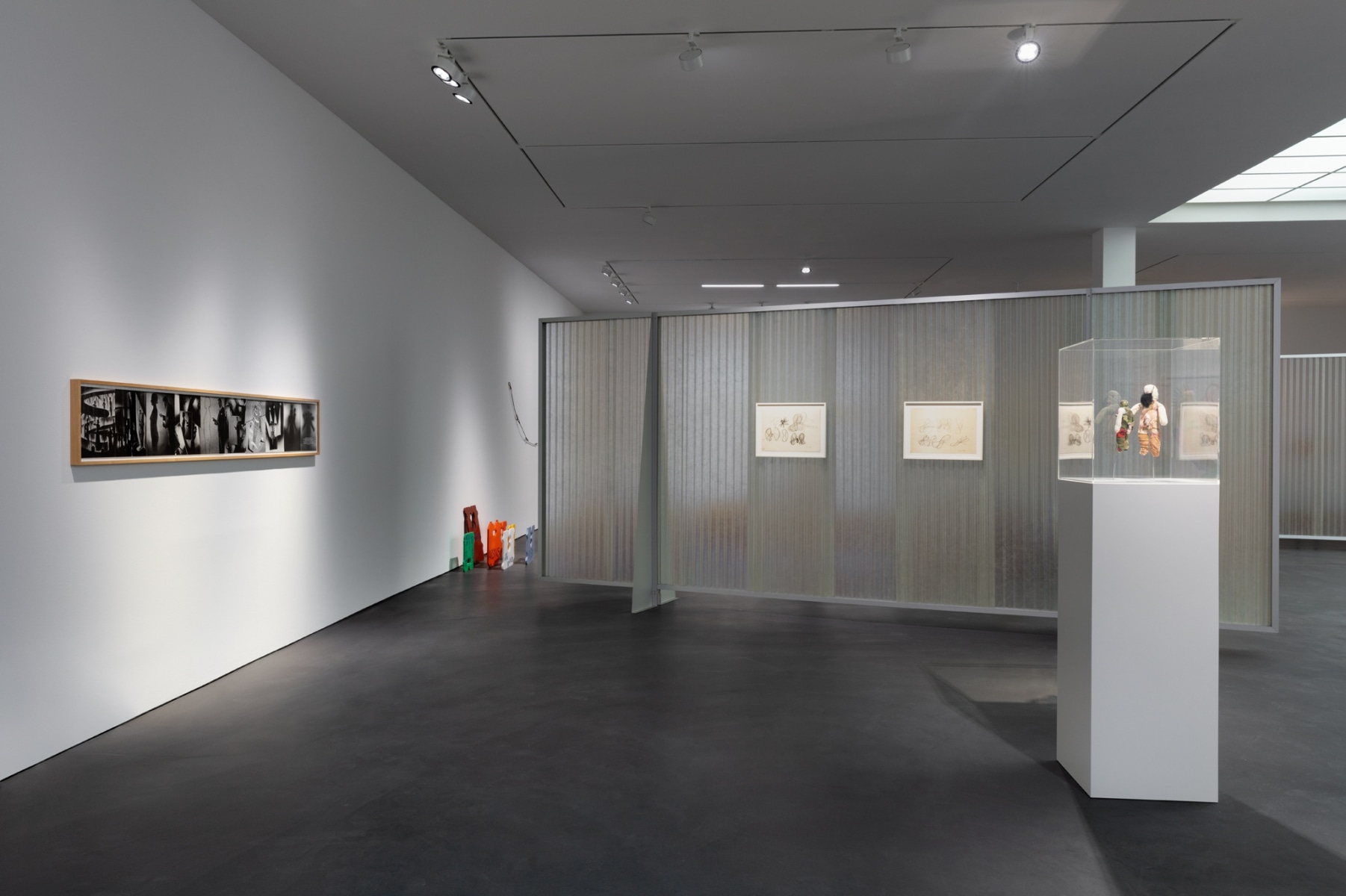 AA BRONSON & REIMA HIRVONEN
---
These two unique Voodoo dolls are representations of AA Bronson and his husband Mark Jan Krayenhoff van de Leur by Finnish artist Reima Hirvonen (b. 1963). They were produced on the occasion of AA Bronson's solo exhibition at the 10th Gwangju Biennale in 2014.
AA Bronson's doll is constructed from his own Pucci underwear and decorated with ballpoint pen. Hidden inside are human hair, sage, turquoise, and semen. Mark Jan Krayenhoff van de Leur's doll is also made of his underwear, and includes human hair, a dzi stone with 21 eyes, tobacco, sage, semen, and is decorated with multiple faces in ballpoint pen. Both dolls feature male genitals made of fabric.
AA Bronson's artistic practice has long included elements of shamanism, although this tendency became more apparent after the deaths from AIDS in 1994 of his former General Idea collaborators Jorge Zontal and Felix Partz. At the same time, as Bronson acknowledged: "The 60s obsession with Eastern religions, states of the ecstatic, and theories of radical living and working fit me perfectly. General Idea never presented itself as spiritual, but behind our corporate mask, we were the product of our generation."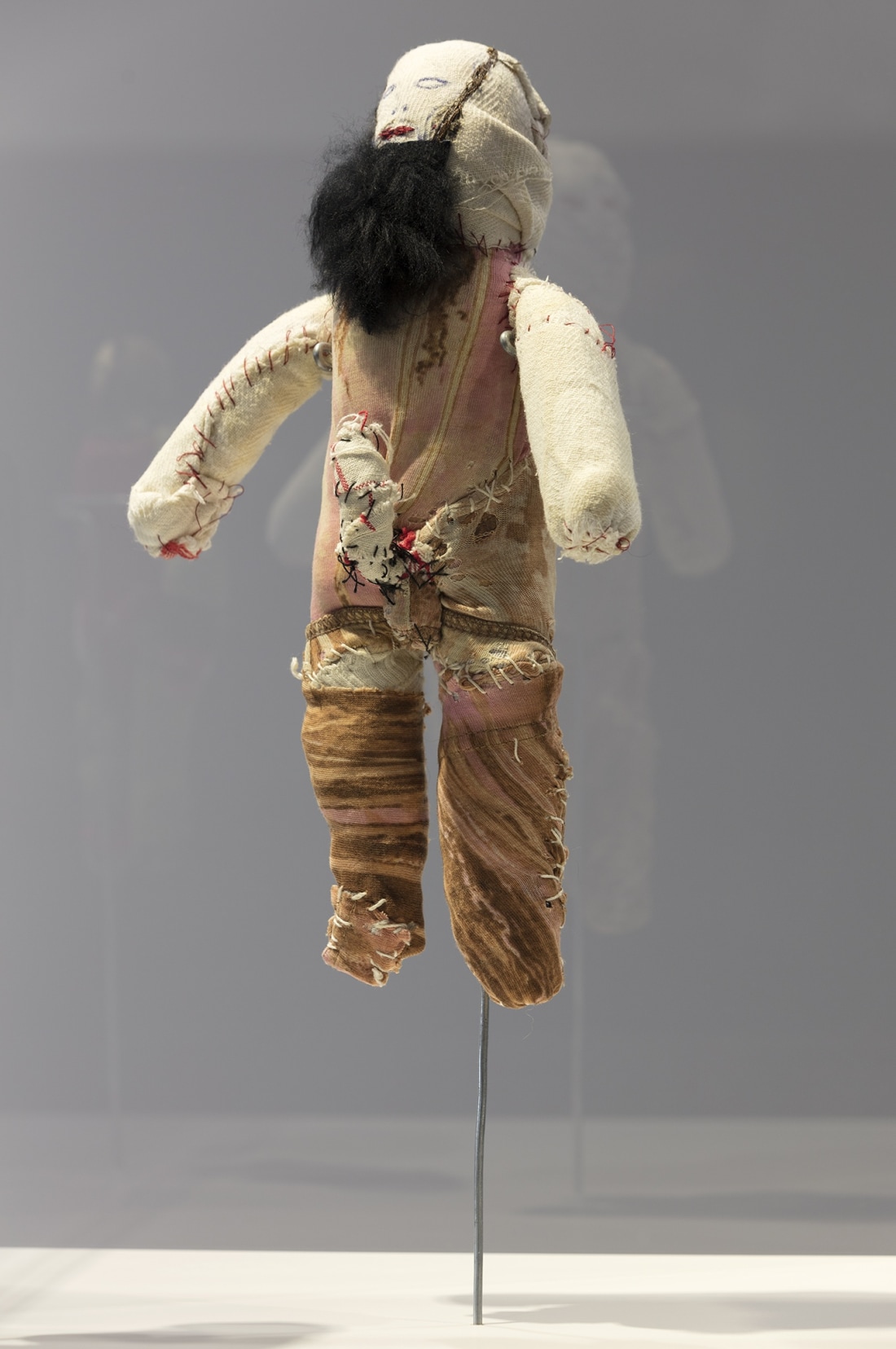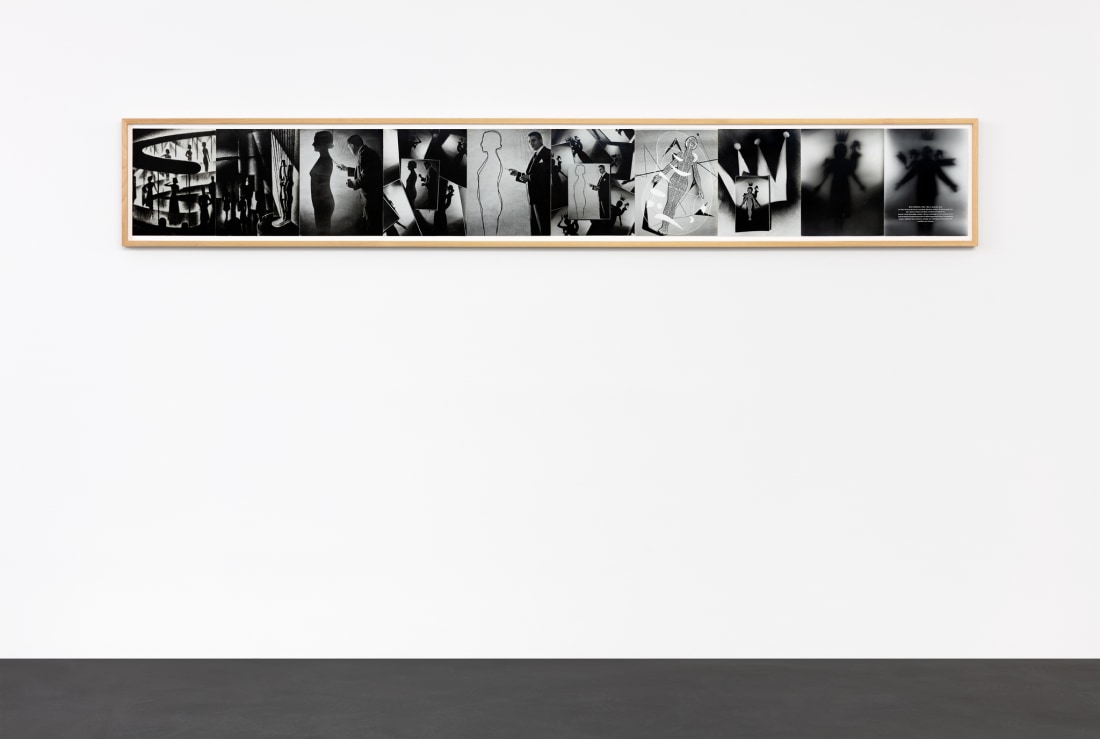 GENERAL IDEA
---
Search for the Spirit consists of 10 silver gelatin prints showing a series of collages and images of various performances and shadow plays staged by General Idea at the beginning of the 1970s.
General Idea's early works (1969–1984) mimicked popular culture formats, such as beauty pageants and mainstream magazines, in order to forward a critical and satirical view of art, culture and media. Their series of faux beauty pageants, begun in 1970, satirized glamour, fame and the art world. The notion of glamour, the myth of the artist, and the character they created, "Miss General Idea" became key motifs in the group's iconography and mythology.