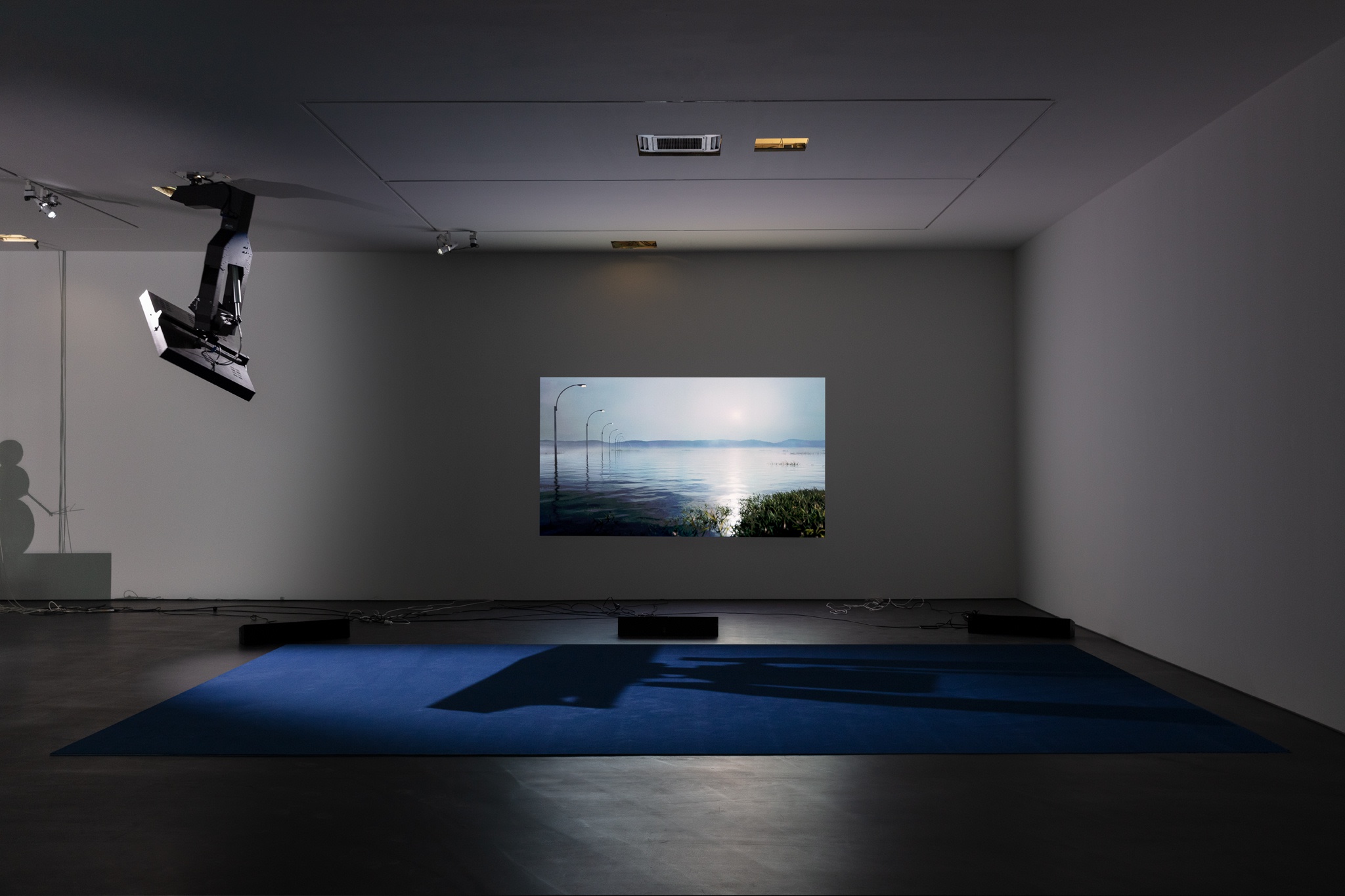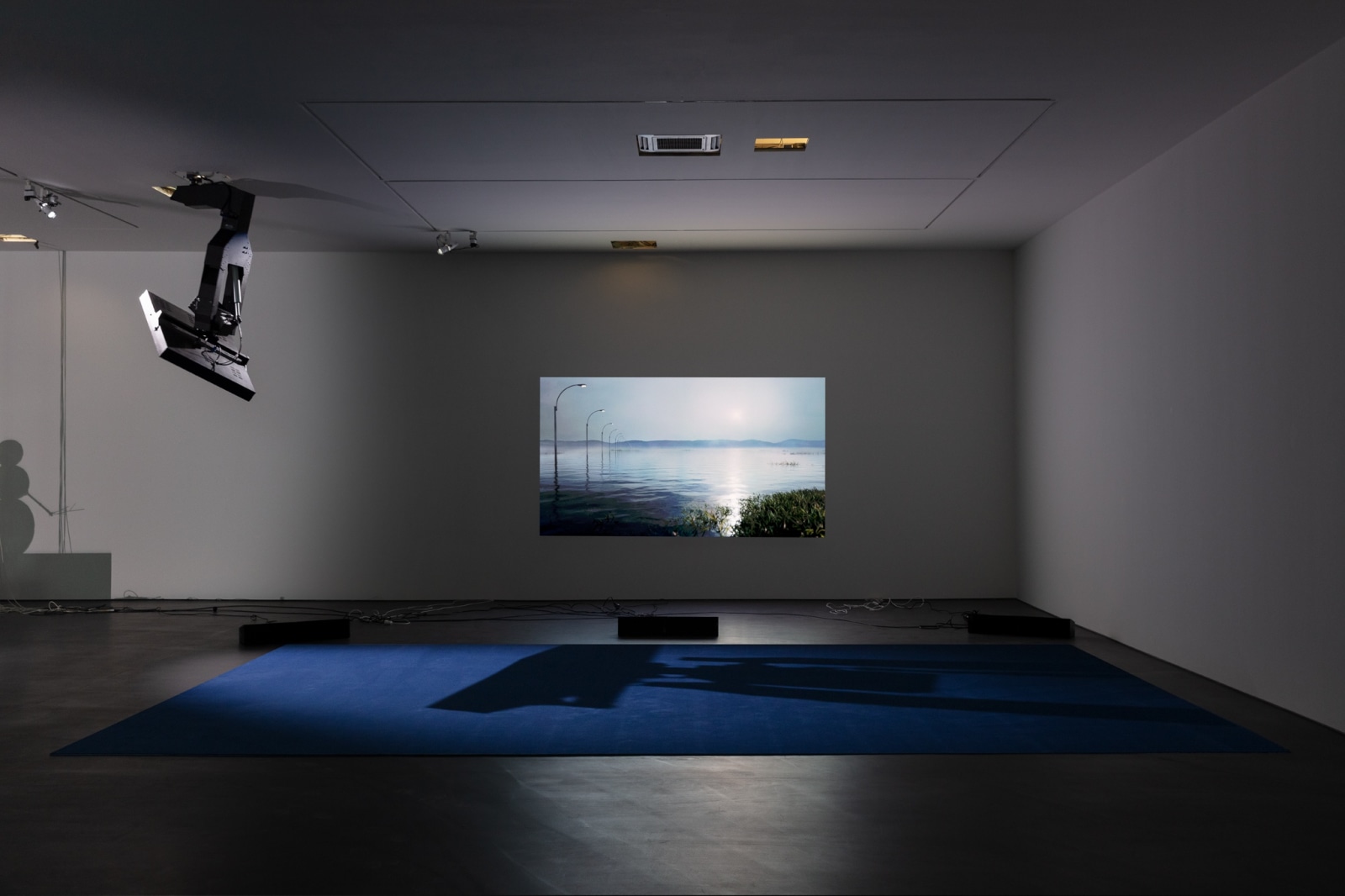 October 9—November 7, 2020
Philippe Parreno, Manifestations
Esther Schipper, Berlin
Overview
'As long as it is understood that the riddle has little to do with mystery… Always waiting to be unveiled, riddles do not need to be elucidated but require a certain kind of attention, a fleeting attention.' — Philippe Parreno
"As long as it is understood that the riddle has little to do with mystery… Always waiting to be unveiled, riddles do not need to be elucidated but require a certain kind of attention, a fleeting attention."
— Philippe Parreno
Manifestations is Philippe Parreno's eighth solo exhibition with Esther Schipper. It includes works spanning various media: a granular soundtrack, a CGI film, atmospheric sensors, robotic systems, computer code, ice and water.
The exhibition connects "things" that, a priori, had nothing to do with one another; "things" that allow themselves to be summoned by repetitions, synchronicities, signals, or singularities.
Parreno creates events that respond to unfinished existences, lesser existences that need to be amplified and made more real. French philosopher Etienne Souriau (1892-1979) uses the beautiful term L'instauration to define the process. L'instauration is forever, indeterminate and uncertain. Manifestations of devices such as these whether a sound, an object, a situation or a landscape allows each to achieve "full radiance of reality" in scenes that are constantly replayed because they lack finality.
1.Marquee, 2020
Semi-opaque white Plexiglas,
231 light bulbs, 12 neon tubes
(ø 14 mm), 46 m LED tape,
DMX recorder, dimmers, transducers,
light and sound program, acrylic chains
Glass panels: two-way mirror, security glass, polished stainless steel chains
100 x 200 x 78 cm Marquee)
210 cm (Plexiglas chains)
140 x 270 x 0,8 cm each, 3 parts
(glass panels)
Installation dimensions variable
(PP 346)
2.Clock, 2020
Plexiglas, DMX controller, motor,
belts, microphone, speaker
160 x 168 x 20 cm
(PP 345)
3.Iceman in Reality Park, 1995–2019
Sculpted ice, stones, wooden sticks, wooden plinth with found Japanese metal manhole
cover, sound installation
Dimensions variable
Height: 120 cm approx.
44 x 160 x 160 cm (plinth)
Edition of 5 unique variations
(PP 337)
4.The Speaker, 2020
Highly-directional speakers, mounting
panel, rotating arm, DMX controller,
amplifier, transformer, cables, sound card
175 x 85 x 68,8 cm
(PP 357)
5.The Owl in Daylight, 2020
Digital video (color, sound), player
Duration: variable
Edition of 6
(PP 351)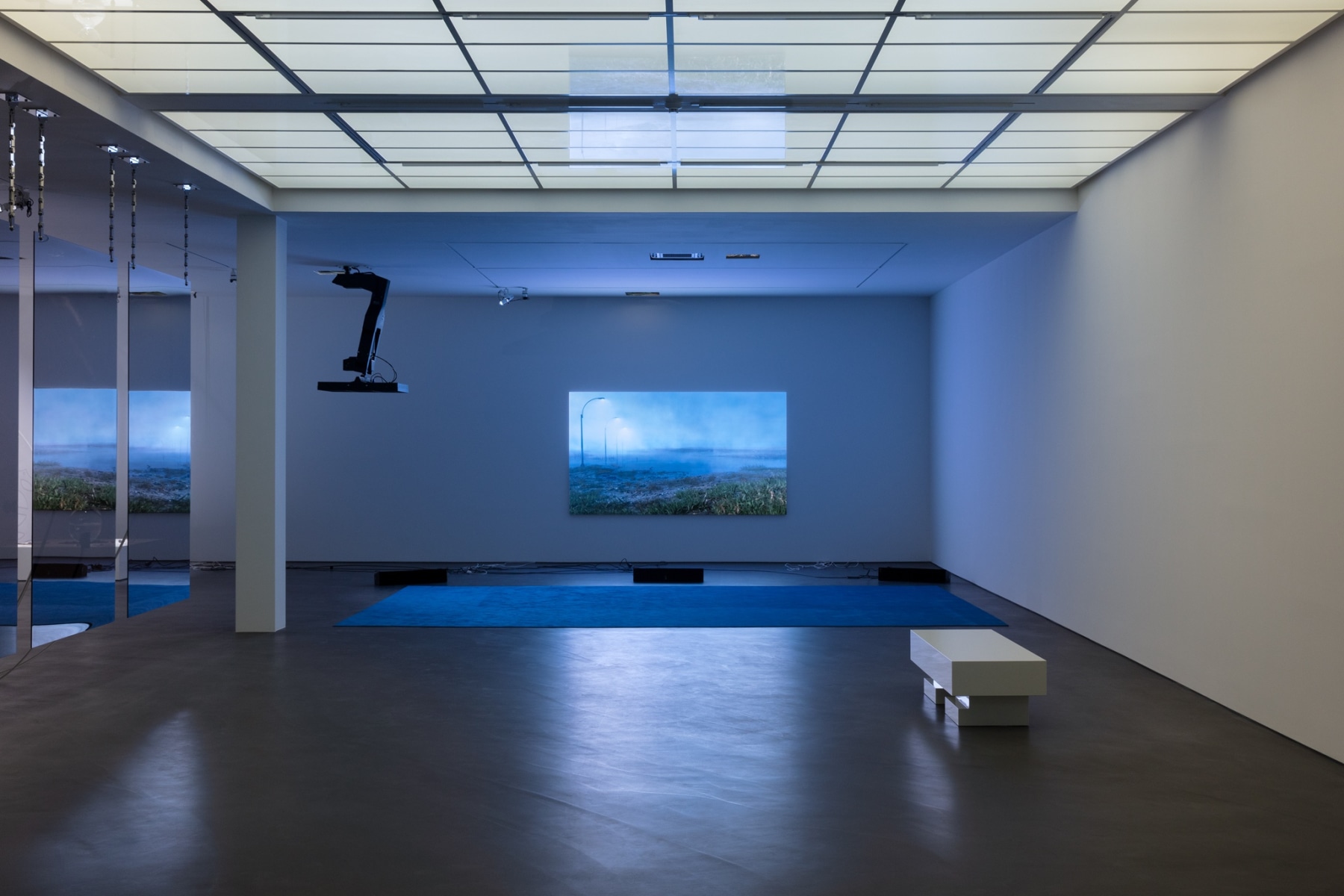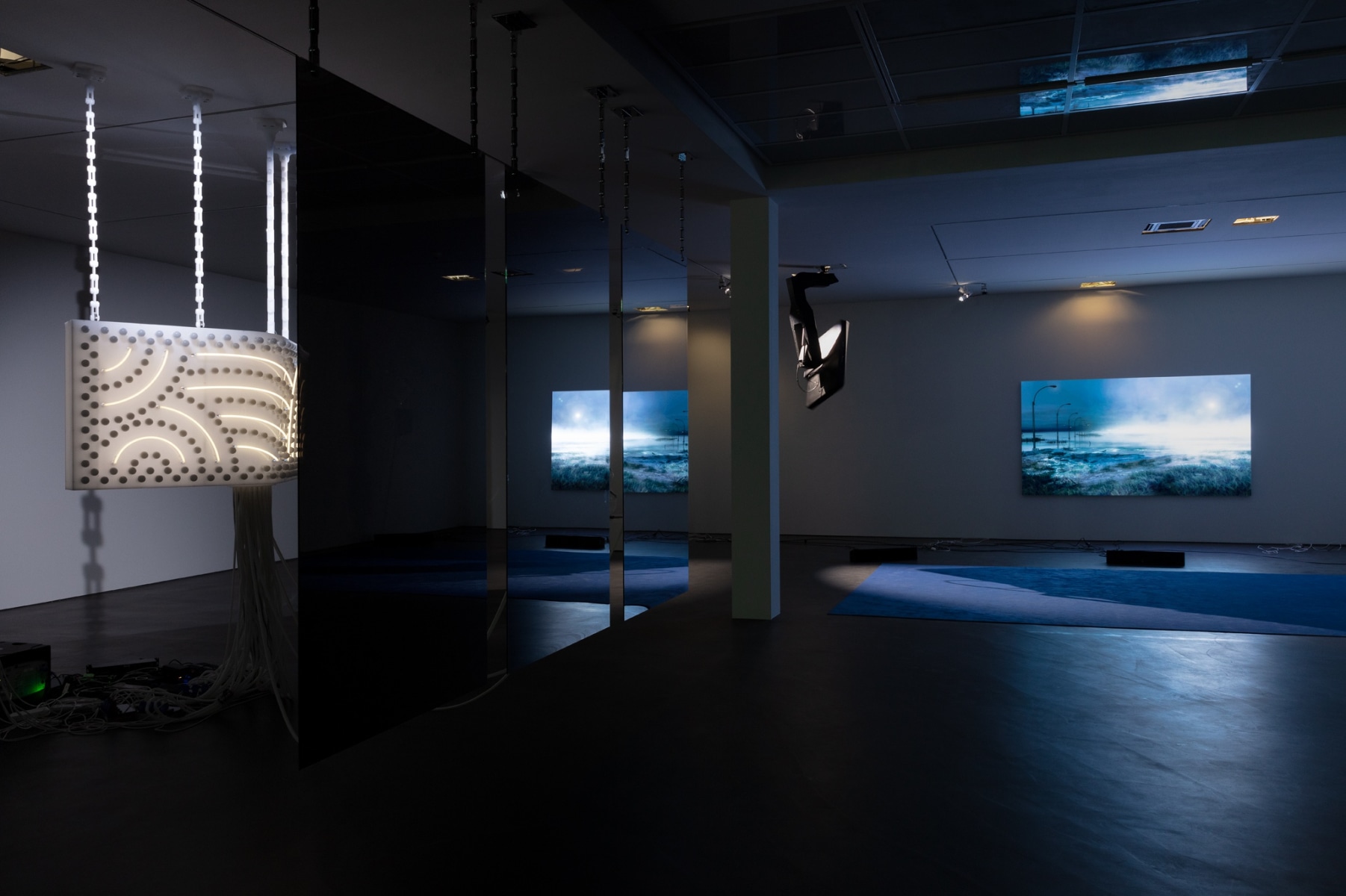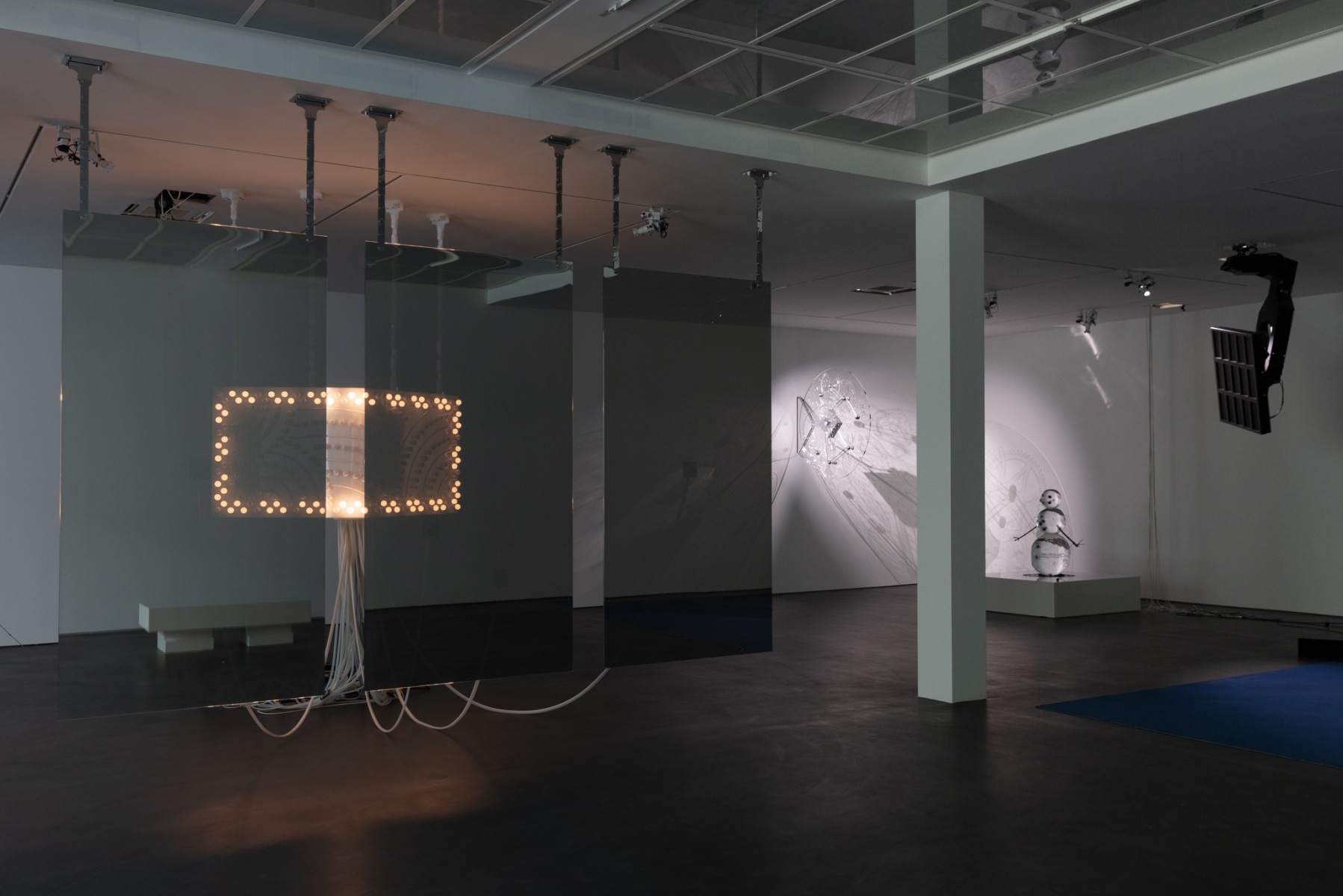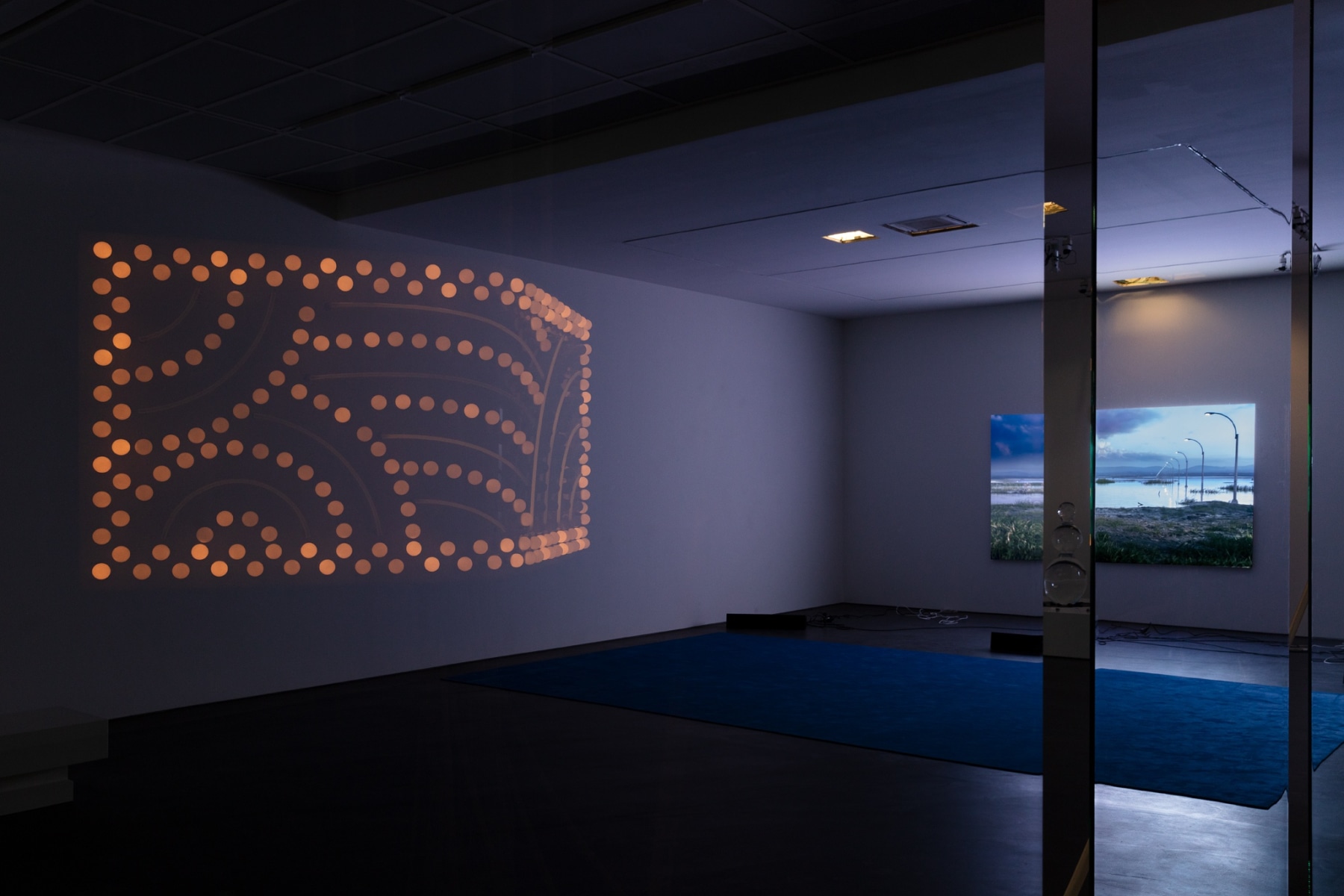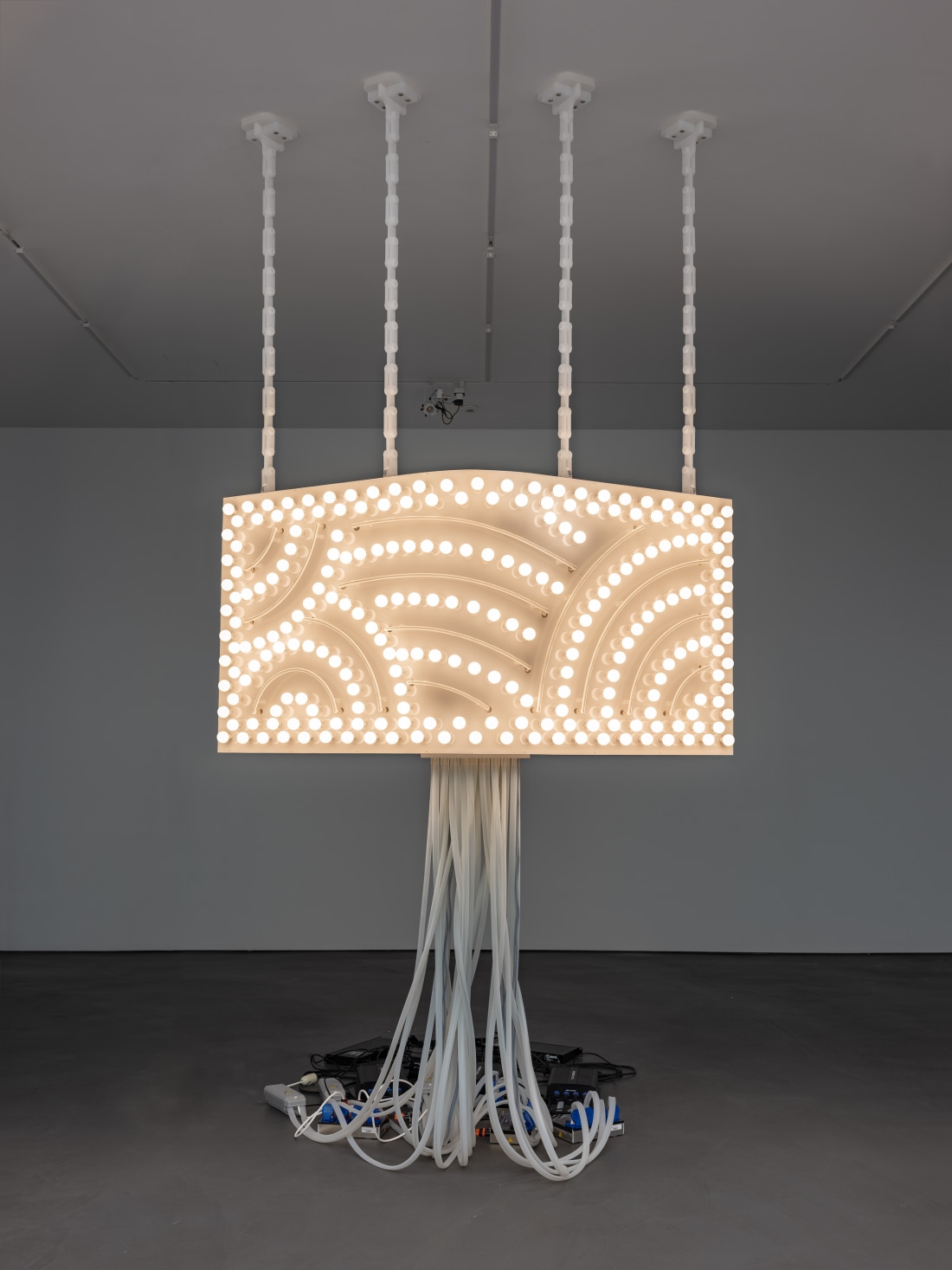 Marquee, 2020
---
Marquee consists of a wide L-shaped corpus. Its front is made of a curved semiopaque acrylic panel that comprises 231 lights bulbs and 12 customized neon tubes. A separate drawer-element is installed inside the acrylic corpus, providing a structure for a 46-meter LED tape in 2 different white tones. The lights flicker alternatively according to a sequence conceived by the artist and controlled by a DMX recorder.
Marquee is hanging from the ceiling with four opaque acrylic chains. The wiring cables are left visible and loose on the floor, evoking the computer brain of a science fiction machine. The humming and crackling sounds that accompany the movement of the lights reinforce the impression of Marquee as an animated, communicating (or even breathing) being.
Produced by four transducers amplifying the electrical current running through the wires attached to the Marquee like tentacles, the sound recalls buzzing neon tubes, crackling fireworks, and reverberating bass. To produce these vibrations, the transducers must be fixed to a resonating surface. For Parreno's exhibition at Esther Schipper, they are placed on three glass panels hanging from the ceiling in front of the work. Made of security glass, the panels have a two-way mirror finish that reflect the Marquee.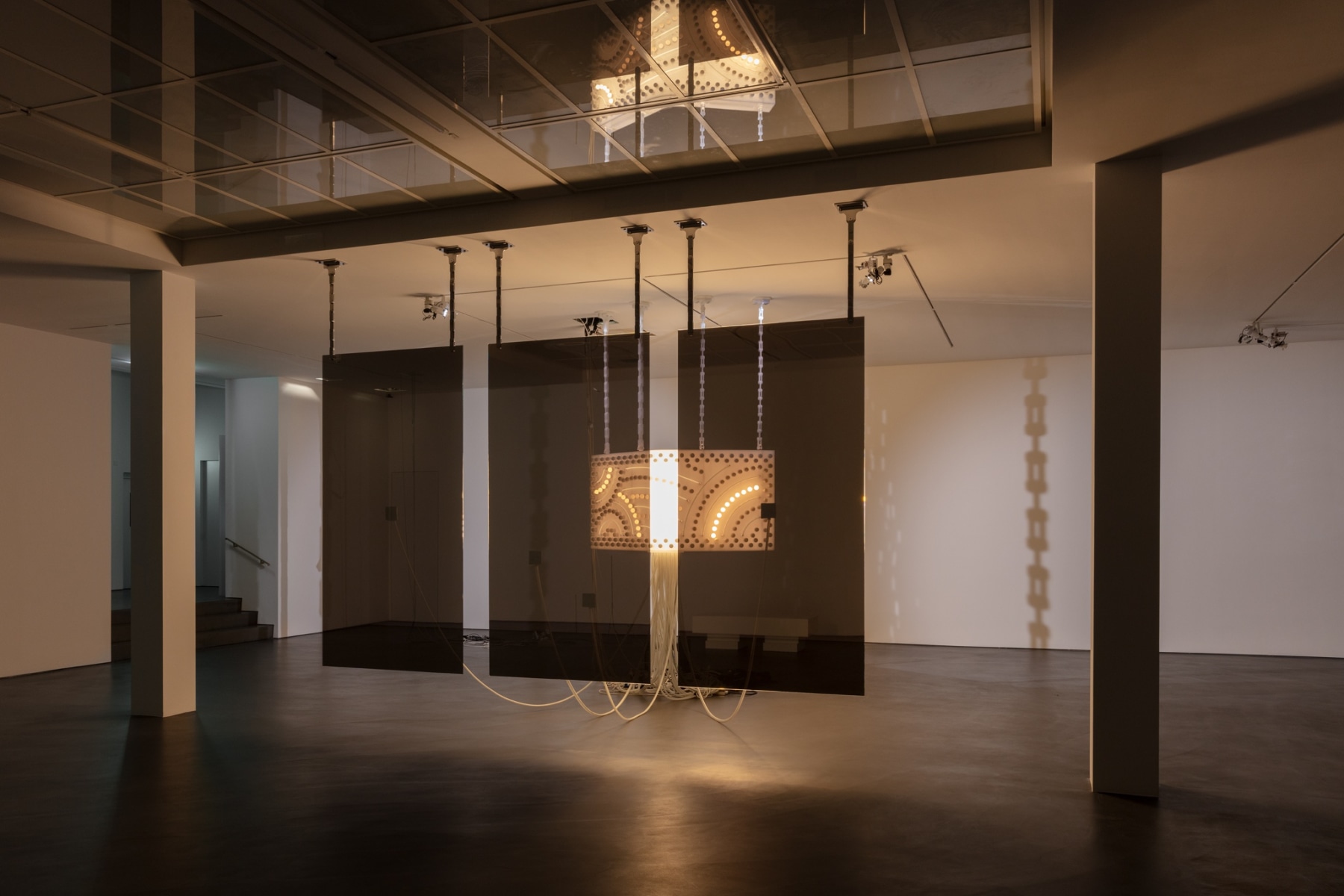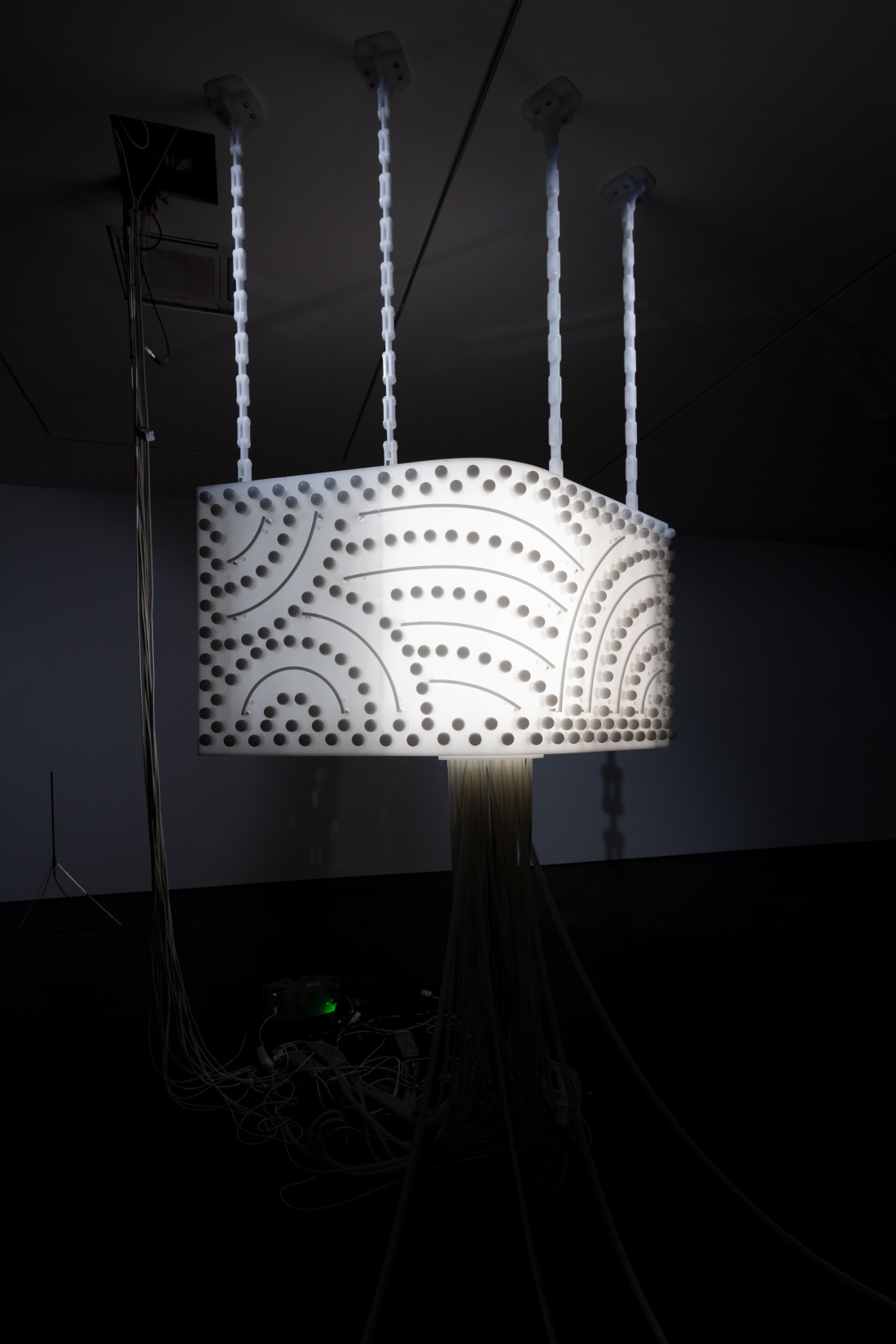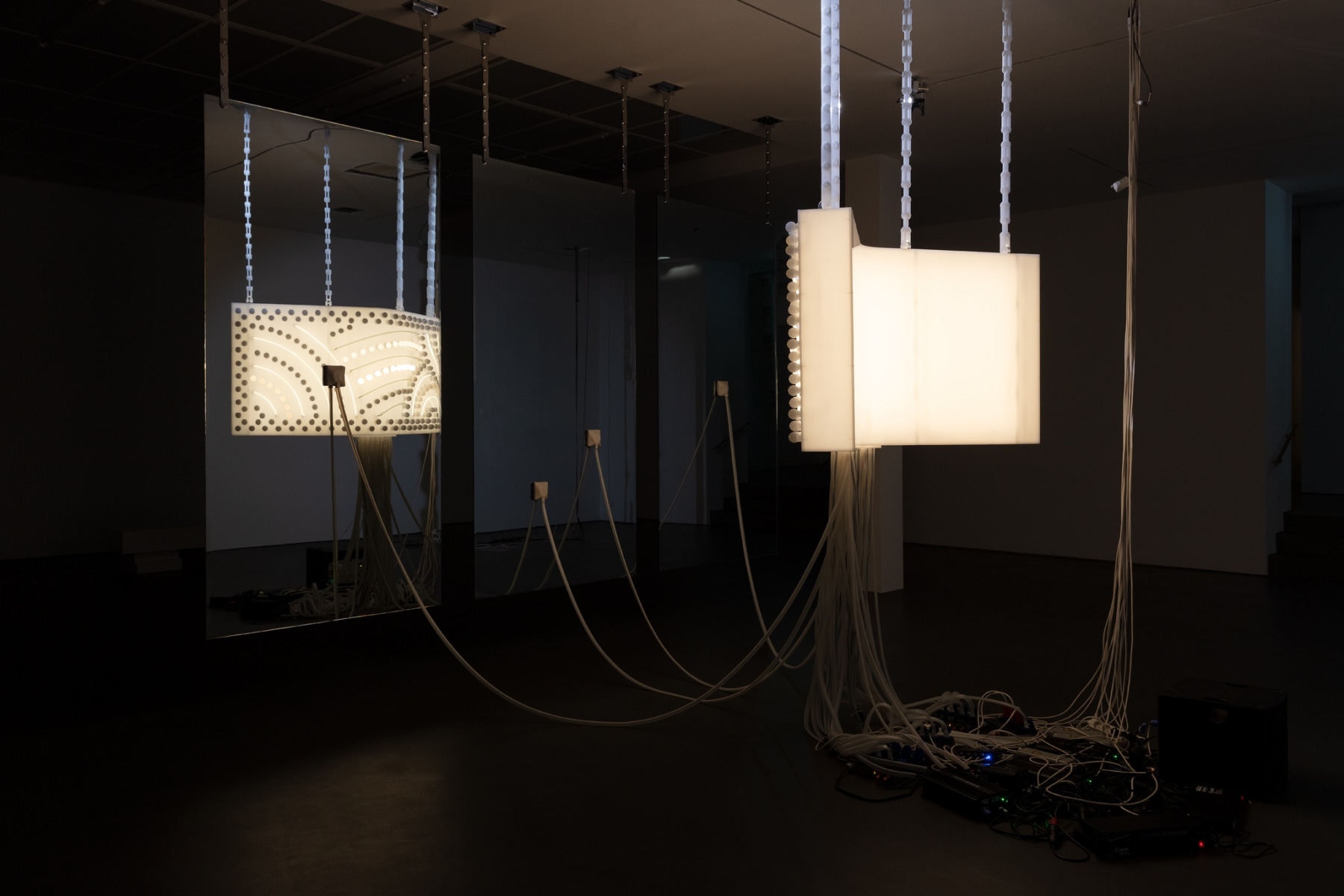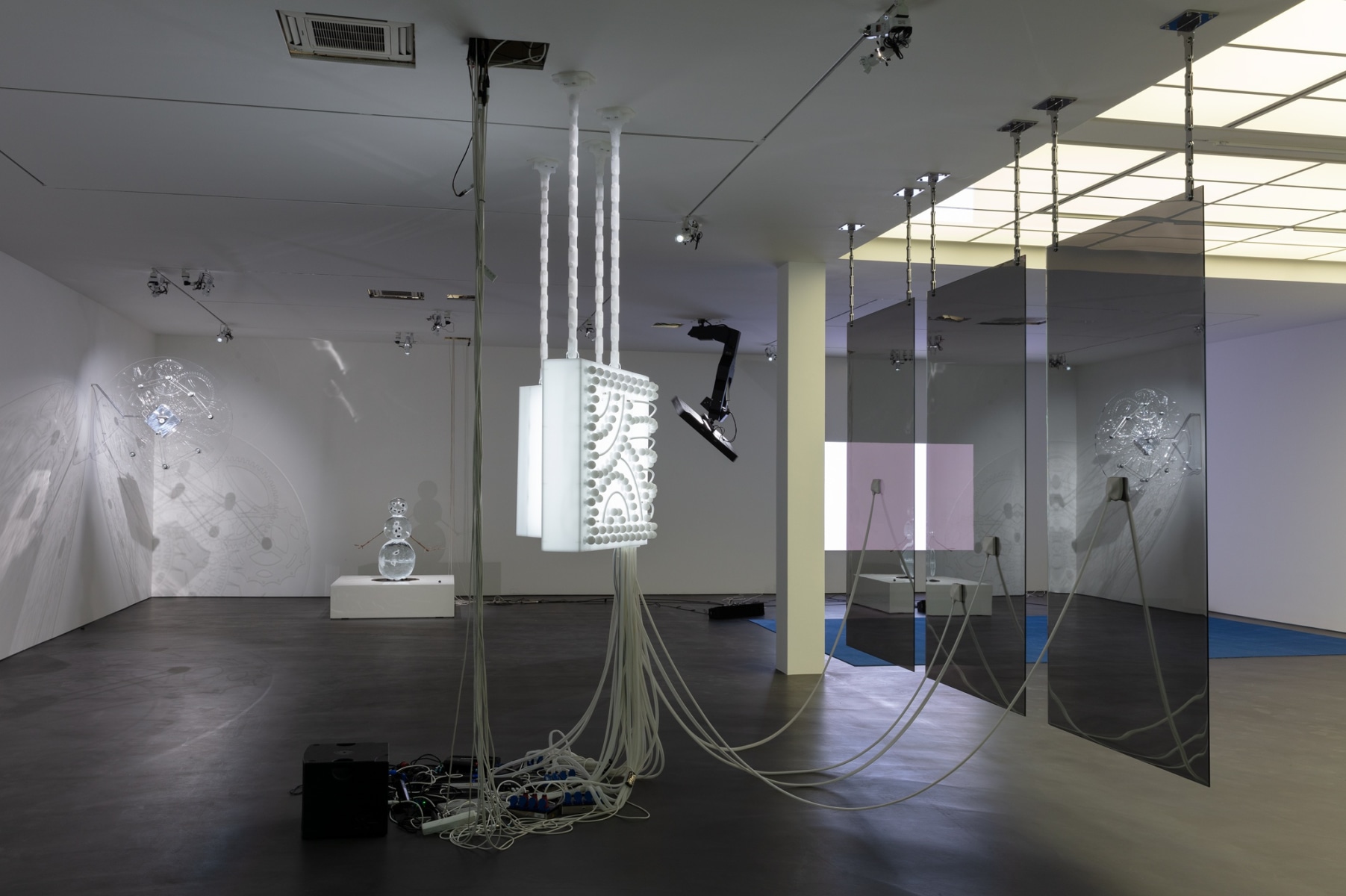 Clock, 2020
---
Clock is part of Philippe Parreno's new body of work begun in 2019. It consists of a transparent Plexiglas Clock with three hands animated by a complex mechanism of gears and belts controlled by a DMX recorder.
Like Parreno's Marquees that flicker according to a light sequence, Clock's mechanism moves like an automaton, following its own rhythm and producing a choreography conceived by the artist.
Small microphonesplaced on the motor picks up the sound of the gears of the clock, and sound equipment hidden inside the wall amplifies it, projecting the whirring sound of the object's own motion into the exhibition space.
Time is an important motif in Parreno's oeuvre, the image of a clock has appeared in recent years in several works, and his practice has always revolved around investigations of time and duration. For him, an exhibition is an event, intended to produce scenarios that involve the visitor within an ever-evolving choreography. In his exhibitions, time becomes a thing of substance, habitable.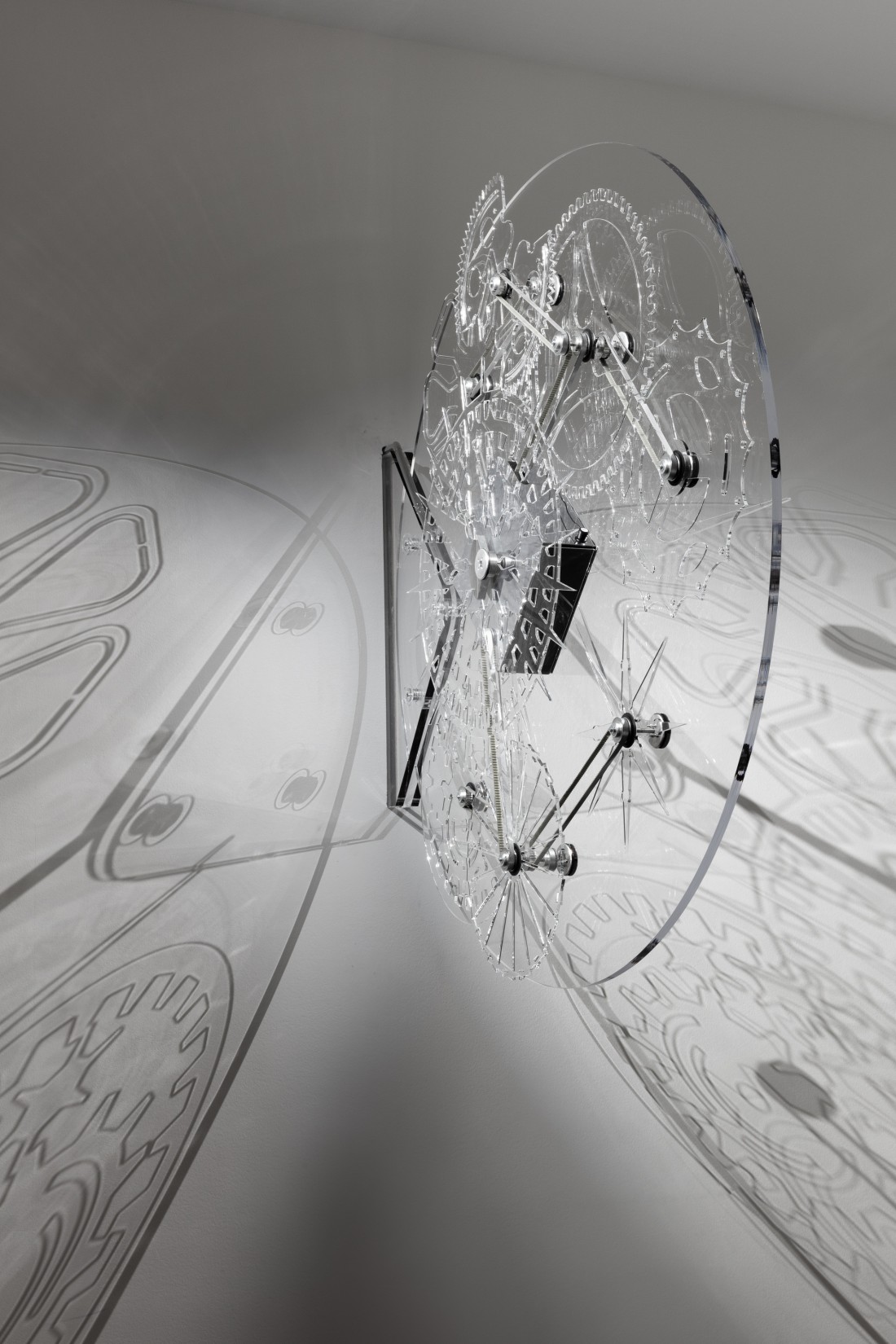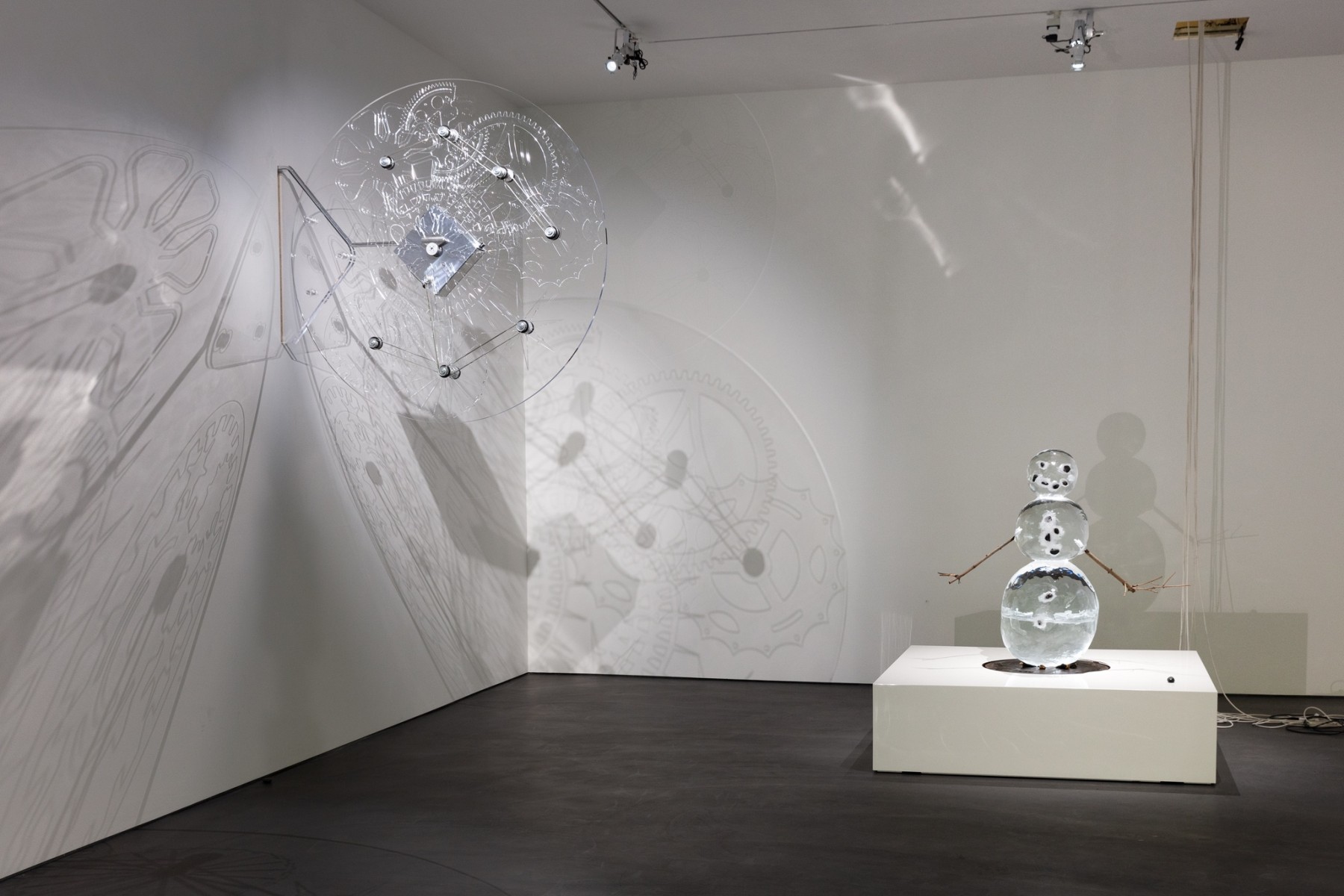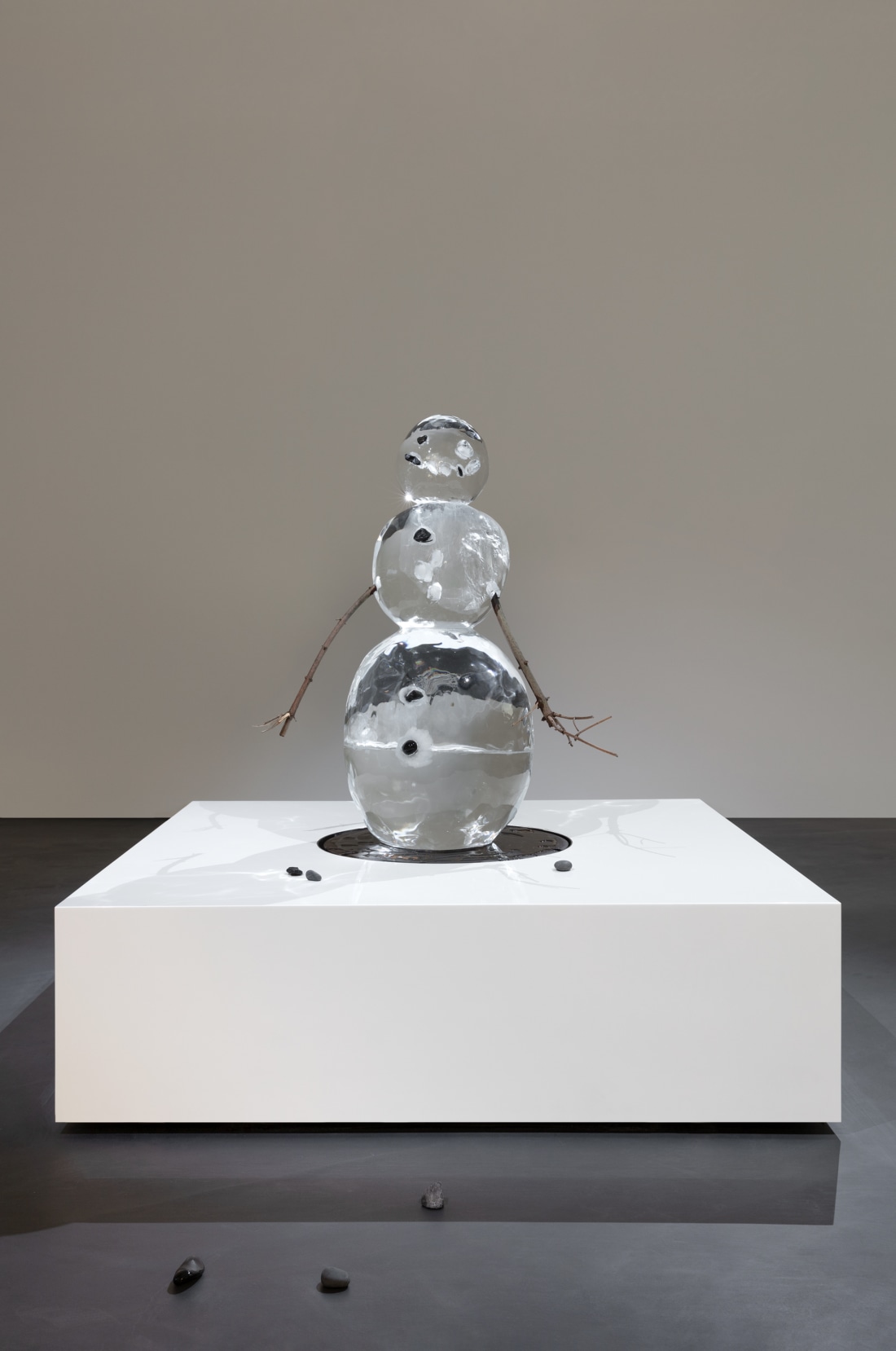 Iceman in Reality Park, 1995–2019
---
Iceman in Reality Park was first created for the 1995 group exhibition Ripple Across the Water—curated by Jan Hoet—which turned Aoyama city center, Japan into an outdoor art gallery. Every day just before lunch, in the private park of the Kirin Brewery Company in Minami Aoyama where employees gathered to eat, a refrigerated truck delivered an ice sculpture of a snowman. Every day the sculpture melted and was replaced the next day.
The work reappears twenty-five years later. The ice sculpture of a snowman is displayed on a plinth and melts over the course of a few days. It leaves behind the stones that were once embedded in the ice and the tree branches used for the arms. The amplified sound of dripping water echoes throughout the exhibition space.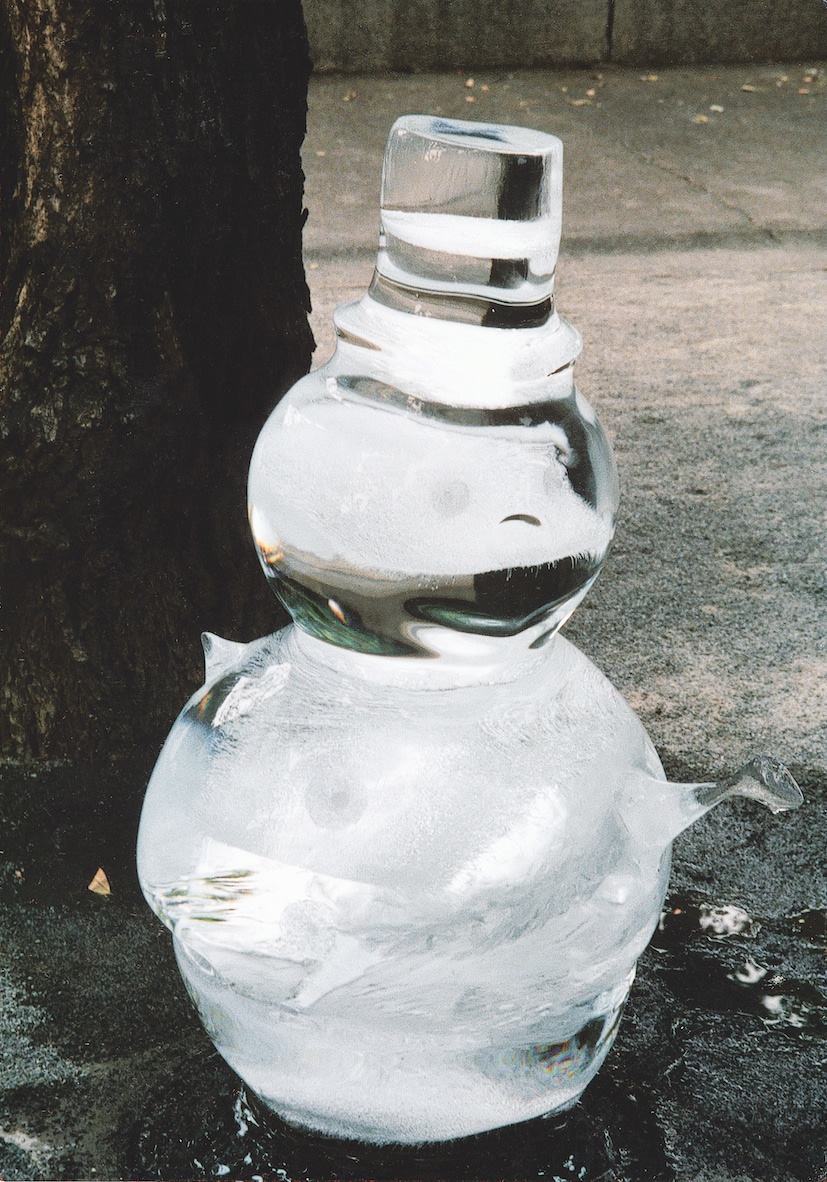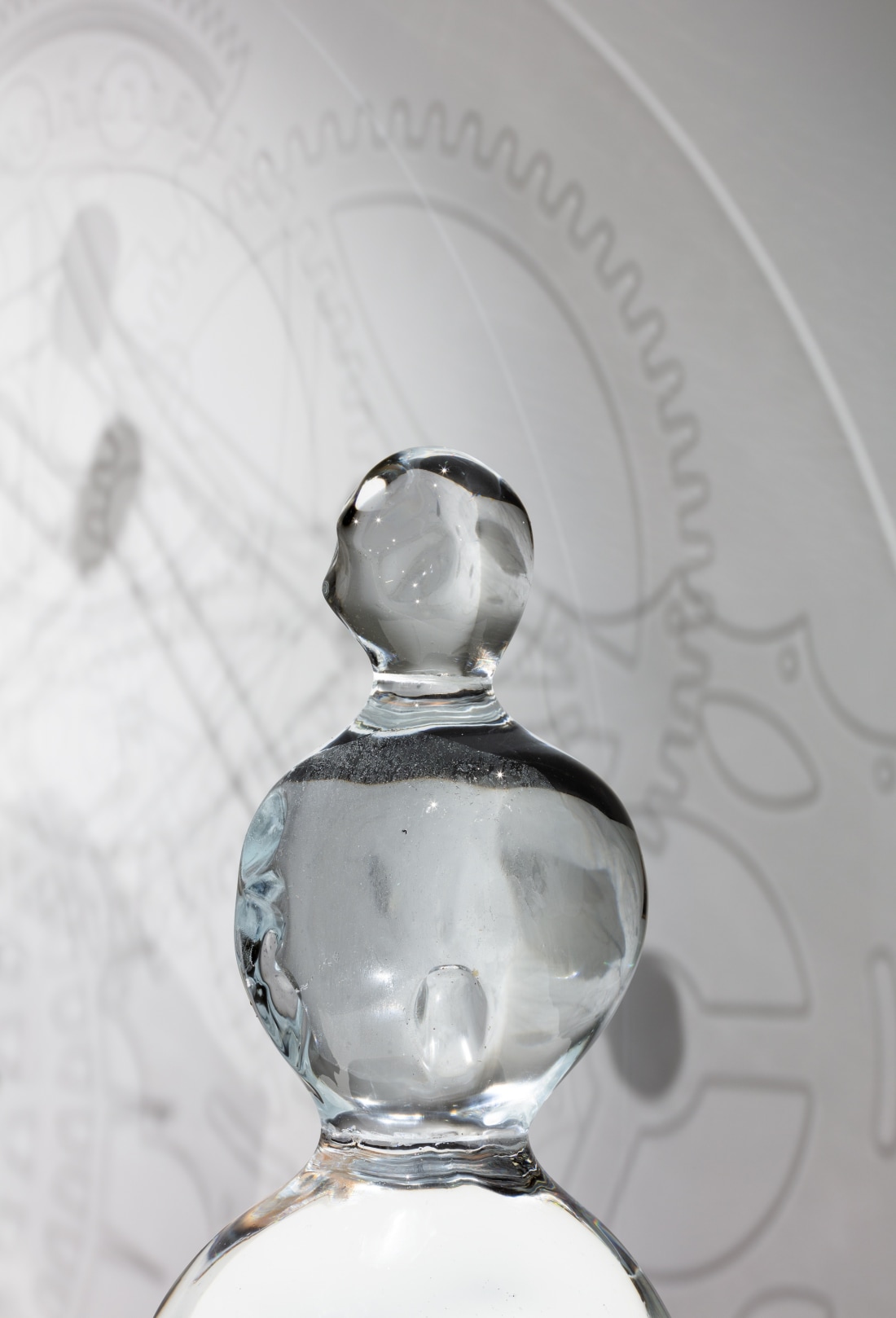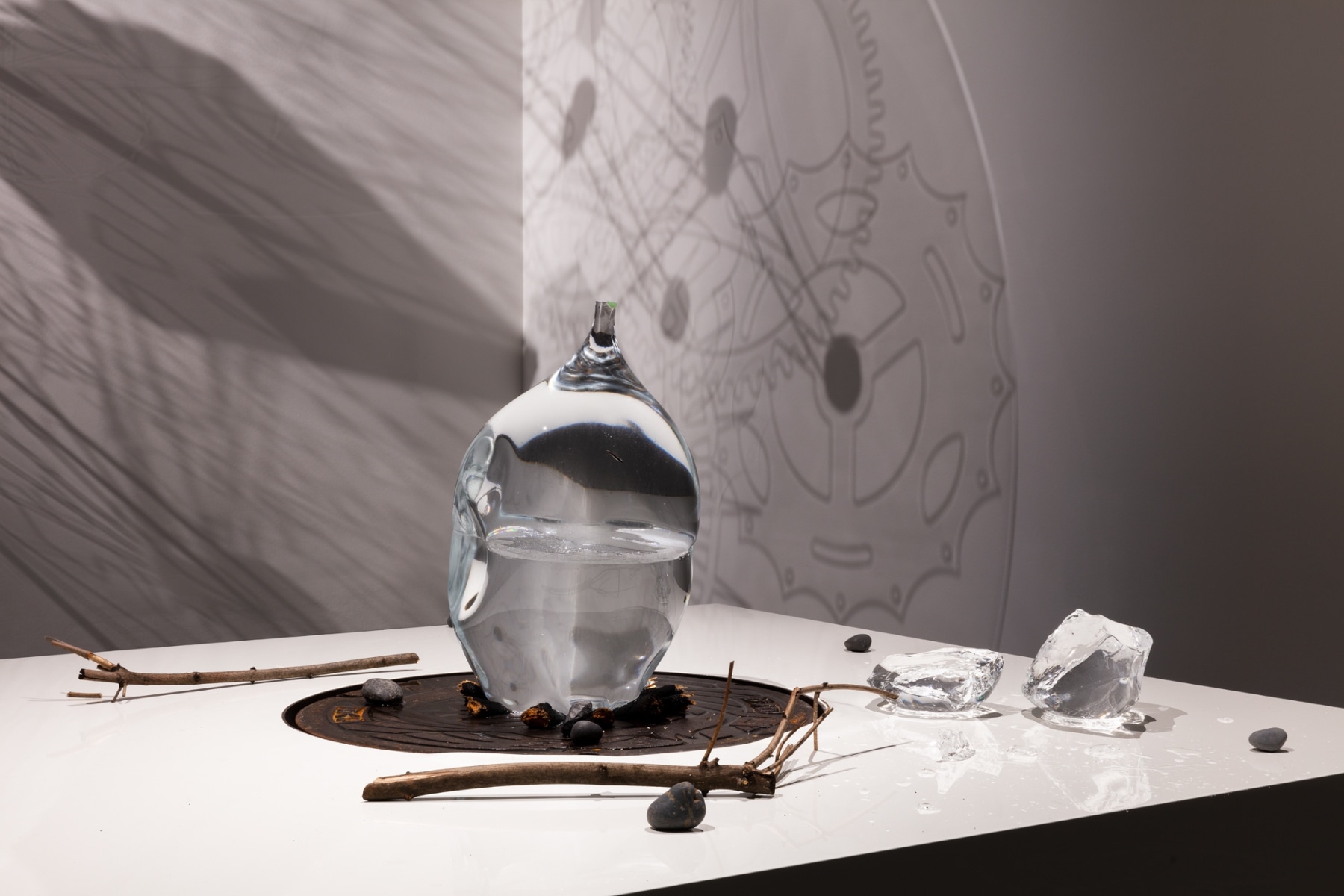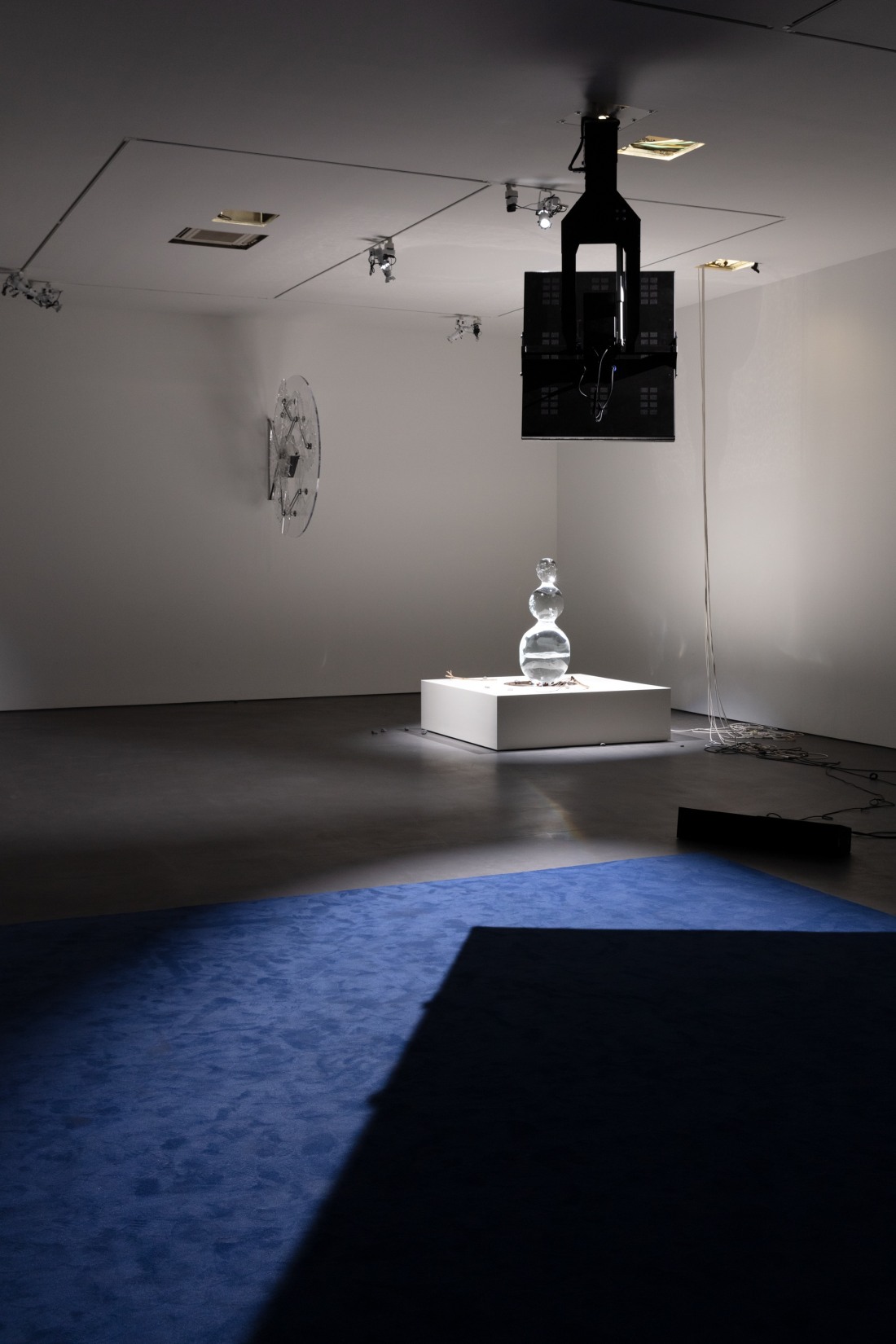 The Speaker, 2020
---
Philippe Parreno's The Speaker consists of 15 ultra-directional speakers mounted as a grid on a moving arm that can rotate on all its axes. Produced on the occasion of the artist's exhibition at Esther Schipper, The Speaker was conceived as the central point of the exhibition, channeling the sounds produced by all the works in the exhibition space, thus becoming the recipient of the exhibition's soundtrack.
Sound has always been a major component of Parreno's projects. However, the artist doesn't use speakers as mere exhibition devices to broadcast sound in the space: instead, he turns the object into an integral part of his exhibitions. From his Hyundai commission at Tate Modern in 2016, where dozens of speakers hanging from the Turbine Hall ceiling were moving up and down according to a script conceived by Parreno, to Echo—his 2019 commission at MoMA where the artist introduced a rotating speaker for the first time—speakers have played a major part in the artist's work.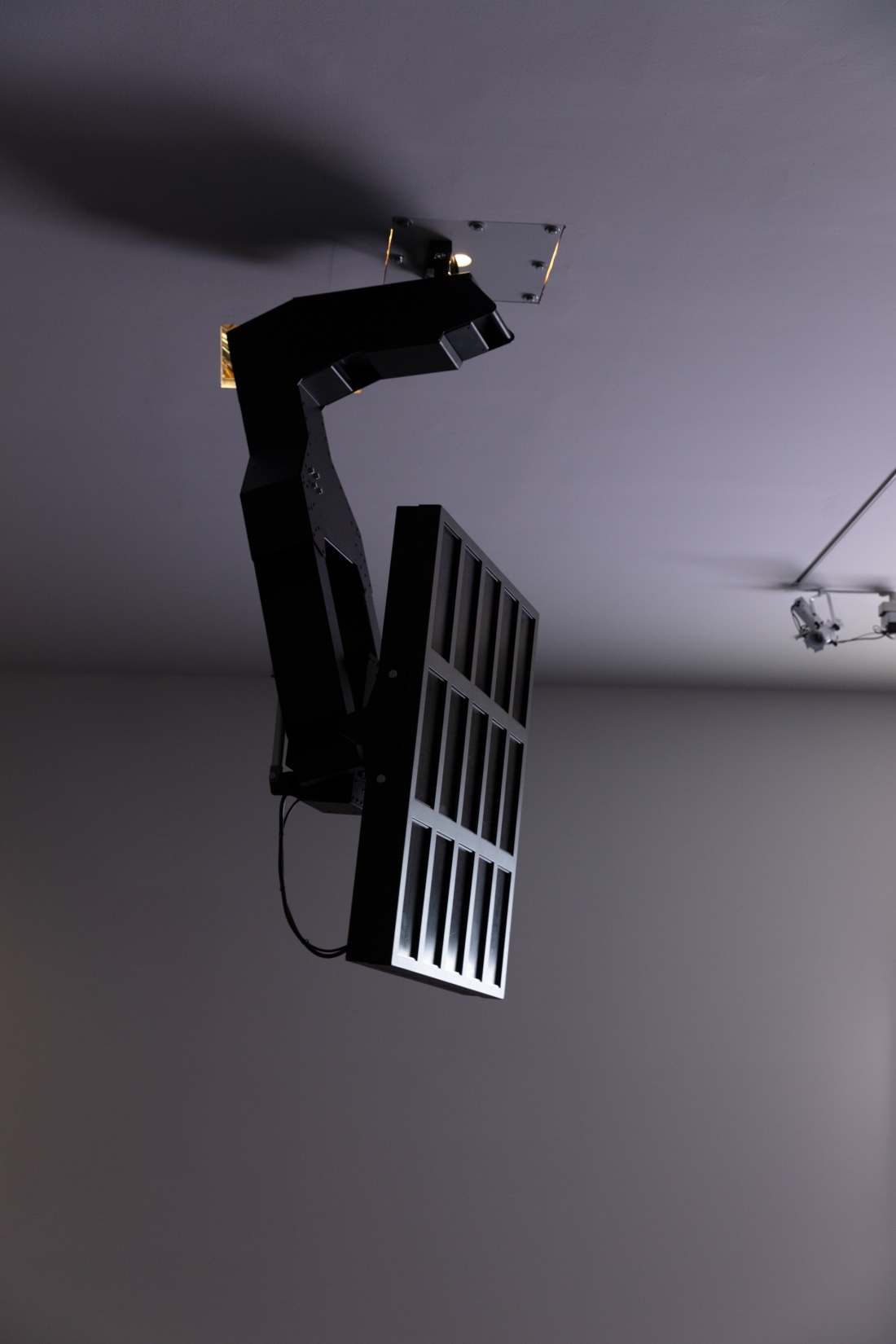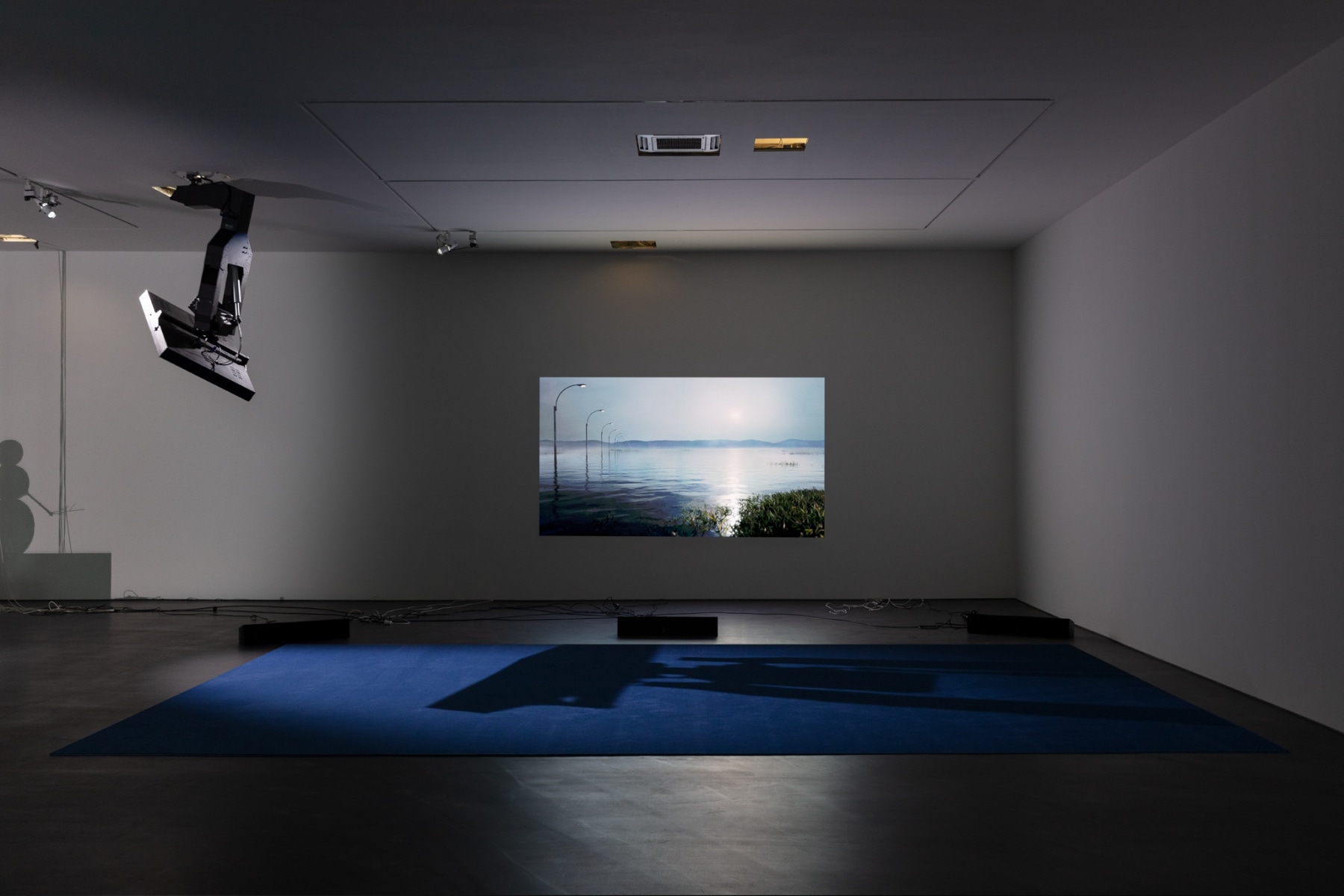 The Owl in Daylight, 2020
---
Entirely conceived in high-end Computer-Generated Imagery (CGI), The Owl in Daylight, 2020, is a new work in motion by Philippe Parreno. In constant evolution, the work is composed of 64 visual sequences controlled and juxtaposed by an Artificial Intelligence.
This moving tableau depicts a landscape bordered by a body of water. If at first glance the image seems static, subtle changes of light, temporality, and atmospheric conditions appear little by little: sometimes a city emerges in the distance before mysteriously disappearing in the following sequence, a row of lampposts extending across the water perhaps evoke the remains of an urban civilization. The visual and sound sequences are determined by the Artificial Intelligence. When transitioning between two sequences, the image of The Owl in Daylight sometimes blinks, flickers, as if the entity controlling it was hesitating.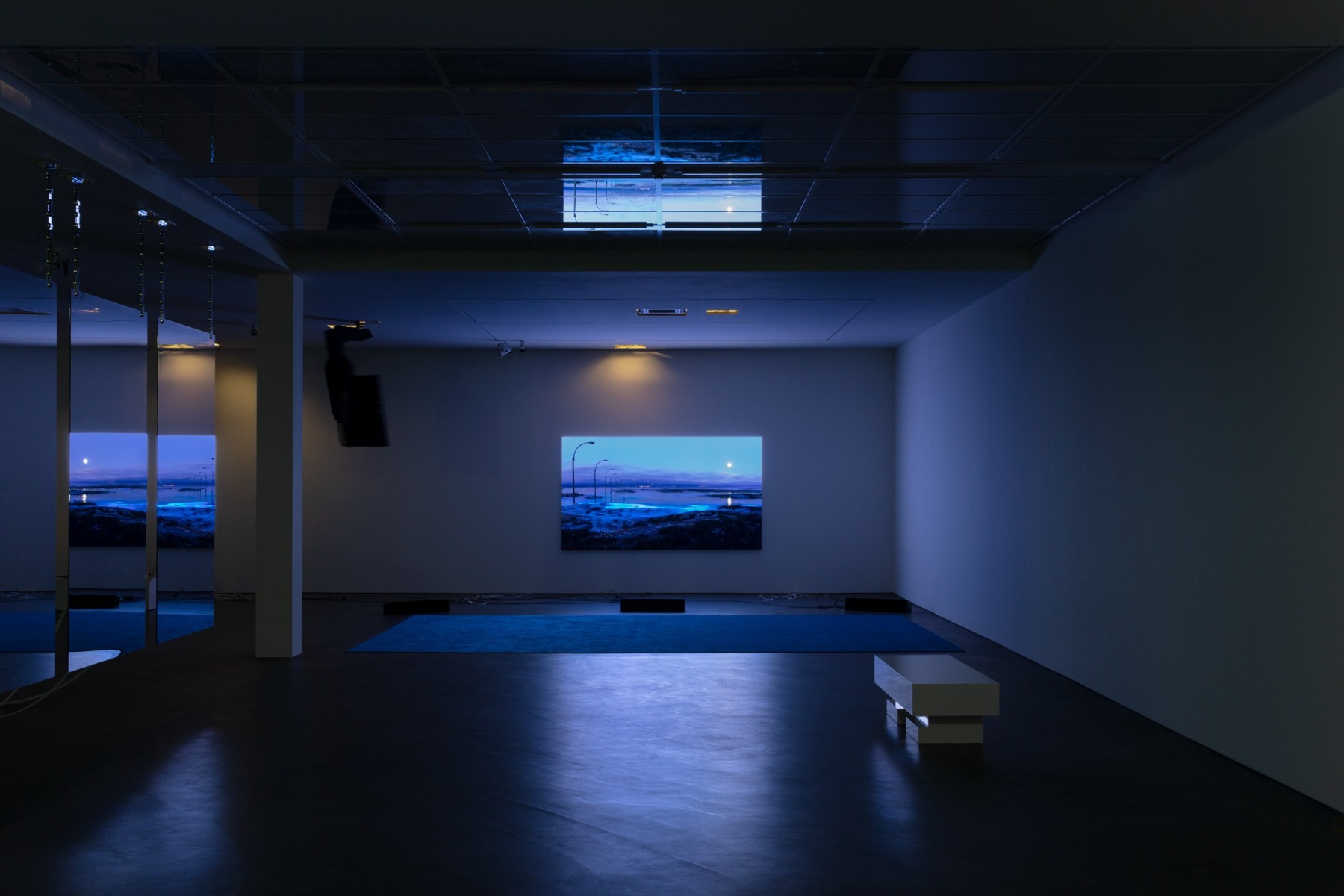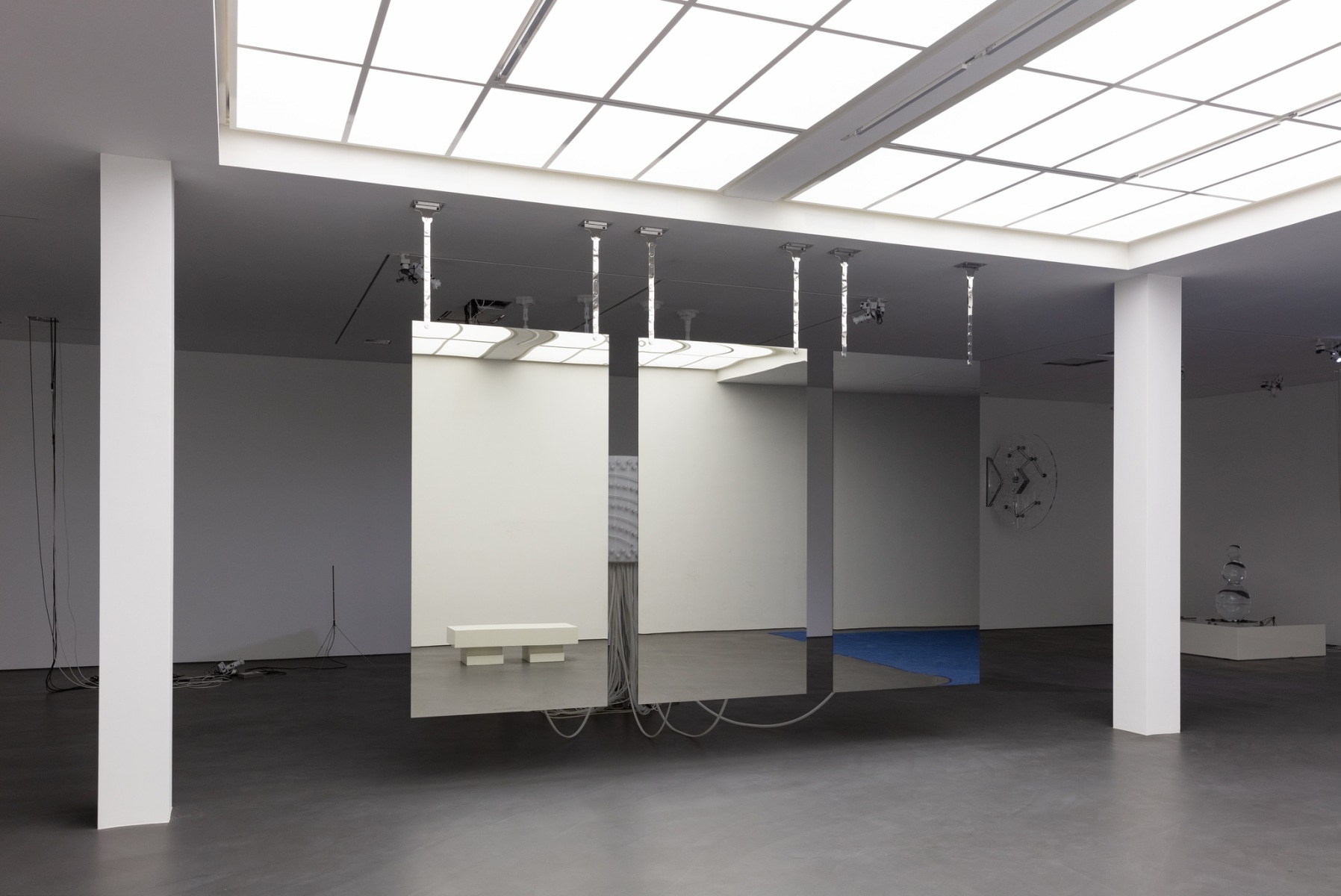 "The Science Fiction That Inspires Philippe Parreno"
In this interview with Pablo Larrios, senior editor of frieze, Philippe Parreno looks back on several of the works currently on view at Esther Schipper.
Read the full article HERE