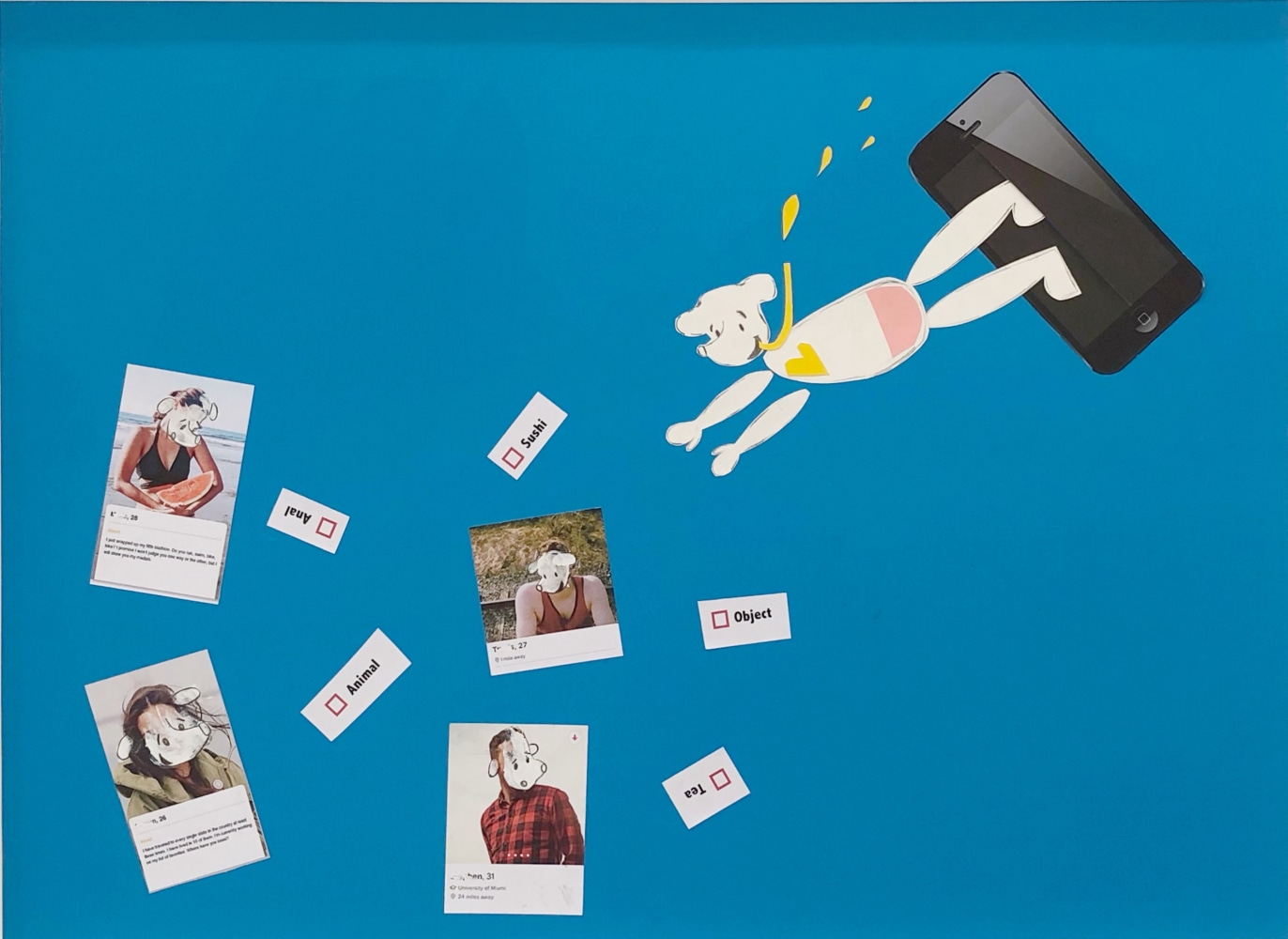 Simon Fujiwara, Who the Bær
Kunstinstituut Melly, Rotterdam
Esther Schipper and Dvir Gallery are pleased to present parallel Online Viewing Rooms on the occasion of Simon Fujiwara's solo exhibition at Kunstinstituut Melly, Rotterdam (on view through September 12, 2021).
For his first solo exhibition in the Netherlands, the artist presents works from his most recent project Who the Bær. Developed during the lockdown in the spring of 2020, Fujiwara created a unique cartoon character in the form of a denim wearing bear with a golden heart and an uncontrollably long tongue, that seemingly has no gender, race, sexuality or even a clear design. Without an identity, Who exists only as an image, a status that allows them the freedom to roam a world of online images, appropriating characters, identities, aesthetics and guises in a greedy search for a 'self'.
Through Who the Bær, Fujiwara explores complex topics using the reductive logic of the cartoon universe to expose the normalizing power of the capitalist image culture we inhabit. Fujiwara's existential cartoon character oscillates between subject and symbol, being and thing and is a tool for the artist to investigate cultural anxieties around identity and its relationship to the performativity of image culture.
Made with an instinctive and responsive hand, this exhibition focuses largely on collaged works that introduce us to the basic principles of his character through a meme-like, cut and paste aesthetic. Housed within a fragmented, themed environment of oversize bear cut-outs, we discover the pleasures and traumas, violence and joys of life in the mediated modern world through the absurd adventures of a cartoon bear.
Who the Bær can also be followed via their official Instagram account, @whothebaer.
Simon Fujiwara

(b. 1982, London, UK. Lives and works in Berlin)

The work of British-Japanese artist Simon Fujiwara offers a unique view into the mechanics of identity construction and the 'industry of the individual' in contemporary life. His dual ethnic heritage as well as his childhood—raised between Britain, Japan and Africa—have informed his works that emerge from a personal grappling with the contradictions of inherited racial, national, historical, cultural values.

In his most ambitious projects that range from a full reconstruction of the Anne Frank House (Hope House, 2016-8) to the "re-branding campaign" for his former high school art teacher after a nude media scandal (Joanne, 2016), Fujiwara deftly navigates culturally potent topics with enigmatic and surprising approaches that broaden conversations and avoid didacticism. Through his multiple formal strategies, Fujiwara is able to use the tools of our hyper-mediated world—from advertising, museum making to theme park design—to hold a distorted mirror to our contemporary, liberal societies possessed with spectacle, fantasy and authenticity.

Who for President, 2021

Sculptural video installation

Foam core, TV monitor, animation
Toy car, cardboard, paper, Vaseline pot, wooden dowel, aluminum can (car models)
Paper and cardboard (collages)
26 x 16 x 30 cm (10 1/4 x 6 1/4 x 11 3/4 in); 26 x 11 x 59 cm (10 1/4 x 4 3/8 x 23 1/4 in); 52 x 28,5 x 8 cm (20 1/2 x 11 1/4 x 3 1/8 in) (3 car models)
97 x 73 x 3,5 cm (38 1/4 x 28 3/4 x 1 3/8 in) each, 2 parts (framed)
118 x 90 x 27 cm (46 1/2 x 35 3/8 x 10 5/8 in) (sculptural video component)
Duration: 1:33 min
Edition of 3

Screened on a monitor embedded in the puppet-theatre like stage setting, a stop-motion animation functions as a political campaign video for Who's presidential candidacy.

%3Cdiv%20class%3D%22artist%22%3E%3Cstrong%3ESimon%20Fujiwara%3C/strong%3E%3C/div%3E%3Cdiv%20class%3D%22title_and_year%22%3E%3Cem%3ESimon%20Fujiwara%3C/em%3E%3Cspan%20class%3D%22comma%22%3E%2C%20%3C/span%3E%3Cspan%20class%3D%22title_and_year_year%22%3E2021%3C/span%3E%3C/div%3E%3Cdiv%20class%3D%22medium%22%3ESculptural%20video%20installation%20%28foam%20core%3Cspan%20class%3D%22comma%22%3E%2C%20%3C/span%3ETV%20monitor%3Cspan%20class%3D%22comma%22%3E%2C%20%3C/span%3Eanimation%29%3Cbr/%3E%0AToy%20car%3Cspan%20class%3D%22comma%22%3E%2C%20%3C/span%3Ecardboard%3Cspan%20class%3D%22comma%22%3E%2C%20%3C/span%3Epaper%3Cspan%20class%3D%22comma%22%3E%2C%20%3C/span%3EVaseline%20pot%3Cspan%20class%3D%22comma%22%3E%2C%20%3C/span%3Ewooden%20dowel%3Cspan%20class%3D%22comma%22%3E%2C%20%3C/span%3Ealuminum%20can%20%28car%20models%29%3Cbr/%3E%0A2%20paper%20collages%3Cbr/%3E%0APaper%20and%20cardboard%20%28collages%29%3C/div%3E%3Cdiv%20class%3D%22dimensions%22%3E18%20x%2016%2C5%20x%2030%20cm%20%2810%201/4%20x%206%201/4%20x%2011%203/4%20in%29%3B%2026%20x%2011%20x%2059%20cm%20%2810%201/4%20x%204%203/8%20x%2023%201/4%20in%29%3B%2052%20x%2028%2C5%20x%208%2C5%20cm%20%2820%201/2%20x%2011%201/4%20x%203%201/8%20in%29%20%283%20car%20models%29%3Cbr/%3E%0A97%20x%2073%20x%204%2C5%20cm%20%2838%201/4%20x%2028%203/4%20x%201%203/8%20in%29%20each%3Cspan%20class%3D%22comma%22%3E%2C%20%3C/span%3E2%20parts%20%28framed%29%3Cbr/%3E%0A84%20x%20117%20x%2027%2C5%20cm%20%2833%201/8%20x%2046%201/8%20x%2010%205/8%20in%29%20%28sculptural%20video%20component%29%3Cbr/%3E%0ADuration%3A%201%3A33%20min%3C/div%3E%3Cdiv%20class%3D%22edition_details%22%3EEdition%20of%203%20plus%202%20artist%27s%20proofs%3C/div%3E

Who is She?

Charcoal, pastel, pencil, inkjet print on paper

48 x 35,7 x 3,5 cm (18 7/8 x 14 1/8 x 1 3/8 in) each (9 parts)

Framed in pink, these nine works on paper center on Who's exploration of a gendered identity, in this case by adapting representations of women, their anatomy or paraphernalia of motherhood, pairing found images or diagrams with drawing in charcoal, pastel and/or pencil. Two works also draw on art historical references: a portrait in a style associated with early 20th century cubism and a reproduction of Gustave Courbet's infamous painting of a nude female torso from 1866 entitled L'Origine du monde.

%3Cdiv%20class%3D%22artist%22%3E%3Cstrong%3ESimon%20Fujiwara%3C/strong%3E%3C/div%3E%3Cdiv%20class%3D%22title_and_year%22%3E%3Cem%3ESimon%20Fujiwara%3C/em%3E%3Cspan%20class%3D%22comma%22%3E%2C%20%3C/span%3E%3Cspan%20class%3D%22title_and_year_year%22%3E2021%3C/span%3E%3C/div%3E%3Cdiv%20class%3D%22medium%22%3ECharcoal%3Cspan%20class%3D%22comma%22%3E%2C%20%3C/span%3Epastel%3Cspan%20class%3D%22comma%22%3E%2C%20%3C/span%3Epencil%3Cspan%20class%3D%22comma%22%3E%2C%20%3C/span%3Einkjet%20print%20on%20paper%3C/div%3E%3Cdiv%20class%3D%22dimensions%22%3E48%20x%2035%2C7%20x%203%2C5%20cm%20%2818%207/8%20x%2014%201/8%20x%201%203/8%20in%29%20each%20%2818%20parts%3Cspan%20class%3D%22comma%22%3E%2C%20%3C/span%3Eframed%29%3C/div%3E

Who Loves Who?, 2021

Sculptural video installation

MDF, foam core, cardboard, monitor, video
97,5 x 115 x 12,5 cm (38 1/4 x 45 1/4 x 4 3/4 in) (sculptural element)
199 x 184 cm (78 3/8 x 72 1/2 in) (MDF heart element)
Duration: 1:02 min (loop)
Variable edition of 3

The stop-motion animation played on the encased monitor of this sculptural video animation, depicts Who as cut out figure entering and exiting a phone, at times floating among found imagery from dating sites, and represents the figure's explorations of online dating and the stereotypical gender definition this can entail.

%3Cdiv%20class%3D%22artist%22%3E%3Cstrong%3ESimon%20Fujiwara%3C/strong%3E%3C/div%3E%3Cdiv%20class%3D%22title_and_year%22%3E%3Cem%3ESimon%20Fujiwara%3C/em%3E%3Cspan%20class%3D%22comma%22%3E%2C%20%3C/span%3E%3Cspan%20class%3D%22title_and_year_year%22%3E2021%3C/span%3E%3C/div%3E%3Cdiv%20class%3D%22medium%22%3ESculptural%20video%20installation%20%28MDF%3Cspan%20class%3D%22comma%22%3E%2C%20%3C/span%3Efoam%20core%3Cspan%20class%3D%22comma%22%3E%2C%20%3C/span%3Ecardboard%3Cspan%20class%3D%22comma%22%3E%2C%20%3C/span%3Emonitor%3Cspan%20class%3D%22comma%22%3E%2C%20%3C/span%3Evideo%29%3C/div%3E%3Cdiv%20class%3D%22dimensions%22%3E97%2C5%20x%20115%20x%2012%2C5%20cm%20%2838%201/4%20x%2045%201/4%20x%204%203/4%20in%29%20%28sculptural%20element%29%3Cbr/%3E%0A199%20x%20184%20cm%20%2878%203/8%20x%2072%201/2%20in%29%20%28MDF%20heart%20element%29%3Cbr/%3E%0ADuration%3A%201%3A02%20min%20%28loop%29%3C/div%3E%3Cdiv%20class%3D%22edition_details%22%3EVariable%20edition%20of%203%20plus%202%20artist%27s%20proofs%3C/div%3E

Who Cares?

Charcoal, pastel, foamcore, cardboard and inkjet print on paper

73 x 97 x 3,5 cm (38 1/4 x 28 3/4 x 1 3/8 in)

The work draws on the figure of climate activist Greta Thurnberg, who has come to symbolize the youthful movement Fridays for Future.

%3Cdiv%20class%3D%22artist%22%3E%3Cstrong%3ESimon%20Fujiwara%3C/strong%3E%3C/div%3E%3Cdiv%20class%3D%22title_and_year%22%3E%3Cem%3ESimon%20Fujiwara%3C/em%3E%3Cspan%20class%3D%22comma%22%3E%2C%20%3C/span%3E%3Cspan%20class%3D%22title_and_year_year%22%3E2021%3C/span%3E%3C/div%3E%3Cdiv%20class%3D%22medium%22%3ECharcoal%3Cspan%20class%3D%22comma%22%3E%2C%20%3C/span%3Epastel%3Cspan%20class%3D%22comma%22%3E%2C%20%3C/span%3Efoamcore%3Cspan%20class%3D%22comma%22%3E%2C%20%3C/span%3Ecardboard%20and%20inkjet%20print%20on%20paper%3C/div%3E%3Cdiv%20class%3D%22dimensions%22%3E96%2C5%20x%2073%20x%204%2C5%20cm%20%2838%20x%2028%203/4%20x%201%203/4%20in%29%3C/div%3E

Who's Childhood?, 2021

Sculptural installation

Cardboard, electrical tape, Plexiglas, antique tripod, projector, projection screen

164 x 73 x 73 cm (64 5/8 x 28 3/4 x 28 3/4 in) (projector on tripod)
Variable edition of 3

The sculptural video installation projects an animation depicting a revisionist history of Who's childhood. Housed in a cartoonish sculptural projector, the home-movie style animation parodies tropes of childhood nostalgia and authenticity. The association with home movies is reinforced by the animation's soundtrack featuring the low hum of a rattling film projector.

%3Cdiv%20class%3D%22artist%22%3E%3Cstrong%3ESimon%20Fujiwara%3C/strong%3E%3C/div%3E%3Cdiv%20class%3D%22title_and_year%22%3E%3Cem%3ESimon%20Fujiwara%3C/em%3E%3Cspan%20class%3D%22comma%22%3E%2C%20%3C/span%3E%3Cspan%20class%3D%22title_and_year_year%22%3E2021%3C/span%3E%3C/div%3E%3Cdiv%20class%3D%22medium%22%3ESculptural%20video%20installation%3A%20cardboard%3Cspan%20class%3D%22comma%22%3E%2C%20%3C/span%3Eelectrical%20tape%3Cspan%20class%3D%22comma%22%3E%2C%20%3C/span%3EPlexiglas%3Cspan%20class%3D%22comma%22%3E%2C%20%3C/span%3Eantique%20tripod%3Cspan%20class%3D%22comma%22%3E%2C%20%3C/span%3Eprojector%3Cspan%20class%3D%22comma%22%3E%2C%20%3C/span%3Eprojection%20screen%3Cspan%20class%3D%22comma%22%3E%2C%20%3C/span%3Eanimation%3Cspan%20class%3D%22comma%22%3E%2C%20%3C/span%3Ecolor%3Cspan%20class%3D%22comma%22%3E%2C%20%3C/span%3Esound%20%3Cbr/%3E%0A20%20frames%20on%20painted%20wall%3A%20pastel%3Cspan%20class%3D%22comma%22%3E%2C%20%3C/span%3Epencil%3Cspan%20class%3D%22comma%22%3E%2C%20%3C/span%3Einkjet%20prints%20on%20paper%3C/div%3E%3Cdiv%20class%3D%22dimensions%22%3E164%20x%2073%20x%2073%20cm%20%2864%205/8%20x%2028%203/4%20x%2028%203/4%20in%29%20%28projector%20on%20tripod%29%20Duration%3A%202%3A27%20min%3Cbr/%3E%0A24%2C5%20x%2033%2C2%20x%203%2C3%20cm%20%289%205/8%20x%2013%201/8%20x%201%201/4%20in%29%20each%20%2815%20parts%29%20%28framed%29%3Cbr/%3E%0A33%2C2%20x%2024%2C5%20x%203%2C3%20cm%20%2813%201/8%20x%209%205/8%20x%201%201/4%20in%29%20each%20%285%20parts%29%20%28framed%29%3Cbr/%3E%0A396%20x%20450%20cm%20%28155%207/8%20x%20177%201/8%20in%29%20%28overall%20wall%20with%20drawings%20and%20screen%29%3Cbr/%3E%0A%3C/div%3E%3Cdiv%20class%3D%22edition_details%22%3EVariable%20edition%20of%203%20plus%202%20artist%27s%20proofs%3C/div%3E

AMTSALON, Berlin

June 17 – 24, 2021

We are pleased to participate in the inaugural edition of AMTSALON Berlin, with a solo presentation of works by Simon Fujiwara from his project Who the Bær.

The presentation includes the sculptural video installation, Who's Childhood, with an animation depicting a revisionist history of Who's childhood as well as a series of new collages and drawings centring around the early identity development of Who the Bær. Housed in the premises of the former district court of Charlottenburg, Amtsalon opens its doors to the public as a pop-up of twenty-four Berlin galleries from June 17-24 only.

Becoming Who (Zero Gravity Identity Freefall), 2021

Charcoal, acrylic, pencil and inkjet print on paper

70 x 100 cm (27 1/2 x 39 3/8 in) (unframed)
107 x 77 x 3,5 cm (42 1/8 x 30 1/4 x 1 3/8 in) (framed)

Fujiwara's existential cartoon character oscillates between subject and symbol, being and thing and is a tool for the artist to investigate cultural anxieties around identity and its relationship to the performativity of image culture.

%3Cdiv%20class%3D%22artist%22%3E%3Cstrong%3ESimon%20Fujiwara%3C/strong%3E%3C/div%3E%3Cdiv%20class%3D%22title_and_year%22%3E%3Cem%3ESimon%20Fujiwara%3C/em%3E%3Cspan%20class%3D%22comma%22%3E%2C%20%3C/span%3E%3Cspan%20class%3D%22title_and_year_year%22%3E2021%3C/span%3E%3C/div%3E%3Cdiv%20class%3D%22medium%22%3ECharcoal%3Cspan%20class%3D%22comma%22%3E%2C%20%3C/span%3Epaper%20and%20inkjet%20print%20collage%20on%20paper%3C/div%3E%3Cdiv%20class%3D%22dimensions%22%3E48%20x%2062%20cm%20%2818%207/8%20x%2024%203/8%20in%29%20%28unframed%29%3Cbr/%3E%0A66%2C5%20x%2053%2C6%20x%203%2C5%20cm%20%2826%201/8%20x%2021%201/8%20x%201%203/8%20in%29%20%28framed%29%3C/div%3E

Who is Who? (Binary Sex Selection), 2021

Charcoal, acrylic, pencil and inkjet print on paper

70 x 100 cm (27 1/2 x 39 3/8 in) (unframed)
107 x 77 x 3,5 cm (42 1/8 x 30 1/4 x 1 3/8 in) (framed)

%3Cdiv%20class%3D%22artist%22%3E%3Cstrong%3ESimon%20Fujiwara%3C/strong%3E%3C/div%3E%3Cdiv%20class%3D%22title_and_year%22%3E%3Cem%3ESimon%20Fujiwara%3C/em%3E%3Cspan%20class%3D%22comma%22%3E%2C%20%3C/span%3E%3Cspan%20class%3D%22title_and_year_year%22%3E2021%3C/span%3E%3C/div%3E%3Cdiv%20class%3D%22medium%22%3ECharcoal%3Cspan%20class%3D%22comma%22%3E%2C%20%3C/span%3Eacrylic%3Cspan%20class%3D%22comma%22%3E%2C%20%3C/span%3Epencil%20and%20inkjet%20print%20on%20paper%3C/div%3E%3Cdiv%20class%3D%22dimensions%22%3E70%20x%20100%20cm%20%2827%201/2%20x%2039%203/8%20in%29%20%28unframed%29%3Cbr/%3E%0A107%20x%2077%20x%203%2C5%20cm%20%2842%201/8%20x%2030%201/4%20x%201%203/8%20in%29%20%28framed%29%3C/div%3E%3Cdiv%20class%3D%22signed_and_dated%22%3ESigned%20and%20dated%20lower%20right%20on%20recto%3C/div%3E

Click HERE to visit Dvir Gallery Online Viewing Room