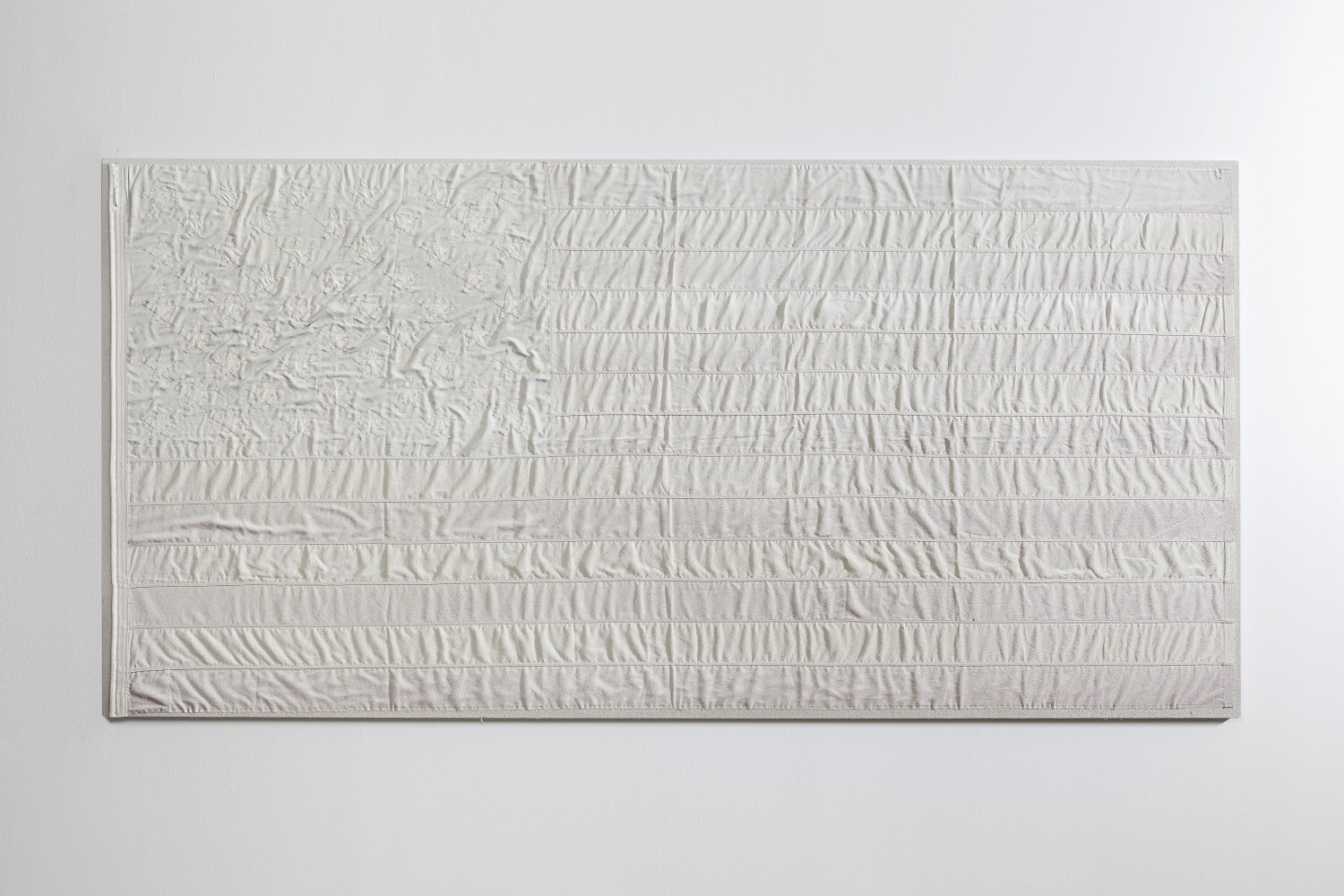 Art Basel Miami Beach 2019
Launching to coincide with Art Basel Miami Beach 2019, Esther Schipper is pleased to present highlights of the works that will be on view at the fair.
Among the artists represented here are: AA Bronson, Simon Fujiwara, General Idea, Ann Veronica Janssens, Roman Ondak, Ugo Rondinone, Tomás Saraceno, and Daniel Steegmann Mangrané.
In the Kabinett sector, we will present a curated proposal spanning almost thirty years of Florin Mitroi's considerable production, examining the Romanian artist's recurrent motifs: portraits, ink drawings, and zinc cut-outs.
"I guess we never really thought of ourselves as activists. We were just trying to create visibility for a disease that was not being talked about."

— AA Bronson on IGNANT

AA Bronson (b. Michael Wayne Tims in 1946 in Vancouver) co-founded the artists' group General Idea with Felix Partz and Jorge Zontal in 1969. The three artists worked and lived together until the deaths of Partz and Zontal in 1994. Since then, Bronson has worked and exhibited as a solo artist, often collaborating with younger generations of artists. Since 1999, he has worked as a healer, an identity that he has also incorporated into his artwork.

For White Flag #8, Bronson has sewn a used American flag onto raw linen. Built-up layers of flakey white gesso, mixed from rabbit skin glue, chalk, and honey, more or less obscure the colors and imbue the characteristic stars and stripes with a sculptural presence.

The built-up surface of the work is intended to recall ash but also the thick dust that, as a result of the collapse of the Twin Towers, covered large sections of downtown Manhattan on September 11, 2001. The works from this series draw attention to the major change in popular attitude towards the national symbol (especially in New York City which had not been known for brandishing flags in the preceding years).

AA Bronson claims that the work came to him in a dream, and demanded to be 'painted', or perhaps, erased. As HIV and AIDS erased Bronson's generation and General Idea itself, and as the spectral dust of 9/11 erased the downtown Manhattan scene of 2001, so these paintings speak to loss, absence, and mourning.

The practice of Daniel Steegmann Mangrané (b. 1977 in Barcelona) encompasses a wide range of media, including film, sculpture, sound, gardens and drawing. His work focuses on the creation and migration of forms between nature, art and architecture.

⊂⊃ is part of Steegmann Mangrané's ongoing series of colored aluminum works. Widely used in Spain, Kriska curtains can function as flexible screens for entryways. They are light, often brightly colored and make a characteristic metallic sound when the chains touch.

Conceived for the 2018 group exhibition Space Shifters at the Hayward Gallery, London, the work was conceived in dialogue with the architectural properties of the site: the elliptical shape of the curtains echo those of the Hayward Gallery building's distinctive concrete staircase with its massive round landings.

Oscillating between appearing as diaphanous screens and semi-solid objects, the curtains are both indications of a transition (meant to be traversed, marking the end of one space and the beginning of the next) as well as sculptural objects, existing in a hybrid state between corporeality and immateriality.

Throughout its 25-year-long career, prominent Canadian artists' collective General Idea—formed in 1969 by AA Bronson (b. Michael Tims, 1946), Felix Partz (b. Ronald Gabe, 1945-1994) and Jorge Zontal (b. Slobodan Saia-Levi, 1944-1994)—produced an important body of work in various media and formats, which continues to be a reference point for generations of artists around the world.

General Idea's early works (1969–1984) mimicked popular culture formats, such as beauty pageants and mainstream magazines, in order to forward a critical and satirical view of art, culture and media. Their series of faux beauty pageants, begun in 1970, satirized glamour, fame and the art world. The notion of glamour, the myth of the artist, and the character they created, "Miss General Idea," became key motifs in the group's iconography and mythology.

General Idea staged a "pageant rehearsal" at Walker Court at the Art Gallery of Ontario in Toronto on September 18, 1975, called Going Thru the Motions. The event captured all the clichés of the pageant format, and revolved around rehearsing the audience's reactions to prepare for their next beauty pageant, The 1984 Miss General Idea Pageant, which they imagined would be held in a pavilion of their own design and construction, known as The 1984 Miss General Idea Pageant Pavillion.


Going Thru the Motions was the grandest of all the pageant rehearsals, performed on a stage and a runway, with AA Bronson as Master of Ceremonies. General Idea's V.B. Gowns were modelled by six anonymous women and one child on the runway. Reminiscent of the highly structured 1940s era silhouette, each gown was made of manipulated Venetian blinds (hence V.B.), fashioned into two stacked triangular—or ziggurat—shapes, which completely covered the head, leaving only the arms and legs visible. Each gown was unique and varied in color and pattern, ranging from pink and black striped, to solid black, red and white.

The V.B. Gowns functioned conceptually on several levels: parodying fashion models and the notion of glamour, as well as being, according to the group, "an architectural massing study" for The 1984 Miss General Idea Pageant Pavillion.

"We call them conversation pieces at the Pavillion. Walking, talking, living, breathing ideas with legs. (…) With the reassuring horizontals slashing their line of vision they have always the reassurance of defined context. This wardrobe is beyond fashion: it's cultural armour containing natural impulses. Think of them as architectural massing studies for the 1984 Miss General Idea Pavillion."

— General Idea, FILE Megazine, Vol. 4, No. 1, 1978, p. 20

"It's the time of idleness that allows us to observe and discover other phenomena."

— Ann Veronica Janssens

The work of Ann Veronica Janssens (b. 1956 in Folkestone) foregrounds the body's perception of the world and itself in it. She often uses light, natural optical phenomena or glass as a medium. Produced with great care, her works exude the impression of great simplicity yet create vivid experiences of the act of seeing, evoking a heightened awareness of the changeability and fleetingness of individual perceptions.

The work of Roman Ondak (b. 1966 in Zilina) evolves from a performative conception and consists of sculpture, installation, photography, drawing, and performance. The artist often uses found objects. His medium is the everyday and society's sets of expectations, assumptions, automatisms, and projections that shape our perception of reality.

A found canvas was the point of departure for Open End, which was conceived for the artist's first solo exhibition with Esther Schipper this fall. Ondak found the unfinished painting in the abandoned workshops of the National Gallery in Bratislava. In an oblique act of institutional intervention, the artist applied a checkerboard pattern to the white square applied by an unknown predecessor, and excised a small section, adding a sculptural quality and giving new meaning to the unfinished canvas.

The sculptures refer to Tomás Saraceno's larger ongoing project Cloud Cities, in which the artist explores the possibilities of future autonomous and sustainable environments, architecture and urbanism.

Saraceno seeks to propose utopian visions of cities, settlements, and gardens, floating in the air and relying only on the energy of natural sources. His visions are informed by the interdisciplinary research that he carries out together with his studio—a series of forays into material science, biology, astrophysics, engineering, and atmospheric studies.

Ugo Rondinone's (b.1964) work refers concurrently to the natural world, romanticism, and existentialism, encapsulating a "mental trinity" that has underpinned his art for thirty years.

In creating windows that restrict rather than facilitate a greater understanding of what lies beyond them, Rondinone generates a type of paradoxical viewing experience that is typical of his work. The windows are symbolic of sight and of discovery. While they frame no external view, the evocative title of each work in the series encourages the onlooker to use their imagination to project their own idea onto the obscured panes of the work. Far from restricting our vision, Rondinone's Windows encourage us to look deep into the mind's eye.

Over the past decade, Simon Fujiwara (b. 1982) has become known for his staging of large, complex exhibitions that explore the deeply rooted mechanisms of identity construction for both individuals and societies.

It's a Small World, Simon Fujiwara's project for the Istanbul Biennial, began after he discovered a large quantity of semi-ruined figures of pop icons in the trash of an attraction's manufacturer near Istanbul. He salvaged these figures and combined them with thirteen architectural miniatures.

In these sculptural works, the functions of everyday civic architecture are blended with symbols from the mass entertainment world. Fujiwara's miniature city draws attention to the ways in which fantasy and escapism have bled into the core structures of our everyday lives, often masking the brutal pragmatism of globalized capitalism.

Florin Mitroi – Kabinett at Art Basel Miami Beach 2019

Portret cu fond vișiniu (Portrait with burgundy background), 1986

For Kabinett 2019, Esther Schipper presents a curated proposal spanning almost thirty years of Florin Mitroi's considerable production, examining the artist's recurrent motifs: portraits, ink drawings, and zinc cut-outs.

His oeuvre is predominantly characterized by series of stylized portraits, usually renditions of head and torso, depicting individuals with strong black brush strokes in rigid positions. Other aspects of his work comprise ink drawings on paper—mostly nude studies with a mythological underline—as well as symbolic and figurative zinc plates produced in the last years of his life.

Florin Mitroi (1938–2002) is an intriguing figure in the Romanian art scene. He was a passionate teacher—he taught at "Nicolae Grigorescu" Institute of Fine Arts in Bucharest for more than 30 years—but a reserved individual. His role in the arts school was well known by the local scene, but few knew his art too—he had only one solo exhibition during his lifetime, in 1993 in Bucharest. Only after his death and the discovery of numerous works in his studio, did his prolific production became apparent, with more than 8,000 graphic works, drawings, engravings, paintings, and carved objects in metal.

%3Cdiv%20class%3D%22artist%22%3E%3Cstrong%3EFlorin%20Mitroi%3C/strong%3E%3C/div%3E%3Cdiv%20class%3D%22title_and_year%22%3E%3Cem%3EFlorin%20Mitroi%3C/em%3E%3Cspan%20class%3D%22comma%22%3E%2C%20%3C/span%3E%3Cspan%20class%3D%22title_and_year_year%22%3E1986%3C/span%3E%3C/div%3E%3Cdiv%20class%3D%22medium%22%3ETempera%20on%20plywood%3Cbr/%3E%0ATempera%20auf%20Sperrholz%3C/div%3E%3Cdiv%20class%3D%22dimensions%22%3E46%20x%2038%20cm%20%2818%201/8%20x%2015%20in%29%20%28unframed%29%3Cbr/%3E%0A59%20x%2050%2C5%20x%204%20cm%20%2823%201/4%20x%2019%203/4%20x%201%205/8%20in%29%20%28framed%29%3Cbr/%3E%0A46%20x%2038%20cm%20%28ungerahmt%29%3Cbr/%3E%0A59%20x%2050%2C5%20x%204%20cm%20%28gerahmt%29%3C/div%3E